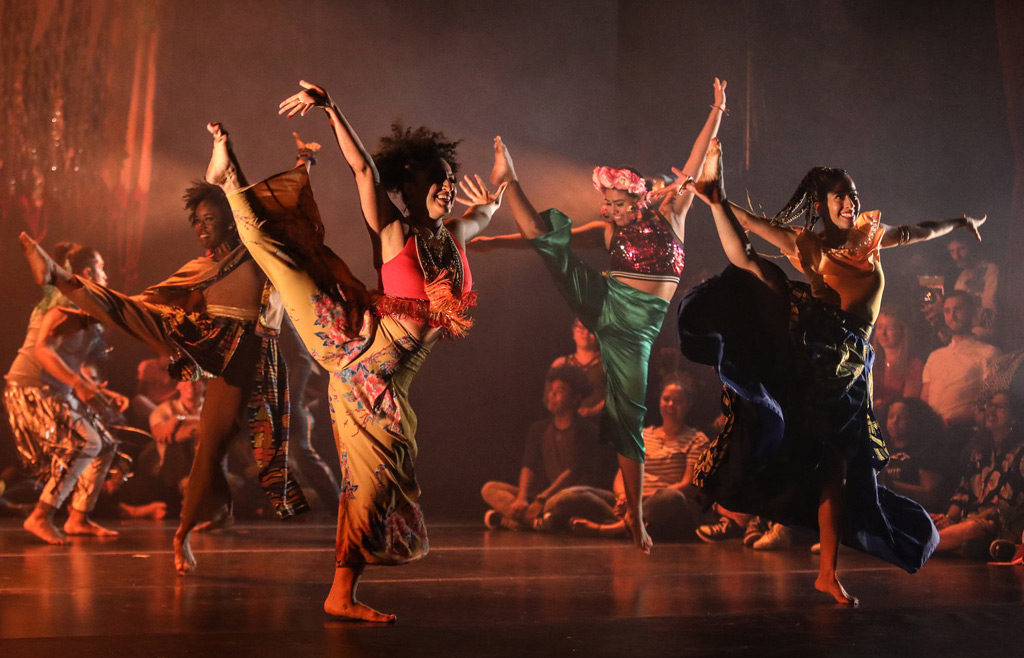 Hardship doesn't preclude joy. In fact, a wellspring of joy is a powerful weapon of resistance in the face of injustice. The urban Latin dancers of CONTRA-TIEMPO and the musicians of Las Cafeteras—all grounded in the communities of color in South Los Angeles—celebrate this fact in an evening-length work based in social dance and live music that flips the script on the usual narratives about minority communities in the United States. Instead, they offer stories of hope, faith, family, and, yes, joy as we work together to build a more joyous, more just society.
joyUS justUS, Thursday's 7:30 p.m. program on November 21 at Hancher, is a participatory, urban Latin-dance theater experience conceived and directed by Ana Maria Alvarez. The stories, which take on joy as the ultimate weapon of resistance and are shared in this work through dance, music, spoken word, and song, "are personal truths about the power of hope, faith, and family, the strength of the villages that have raised our children and the wealth that lives in our collective histories of struggle and resistance," Alvarez describes.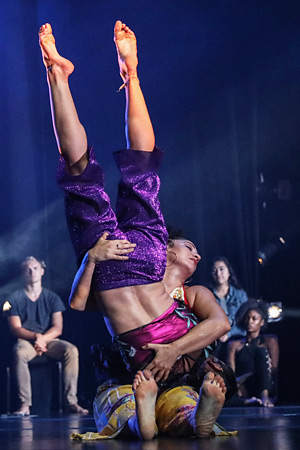 "These truths are embodied through the technically rigorous social dance forms that were born out of these experiences, that are at the root of our company's Urban Latin Dance technique, and that are the physical embodiment of that most powerful, healing joy. Through the conversations with South LA communities, retelling their stories through movement on the concert stage, inviting audiences locally and nationally to actively participate in what they're experiencing on the stage, and continuing to engage broader audiences in the telling of their own truths, we are creating spaces of joy and healing, allowing the collective 'us' to feel more connected, loved, powerful, and alive."
In his review for LA Dance Chronicle, Jeff Slayton describes the exciting opening piece: "Alvarez stayed true to her heritage but acknowledged her and her company members' entire history of dance training. . . . We got a glimpse of each dancer's movement styles and strengths during wonderfully performed, high-energy solos, before they rejoined in unison movement phrases that were primarily Latin based."
About the Band
Following the performance, the musicians of Las Cafeteras invite the audience to join them on stage for a sabor session—a community dance that will keep the party in full swing!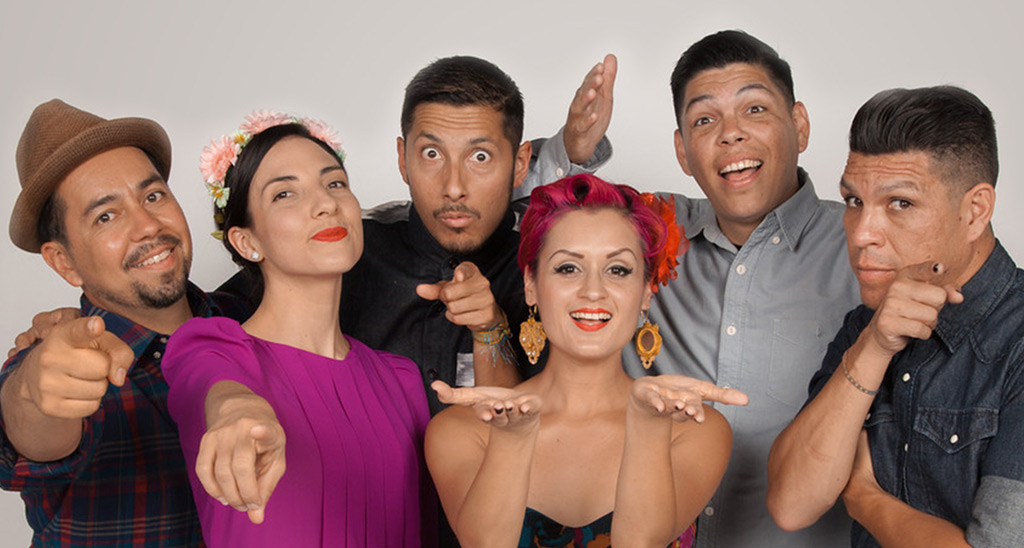 Las Cafeteras have taken the music scene by storm with their infectious live performances and have crossed genre and musical borders, playing with bands such as Mexican icons Caifanes, Lila Downs, Colombian superstar Juanes, Los Angeles legends Ozomatli, folk/indie favorites Edward Sharpe and the Magnetic Zeros, Los Angeles Philharmonic Orchestra, and most recently with Talib Kweli.
Born and raised east of the Los Angeles river, Las Cafeteras are remixing roots music and telling modern day stories. Las Cafeteras create a vibrant musical fusion with a unique East LA sound and positive message. Their Afro-Mexican beats, rhythms, and rhymes deliver inspiring lyrics that document stories of a community seeking love and justice in the concrete jungle of Los Angeles. Using traditional Son Jarocho instruments like the jarana, requinto, quijada (donkey jawbone) and tarima (a wooden platform), Las Cafeteras sing in English, Spanish, and Spanglish and add a remix of sounds, from rock to hip-hop to rancheras. Las Cafeteras use music as a vehicle to build bridges among different cultures and communities, and create "a world where many worlds fit."
LA Times described Las Cafeteras as "uniquely Angeleno mishmash of punk, hip-hop, beat music, cumbia, and rock . . . live, they're magnetic."
Reserve your tickets to CONTRA-TIEMPO & Las Cafeteras and get more information at Hancher.UIowa.edu.