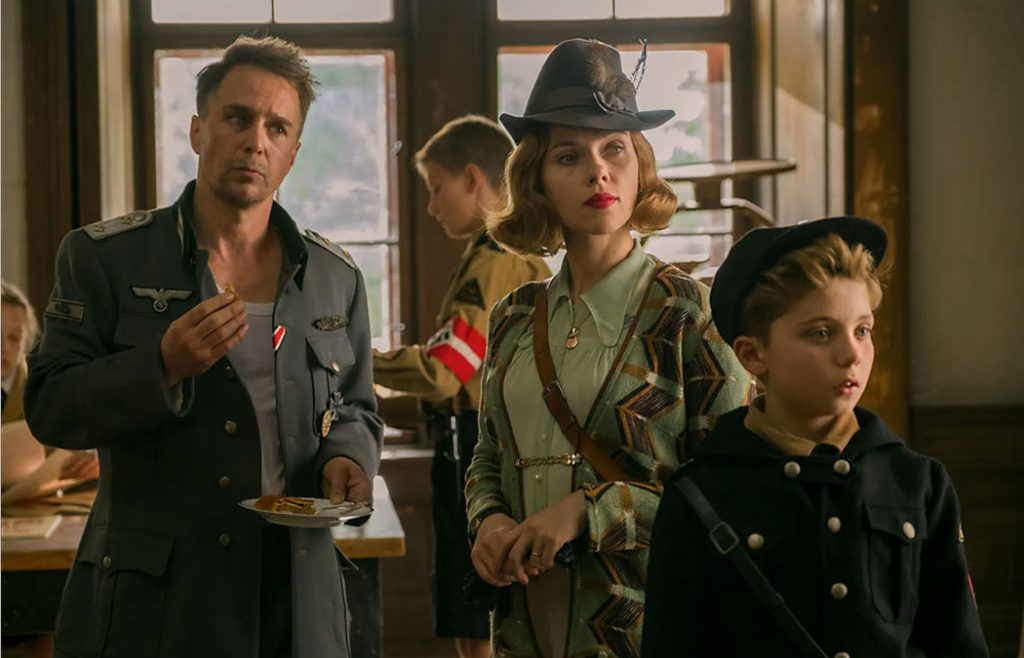 At the end of JoJo Rabbit, a quote appears from poet Rainer Maria Rilke that mentions "beauty and terror"*—words that describe this unusual story (along with tender, whimsical, funny, and sad) of a young boy living under Nazi rule in 1945 Vienna who must sort out uncomfortable challenges in the face of danger and doubt.
Ten-year-old Jojo, in a wonderful first-time performance by Roman Griffin Davis, is naive, impressionable, and totally dedicated to being a good Nazi, egged on by his fantasy best friend Adolf Hitler (director Taika Waititi). Jojo lives alone with his mother Rosie (Scarlett Johansson), his father being absent due to the war. He and his pal Yorki (Archie Yates) participate enthusiastically in a Hitler Youth Camp led by the buffoonish Captain Klenzendorf (Sam Rockwell) and zealous Fraulein Rahm (Rebel Wilson).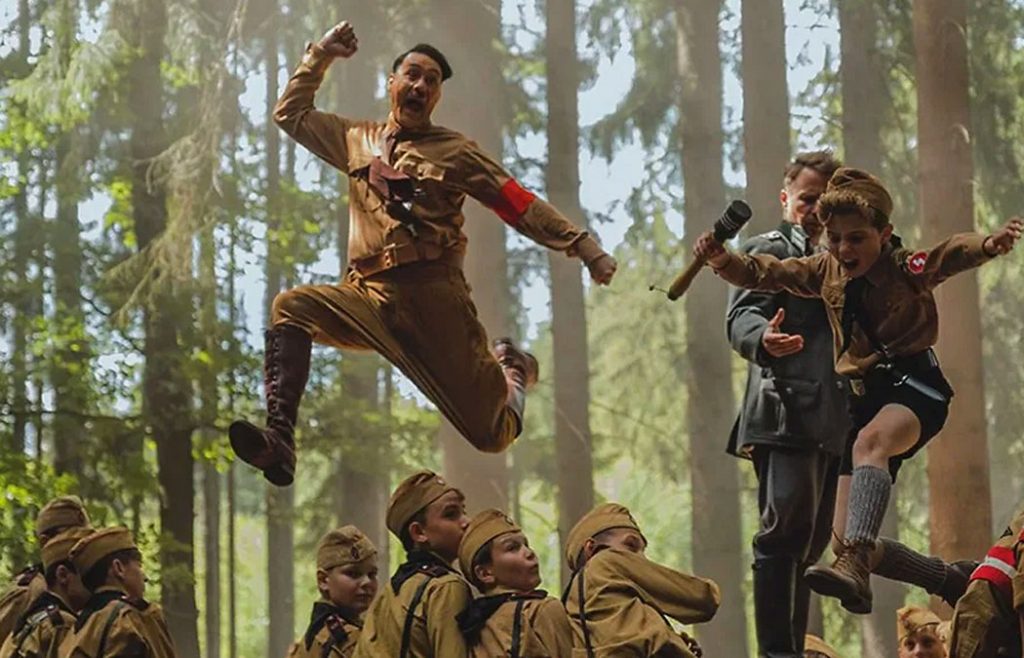 However, by the camp's standards, Jojo is woefully lacking in toughness, earning the humiliating nickname Jojo Rabbit. Then, at home one day, he makes a shocking discovery—his mother is hiding a Jewish girl in their attic! The teenage Elsa (Thomasin McKenzie, of 2018's Leave No Trace) completely upends his sense of order and security as he struggles to reconcile his Nazi duty with anxiety about the danger the situation poses to his beloved mother. His tension ratchets up when an SS officer (played by writer, producer, and director Stephen Merchant) unexpectedly drops in to conduct an inspection and search.
Somehow, this film successfully delivers irresistible charm, humor, and heartfelt emotion within the terrifying, brutal context of the Nazi regime. This is greatly due to Davis's deeply affecting portrayal. Jojo's innocence and purity of heart is the lens that brings into focus how truly evil Nazism was—with its toxic anti-Semitism and blind, irrational patriotism—and how special was the courage and humanity displayed by some individuals. As the Nazi's defeat becomes imminent, what's left of Jojo's childhood is shattered by loss and bloodshed, yet the story finishes with an uplifting, life-affirming ending.
Actor, writer, and director Taika Waititi, who is half Maori, brings a fresh and witty sensibility to all his work. He has written, directed, and acted in 2017's comic thriller Thor: Ragnorak, the award-winning Hunt for the Wilderpeople (2016), and the vampire satire What We Do in the Shadows (2014).  
*Let everything happen to you
Beauty and terror
Just keep going
No feeling is final
—Rainer Maria Rilke