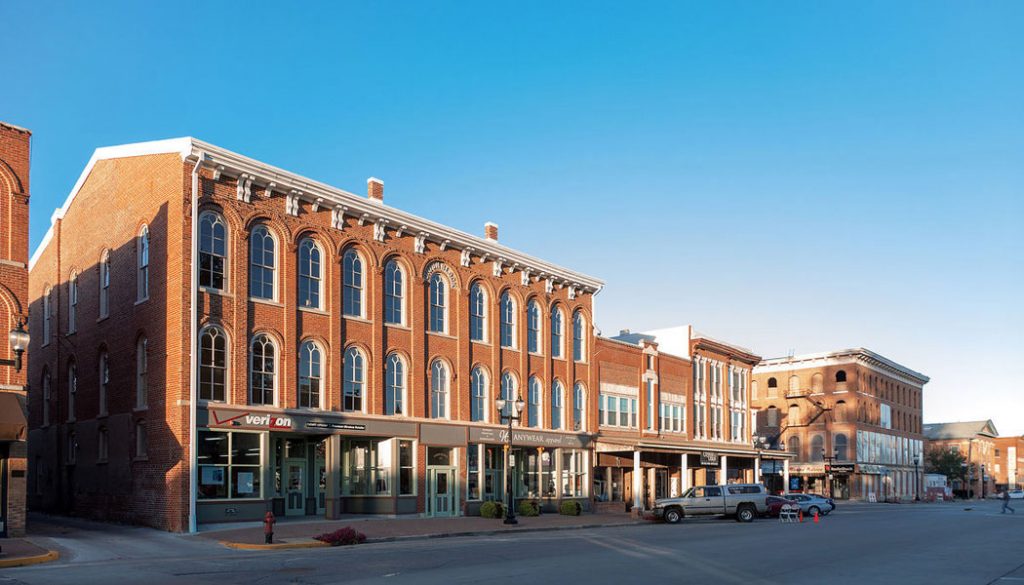 Some people are energized by seemingly impossible missions. Arabella "Belle" Babb Mansfield—our nation's first female attorney—was one such person. Lisa Oetken, Executive Director of Main Street Mount Pleasant, is another. For both women, Mount Pleasant's Union Block Building, constructed in 1861 on West Monroe Street, is significant.
Born in 1846 near Burlington, Iowa, Arabella Babb moved as a toddler with her mother and brother to Mt. Pleasant, Iowa, after her father died in a California mine cave-in. She and Washington Irving (her older brother, named after the famous American writer) both earned B.A.s from Iowa Wesleyan in 1866. Civil War-era military service had delayed Washington's graduation. Belle graduated as valedictorian, Washington as salutatorian.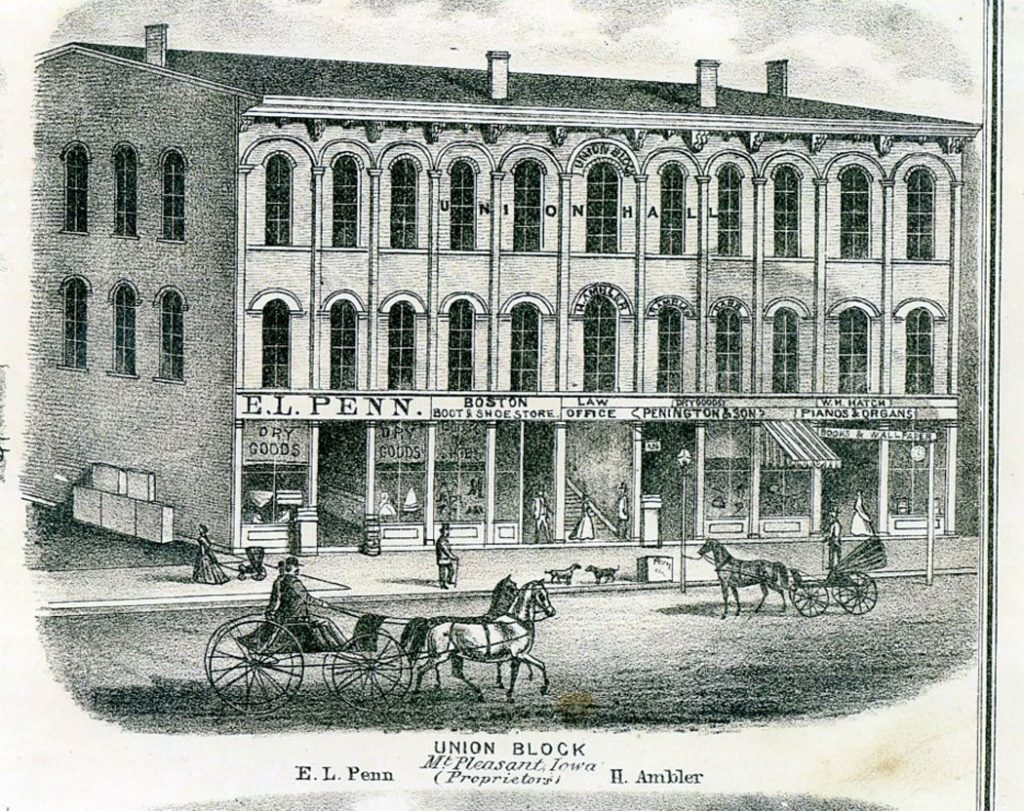 After graduation, Washington studied law at a local law firm. In Iowa, at the time, only white men could legally take the Bar Exam. Still, Belle persuaded her brother and his firm's lawyers to let her study law with them to prepare for this rigorous test. In 1869, the committee administering the exam agreed to let her take it. With her husband, John Melvin Mansfield, Belle, then 24, sat for the exam inside the Union Block Building. Both she and John did well. The three men who administered the exam reported:
"Mrs. Mansfield has passed a most eminently satisfactory examination, giving the very best evidence of a long and careful study, of excellent application, and a thorough acquaintance with the elementary principles of law. Your committee take unusual pleasure in recommending the admission of Mrs. Mansfield, not only because she is the first lady who has thus applied for this authority in the State, but because, in her examination, she has given the very best rebuke possible to the imputation that ladies cannot qualify for the practice of law."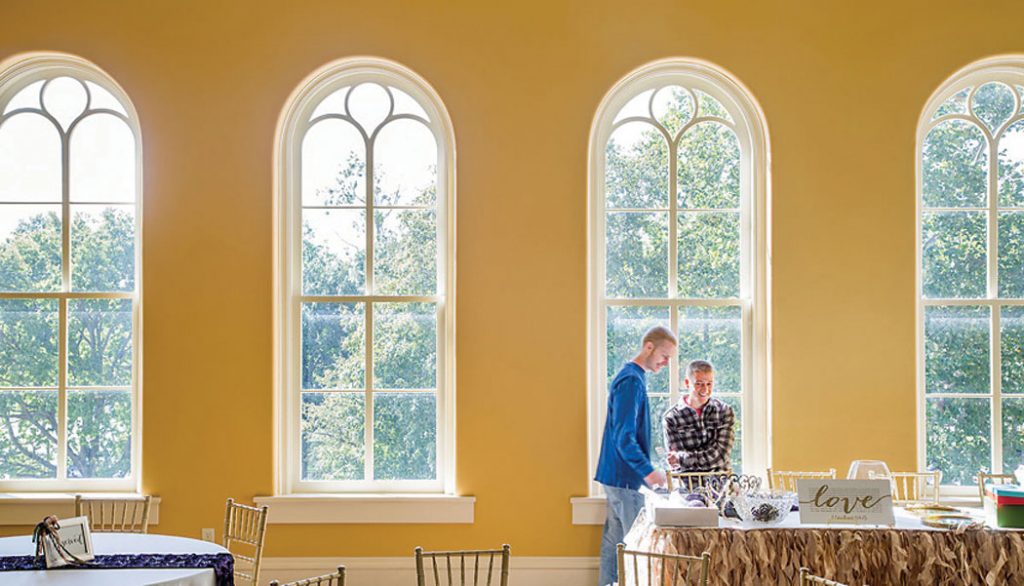 Despite this excellent reference, Belle could not, under Iowa law, be admitted to the Iowa Bar. Undeterred, she challenged the law that prevented her from becoming a lawyer. The Iowa Supreme Court found in her favor, deciding, "the affirmative declaration that male persons may be admitted, is not an implied denial to the right of females." Newspapers throughout the U.S. reported Belle's victory, many sporting the headline, "Petticoats at the Bar!" Inside the Union Block Building, Belle was sworn in as an attorney.
Fast forward to 2011. Days before Main Street Mount Pleasant was slated to assume ownership of the Union Block Building, the historic structure caught fire. Listed on Preservation Iowa's "Most Endangered Properties" since 2008, the 15,000-square-foot building was deteriorating. Pigeons flew inside, cats squatted in the basement, and strategically placed plastic swimming pools caught leaks when it rained.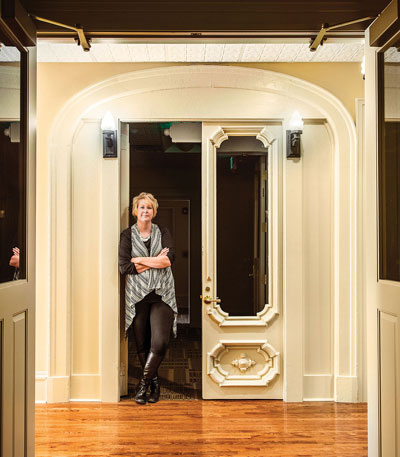 Firefighters extinguished the 2011 blaze, but the building sustained additional damage. Paul Dennison, a major donor for the planned restoration, wondered if Lisa Oetken was ready to rethink the purchase. She wasn't.
In Mount Pleasant in 1870, Belle Mansfield chaired the first Women's Suffrage Convention; her advocacy inspired visits from contemporaries. Sojourner Truth, Susan B. Anthony, and Frederick Douglass addressed crowds in the Union Block Building's spacious third floor. Knowing this history, Lisa was relieved when an engineer concluded the building was sound enough to be restored.
Like Belle, Lisa elicited community support. The family of Ted Wiley, the restoration project's general contractor, has lived in Mount Pleasant for generations. Jerry Kracaw, a local furniture maker, restored all 32 of the Italianate building's arched windows. Federal tax credits, local and national grants, and community donations (big and small) made the $3.9 million project possible. In 2014 the red brick building reopened with business spaces on the first and second floors and a restored ballroom for events on the third.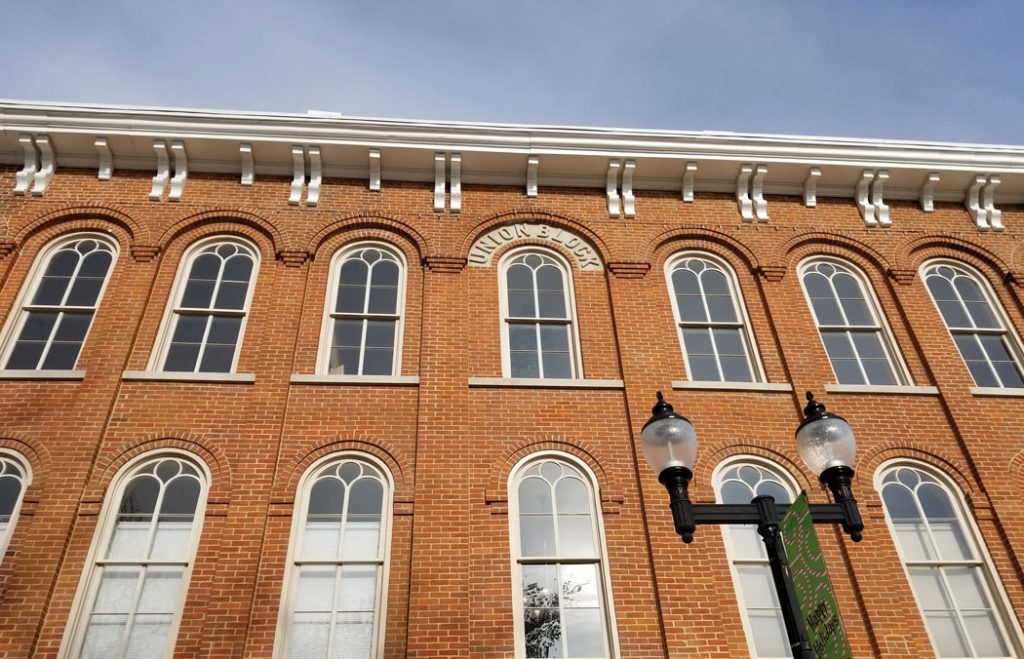 Support for the Union Block Building swelled in 2019 after Lisa entered it into "Vote Your Main Street," a national Partners in Preservation campaign. Competing for grant money, entries were required to "celebrate the triumphs, struggles, and rich history of women in America." With 64,177 votes, the Union Block building was one of 13 winners. It received $105,000, plus an additional $50,000 for garnering the most in-person votes on the day set aside for them, October 17, 2019.
With these grants, the building's east gable can be repaired. Trefoil storm windows can be purchased and installed to protect the original windows. Thanks to supporters, the Union Block Building will continue to stand as a testament to the rich history of women (and men) in America.