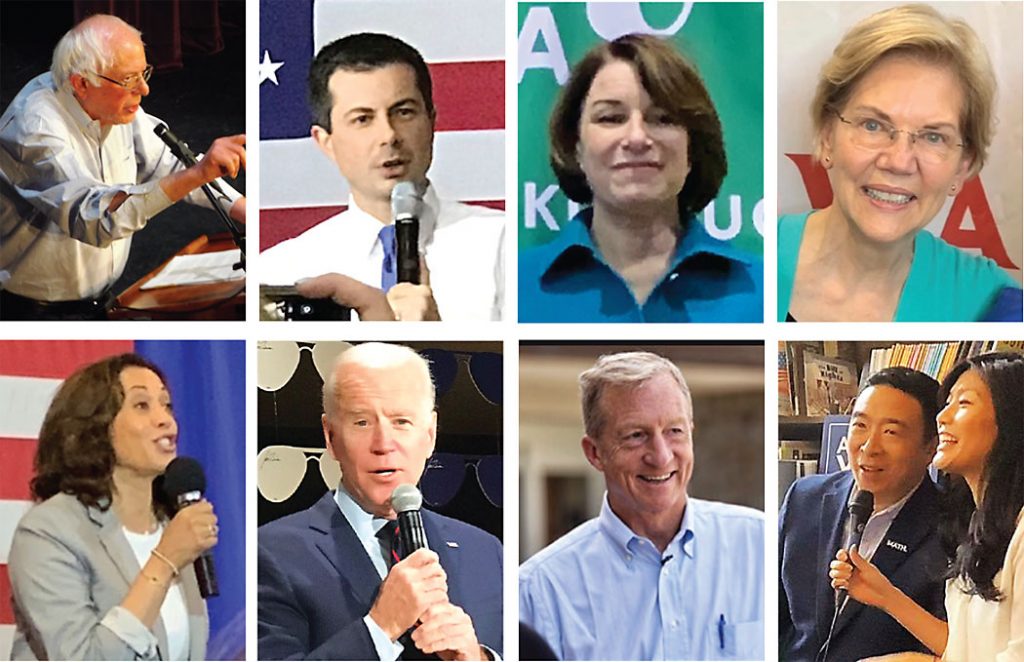 The February 3 caucuses are only days away, and the 2020 presidential campaign is looming. With a plethora of Democratic hopefuls canvassing in Iowa, the caucuses are on everyone's mind.
The Iowa caucuses are the first major contest in the U.S. presidential primaries. Even though the presidential caucus gets the lion's share of attention once every four years, caucuses are actually held every two years when you factor in the mid-term elections. In addition to supporting presidential nominees and choosing delegates for the national conventions, caucus-goers introduce resolutions to craft their parties' platforms.
Since 1832, the presidential nominees have been chosen through national conferences, but in the 19th and early 20th centuries this process was dominated by powerful political bosses. The modern caucuses and primaries were created in 1972 in an effort to democratize the process and root out corruption. State and local governments run the primaries, while the political parties run the caucuses.
Caucuses are not typical elections. They've been described as "gatherings of neighbors," giving individuals an opportunity to show their support for a candidate and tell their parties about issues that matter to them. Since becoming a state in 1846, Iowa has preferred the caucus-to-convention system for presidential nomination decisions.
During the Iowa caucuses, registered party members meet at a central location in each of Iowa's 1,681 precincts, usually a courthouse, a school, or even a home. The caucus starts at 7 p.m. and latecomers are not allowed to participate. However, those already in line by 7 p.m. are included as "on time," no matter how long the line is outside the door. To participate in the Iowa Democratic caucuses, attendees must be registered as a Democratic Party voter, which they have the option of doing upon check-in.
Party members form into groups based on their preferred candidate and are counted. During this "first alignment" period, members debate the merits of various candidates. To become viable, a candidate must get the support of at least 15 percent of attendees.
During the "second alignment" period, supporters of non-viable candidates can move to a new group in support of another candidate, choose to remain undecided, or even rally together to create a new viable group.
After second alignment, caucus attendees may choose to stay and participate, or just observe, as ideas are proposed by fellow voters to be included in the Democratic Party platform. For some caucus goers, this can be the most interesting and informative part of the night.
Candidates with more supporters on caucus night get more delegates representing them. Precinct delegates go on to the county conventions in March, where they vote on resolutions to be sent to the district level, and elect delegates to go to the district conventions, usually in April. District delegates go on to the state conventions, usually in May. Delegates from the state conventions go on to the national conference, where the final presidential candidate will be decided and announced, and the state party platform is finalized.
The political prominence of the Iowa caucuses has been questioned a lot lately, given that Iowa's predominantly white, rural, and aging population doesn't reflect the diversity of the nation. Historically, however, Democratic candidates who do well in Iowa tend to sweep the nation later. According to a study by WalletHub, 70 percent of Democratic winners in the Iowa caucuses go on to win the party's nomination. Jimmy Carter started this trend in 1976. His win at the Iowa Democratic caucus and the resulting media attention propelled him to his eventual victory over Gerald Ford. And in 2008, Barack Obama's victory in the Iowa caucuses eventually led to his defeat of John McCain in the presidential election. Republican winners in the Iowa caucuses have a much lower chance of winning their party's nomination: only 38 percent, according to WalletHub.
A recent study posted by WalletHub gives Iowa 89 percent in its overall resemblance to the rest of the country. Some of the key measures used to determine this number include:
Sociodemographics: 86 percent
Economics: 89 percent
Education: 92 percent
Religion: 85 percent
Public Opinion: 93 percent
The WalletHub study also determined that Iowa resembles the rest of the nation least in terms of race, with a 50 percent difference; religious composition, with a 64 percent difference; wealth gap, with a 77 percent difference; and employment by industry, with an 80. percent difference.
Part of Iowa's prominence in the process is merely timing—it gets a lot of media attention by virtue of being first, followed by the New Hampshire primary on February 11. And how did the Iowa caucuses become first? When they were created in 1972, organizers chose a date early in the year to allow enough time to handle the mountains of paperwork generated by the nomination process.
Candidates canvassing Iowa get a lot of screen time, and some candidates manage to ride this swell of popularity into victory as the final party nominee.
After Iowa and New Hampshire kick off the primary season, with additional early primaries in Nevada and South Carolina, the largest number of states schedule their caucuses and primaries on March 3, Super Tuesday, with additional caucuses and primaries through April and June. A candidate needs support from 1,991 delegates to secure the nomination—a simple majority. The 2020 Democratic National Convention begins on July 13 and the Republican National Convention starts on August 24.