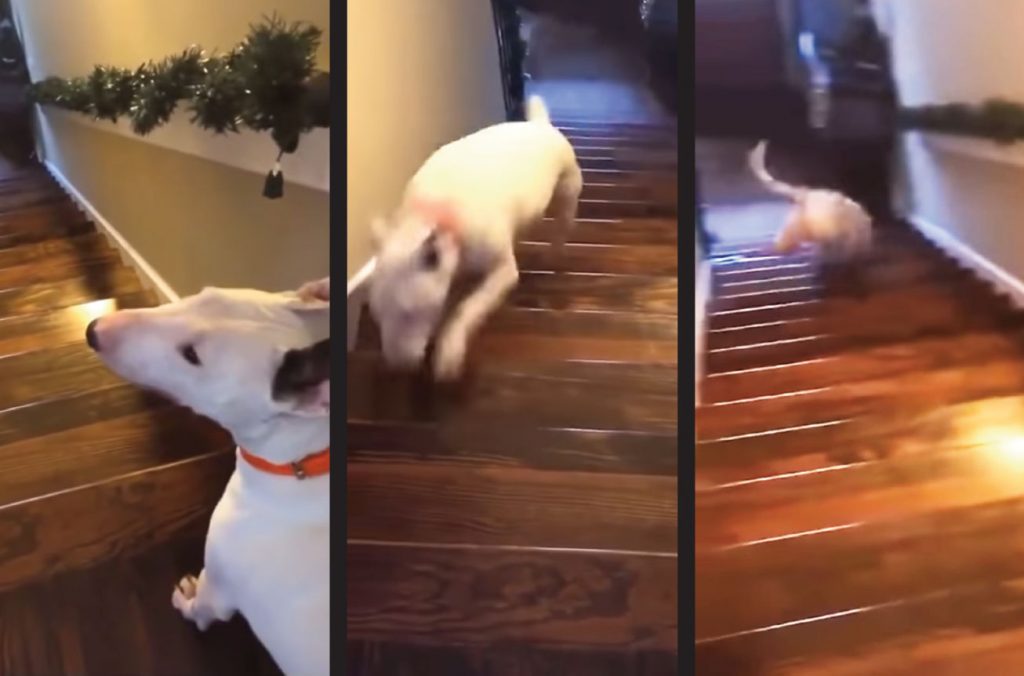 The fat old dog stands at the top of a long wooden staircase. The voice of the woman holding the camera says something in a coaxing voice. The dog looks at the person holding the camera, then starts running down the stairs. But stops halfway and runs right back up.
So I'm thinking, he didn't want to go down after all.
But the camera continues following the dog as he trots along the upstairs hallway. He then turns around, races toward the steps, and goes soaring into the air, clumsily landing about halfway down the staircase. In one motion, he lands and jumps again, making it to the bottom. End of video.
So I'm thinking, he did indeed want to go down the stairs.
This 10-second video is TikTok.
An athletic young woman stands on two chairs, left foot on one and right foot on the other. The chairs gradually slide faurther apart, until the woman is doing a complete split, and then some, with each foot still on a chair.
Okay, that's a bit impressive. But then from that position, she somehow does a forward flip in the air and lands on her feet in front of the camera, smile on her face. End of video.
So I'm thinking, that was impossible.
This 10-second video is TikTok.
I'd heard about TikTok for a couple years and only this morning happened to download it to my iPad. I was first asked to select some of the 17 categories that might interest me, and it then put a video on the screen: doggie flying down the steps.
Ten seconds and it's done. Swipe up and the next video appears.
I spent about 10 minutes watching videos, and then laughed for the next couple hours. They were often clever and amazing and hilarious.
TikTok launched in 2017 on smartphones, offering an app that you can use to create and share videos of 15 seconds or less. One of the most downloaded apps of 2019, it also has social media features, such that you can follow other users. The app includes editing capabilities for your videos and even background music clips that you can use.
In addition to the free app for smartphones and tablets, you can also access the service via the web (TikTok.com).
TikTok is refreshing and has created a whole new culture. That's in part due to the way it offers up content. Its algorithms select the most entertaining videos in the categories you select, and then feeds them to you. They are consistently lighthearted. Most of the time they're one long take, like the two described above, but other times they're small-scale productions, with lots of editing.
The algorithm sets the tone, and users appear to compete to be ever more entertaining. Sometimes someone will come up with a fresh idea that's delightful and gets popular in the app. Then other users will copy the idea, adding a twist of their own. And a meme is born.
Give TikTok a try. But frankly, it's so entertaining that your brain may be able to only sustain a short session. If you want longer-form entertainment, here's a selection of some of the top services that I've been wanting to share that offer ad-supported free movies and TV shows. They're typically available via both your computer and apps on your devices.
Crackle (Crackle.com) has been around since 2004 and has one of the larger collections of free movies and TV shows. As I write this, they're featuring Zero Dark Thirty, the 2012 movie about the Navy SEAL attack that killed terrorist Osama bin Laden. The selection includes many classic movies from the 1990s, such as Jerry Maguire, and classic TV series such as All in the Family, 3rd Rock from the Sun, and Charlie's Angels.
Plex (Plex.tv) has partnerships with a number of major studios, such that they can bring you classics like The Right Stuff, Raging Bull, The Terminator, Rain Man, and Apocalypse Now.
Tubi (TubiTV.com) may have the most content of the free services, with thousands of movies and TV shows. Movies include Catch Me if You Can, with Leonardo DiCaprio and Tom Hanks, and Sacha Baron Cohen's The Dictator.
The Roku Channel (TheRokuChannel.roku.com) offers hundreds of movies and TV, even if you don't own a Roku device. Offerings include the movies Groundhog Day and Batman Begins, and the TV series Suddenly Susan. This service also offers live streaming, including news from ABC.
Pluto TV (Pluto.tv) is different from the rest, offering hundreds of channels. You scroll through a guide similar to that of cable TV, letting you see what's currently playing and what movies and episodes are coming up. The hundreds of channels also include traditional networks such as CNN, NBC News, and Bloomberg Television.
There's something for everyone—and all of it's free!
Find column archives at JimKarpen.com