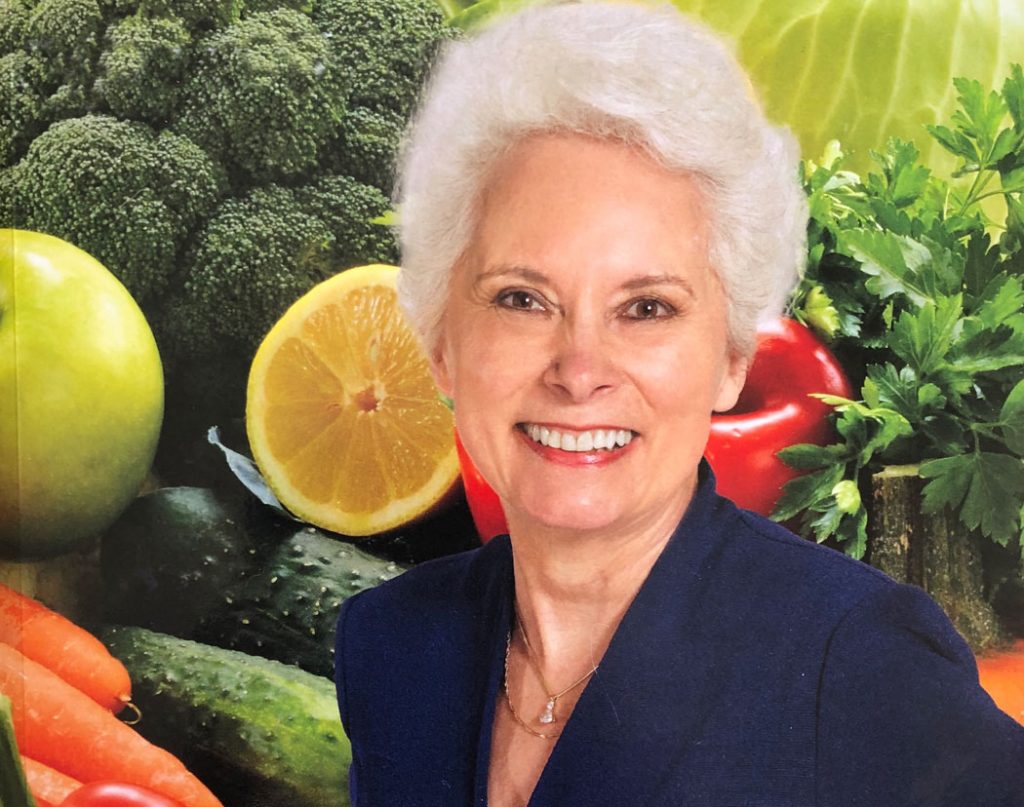 As an 11-year-old farm girl in Mount Vernon, Iowa, Joanne Karns found herself alone in the kitchen cooking for a dozen farmhands on a wood-burning stove. Her parents ran Wayside Farms, producing championship-quality purebred Angus cattle and Berkshire hog breeding stock. She noticed how intensely her father focused on balanced nutrition for the animals, and got to wondering who was doing the same for the farmers.
That curiosity led to college classes in human nutrition, culminating in a degree in Home Economics at Iowa State University. Marriage, children, and careers never took her far from the kitchen, where she continually expanded her culinary skills and interests. Now, after 70 years of making meals, Joanne has gathered her cooking know-how in a 464-page cookbook, Comfort Food and All That Jazz.
Compiling the book became a sort of archeological expedition, as Joanne unearthed and clarified her handwritten notes as well as her Aunt Florence's records and Grandma Bubbie's Czech and Bohemian collection. Often these records were just a list of ingredients with descriptions that were arcane in the extreme, such as "use two ten-cent boxes of Vanilla Wafers," with no indication of what to do with the wafers.
Still Joanne forged on, compiling a rich set of recipes, along with cooking tips, historical perspectives, family anecdotes, charming illustrations, and whimsical chapter headings. In Joanne's world, there's a lot more going on in cooking than the simple assembly and heating of ingredients. Her book is a paean to the deeply nourishing intention that the best sort of cook has of putting love and attention into the cooking process.
In her many years of food preparation and presentation, Joanne witnessed fine farm dining with white linen tablecloths, sterling silver, and Haviland China on a table set for 18, all the way to modern holiday meals delivered on paper plates with plastic forks. She has cooked on a wood stove, with gas, on an electric stove, and in a convection oven, and has stared at but rarely used a microwave. She has beaten eggs with a fork, a whisk, and a Mixmaster. She has done slicing, grating, chopping, and mixing entirely by hand and also, with some latter-day gratitude, in a food processor.
Her book shares tips and tricks for all of that, but also invites you into the alchemy of cooking, where more is going on than a simple assembly of parts.
In an interview Steven Boss conducted with Joanne for Great Taste on KICI 105.3 FM, he said, "The book for me underscores a central message: that when we look at what nutrition really is, it's not about calories and measurement, but more about what type of energy went into it. . . . All that we need to be fully nurtured is for the food to have been grown, planned, prepared, and presented in love."
Opal's Apple Cake
Opal was a lovely retired lady who lived in the Towers Apartments across First Avenue in downtown Cedar Rapids when I was running my store, Joanne's Fine Fabrics, in the mid 1970s. She brought us the cake and shared her recipe. She was a delightful customer as well.
2 apples, any variety, cored & chopped
1/2 cup butter
1 cup brown sugar
1 cup granulated sugar
1 tsp. vanilla
2 eggs
2-1/2 cups all purpose flour, sifted
1 tsp. baking soda
1-1/2 tsp. salt
1 tsp. cinnamon
1 cup milk
TOPPING
1/3 cup butter, melted
2/3 cup brown sugar
1 cup coconut
1/2 cup walnuts or pecans
Preheat the oven to 375° F. Grease a 13×9″ metal pan.
In a large bowl, mix the butter, sugars, and vanilla together until the mixture is well creamed.
Add the eggs, one at a time, and beat until the mixture is light in volume and color.
In another bowl, sift the flour, soda, salt, and cinnamon together. Add to butter mixture alternately with the milk, stirring well.
Stir in the apples. Spread the batter in the pan and make topping.
For the topping, add melted butter to a bowl and mix in the remaining ingredients using your fingertips. Spread the mixture evenly over the cake batter.
Bake 45–50 minutes, until the cake springs back when lightly pressed.
Milo's Favorite Pork Chops
Milo was my dad, and I was the noonday cook, always experimenting and learning. I learned that as the chops browned, the onion caramelized to make a wonderful, savory brown gravy especially great with mashed potatoes. Dad always complimented me highly. "Boy, these are good, Toots!" he'd crow. They were his favorite.
1-1/2 tsp. salt
1 tsp. pepper
6 pork chops, about 3/4″ thick
3/4 cup flour
1/4 cup olive oil
1 medium onion, chopped
Preheat the oven to 350° F.
Salt and pepper both sides of each chop.
Work the flour into each chop, pressing it into the surface.
Heat the oil in a heavy skillet over medium-high heat. Add the chops and onion. When the chops are nicely browned on the first side, turn them and brown the other side. Stir the onion so that it browns evenly.
Cover the skillet and place in the oven for 1-1/2 hours. Check once or twice, turning the chops over each time.
Remove the chops from the oven and serve.
Comfort Food and All That Jazz is available on Amazon.