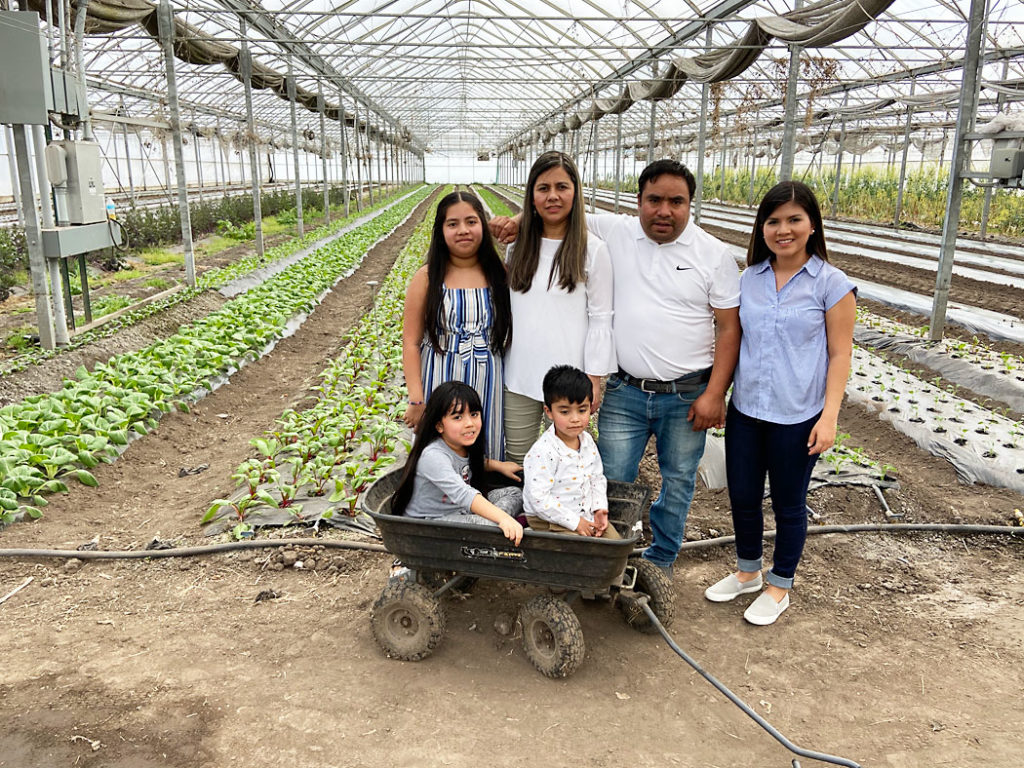 Growing up in Guatemala, Jorge Alva helped his parents with their farm, growing corn and other vegetables. His wife, Maribel, also worked alongside her parents, cultivating coffee and growing vegetables and flowers. "My family has always been interested in gardening," says their daughter, Veleida Cano. Today, the Alva family runs the large greenhouses in Vedic City as Jorge's Organics, offering fine produce to grocery stores, farmers markets, and—this year, for the first time—a three-season CSA with home delivery.
Supporting Locally Grown Produce
Fairfield businessman Jim Schaefer purchased the greenhouse properties in 2019, and with his wife, Melanie, has been working with the Alva family to ensure their success. Committed to high-quality, locally produced products, the Schaefers believe that supporting local organic farmers is vitally important for both the environment and the community.
Raised on a southern Illinois farm, Jim has a Ph.D. in agronomy and has spent the past 38 years developing and operating Soil Technologies Corp. in Fairfield, providing eco-friendly products for agriculture worldwide. Jim, along with Richard Eidson, also started the original herd for Radiance Dairy, now owned by Francis and Susan Thicke.
Jim rents the spacious greenhouses to the Alva family. The main greenhouse is two acres and the secondary building is one acre, so there's quite a bit of space. Owning the greenhouses has proven to be an enormous advantage in extending the growing season for fresh produce in Iowa. Guatemalan immigrants and established U.S. citizens, Jorge and Maribel worked for the former owners for seven years. "We want to thank Maharishi World Peace Vedic Organics for having originally created and spearheaded these assets in our community," says Melanie Schaefer. "We have a big interest in continuing to have fresh, local, organic produce in Fairfield, and we see the Alvas as wonderful candidates for doing that job."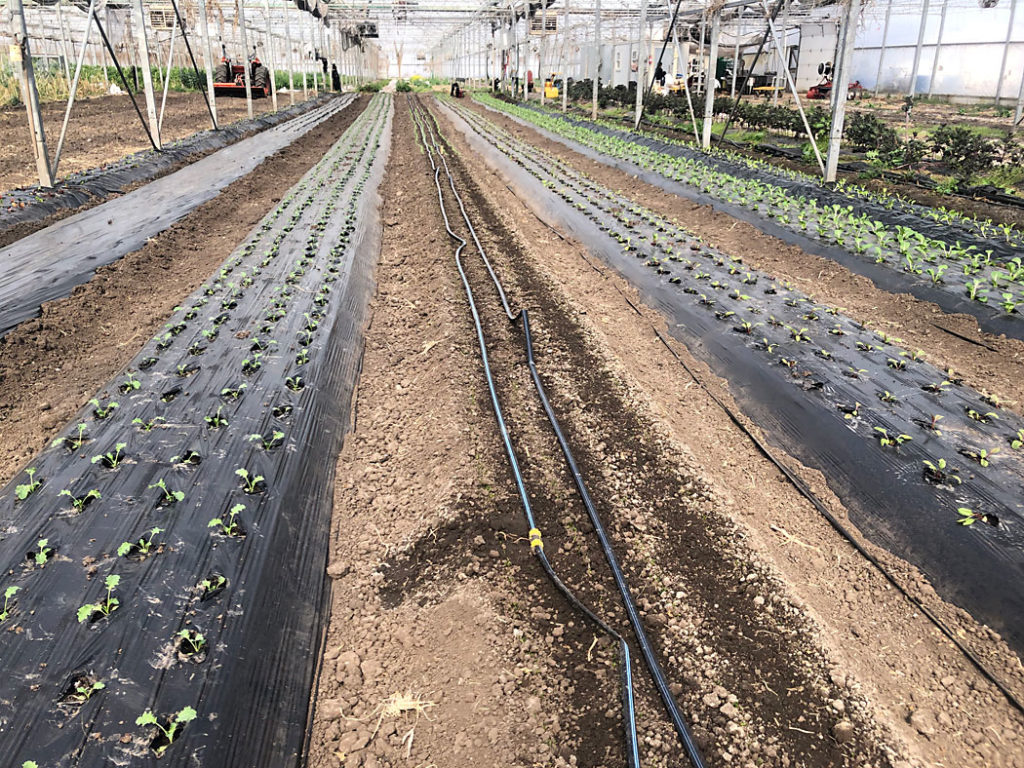 The Alvas have gotten tremendous support from the Schaefers and the staff at Soil Technologies. "We have provided very extensive start-up support in terms of funding and agricultural materials," Melanie says. "Our responsibility is to manage the financial viability of the project and the success of the greenhouse production."
Fully embracing the tenets of corporate social responsibility, Soil Technologies purchased greenhouse equipment, including a tractor and implements, as well as a refrigerated delivery truck. The company has also provided start-up loans along with extensive donations of agricultural products and advice.
"This is a community project," Melanie adds. "As with our early involvement with Radiance Dairy, it is not a profit-making venture for us personally. We are involved because we want to promote the availability of local regenerative certified organic produce."
A Family Affair
The whole Alva family helps out at the greenhouse, including Veleida's younger siblings. "We all have different jobs," she says, "but we support one another, so some days we may switch according to situations. My dad is in charge of operating everything. He does the season planning and guides us all on how everything needs to be done."
Maribel usually helps out at the greenhouse, putting together orders and organizing their farmers market booth.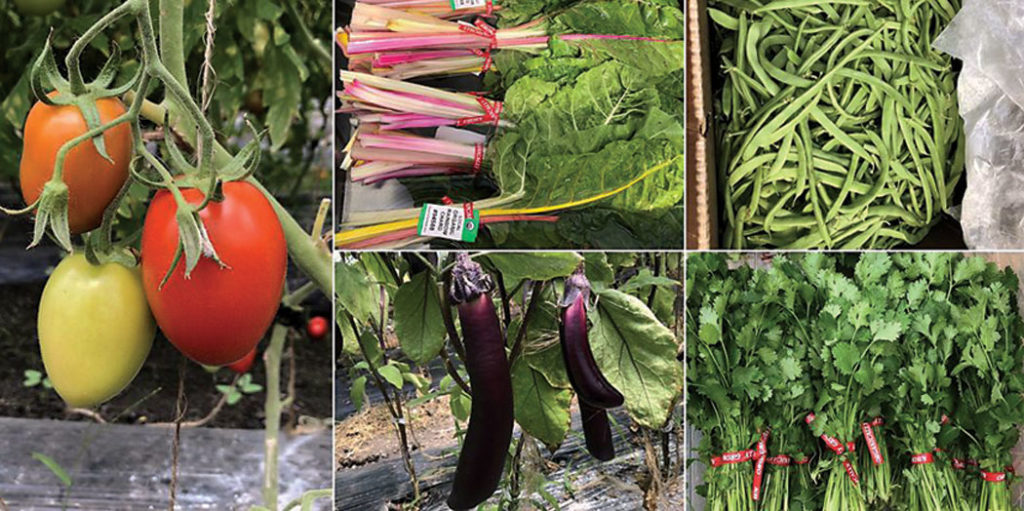 Jorge also runs a lawn-care business, and many of his lawn-care customers support Jorge's Organics. Managing both businesses can be a difficult balancing act, but Jorge is passionate about his work. "He loves to do what he does," Veleida explains. "That's why he's up as early as 6:30 to work and go back and forth around Fairfield with his lawn care as well as the greenhouse."
Veleida is in charge of sales and billing. She contacts customers, takes their orders, and discusses pricing. She also makes deliveries. "I'm really busy because I'm on the road a lot," Veleida says, but she also mentions how the community's strong support makes it all worthwhile. Melanie, who's been helping with marketing as well as logo and website design, says, "Fairfield has unique support from two local groceries, Hy-Vee and Golden Dome Market, which have very enthusiastically supported produce from Jorge's Organics. Of course, local shoppers buying the produce are the basis for that enthusiasm!"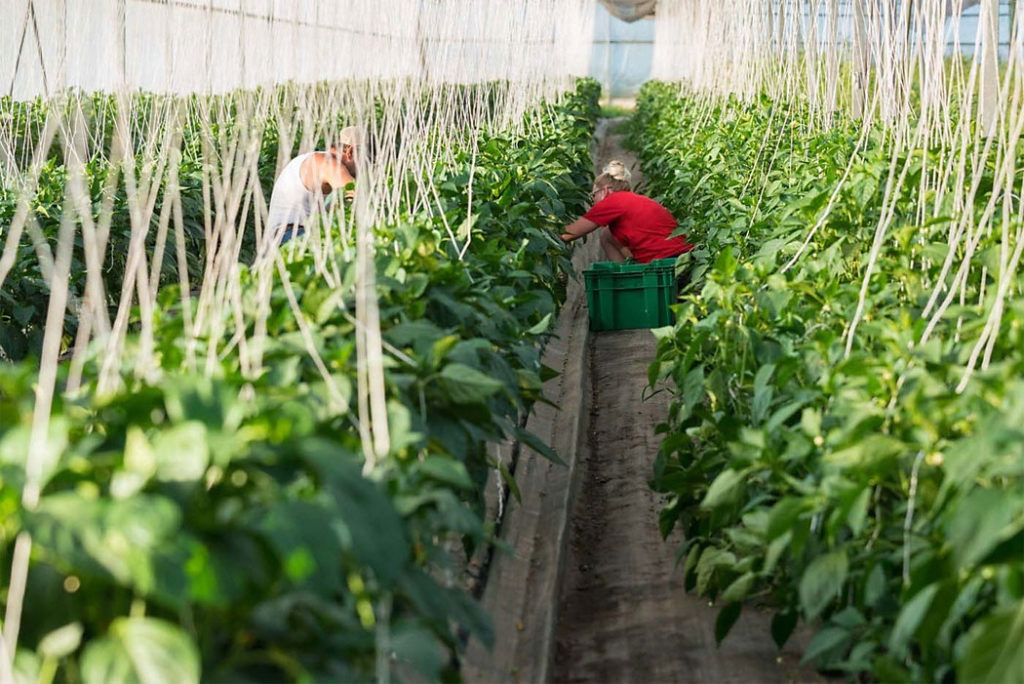 Last year, about 40 percent of their greenhouse production went to the MIU kitchens. Jorge's Organics also supplies produce to the New Pioneer Co-op in Iowa City, Coralville, and Cedar Rapids, and works with FarmTableDelivery, which delivers produce to stores and restaurants in Des Moines and Omaha.
Jorge's Organics CSA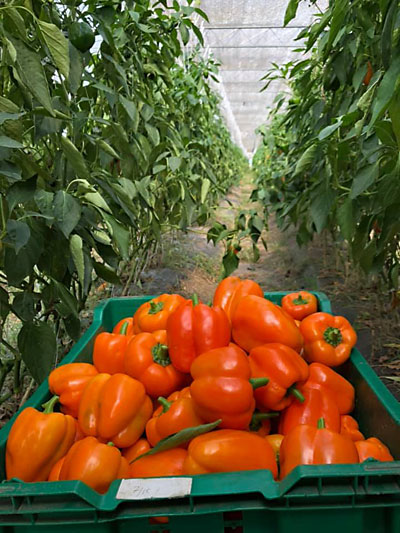 This year, consumers have the opportunity to join Jorge's Organics CSA with local weekly home deliveries. "Rather than a pick-up location, we are initiating the CSA with home delivery service, purchased seasonally in spring, summer, and fall," Melanie explains. "The CSA is an opportunity for the community to receive the best possible local certified organic produce at their door, picked just for you, and received in insulated packaging with a cold pack."
CSAs (community supported agriculture) offer consumers a way to directly support their local farmers and producers. For a membership fee, people get a share, usually a large box, of seasonal produce.
For the coming year, Jorge's Organics is planning to grow chard, kale, bok choy, lettuce, spinach, cilantro, and arugula. They will also be planting carrots, beets, leeks, onions, eggplants, and—their most popular items last year—cucumbers and tomatoes.
Look for Jorge's Organics at the Farmers Market, too. "We plan on being at the Fairfield Farmers Market on Saturdays," Veleida says, "and we also have a couple of days reserved to be at the Des Moines Downtown Farmers Market."

Melanie emphasizes the importance of local support to make the greenhouses viable. "Local food production requires community support," she says. "We hope you will join the CSA or look for the produce in your local stores. We are making the effort this year to brand Jorge's Organics labeling so you can easily recognize it. If you can't find it, please ask your store to carry it!"
For more information, visit the "Jorge's Organics" Facebook page or the website Jorge's Organics.
CSA Signup
The Spring CSA runs for 11 weeks, April 15–June 30. The fee is $359. The Summer CSA runs July 1–Sept. 15. The fee is $342 if members sign up before June 1. The weekly delivery will contain a large variety of produce (about 8 to 12 items), and should be enough for 2 to 4 people. Sign up at jorgesorganics.fairfield@gmail.com or produce@fiog.company.