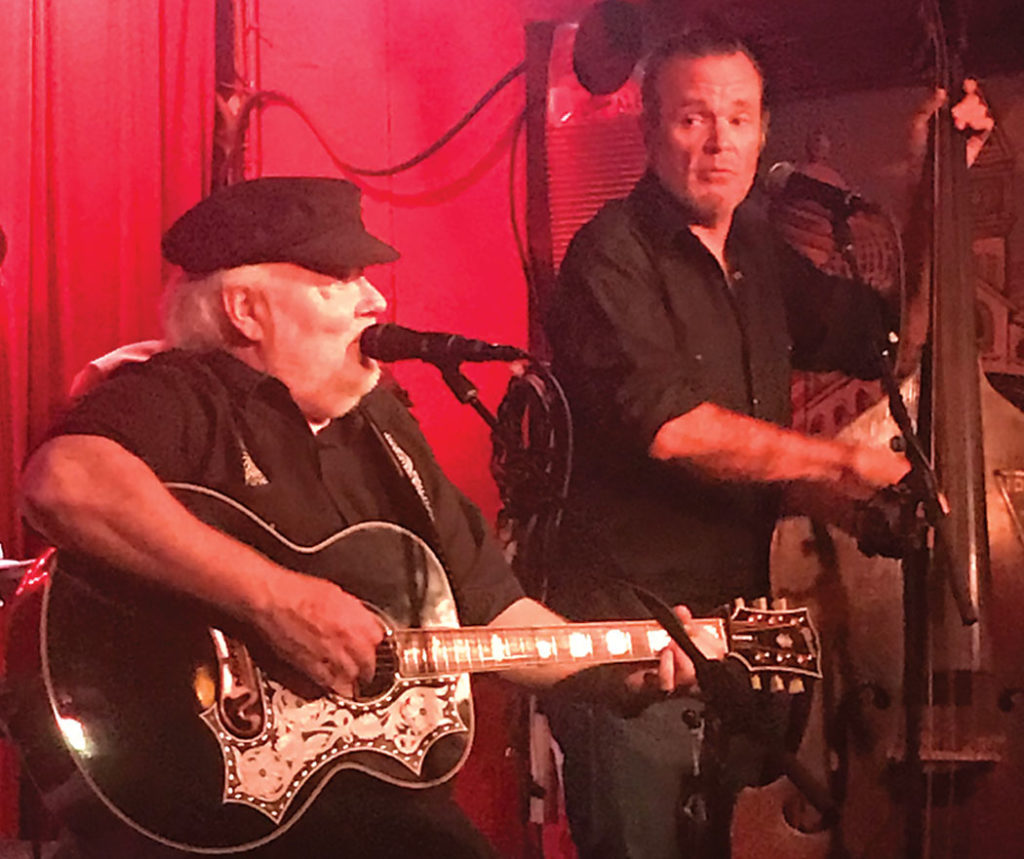 A week before this year's South by Southwest Conference and Festival (SXSW) was scheduled to begin, Austin Mayor Steve Adler cancelled the event because of the looming coronavirus pandemic. By that time, dozens of its biggest financial supporters—like Netflix, Apple, Facebook, Twitter, TikTok, Mashable, LinkedIn, Audible, IBM, and Intel—had already pulled out.
The very next day, Mayor Adler released an online announcement encouraging people to support local businesses. He may not have wanted hordes of people to descend upon the town, but he did want people to go out to bars and restaurants, shop at stores, support service industries, and generally spend money in the local community.
I decided to still go to Austin. I reduced my itinerary from 14 to 7 days and headed south.
Every SXSW Since 1998
Let me explain. I am a SXSW junkie. I have been hooked since first attending in 1998 and I've been there every year since, with one exception—when I could not find affordable housing (a mistake I corrected the following year by booking in September for the March event).
I have had some of my most notable life experiences at SXSW. Many years ago, when I talked to CNN's Jake Tapper and Carl Bernstein, these inquisitive journalists asked me more questions than I was able to ask them. I interviewed film director Jonathan Demme, entrepreneur Tim Ferriss, and futurist Bruce Sterling. I went to lectures by important intellectuals like Jimmy Wales (Wikipedia), Elon Musk (SpaceX), and Ta-Nehisi Coates (writer) that shook up my thinking. I experienced virtual reality and took part in numerous AI activities before they became mainstream.
Modest Beginnings
SXSW began in 1987 as a music fest with just 700 people in attendance and 177 performing artists. In 1994, it became a three-pronged conference that featured two new segments: technology and film. During the 21st century, SXSW became known as the place that spawned Twitter, Foursquare, and Oculus Rift; where directors and actors such as Quentin Tarantino, Greta Gerwig, Charlize Theron, and others came to promote their work. In 2019 SXSW reported there were over 232,250 registered attendees. In some ways SXSW had become too big. Instead of unknown musicians getting a boost (which was the fest's original purpose), superstars such as Bruce Springsteen, Jay-Z, and Lady Gaga had become featured attractions.
My heart was always with the music portion. I would regularly see over 75 acts over the course of the festival, starting with breakfast shows at 6:00 a.m. and continuing through post-midnight parties. SXSW was the place where great talents were launched, including Amy Winehouse, Grimes, and Janelle Monáe—and I was there. I saw many other relatively unknown musicians who have since been nominated for Grammy Awards, such as Lizzo, Yola, and Ruthie Foster. I witnessed outstanding acts from across the world, including Mexico's Ximena Sarinana, Scotland's Young Fathers, and Australia's Sarah Blasko. I first heard musicians at SXSW that I regularly listen to today, including Nellie McKay, Low Cut Connie, and Jade Bird.
Local Artists
This year I was planning on seeing Philadelphia indie rocker Frances Quinlan, Los Angeles violinist Sudan Archives, and London's poet-singer Arlo Parks, among others. By the time I headed down to Austin, I knew they would no longer be performing, but I created a full itinerary by researching which local artists (and those who have made Austin their second home) would be performing: Friday night, rock singer-songwriter Chuck Prophet at the legendary Continental Club venue; Saturday, country singer Dale Watson at the historic dance hall the Broken Spoke; Sunday, English band Keane at the big rock club Emo's; Monday, country-rock singer-songwriter Bonnie Bishop at the historic Saxon Pub; Tuesday, gypsy swing band 8 ½ Souvenirs at the swanky C-Boy's Heart & Soul; Wednesday, the Blue Moon Jazz Quartet with Rosie Flores at the intimate Gallery on South Congress; and best of all—Thursday, Willie Nelson's Luck Reunion at his ranch in Spicewood, with a variety of wonderful acts, including Margo Price, Kris Kristofferson, Terry Allen and Panhandle Mystery Band, Lucinda Williams, Amanda Shires, and Angel Olsen. It was to be an all-day event with free refreshments and activities. I planned to come home Friday morning, sated with music.
SXSWnot
Alas, the best-laid plans of mice and men . . . When I found out the Willie Nelson party was cancelled, I was bummed, but I had a back-up plan. There was another big party scheduled nearby that featured several of the same acts, including Margo Price and Orville Peck, and other artists such as Colter Wall, Ray Wylie Hubbard, Nikki Lane, and White Denim. There was still plenty to do in Austin at what I now called SXSWnot.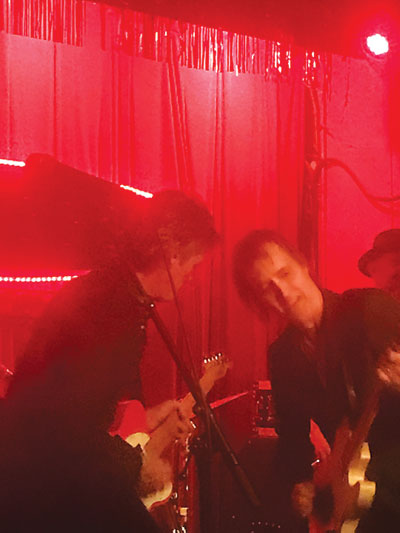 Except it wasn't to be. Things started out smoothly. I got into town around 6 p.m., unloaded my stuff, and feasted on tacos and beer at Guero's before crossing the street and watching Chuck Prophet rock the house. He was joined by surprise guest blues-rock guitarist Charlie Sexton. The two of them jammed and joked to the delight of the crowd until midnight.
The next night was also splendid. The silver-haired Dale Watson got the crowd dancing and grooving to his catalog of self-penned country tunes mixed with classics by the likes of Merle Haggard and Johnny Cash. Watson and his band performed for more than three hours straight and readily accepted shots of tequila from the crowd to keep lubricated.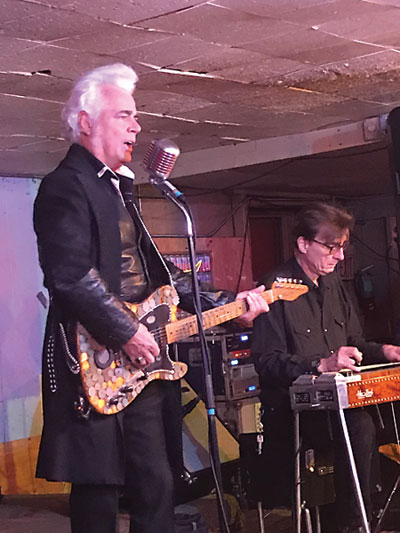 Both Prophet and Watson's shows were full, but not packed. During SXSW, these would have been standing-room-only venues. The streets and restaurants were noticeably emptier, too. I knew that my Sunday night show would probably be cancelled as it was at a big hall with an international artist (Keane), but I saw that two local acts, Sir Woman (Kelsey Wilson) and Dylan Meek would be performing at Radio Coffee & Beer that same night. When I got there, I found out the show—as well as all the others scheduled for the week—were cancelled.
I made it back to the Continental Club where roots rockers Heybale! were playing. Guitarist Redd Volkaert announced that two members of the seven-piece band were unavailable for medical reasons. The room was only half full, and he was clearly rattled by events of the past few days. As the band performed, the club announced this would be the last show. The venue would be closed until further notice.
That was true for all the music venues. I went to record stores and book shops only to find out they were all closed as well.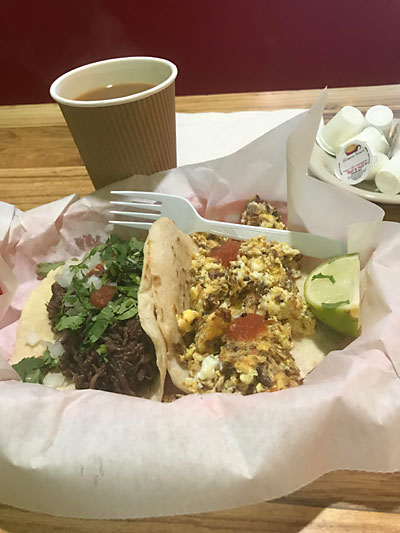 That was my SXSWnot. I had fun while it lasted. And I had some great food, including what I call the 4 Bs (brisket, beans, banana pudding, and beer) at Black's BBQ in central Austin, breakfast tacos at Rosita's Al Pastor in east Austin, and New York-style pizza at Home Slice. But it was time to come home. I rescheduled my flight (the airline was accommodating) and cancelled my room (my Airbnb host would not give me a partial refund).
I'm back in Iowa, daydreaming of SXSW next year. SXSW was not insured and they've laid off a third of their employees, so I can only hope that it happens again.