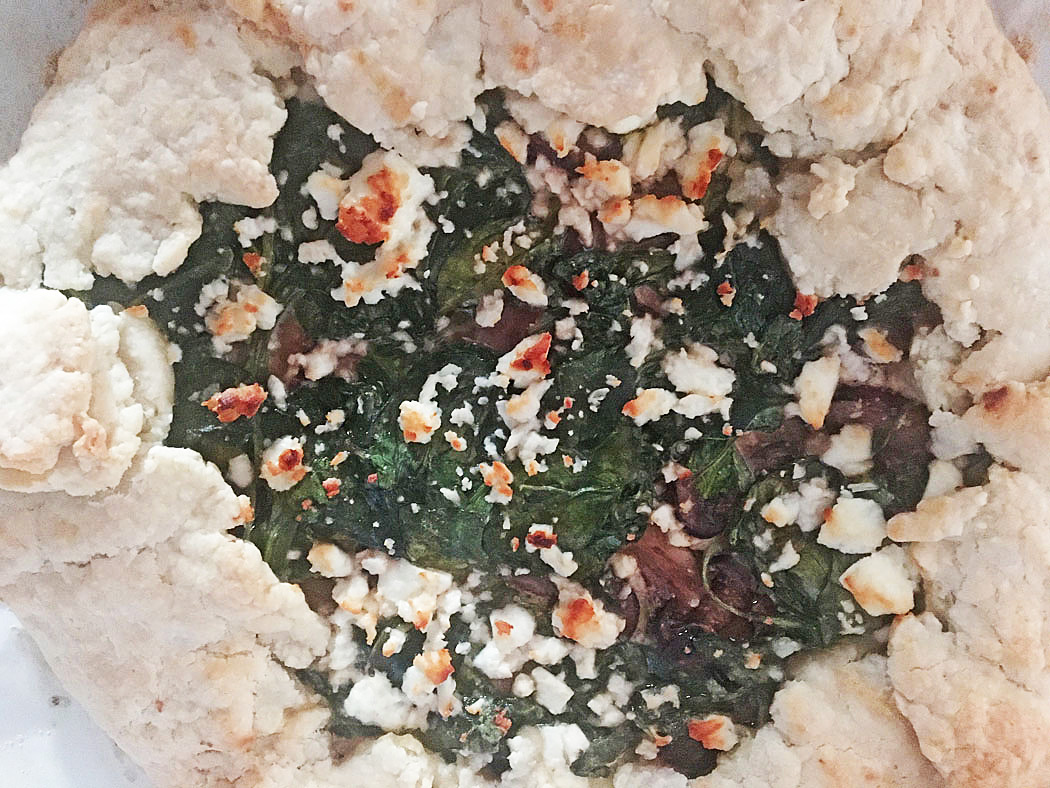 Spring is here! Along with it comes a new crop of seasonal additions to the pantry. Last year around this time, a dear friend wowed us with a gorgeous, rustic, and absolutely scrumptious galette. The word "galette" is a beautiful French term for a freeform crust filled with sweet or savory goodness. In this case, we're going the savory route.
Before we dive into the galette, I encourage you to make homemade ranch dressing as a delightful spring salad topper. Grab those spices out of the cabinet and create a masterpiece for your salads or veggies. It tastes ten times better than the store-bought version—and it's healthier, too. I promise you will not go back to buying it in the store. It's easily stored in a standard pint Mason jar.
Homemade Ranch Dressing
½ cup cottage cheese
½ cup buttermilk
1 tsp. dried parsley
¾ tsp. dried dill weed
½ tsp. garlic powder
½ tsp. onion powder
¼ tsp. salt
⅛ tsp. fresh-cracked black pepper
Blend cottage cheese and buttermilk together until smooth. Pour mixture into a storage jar and add spices. Whisk until well blended. Refrigerate for two hours to allow flavors to set. Shake well before use.
Spinach Mushroom Galette
Dough
¾ cup chilled butter, cut into pieces
2 cups all-purpose flour
1 tsp. sea salt
1 Tbsp. apple cider vinegar
¼ cup ice water
Galette
½ cup cottage cheese
2 Tbsp. olive oil, divided
4 oz. mushrooms, thinly sliced
2 garlic cloves, thinly sliced
10 oz. spinach
4 oz. feta cheese
1 Tbsp. butter, melted
Pulse flour and salt together in a food processor until mixed. Add butter pieces and pulse until mixture resembles coarse meal. Transfer mixture into bowl and add vinegar and ice water. Using a fork, mix until a shaggy dough is formed, adding more ice water if necessary. Knead lightly until water is incorporated, being careful not to overwork the dough. Pat into a disk and chill for at least 2 hours.
When you're ready to make the galette, preheat the oven to 400° F.
For the galette filling, heat 1 Tbsp. olive oil over medium high heat in large skillet. Add mushrooms and season with salt and pepper, cooking until golden brown and crisp. Transfer to a bowl. Heat another 1 Tbsp. olive oil in the same skillet over medium heat, and add the garlic for about 30–45 seconds. Add half of the spinach, and after seasoning with salt and pepper, cook until barely wilted. Add the remaining spinach and cook until completely wilted. Remove from heat and set aside.
To make the crust, remove dough from refrigerator and roll out on lightly floured surface until it reaches a 14″ round about⅛⅛" thick. Transfer to a baking sheet, and then spread cottage cheese over dough, making sure to leave a 1 ½" border. Top with mushrooms and spinach. Sprinkle with feta cheese.
Bring edge of dough up and over filling to create a border of about 1 ½ " and brush with melted butter. Bake galette, rotating one time, until a golden brown crust forms, about 35–40 minutes. Let it cool slightly before serving.
Mint Brownies
Last, but certainly not least, one always needs the equivalent of an after-dinner mint. How about a mint brownie? It's a true crowd pleaser and a perfect post-dinner staple. Pair it with a scoop of vanilla ice cream for an extra-delicious treat.
9×13″ pan of your favorite brownies
Mint Filling
4 Tbsp. soft butter
1 ½ cups powdered sugar
2 Tbsp. milk
1–2 tsp. peppermint extract (to taste)
Chocolate Icing
½ cup chocolate chips
4 Tbsp. butter
Bake your favorite brownies and allow to cool. To make filling, mix butter, powdered sugar, milk, and peppermint. Spread over cooled brownies, and chill.
When filling has chilled, melt chocolate chips and 4 Tbsp. butter together and spread over the top.