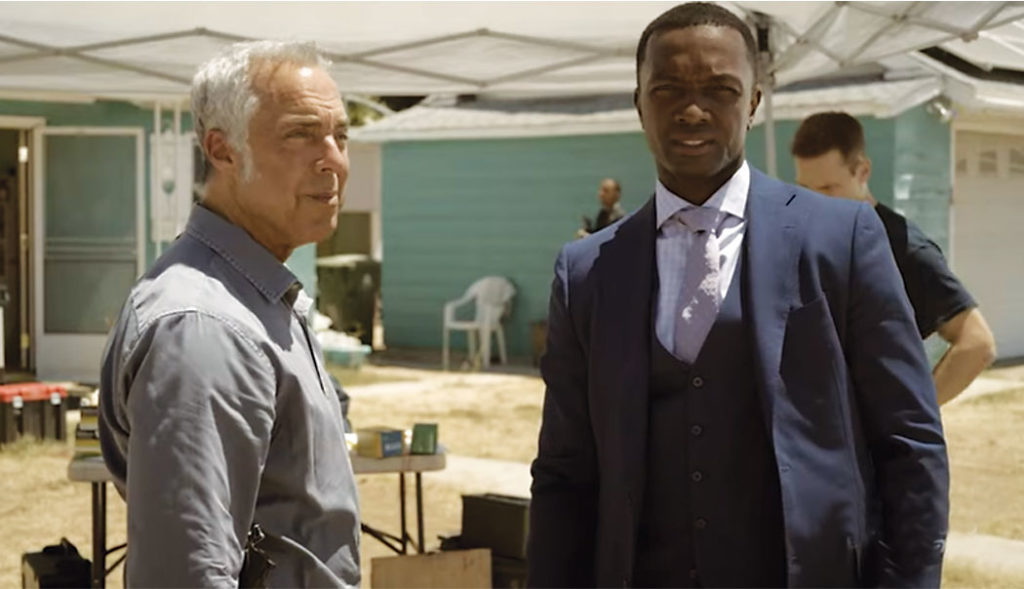 "I gotta feelin' that I can't let go." The muted trumpet of the Bosch intro stretches the smooth, jazzy theme into a slow, earnest delivery. And we settle into an easy pace for this captivating crime series now in its sixth season on Amazon. Michael Connelly's bestselling novels about the iconic LAPD homicide detective Harry Bosch beckons viewers with ten new episodes and the beloved cast of fascinating characters.
Bosch is a veteran detective, now middle aged, who was born to solve crimes. Played to perfection by Titus Welliver, Bosch is quiet and pensive, with a big heart but no patience for small talk. His potent mix of determination, keen observation, hard evidence, and "gotta feelin' " hunches describes the crime-solving sensibilities that take him to the finish line. And while he prefers working solo, he's well matched with his team partner Edgar (Jamie Hectar). Though their disparate fashion styles—Harry's relaxed L.A. look versus Edgar's three-piece suits—make us wonder if they work at the same job.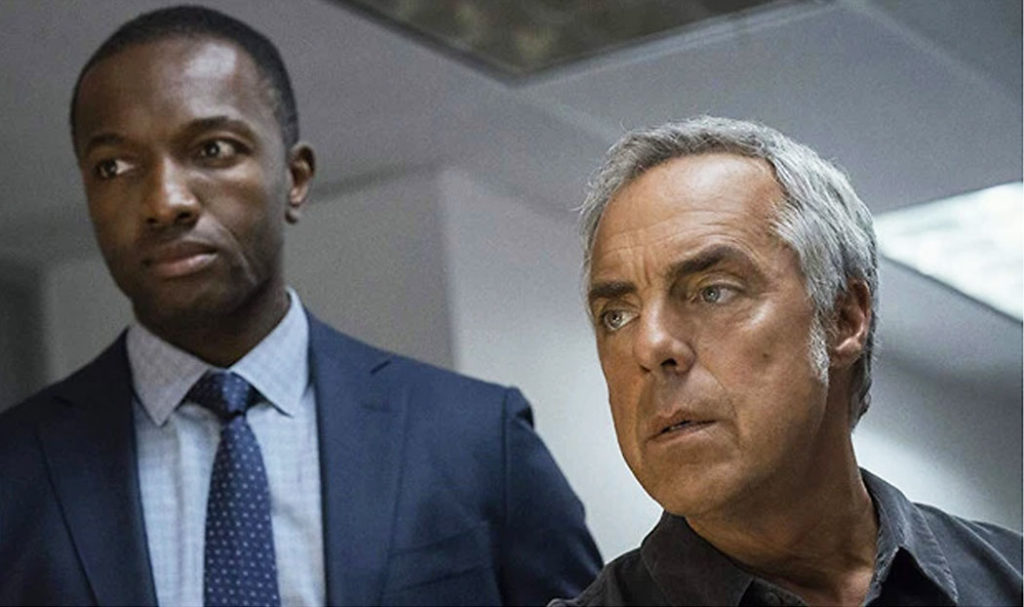 What's unique about the Bosch series is the pacing. The gentle, unhurried rhythm feels somehow relaxing, like a crime mystery on Xanax. Yet each episode packs plenty of substance following several overlapping cases, so you don't want to miss any details. Which is why turning on the captions is a good backup plan, since Amazon's audio quality falls short of other streaming services.
Season 6 opens with the homicide of a medical physicist and the disappearance of radioactive materials. Which means Bosch and Edgar must "team up" with the FBI. And when cops and Feds share a case . . . it's always a pissing match. The first episodes drive us through all the friction of distrust, secrecy, and competition with a sense of humor.
Disclaimer: I'm only halfway through the season but enjoying it even more than the previous five. And the endearing characters make every minute worthwhile: Lieutenant Billets (a.k.a. Bullets) played by Amy Aquino, Bosch's daughter (Madeline Lintz), whom he treasures, the unforgettable bass voice of Lance Reddick as Chief Irving, and the inseparable detective duo "Crate and Barrel," whose quips and hefty builds keep the series light.
Connelly chose Titus Welliver to embody the complex Detective Bosch. Welliver's acting career includes more than 100 credits, including Lost, Deadwood, and Sons of Anarchy. Harry Bosch is a dream role. A fictional character who lives and breathes. Who's predictable yet full of surprises, moral yet flawed. With a droll sense of humor, a well-honed outlook, and a painful past that shades him like a cloud. And he's based on the real-life detective Rick Jackson, whom Connelly knew and admired during his crime reporter career, and who eventually became his friend. What Connelly admired most was how Jackson sought justice for every victim, whether it was a homeless citizen or a member of city council. "Everyone counts" became Bosch's guiding light.
Crime procedurals are a favorite genre for the suspenseful, painstaking process of unraveling the mystery to find the perpetrator. The Bosch series takes crime-solving to a new level with characters we love spending time with. Not to mention the view from Bosch's house from the Hollywood Hills overlooking the breathtaking vista of the Sunset Strip, Culver City, and beyond. (The house, we learn earlier, was paid for by Bosch's consulting fee on a Hollywood film). Whether you're familiar with the books or not, the Amazon series entertains with suspense, insight, a few laughs, and a superb music theme that you can't let go. A