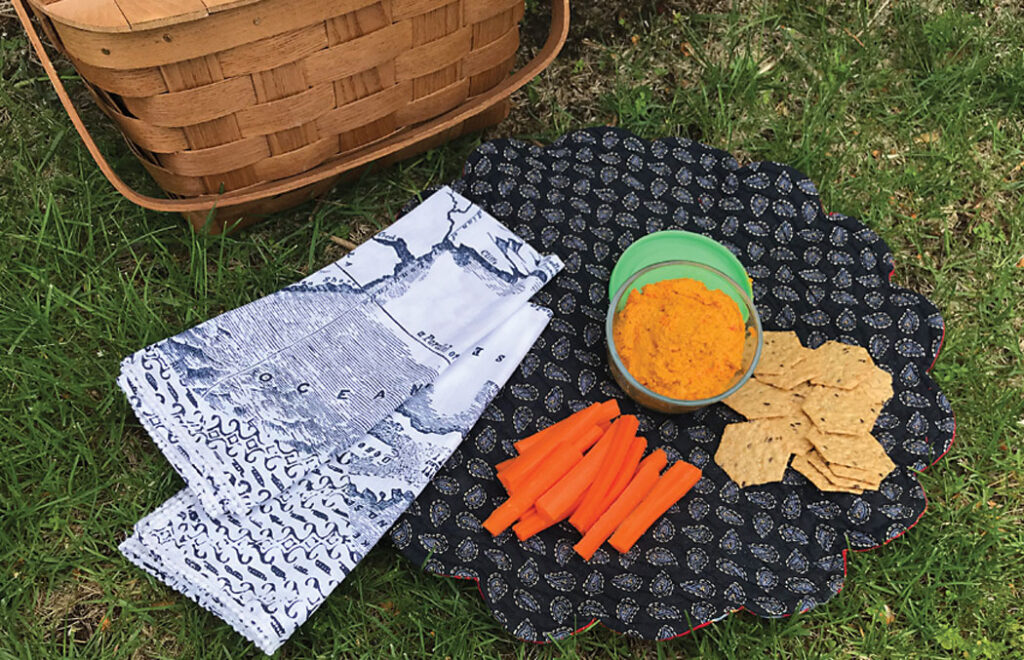 Spring brings the perfect weather to be outside and savor the sunshine on your shoulder. One of the best activities this time of year is hiking, and what's a hike without some sustenance to keep you going?
Cucumber Sandwiches
While traipsing along the coastline with my dear half-English, half-Italian friend, I learned about the heritage of the English cucumber sandwich. Served at tea time, brunch time, or outdoor time, little cucumber sandwiches win big for ease of creation and convenience in traveling. These gems are best made with thin, dense rye bread and an ample smear of butter. Apply thinly sliced cucumbers, and away you go with one of the most satisfying sandwiches for mid-hike consumption.
Roasted Red Pepper Hummus
Another favorite hiking food is the most magical hummusy dip ever—hearty, healthy, and hikeworthy. Pack it with baby carrots and pita pieces, and let your adventures take you far and wide. This recipe can be easily multiplied for larger batches.
1  15 oz. can garbanzo beans
1 red pepper, cut into ½" chunks
2 tsp. turmeric, more or less depending on preference
2 Tbsp. olive oil
Salt, to taste
1–2 Tbsp. olive oil
Juice from lemon, to taste
Heat oven to 450° F. Drain garbanzos and pour onto a sheet pan. Chop red pepper and add to the pan. Sprinkle beans and pepper mixture with turmeric and olive oil. Mix on the sheet pan and roast for 20–25 minutes. Let cool, then place in a blender or food processor and add the rest of the olive oil, plus salt and lemon juice to taste. Blend until the mixture is smooth (add water if the mixture is too thick). Apply judiciously to sandwiches, or use as a dip for breads and vegetables.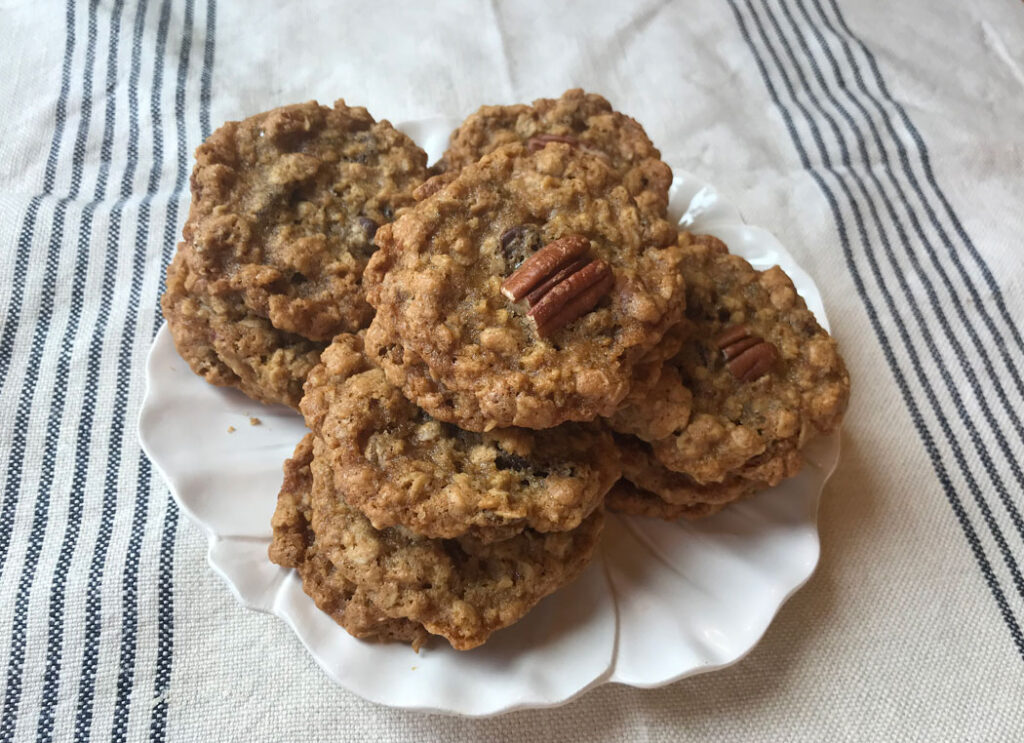 Trail Mix Cookies
Lastly, everyone needs a delicious dessert. Why not try this trail mix-inspired version? My Uncle Jimmy, who can be counted on to locate the best dessert recipes, shared these cookies with me this past winter, and I dreamed of eating them on the trail. In my first attempt at making them, I used butter, and they spread out and crisped and crumbled to perfection. However, to make them more hikeworthy, I will share the original recipe—the shortening makes them hold together better. You choose.
1 cup shortening (or butter)
1 cup sugar
1 cup packed brown sugar
2 eggs
1 tsp. vanilla extract
3 cups old-fashioned oats
1½ cups all-purpose flour
1 tsp. baking soda
1 tsp. salt
¾ cup chopped pecans
¾ cup golden raisins
1 cup chocolate chips
Preheat the oven to 375° F.
In a large bowl, cream shortening and sugars until light and fluffy. Beat in eggs and vanilla. Combine oats, flour, baking soda, and salt, and add to the egg mixture. Mix until well combined. Stir in nuts, raisins, and chocolate chips.
Drop by heaping tablespoons onto parchment-lined sheets, leaving 2 inches between cookies. Bake until golden brown, about 10–12 minutes. Cool on wire racks. Makes about 6 dozen.
• • •
Finally, pack all of the deliciousness you just created into your favorite hiking pack. Happy trails to you, friends!