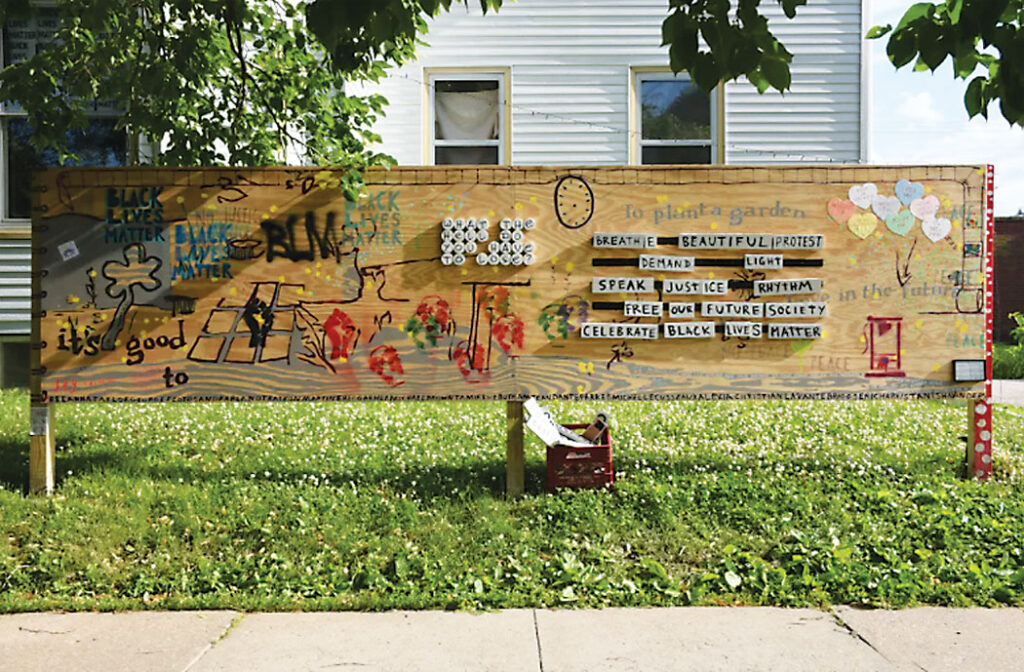 Iowa City's artist-run Public Space One (PS1) is hosting a thought-provoking outdoor exhibition this summer in response to important current issues: The Witness Wall. The brainchild of PS1's Cory Christiansen, The Witness Wall is a temporary plywood panel erected on the north side of their site.
"When we realized the whole world would be shut down," explains PS1 Director John Engelbrecht, "our gallery team, kind of a curatorial body at PS1, started brainstorming ideas about what we could do to stay engaged and work with artists that was kind of outside the traditional gallery setting."
The Witness Wall offers a place for public input on the ongoing 2020 experience—a collective response to the COVID-19 pandemic and what it has revealed about the consequences of anti-science sentiment, systemic racism, inequality, and injustice. Local artists are encouraged to participate in the continuing conversation.
PS1 started the ball rolling by asking a handful of local artists to contribute. The first artist to take the plunge was Julia J. Wolfe, a multidisciplinary artist who has been commissioned to paint many of Iowa City's public picnic tables. "She has a sort of painting style that works really well for public murals," Engelbrecht says. Wolfe's images often incorporate text and interact with their environment outside of a frame. "She uses whatever environment she's in as an aesthetic for her painting. It's not necessarily about a rectangle or square frame but about how a painting shows up in the world."
The Witness Wall started out unprimed and uncoated, leaving the wood grain obvious. Wolfe integrated it into her piece as waves.
Originally conceptualized as a response to the COVID-19 pandemic, The Witness Wall has evolved to reflect other world events. "When Black Lives Matter picked up, things sort of changed," Engelbrecht says. "The idea of The Witness Wall has changed from just witnessing what this pandemic is doing and how we interact, to what kind of systemic change can actually go on that's beyond the pandemic. It goes into all these different ideas about who we are, what values we have, and what kind of justice we're seeking."
Local artist Travis Kraus developed a set of velcro text tiles that can be placed on the wall, similar to magnetic poetry. The text evolved through conversations the artist had with his family about what it means to be an anti-racist, and how to talk about anti-racism. The text tiles can be used to spell out Black Lives Matter, or comment on privilege or any kind of "ism."
Engelbrecht says the text gets re-arranged almost every day, and he's noticed a sort of cat and mouse game going on. People will post Black Lives Matter, which gets changed to All Peoples Lives Matter, which gets changed back to Black Lives Matter. The intent of the space is to create openness for dialogue, and PS1 members keep an eye on the text.
"If someone puts something really hateful up there," Engelbrecht says, "it's up to us as a community to say we won't stand for that and erase it or change it." In a funny aside, he noticed the "police" text tile was missing and found it in the back of a truck parked nearby. "Aspects of these words get taken because people don't want them up on the wall in any form."
Much of the art and text on the wall offers general commentary, but Engelbrecht says one story is specific and personal. After meeting a Cedar Rapids woman at an African American Museum event and learning that her sister, Rekia Boyd, had been killed by a police officer in Chicago in 2012, Engelbrecht assured the woman that her sister's name would be featured.
"Her sister was 22 at the time," Engelbrecht says. "For her, it's not a month-long movement, it's something she's been living with for the better part of a decade. . . . It was a pretty powerful experience just to hear that story and look up Rekia's story online."
Engelbrecht hopes that The Witness Wall is providing a catalyst for conversation and change, as part of a larger artistic movement, and mentions that a number of high-profile buildings and intersections in Iowa City have been spray painted.
"A lot of walls have been taken over by voices that don't have visibility in our community," he says. "There are some really powerful messages going up on these buildings that have a lot more prestige than our wall does. I hope our wall is some small part of that."
Even if The Witness Wall seems small in comparison with some of the larger public art projects, it is still providing an important avenue for expression, and adding to the cry for justice and healing. "We want to be one voice in an ocean of voices that is affirming marginalized peoples' right to be alive and be in a just society and put their ideas out into the world."
As The Witness Wall evolves, Engelbrecht is photographing it regularly. "Anytime I see something new, I make a point to photograph it. The documentation of the wall will also be this time-lapse imagery of it changing over time. We're hoping it will have a really nice thick patina of community input when we take it down. Hopefully, it will grow into a lot of different things over time."
The Witness Wall will be staying up indefinitely, as long as 12 to 16 months, Engelbrecht expects. When it's eventually taken down, it will be cut into pieces. "The deconstruction and redistribution of The Wall would be a great event at some point," he says. "It will have to have some kind of ritual deconstruction, preferably at a time when people can get together again. I think it will become a relic or a trace of the community experience."
Engelbrecht would love for more people to get involved. Guidelines for adding to the wall are at PublicSpaceOne.com.