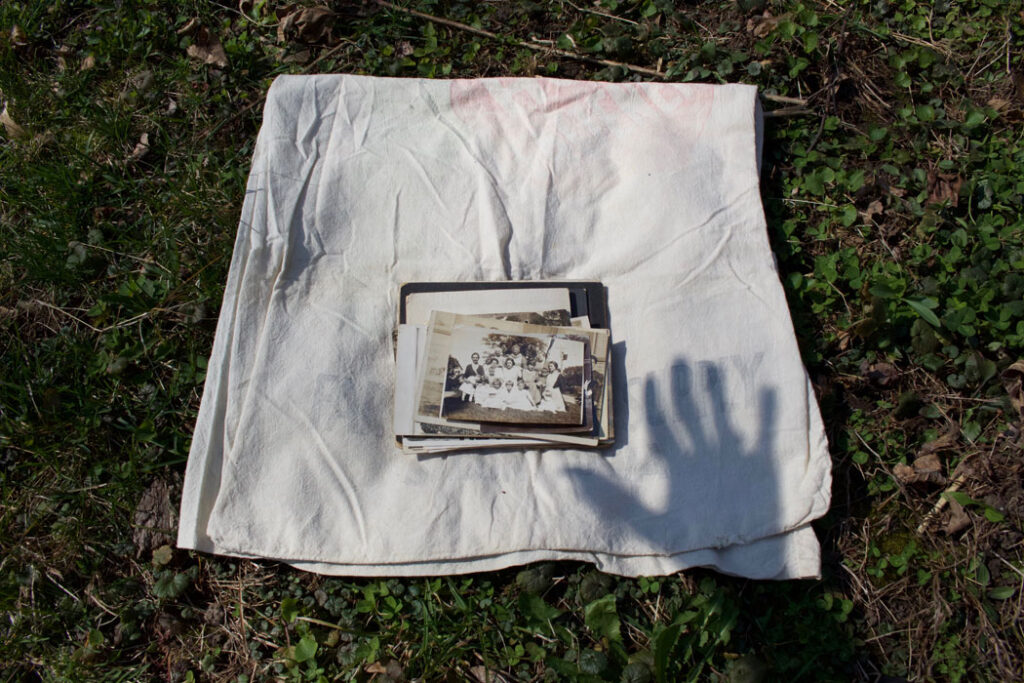 Post-Consumer Content, a series of outdoor exhibitions hosted by Public Space One (PS1) in Iowa City through mid-August, investigates the ethical production and consumption of environmental art. According to PS1 curator Louise Fisher, environmental art is inspired by the impact of climate change and habitat loss, and has become a major force in contemporary art.
"However, the materials, presentation, and transportation we use as artists to make and share our work can have a harmful impact on other species and the environment—for example, the amount of water it takes to make the paper we use or the planes we take to give a talk," she says. "If you are an environmental artist, there is a constant negotiation with this dilemma. On one hand, it's a necessary evil and on the other it's hypocritical."
Fisher explains that the economic model of the art market is one that exhausts the Earth's resources, contributing to species extinction and human suffering. She says that it's important for artists "to think about their complacency in a capitalist market in the way they disseminate their work to audiences."
She adds that the economic downturn has made a fragile art market even more uncertain. "We have to find new reasons to make art, other than to sell it, because that isn't guaranteed," she says. "Interactive art is important for the public, because it challenges their notions of what art can be and that art 'might not be for them' because they don't understand it or can't afford it. Taking art off of the white walls and into a public outdoor space can help relieve some of those notions and barriers."
Fisher chose artists who make work that is experiential rather than consumable (for sale), who use natural, reclaimed, or recycled materials, and who collaborate with the natural elements. "I think it's an interesting challenge and expands the potential of what art can be."
The group of local artists participating in this rotating exhibition are installation and performance artists, or environmental activists and advocates. "Local artists will use less fossil fuels to participate and are intimate with the community and landscape." Fisher says.
The exhibition opened in mid-July, and each week a new artist is featured. The schedule is:
July 12-17: Jager Palad, an MFA candidate at the University of Iowa whose work draws from the waste of industrial production and consumerism
July 19-24: Caitlin Mary Margarett, an artist who combines performance and object-making with an interest in feminist spirituality, systems of flourishing, and suffering
July 26-31: Ayla Boylen, a Cedar-Rapids-based climate activist and artist
August 2-7: Tim Tabor, an Iowa City artist and childcare provider whose sculptural work repurposes discarded and previously used objects
August 9-14: Peggy Fitzgerald, an artist and educator who will co-create a Wunderkammer (Cabinet of Curiosities) with youth participants from the Prairie School of Art
Fisher is excited that Fitzgerald's installation will involve community youth. "I wanted at least one installation to be created by youth, as children are crucial in the fight for 21st century environmental justice."
Fisher enjoys "giving these artists a place to experiment as much as they want with materials, presentation, and space." She began planning the exhibition last winter, before COVID-19, and is very happy it wasn't canceled. "Since it's taking place outdoors, the public can experience some art in person," she says. "This year, we are really missing the in-person experience and the communal experience of art. Any opportunity we can take to safely hear poetry and music, or see visual art and performances in person, the less lonely and afraid we will be. I'm excited for the community to see the great exhibitions in the front yard of PS1 this summer, and happy they gave us these opportunities to share art with the community."
Fisher hopes these exhibitions help audiences become more aware of the visual details in their environment, expands their notion of what art can be, and inspires them to consider how art can be a tool for social change and empathy.
The exhibitions are held at PS1, 229 N. Gilbert Street, Iowa City. For those who are unable to physically experience the work, a video will be released at the end of the exhibition, and will be published at PublicSpaceOne.com.