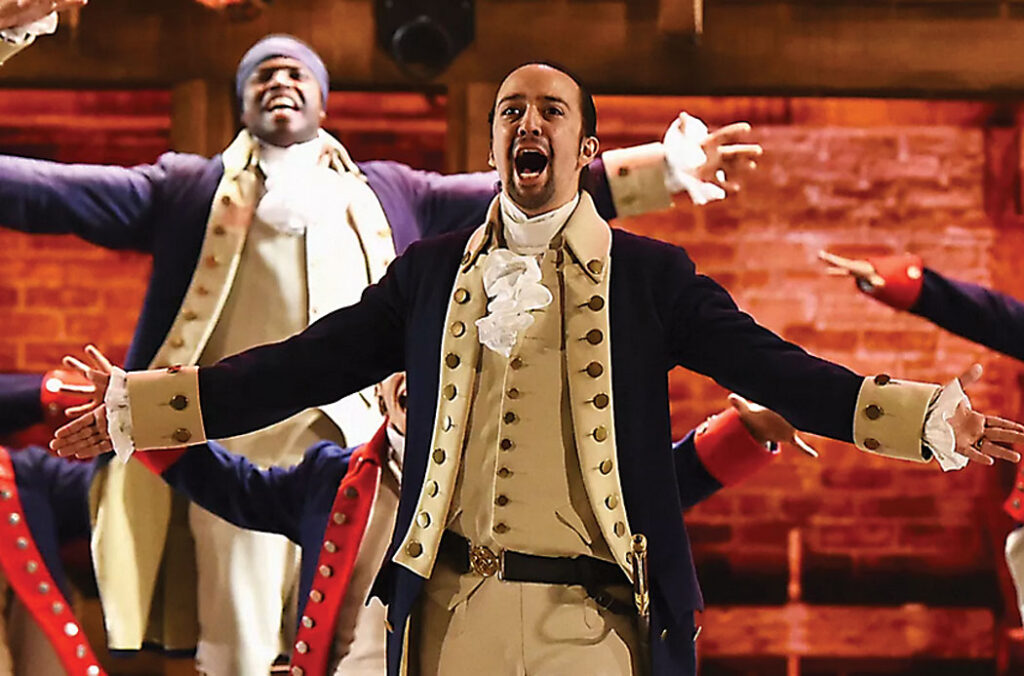 Even if you've mastered American history in molecular detail, and who hasn't, the 160-minute film of this Broadway musical sensation might help clarify your vision of Alexander Hamilton and give you some perspective on the birth of our country, in which Hamilton was instrumental. And he's still with us today, right in our wallets on the ten-dollar bill.
Unlike his fellow statesmen, who were well schooled by their wealthy, noble families, Hamilton was an orphan from the Caribbean island of Nevis who spent his youth working labor jobs until some businessmen financed his schooling in the colonies. And that education crafted the Hamilton who is remembered and admired today as a man who lived many lives: politician, banker, economist, lawyer, and legal scholar. He wrote more than half of the 85 essays of the Federalist Papers, justifying the colonies' separation from Britain. As General Washington's military commander, his Yorkville victory helped seal the deal for American independence. He became President Washington's close aide and his Secretary of the Treasury, and founded the first federal bank and the U.S. Mint. All before his death at age 49.
Adapting the biography Alexander Hamilton by Ron Chernow, Lin-Manuel Miranda created Hamilton the musical, which opened on Broadway in January 2015 to explosive reviews that put New York's theater district back on the map. The show continued until March 2020, when the coronavirus closed the theaters. But now, Disney+ streams this filmed viewing of the Hamilton stage performance for the modest fee of $6.99. My advice: go for it.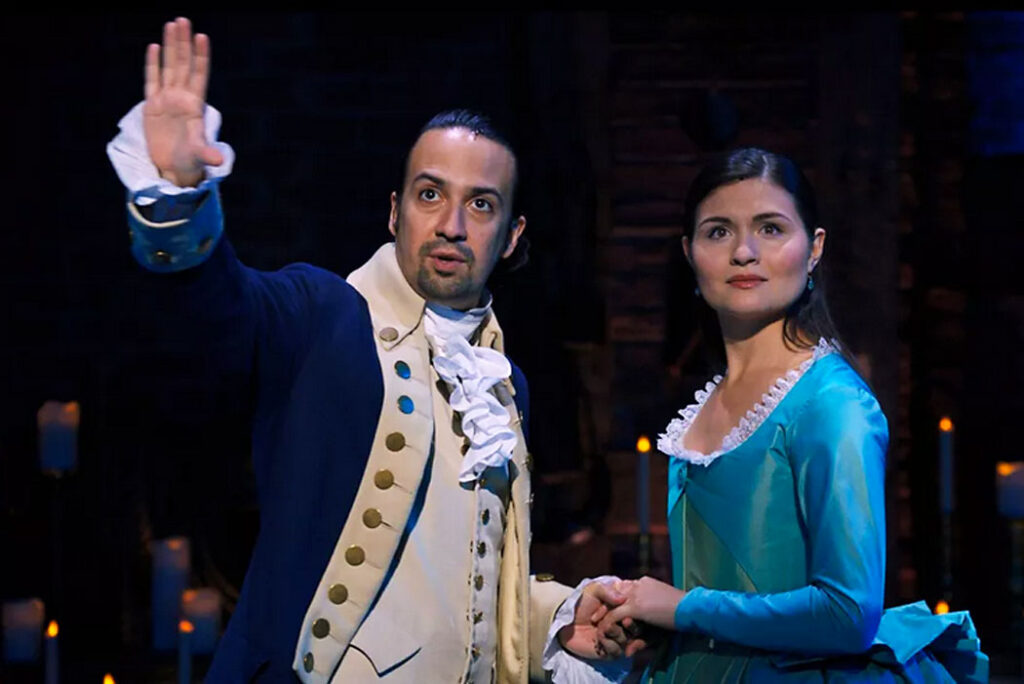 The parallels between Alexander Hamilton and Lin-Manuel Miranda are obvious, for their talents and can-do ambitions. LMM, also Caribbean born, achieved success with his musical stage production In the Heights, about Manhattan's Washington Heights neighborhood. With Hamilton, his second venture, he wrote and produced the musical score and lyrics, played the leading man, and soared into stardom.
LMM's production flies freestyle, casting black performers to portray history's most remembered white men. And the story flows from one song to the next with no spoken dialogue. If musicals are not your genre, join the club—but don't rule this out. Once the film gets rolling, you'll surrender to the flow. Some of the songs are hip-hop, and their tight, tense rhythm energizes the personal story embedded in one of our history's most important chapters.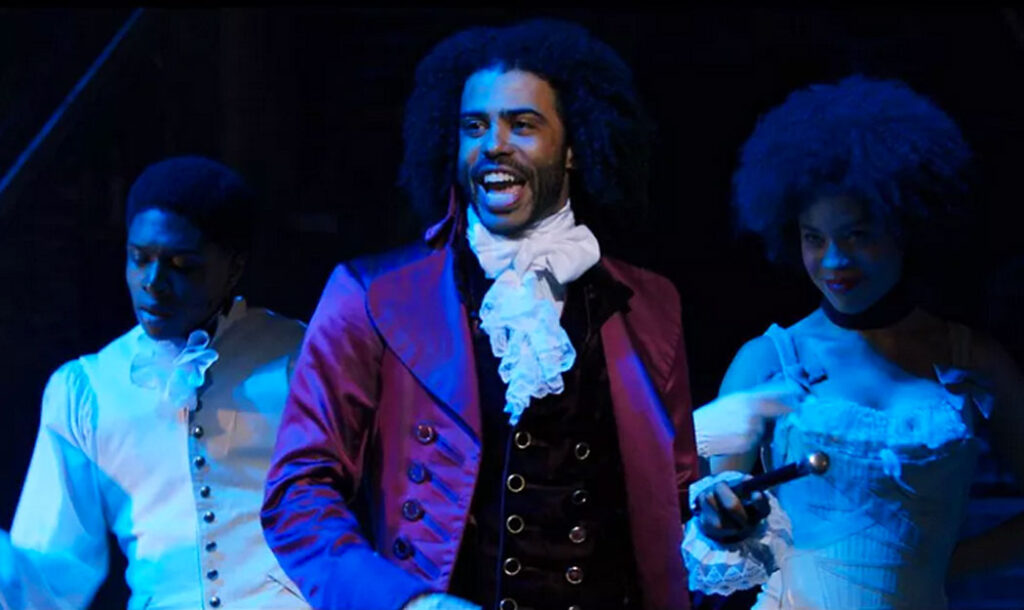 So how does this history lesson look on stage? For starters, the costumes are commanding. And the performances include some superb voices and stage talent. Christopher Jackson (Moana, After.Life, In the Heights) offers a notable portrayal of George Washington, though the Founders' hair fashion holds no sway here; Jackson flaunts a buzz cut instead. But the moment he first appears, crowned in the iconic three-cornered hat, he brings a bolt of energy to the stage. He had me, buzz cut and all.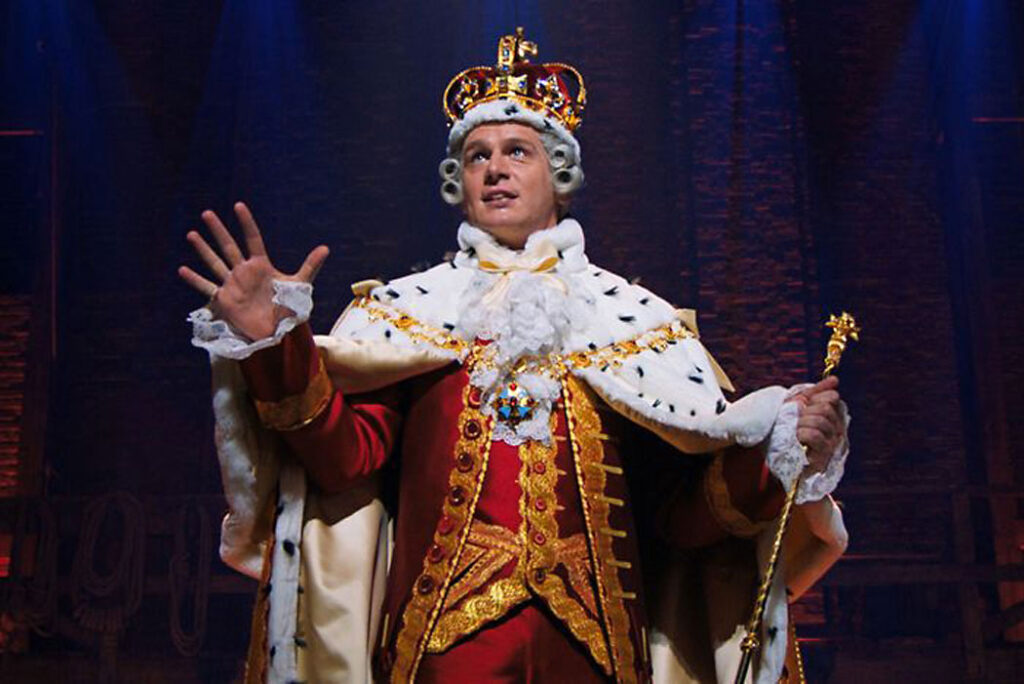 The most memorable character—caricature, actually—is King George III. As you recall, the king ruled the British Empire, which included the American colonies. But the colonies were declaring themselves a free nation, and boo-hoo, the king feels betrayed. Playing the king is 35-year-old Jonathan Groff, an established talent of Broadway as well as the TV series Glee and the Netflix series Mindhunter. Dressed in full throne-wear regalia, he explains Britain's parental sovereignty with a humorous la-di-da melody and lyrics like, "I will kill your friends and family to remind you of my love." With his powerful voice, his comedic facial expressions, and his gravitas, King George steals the show.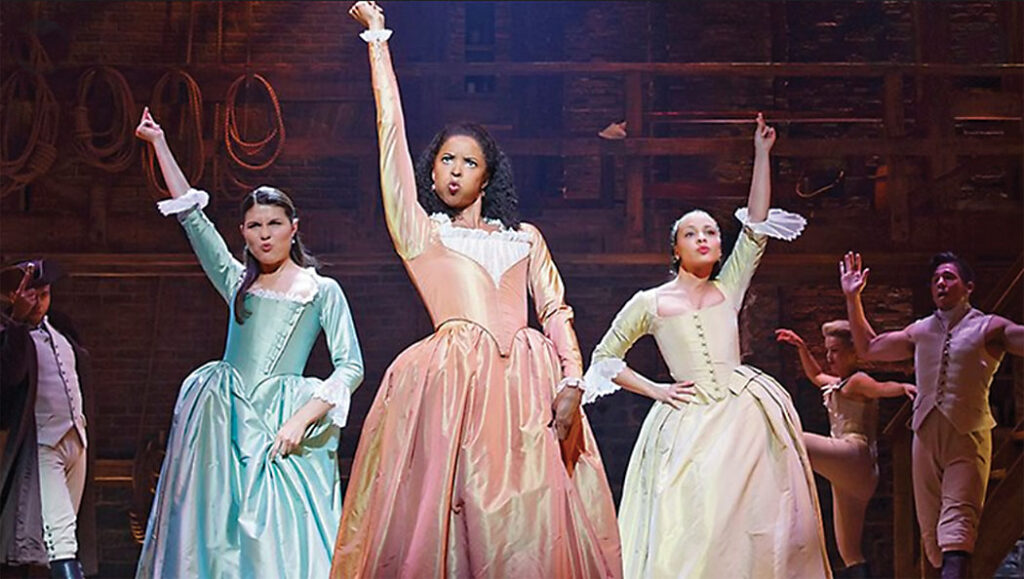 Hamilton has been accused of dusting the facts with a little fiction, though only one instance comes to mind. Hamilton's wife Eliza—the lovely Phillipa Soo with an amazing voice—is portrayed as the homemaker and mother of their children, who begs Alexander to stop working and spend time with the family. But Eliza was also an educated woman who supported her husband's political career. She assisted him with his writing and she established his legacy after his unexpected death. (Not a spoiler, right?)
There is more to Hamilton than a celebration of a remarkable life, so be prepared. Hamilton was plagued with betrayal, hostility, scandal, and tragedy. And he made some bad decisions. His close relationship with Washington was envied by his fellow statesmen, who wanted Hamilton out of the way. His bitter rivalry with Jefferson eventually split the statesmen into two political parties. And his conflicts with Aaron Burr … you know where that goes.
And here lies the power of history, attempting to give us perspective on the events of today. If you believe that these politically charged days of 2020 are the most hostile and broken of our nation's two-and-a-half centuries of existence—think again. The days of the American Revolution (and the Civil War, and the early disputes between Pilgrim settlements, and so forth) remind us that the "United States" has been more fractured than united since well before its inception. Maybe the past is trying to show us the big picture, to teach us that "difference" doesn't have to be an endless battleground. That difference is our destiny and we should learn to live with it. If we really paid attention and learned from the past, we might find the wisdom to surrender, and to seek some middle ground—without engaging in a duel.