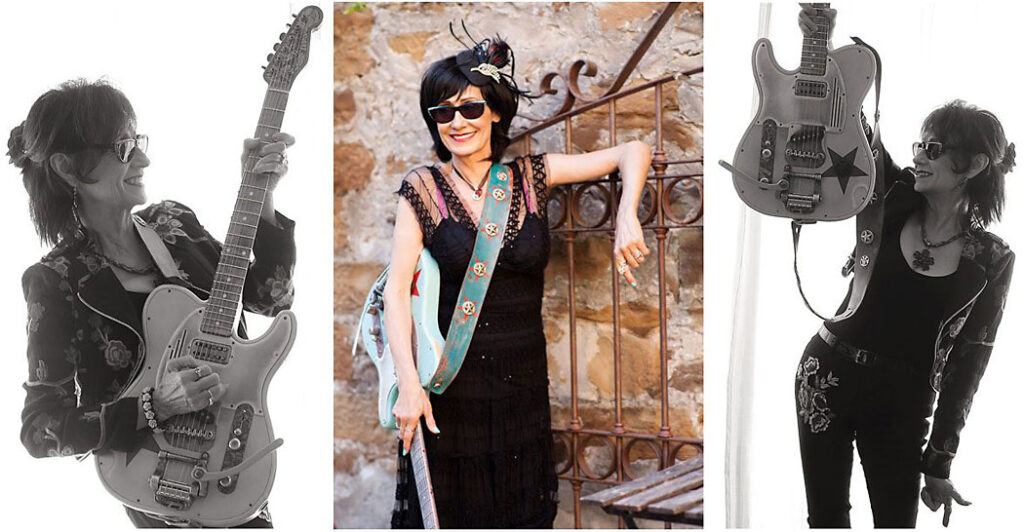 Rosie Flores has been making music ever since she was a kid—if not earlier. "I think I came out of the womb singing," she joked from her home in Austin, Texas. "I sang as far back as I can remember. I started on guitar when I was 15, so that's when I became a guitar player." The self-proclaimed "Rockabilly Filly" has wowed audiences around the world, performing live for more than five decades. The recent COVID-19 pandemic has put a stop to her touring, but not to her concerts.
Like several other artists, such as Low Cut Connie, Marcus King, and Björk, Flores has launched a livestream series on the internet. She calls it 3's a Charm because she limits her show to just three songs. "When I was considering doing a livestream, I decided that I wouldn't want to keep anyone watching for too long because, you know, we all have things to do, even during the lockdown," she said. Her shows are broadcast from her living room and can be viewed every Wednesday night at 6:30 p.m. CT on Facebook.
3's a Charm highlights a different theme or artist for each program. So far she has covered a wide swath of material, including 1960s girl groups, country legend Patsy Cline, Motown's Smokey Robinson, and honky-tonker Gary Stewart. "I decided that I wanted to do only songs that I loved rather than just requests. Any artist that you'll see me cover has been a great influence on my musical growth. However, I do my own songs as well, and so another Rosie show will be coming up," she noted. Flores has done 14 presentations so far and plans to continue as long as the pandemic sticks around.
"I love doing it—it gives me purpose and helps me keep my chops up!" Flores proclaimed. She regrets that she can't have any of her fellow artists join her due to social distancing, but she can more than hold her own by herself. Besides her skill as a rockabilly artist, Flores has substantial credentials in a variety of musical genres. She made her first recordings as a member of the all-female punk band the Screamin' Sirens back in the mid '80s. "It was wild and fun, and I enjoyed being the guitarist for the band," she said.
When Flores's eponymous solo record came out in 1987, she made history as the first Latina to hit the Billboard charts in country music. That year she opened for artists such as George Jones and Dwight Yoakam and received a nomination for Top New Female Vocalist from the Academy of Country Music (ACM). Flores joined the Western swing band Asleep at the Wheel in 1997, during which time the group earned two Grammy Awards. The San Antonio-born Flores has also recorded the Tex-Mex music that she heard growing up, and received international acclaim for her blues music, including her 2019 release, Simple Case of the Blues. She regularly performs as part of the Blue Moon Jazz Quartet.
Critics have heaped praise on her instrumental prowess. Flores has been profiled in Guitar World, Premier Guitar, and Guitar Player magazines, and she ranks among the top female guitarists of all time. She played every single guitar note on her celebrated 2012 album, Working Girl's Guitar, which features a variety of styles.
While Flores's versatility as a performer has been well documented, she is best known for her work in reviving rockabilly. She received a Peabody Award in 2007 for her work on the 10-part television rockabilly documentary, Whole Lotta Shakin'. Flores has worked hard to restore the reputation of women from the early days of rock, such as Wanda Jackson and Janis Martin, touring and recording with these artists. Flores also coproduced Martin's celebrated The Blanco Sessions and set up a Kickstarter campaign to get it released.
"There are so many new rockabilly females out there tearing it up," Flores said. She suggested fans of the genre check out the work of Bonnie Montgomery, Whitney Rose, Jolie Goodnight, and Celine Lee Watson, for a start.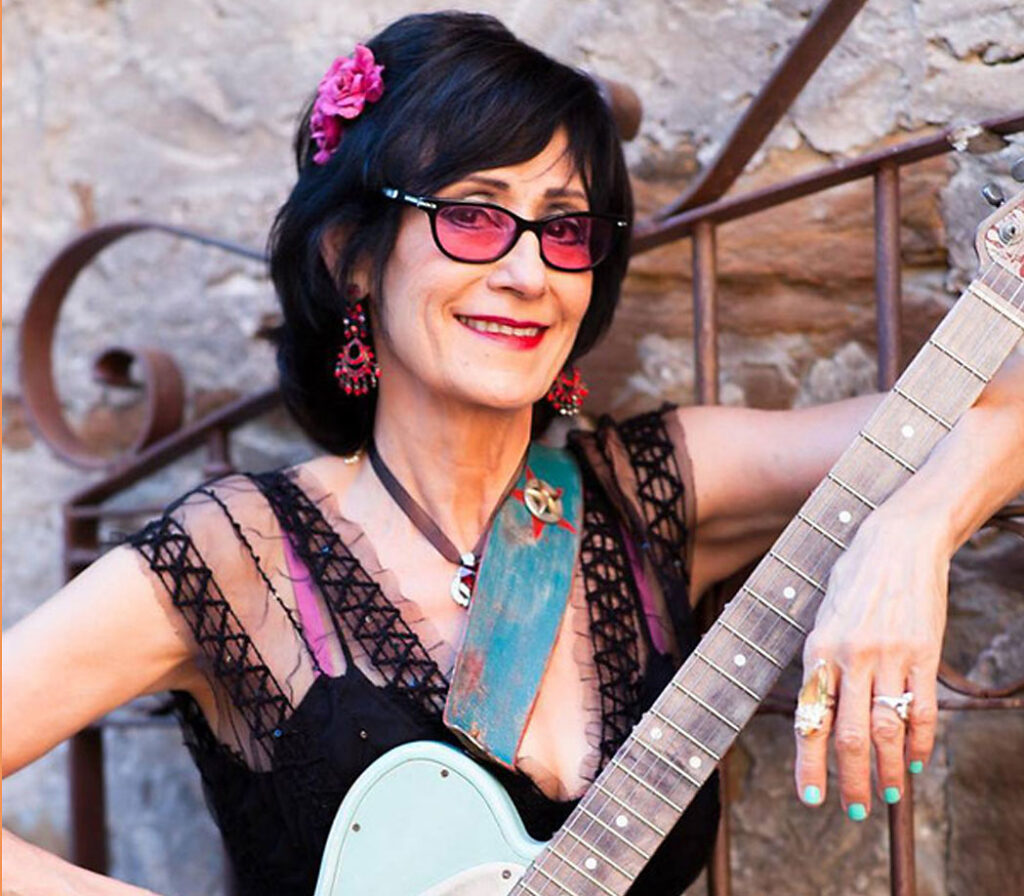 Flores has released more than a dozen studio albums and recorded with such talented contemporaries as Joe Ely, Dave Alvin, Juice Newton, and Marshall Crenshaw. She's opened for many artists, including Lucinda Williams, Emmylou Harris, Rodney Crowell, John Prine, the Ramones, and X. Flores can't wait to get in front of an audience again, although like the rest of us she has no idea when live, in-person performances will resume.
Although Austin is just a straight shot from Iowa via U.S. Interstate 35, Flores has never made it to the Hawkeye state. "I haven't played Iowa. If a great offer comes in to do a show, or a festival, I'm sure I'd take it!" she said. Considering how long Flores has been in the business, the fact that she has never set foot here is amazing. That said, Iowans can now watch her once a week online.
The city of Austin does know what a treasure they have in Flores. She was inducted into the Austin Music Hall of Fame in 2006 (and incidentally twice has performed at the Rock and Roll Hall of Fame in Cleveland, once as part of the 2012 tribute to Chuck Berry). The Austin City Council has twice declared August 31 Rosie Flores Day (in 2006 and 2017). "The city doesn't make a yearly big deal about it, but the original day you get a proclamation is pretty special, and I was certainly honored!" she said. "It's up to me to celebrate, and indeed I do!" While August 31 falls on a Friday this year, her Wednesday night festivities provide a reason to rejoice.