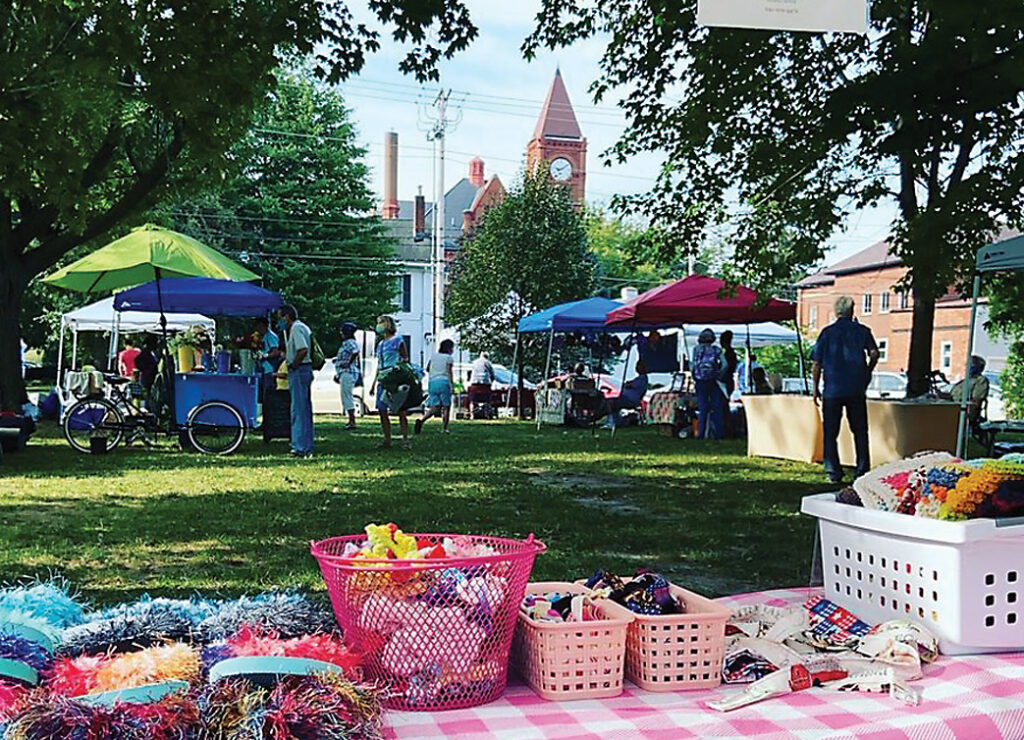 Known for its friendly, supportive community of farmers and vendors, the Fairfield Farmers Market has been a staple in Jefferson County for decades. Vendors help each other with early morning set-ups and keep an eye on each other's booths in a pinch. During the pandemic, they're also committed to a safe market experience, offering access to fresh food and a much needed social outlet.
Warning signs at each end of the market detail social distancing protocols. Vendor booths are arranged six feet apart, in rows backed away from the sidewalks. Patrons wait in socially distanced lines to enter booths in limited numbers. Mask wearing is encouraged, and a couple of vendors offer sewn fabric masks, which makes it easier to mask up.
"Most vendors wear masks," says Mark Sedlacek, of Bobcat Valley Produce near Keosauqua. "I've had some people make fun of me, but most people appreciate it, especially if they have health issues and are a little afraid to go out. It's a courtesy to wear a mask, to think of other people."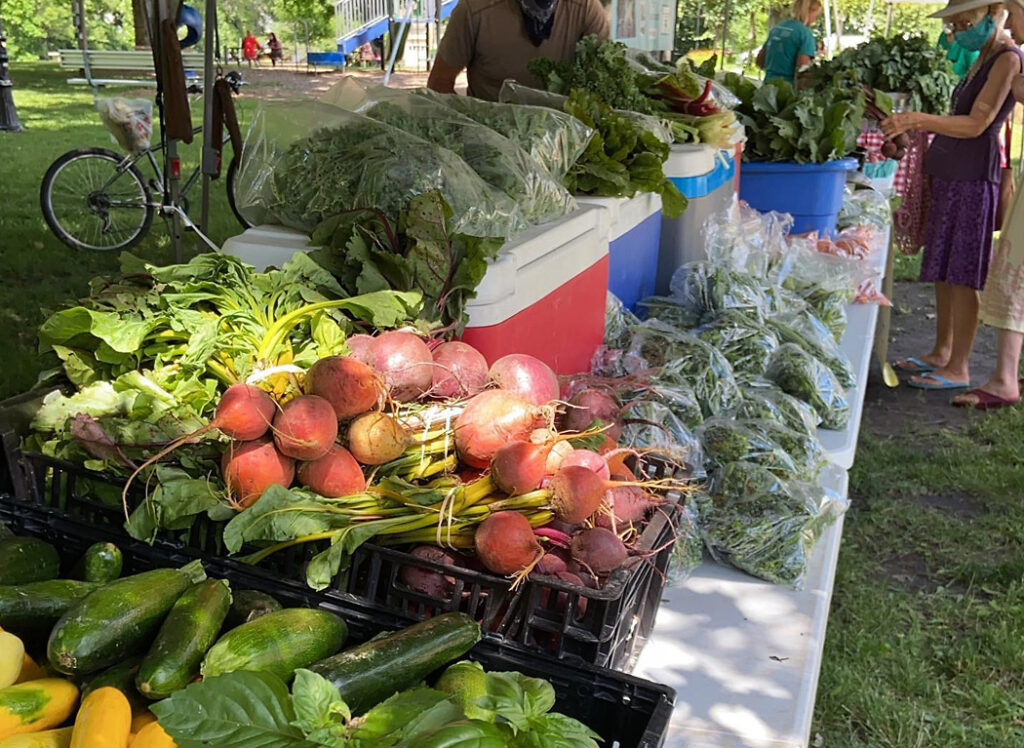 For the past 10 years, Mark has sold a wide variety of seasonal vegetables, including sweet corn, chard, kale, tomatoes, okra, potatoes, onions, pumpkins, and winter squash. "We were pretty fortunate," Mark says. "We're one of few markets that didn't miss much. We had the demand. In the spring, people were ready for something fresh."
And business has remained strong through the summer. "A lot of vendors have been selling out," he says. "The public are hungry to do something, and it's one of the few things going on." Mark knows vendors who've doubled their CSA participation this year or have added online pre-order options to make socially distanced shopping easier.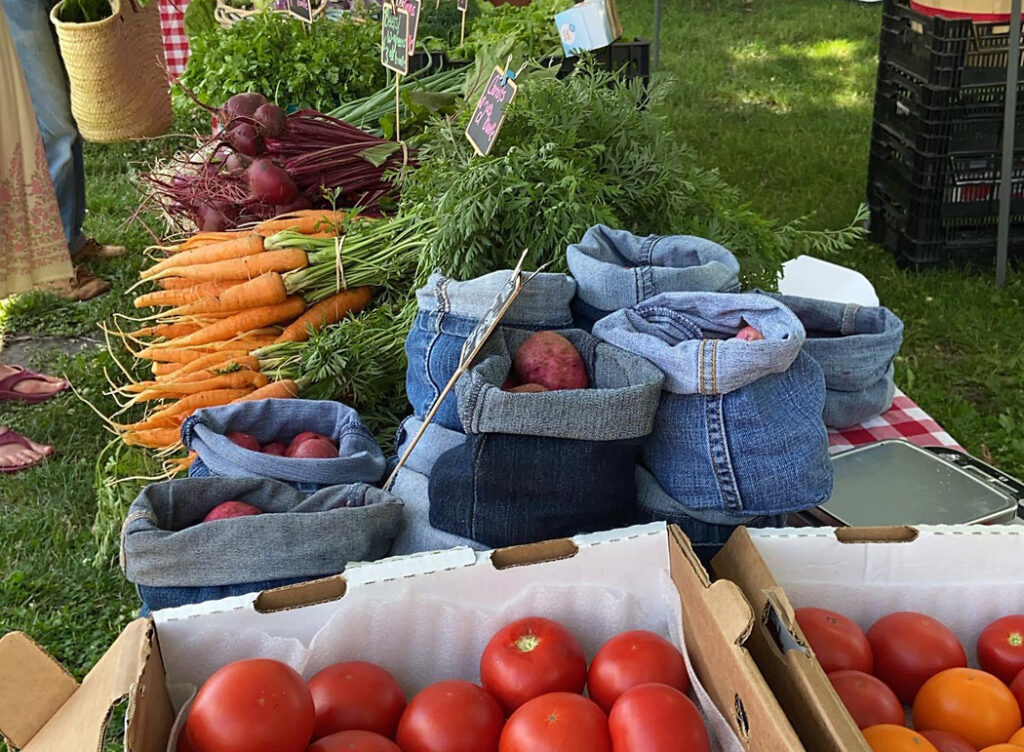 Barb Sieren, owner of Back to the Basics Farm just north of Fairfield, started an online produce store in March. "We were afraid that the Farmers Market wasn't going to open and we needed a place to sell our fresh produce."
Barb has been involved with the market on and off for over 20 years. "We grow almost everything that can be grown in Iowa. We are known for our non-GMO sweet corn and bountiful baskets of fresh produce each week."
In addition to selling Back to the Basics produce online, they also sell tomatoes from another popular market vendor, their partner farm, Dave's 'Mater House. The Bloomfield farm grows red and low-acid tomatoes in four greenhouses. "We hope to keep the online store open until the second week of November," Barb says. You can find them on Facebook.
Doug and Tanya Webster of Rolling Prairie Farms in Sigourney have been coming to the Fairfield Farmers Market for over 16 years. They sell plants in the spring, including heirloom tomatoes, peppers, and all kinds of melon, squash, and brassicas. In the summer, they sell produce, with a focus on heirloom tomatoes and over 100 varieties of garlic.
The Websters are grateful to their loyal customers for their support over the years, and they also enjoy educating people on how to produce their own food. Following social distancing guidelines, they limit the number of customers coming into their stall. "Customers have been great to wait in line and take turns at the market," Doug said. He's thankful "to all the folks that have come out to support our family farm."
Tim and Jocelyn Engman, of Green Heritage Farms and Pickle Creek Herbs, have been involved with the market since 2004. As Pickle Creek, they sell herb-infused olive oils and vinegars using the herbs, garlic, tomatoes, peppers, and berries grown on their Certified Organic Green Heritage Farms. They also sell organic herb seedlings and other garden plants in the spring.
"We have participated in a lot of farmers markets around Iowa, including the really big ones like Des Moines and Cedar Rapids," Jocelyn says, "but what we love about Fairfield is being in our hometown, and seeing people—friends—we've known for years and years."
The Engmans appreciate how the Fairfield Farmers Market kept going despite the pandemic. "The farm and the Fairfield Farmers Market were pretty much our happy place this past spring," Jocelyn says. "The safety precautions such as masks and social distancing were a small price to pay to preserve our connection to customers. And the marketgoers have been really great about wearing masks and keeping distance."
Reeta Murphy, who is the current Farmers Market board president, has been selling produce and crafts at the market for the past eight years. She was mentored by one of the founding vendors, Claude Nicholson, who sadly passed away in February.   Through her company, Feels Like Home, Reeta offers eggs, spring plants, baked goods, seasonal candy, and fiber arts. "I enjoy seeing the people who like to have what I make, grow, and harvest," she says.
The Fairfield Farmers Market is held Saturdays 8 a.m.–1 p.m. and Wednesdays 3–6 p.m., May through October in Howard Park. For more information about the Market and participating vendors, check out their Facebook page, or follow them on Instagram @fairfield_farmers_market.