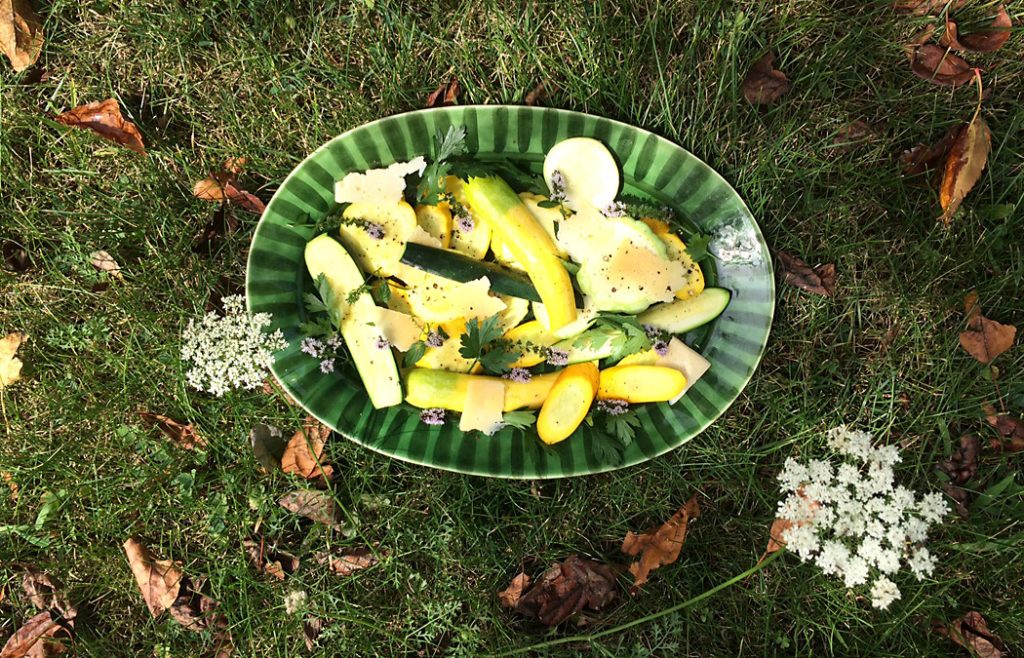 Chef and cookbook author Deborah Madison has always championed local foods and farmers' markets. Her 2017 cookbook, In My Kitchen, collects her favorite recipes from a lifetime of cooking. We asked Rosie Witherspoon, a celebrated local cook and the proprietor of the At Home Store in Fairfield, to select her favorites for a fresh September meal.
I first visited Deborah Madison's Greens Restaurant in 1979, the year it opened in San Francisco. When The Greens Cookbook came out in 1987, I quickly ran out and bought a copy. It became a cooking bible for me, with instructions for everything from making vegetable stock to roasting red peppers.
Then in 2008, Deborah Madison came to Fairfield to speak at the annual EcoFair. My daughters Torrey and Heli Claire were invited to bring a main dish and dessert for a dinner held in her honor. They were a bit nervous, because Deborah Madison is such an important name in the world of cooking. I remember telling them, "She'll be traveling all day, and will be hungry and tired. Just cook a meal for her."
Since it was spring, Torrey and Heli Claire decided to harvest wild stinging nettles for a savory nettle pie. For dessert they made rhubarb soup served with local Radiance Dairy whipped cream.
Heli Claire now works as a baker at Tartine in San Francisco, and when I visited her last month, she showed me a copy of Deborah Madison's newest cookbook, In My Kitchen. She said it's a "must-have." And it truly is—a beautiful book, filled with simple, delicious recipes and inspiring photos.
In the book's opening pages, Yotam Ottolenghi writes, "Deborah Madison refers to her cooking style as getting simpler and her tastes getting lighter. But it takes the particular 'simple and light' wisdom of Deborah Madison and her deep understanding of the beauty of the vegetable to know that this is a world that can sing for itself."
With so much produce coming in from local gardens this time of year, I suggest these recipes from In My Kitchen as a wonderful addition to your fall menu repertoire.
September Harvest Feast
Sweet-Tart Sun Gold Tomato Soup with Avocado Relish (recipe below)
Summer Squashes with Herb Blossoms, Basil, Pine Nuts, & Parmigiano-Reggiano (recipe at right)
Quinoa Soup with Spinach, Corn, Feta, and Cilantro (page 204, In My Kitchen)
White Peaches or Nectarines in Lemon Verbena Syrup (page 204, In My Kitchen)
Sweet-Tart Sun Gold Tomato Soup with Avocado Relish
(4 small portions)
2 pints Sun Gold tomatoes
2 shallots, finely diced
Salt and pepper
2–3 Tbsp. Chardonnay vinegar or champagne vinegar
1 firm avocado, diced into small pieces
2 Tbsp. olive oil
1 Tbsp. slivered basil, marjoram, or cilantro
Rinse the tomatoes and put them in a heavy saucepan with a tight-fitting lid, along with half the shallots, 1/2 tsp. salt, and 1 cup of water. Cook over medium-high heat. Once you hear the tomatoes popping, take a peek to make sure there's sufficient moisture in the pan so the tomatoes don't scorch. If the skins are slow to pop and give up their juice, add a few extra tablespoons of water.
Once the tomatoes release their juices, lower the heat and cook gently for 25 minutes.
Run the tomatoes through a food mill. Chill well, then taste for salt.
Just before serving, combine the remaining shallots in a bowl with the vinegar, avocado, olive oil, and herbs. Season with salt and pepper. Spoon the soup into bowls, divide the shallot-avocado mixture among them, and serve.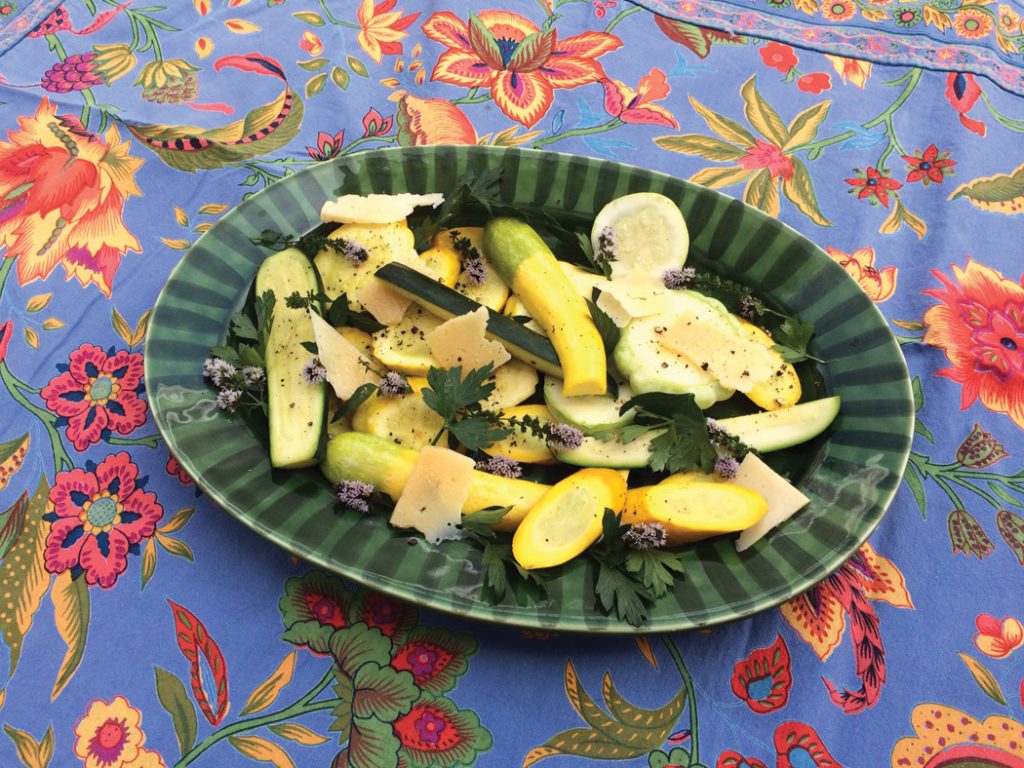 Summer Squashes with Herb Blossoms, Basil, Pine Nuts, and Parmigiano-Reggiano
(serves 4)
1 pound or more mixed summer squash
Best olive oil
Salt & pepper
Parmigiano-Reggiano or other cheese
1/4 c. pine nuts, toasted
Herb blossoms, if available
10 large green basil leaves, torn into pieces
Slice summer squash, then steam or simmer in salted water until tender. When squash is done, arrange on a platter, with cut sides facing up. Drizzle olive oil over them and season with salt and pepper. Grate or thinly slice cheese over the squash. Add pine nuts, herb blossoms, and basil, and serve.