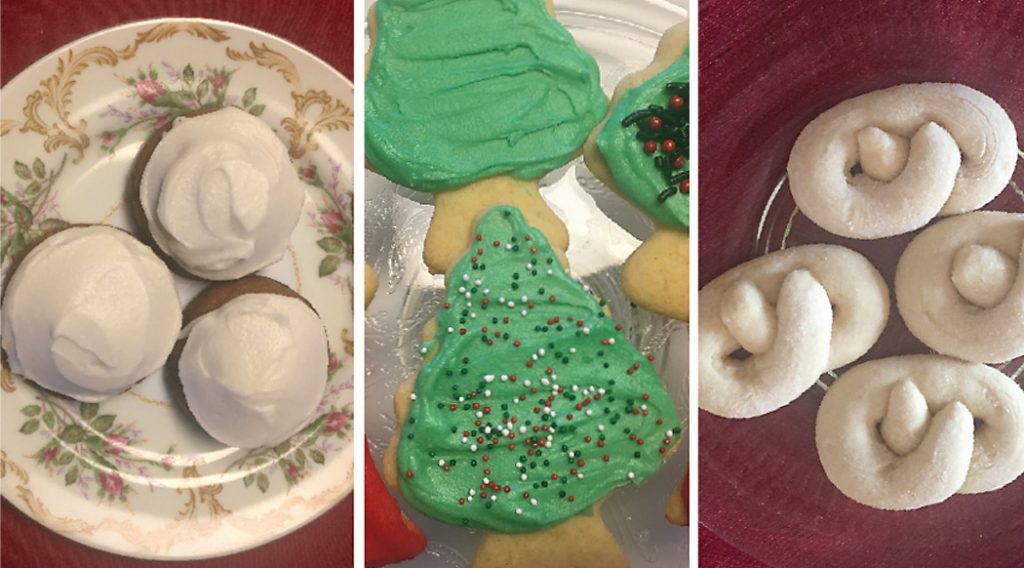 Ginger creams and sugar cookies and kringla, oh my! Santa was always blissed out when he came to my Grandma's house—I'm just sure of it. Balance was the key, as we also left carrots for him to share with his reindeer. I remember when we sardined together under the light of the Christmas tree, waiting with sleepy eyes for a glimpse of Santa's boots as he delivered our gifts.
Ginger Creams
Holidays are for baking those family recipes passed down through the generations. Let me introduce to you the crowd-favorite Ginger Creams that Grandma Miller always kept in a clear Tupperware container perched high on the top shelf of a closet so little arms could not reach the spiced jewels. Each of us grandkids helped the others up to reach them as we proceeded to eat our weight in Ginger Creams.
½ cup vegetable shortening
1 cup sugar
2 eggs
1 cup molasses
1 cup water
4 cups sifted flour
1 tsp. salt
1 tsp. soda
2 tsp. ginger
1 tsp. nutmeg
1 tsp. ground cloves
1 tsp. cinnamon
Mix together thoroughly shortening, sugar, eggs, and molasses. Stir in water.
In another bowl, sift all dry ingredients together, then stir into wet ingredients.
Chill dough. Preheat oven to 400°. Drop by teaspoonfuls onto cookie sheet. Bake 7–8 minutes. Remove cookies onto racks to cool, then frost with powdered sugar frosting.
Powdered Sugar Frosting
1 stick of butter, softened
1 1-lb. box powdered sugar
5–6 tsp. milk
1 tsp. vanilla
Cream butter, then add remaining ingredients. Mix until smooth.
Kringla
Kringla is a family recipe that originated in Norway and crossed the turbulent seas when my great-grandmother immigrated to the U.S. by ship in the early 1900s. Each hand-rolled beauty is said to represent praying hands and offer a prayer for the consumer. My mother learned and perfected the art of rolling Kringla, then taught me and the next generation. These buttery treats go well with coffee, milk, a slab of butter—anything, really!
1 cup buttermilk
1 tsp. soda
½ cup butter
1 ¼ cups sugar
2 eggs
4 cups flour
1 tsp. baking powder
½ tsp. salt
1 tsp. vanillaMix buttermilk and soda together, and let set.
In another bowl, add butter and sugar and mix together well. Add eggs and beat well.
In a separate bowl, mix together 2 cups of flour with the baking power and salt, then add to egg mixture.
Pour the buttermilk mixture on top and mix thoroughly. Gradually add the remaining 2 cups of flour. Add 1 teaspoon vanilla and mix.
Chill dough for 6 hours. When ready to bake, preheat oven to 325°. Drop dough by heaping teaspoons onto a floured plate. Roll each one into the thickness of a pencil, then shape dough into a pretzel shape. Bake for about 12 minutes.
Sugar Cookies
I still remember the day when my friend Lora Goll brought these sugar cookies to school for her birthday. Immediately after birthday wishes, I requested the recipe. Since then, it's been voted best sugar cookie by many family members and friends.
3 cups flour
Pinch of salt
½ tsp. baking soda
2 tsp. baking powder
1 cup sugar
1 cup butter
2 eggs
2 tsp. vanilla
Mix all dry ingredients together in a bowl. Cut in butter with a fork. Beat the eggs with a fork and then add vanilla. Pour egg mixture over dry ingredients and mix well.
At this point, you can roll out the dough and cut into desired shapes, or chill it.
Preheat oven to 350°. Bake cookies until dry—not until golden brown.
Frost with the powdered sugar frosting above.
Make sure to enjoy the fruits of your labor with a cup of coffee, a soundtrack of merry music, and a heart full of joy! May you and yours be well this holiday season.