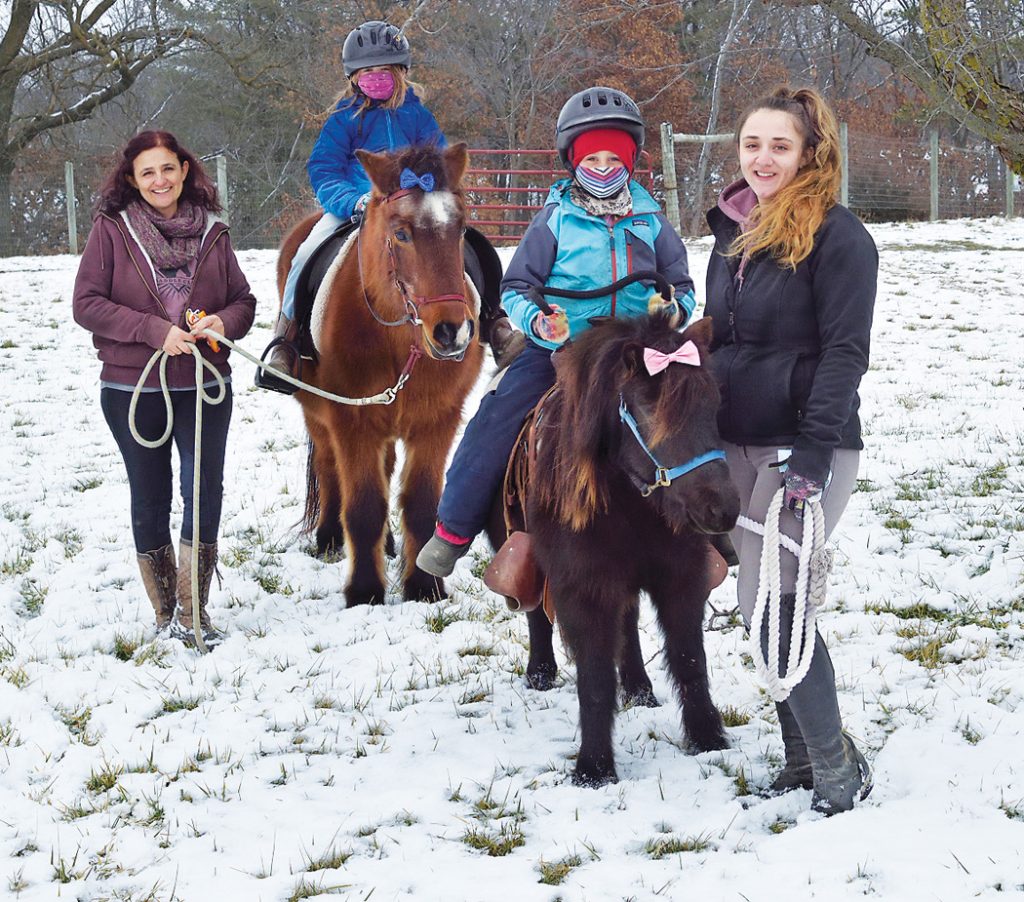 Zoe Trinca and her mom, Nicole MacPherson, both grew up with horses. When they moved to Fairfield from Washington state a year ago, they noticed a lack of horseback riding programs for children. So last summer, they put their passion for all things equine into the Fairfield Saddle Club, whose mission is to teach a conscious connection between horse and rider.
The Farfield Saddle Club offers riding lessons and after-school activities for kids five and up, with lessons for adults as well. Riders of any experience level are welcome. "The neat thing," Nicole says, "is that all the kids that we have are horse kids. These kids live and breathe horses. That makes it really great for us."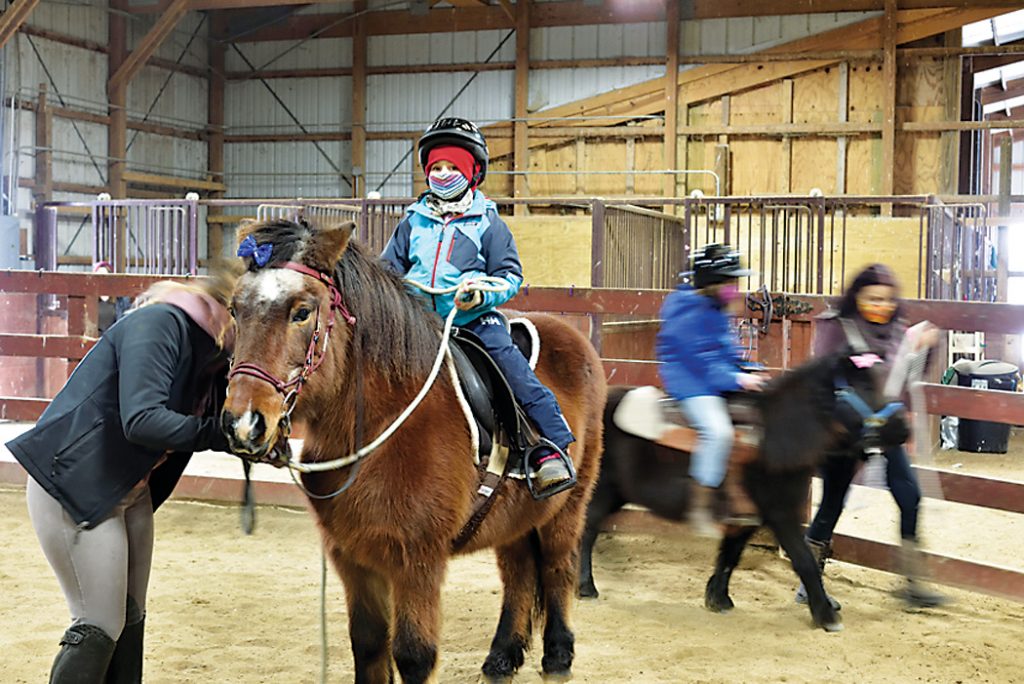 Lessons are offered at Prematerra Farm, a 145-acre equestrian facility located southeast of Fairfield. Nicole is very grateful to Whitney Jaeger, the owner of Prematerra, for allowing them to use the farm as their base. With Prematerra's woodland trails and pastures, outdoor grass arena, and lighted indoor arena, riders have options to enjoy riding all year round.
Nicole, who has been around horses since she was a teen, is an experienced horse trainer who has worked with Tennessee Walking Horses and Paso Fino breeds. Zoe has been riding since childhood, and currently trains in cross-country eventing. She's also getting a B.A. in Equine Nutrition from Iowa State University.
Both women are experienced riding teachers. Zoe missed teaching, so they started a summer camp program last year. "I really enjoy teaching and being out with the horses," Zoe says. The Saddle Club was so popular, they developed regular year-round activities. "It's definitely growing. It's been really nice to see how many people are wanting to get involved and be with the horses outside. And we've really enjoyed it."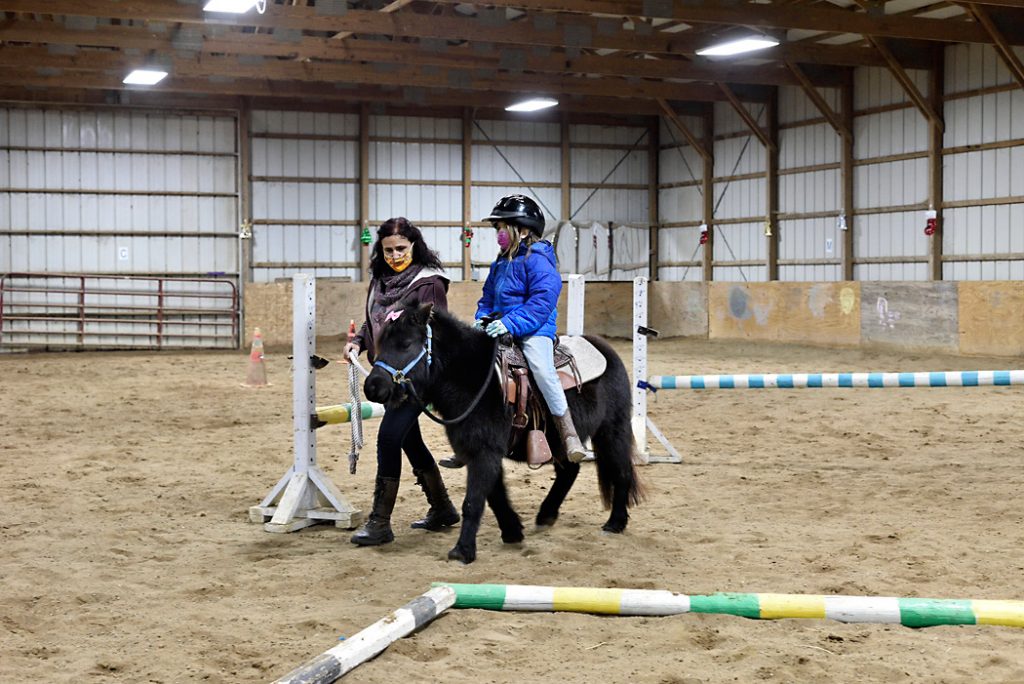 Nicole and Zoe are excited to teach kids to interact with horses in a different way. "I learned to ride the old-school way, making sure that the horse 'respects you' and dominating them," Nicole explains. As she gained more experience and connected with different training styles online, Nicole started coming up with a new philosophy that respects equine intelligence. "We want the kids to learn how to communicate with the horse. Horses have the ability to speak to us if we're able to understand what they're telling us by their body language and their herd interaction."
One of the Saddle Club's basic principles is teaching horse psychology. Instead of focusing on getting the horse to comply by force, riders learn to connect on a more subtle level. That connection becomes a partnership with the horse. "It's our way to step in and start a new generation of kids that are seeing horses as sentient beings," Nicole explains. "They learn to recognize the intelligence that horses have."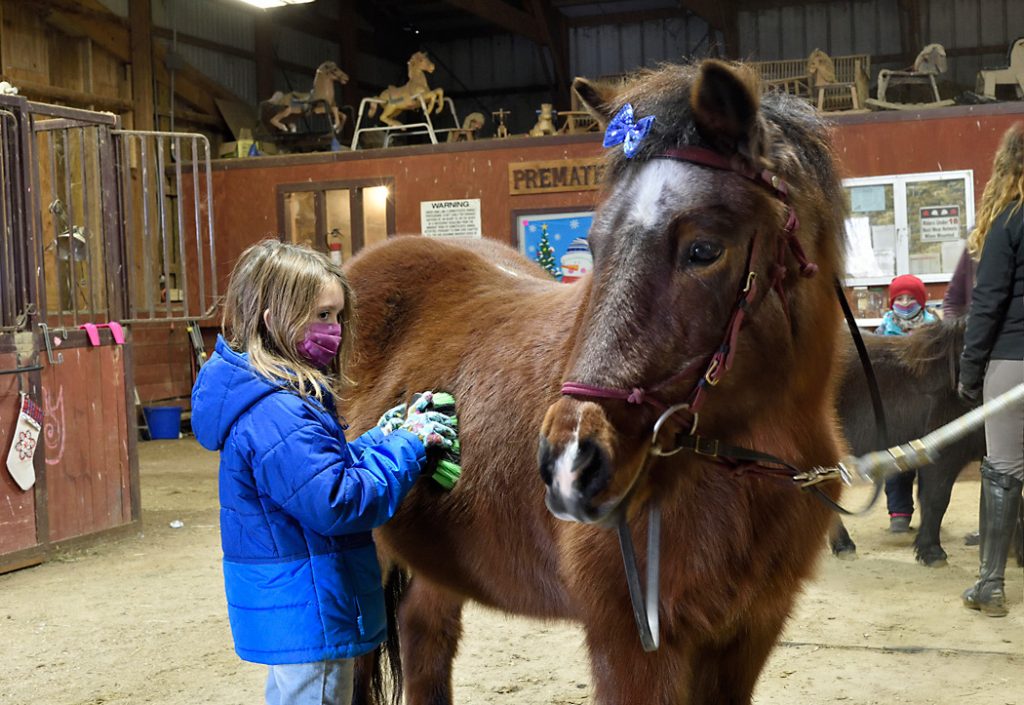 While things have slowed down a little because of the pandemic, the Saddle Club continues to be popular. "Luckily, because we have so much outdoor room, and we also have an indoor arena, we can space ourselves out," Nicole explains. Mask wearing is encouraged and lessons are now predominantly one-on-one, with a small, socially distanced, weekly after-school group and special biweekly "on the ground" sessions in horsemanship that they call Saddle Club Saturday. Nicole and Zoe try to plan monthly events as well. In October, during the Halloween Spooktacular, the kids rode through a decorated arena and trick-or-treated. Coming up is a winter sleigh ride for the new year.
The Saddle Club has received enormous help and encouragement from the local riding community. Nicole and Zoe are grateful to Conley Wright and Jim Masterson for supporting the Fairfield Saddle Club's vision, and to Sara and Nicole Robb for generously lending their horses, equipment, and time. In addition, many retired horse people have donated equipment and loaned horses to the program. Riding can be an expensive sport, so donations from riders have allowed more families to take advantage of the club. It's a safe way for kids to get out of the house, have fun, learn about horses, and connect with nature.
To find out more about the Fairfield Saddle Club or to sign up for regular newsletters, visit Facebook.com/Fairfieldsaddleclub or email fairfieldsaddleclub@gmail.com.