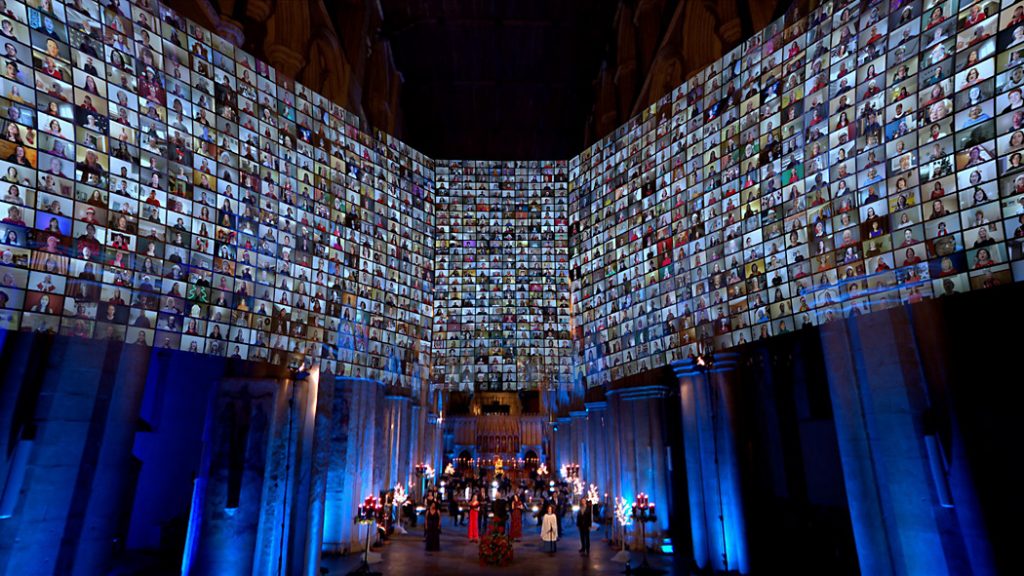 Like so many choruses across the globe, the Chamber Singers of Southeast Iowa have been dealing with the isolation and limited singing options of a pandemic world—an especially challenging situation for those who normally engage in social and cultural activities. As music director of the Chamber Singers, I discovered that the pandemic has had one silver lining—unprecedented opportunities to learn from world-renowned choral conductors and to participate in global singing events.
When the pandemic hit in March 2020, the Chamber Singers were among the first groups in Iowa to switch to online Zoom rehearsals. Although internet time lags and audio distortion prevented them from actually singing together, they continued to study and perfect their individual performances of the spring concert program in an ongoing spirit of community.
Around the world, other choral groups, composers, and directors were also seeking new ways to express themselves through singing—and to share their musical knowledge with a much wider international audience, since they could no longer tour or perform live. The result has been a tsunami of online musical offerings. As Henry David Thoreau said, "When I hear music, I fear no danger. I am invulnerable. I see no foe. I am related to the earliest times, and to the latest."
In recent months, even some members of the Chamber Singers have found themselves in neighboring Zoom windows with hundreds of other singers, learning from professors and conductors from around the globe. These online groups have sung under the baton of internationally renowned composer and conductor John Rutter in England and composer Marin Alsop of the Baltimore Symphony Orchestra, among many others; sung in virtual choirs with world-famous a cappella groups Chanticleer, The Sixteen, and VOCES8; and sung major choral works with thousands of international singers as part of the London-based Stay-at-Home Choir.
Singers have also joined choral symposiums, singposiums, workshops, masterclasses, virtual streaming concerts, and watch parties. They have performed choral works composed expressly for these COVID-19 days, e.g., "We'll Play Our Part" by Paul Ayres, "I Hope You're Doing Well" by Dale Trumbore, and "Sing Gently" by Eric Whitacre.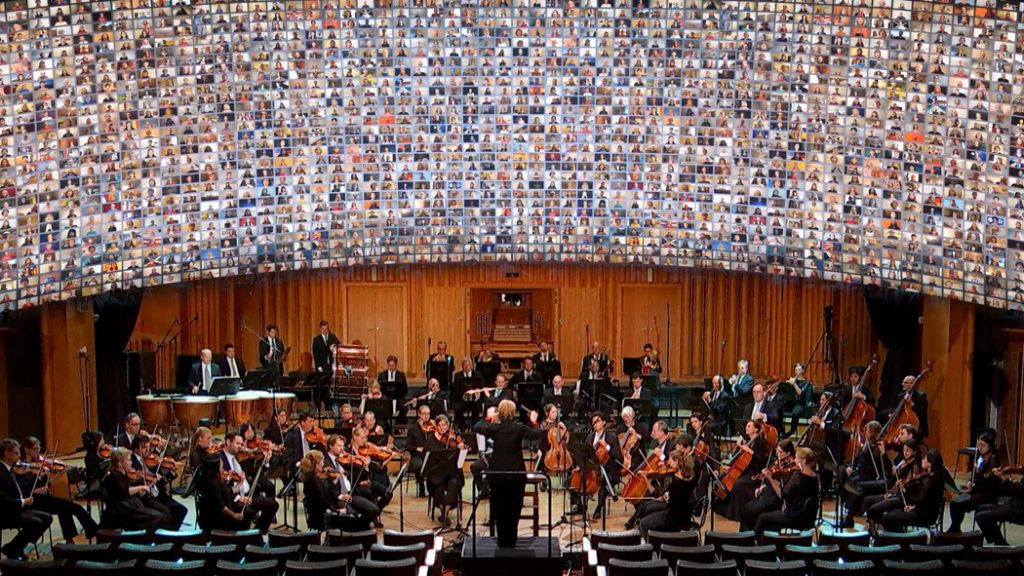 Most recently, members of the Chamber Singers participated online in a global "Ode to Joy" Beethoven performance in Carnegie Hall and in the beloved annual John Rutter Christmas special with the Royal Philharmonic Orchestra, held this year in St. Albans Cathedral in London with thousands of online singers from around the world.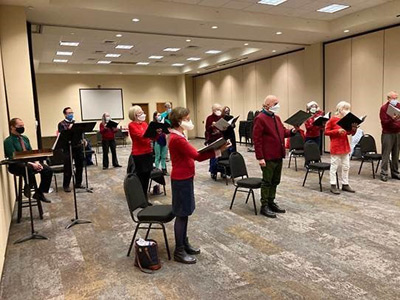 As new research has emerged on singing and its effects, especially on aerosol and droplet spread, revised protocols for in-person choral rehearsals have been approved and established. These include wearing masks, social distancing, and shorter rehearsals in well-ventilated venues. In this context, as with many other choirs around the country, the Chamber Singers have been singing together again with a Zoom hybrid option, thanks to the generosity and support of the Fairfield Arts & Convention Center. On December 10, they sang through the abbreviated Christmas program they prepared this holiday season, awakening the holiday spirit as is their tradition, even without an audience.
Researchers from Bar-llan University in Israel have recently discussed in Neuroscience News their findings that the brain resonates emotionally with music in ways that far surpass messaging and video conferencing. When we sing together, our brains are activated and produce more oxytocin, a hormone released when we form social bonds and engage in synchronized activity with others.
As the researchers noted, music is not only food for the soul; it is food for the brain. To paraphrase English composer Malcolm Arnold, music is the strongest social act of communication among people. Singers will continue to flourish with limited in-person and extensive online singing opportunities, especially this holiday season, when singers can hear, see, and participate in so many magical musical events!
The Royal Philharmonic Orchestra's "A Christmas Celebration with John Rutter" takes place in the stunning surrounds of St Albans Cathedral and features favorite carols, uplifting fanfares, and other festive classics, bringing warmth and celebration into your home. Featured performers include actor Simon Callow, baritone Roderick Williams, mezzo-soprano Melanie Marshall, VOCES8, and organist Andrew Lucas. The concert is being streamed online globally, now through December 24, with pay-what-you can tickets starting at only £10 ($14).