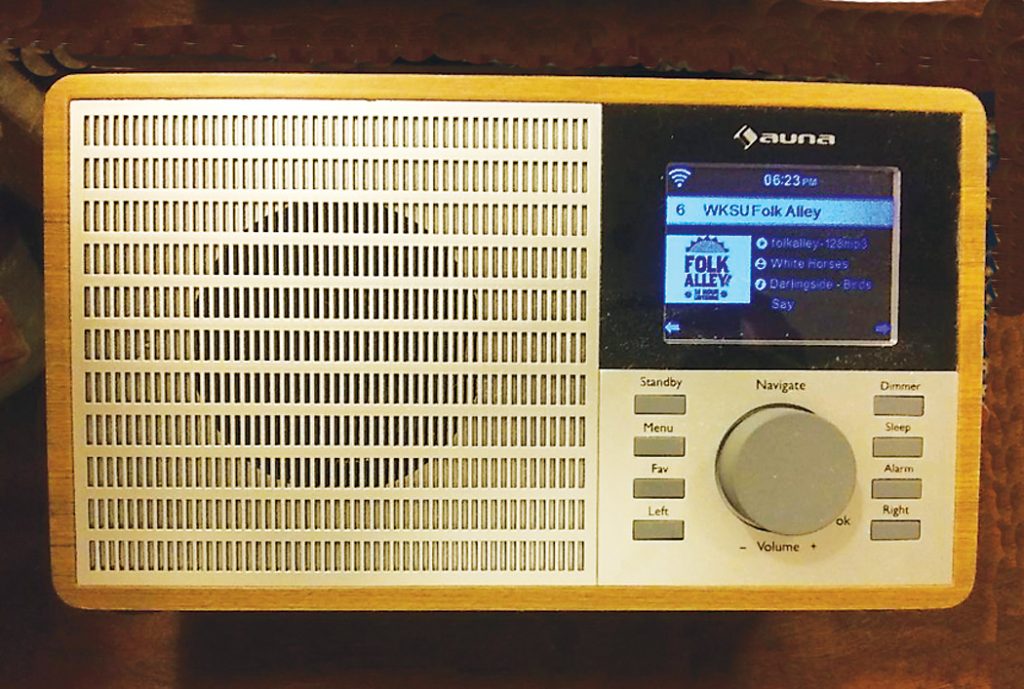 I used to be a big radio fan in the 1960s and '70s, in the golden era of FM radio. Back then, a DJ could play an incredible variety of music, from folk to hard rock, and could even slip on a country or classical piece. I was very distressed when the FM stations were bought up by corporations and became "commercial." These days, most stations stick to a limited format, with only a few songs on their playlists.
I recently bought an Auna IR-160 internet radio ($75 from Amazon). This is a retro-looking clock radio that picks up internet radio stations from the Wi-Fi in my house. I listen to alternative music, indie music, reggae, and jazz from all over the world. It's totally fun. Besides hearing the different kinds of music, it's a thrill to be connected live to people in other countries and hear their comments in different languages and regional accents.
Once the radio is set up and connected to Wi-Fi (there is no port for an ethernet cable, so Wi-Fi is needed), it's easy to scroll through the stations and add them to your favorites list. Stations can be found by genre, such as classical, folk, or blues, or they can be searched by state, country or any region of the world No monthly fee or subscription is required. There are other, more expensive internet radios that accept Ethernet inputs as well as Wi-Fi.
The Auna IR-160 is a clock radio, so I can have it play at night and shut off after I fall asleep. I've also set it to play Hawaiian music in the morning as a wake-up alarm. I like the radio so much that I got a second one for my living room. It's wired up to my stereo system (through the headphone jack) for that big stereo sound.
I'm listening to all kinds of music, including a bluegrass version of the Rolling Stones' "Sympathy for the Devil," a salsa rendition of Michael Jackson's "Billie Jean," and a mandolin solo of Queen's "Bohemian Rhapsody." Plus, I listen to a lot of artists that don't make it to mainstream radio, like King Gizzard and the Lizard Wizard. How can you top that?
There are also talk stations. I can hear politics (yuck!), sports (meh!), and the weather (already on my cell phone). I have zero interest in talk radio! This is just for music.
Some stations on my favorites list:
WUMB. A public radio station from Boston that broadcasts across New England. Their very knowledgeable deejays play a great selection of acoustic, folk, and alternative music.
WNCS "The Point." This independent station from Montpelier, Vermont, plays a variety of music. I like their taste!
WXPN. A Philadelphia alternative-music public station, WXPN produces the "World Cafe" show and distributes it to NPR stations across the U.S.
IPR Studio One. This Iowa Public Radio Station plays alternative music from around the world and also features local and regional music.
I've found other stations that have been created just to stream on the internet, probably too many to count! Some of my favorites are:
Ancient FM. Featuring classics from the Middle Ages and Renaissance, Ancient FM is mellow morning listening.
Folk Alley. This may be my favorite station so far. It started out as part of WKSU from Kent, Ohio, then became an online station that plays folk, Irish, bluegrass, roots, and singer-songwriters. It produces the weekly two-hour "Folk Alley" show that is heard on stations all across the country.
The Zone. From Dublin, Ireland, this station plays modern and alternative rock music. I love the sound of the DJs' Irish brogue.
GotRadio. GotRadio is a collection of online stations, each one playing a different genre of music: jazz, oldies, soul, ambient, etc. The GotRadio Bluegrass station is the one I like the most.
Radio Paradise. A listener-supported station created and produced by two DJs playing many styles and genres from around the world.
Aloha Radio Network. This station is produced by Hawaiian music personality Aloha Joe.
Colombia Salsa Radio. Salsa music is interspersed with commentary in rapid Spanish between the songs.
I Love Rio Radio. A surrealistic mix of samba, bossa nova, and jazz, this station has a Brazilian slant.
If you think music stations are all sweetness and light, I came across a station called Death FM, described as "a brutal and beautiful blend of death, doom, goth, and gore." I did not add this to my favorites list.
I know perfectly well that these stations can be found on any computer, by downloading a program like Simple Radio. But I like having a radio that is just a radio. I don't need to fire up my computer and navigate to the music program. It's simple to turn it on and click on a station.
Listening to this internet radio, I've found a whole universe of great, interesting music. I've had hours of fun and have barely started on the list of possible stations. This might be the best gadget I have ever purchased.
Go to ChrisHallinger.com to see books, articles and videos by this author.