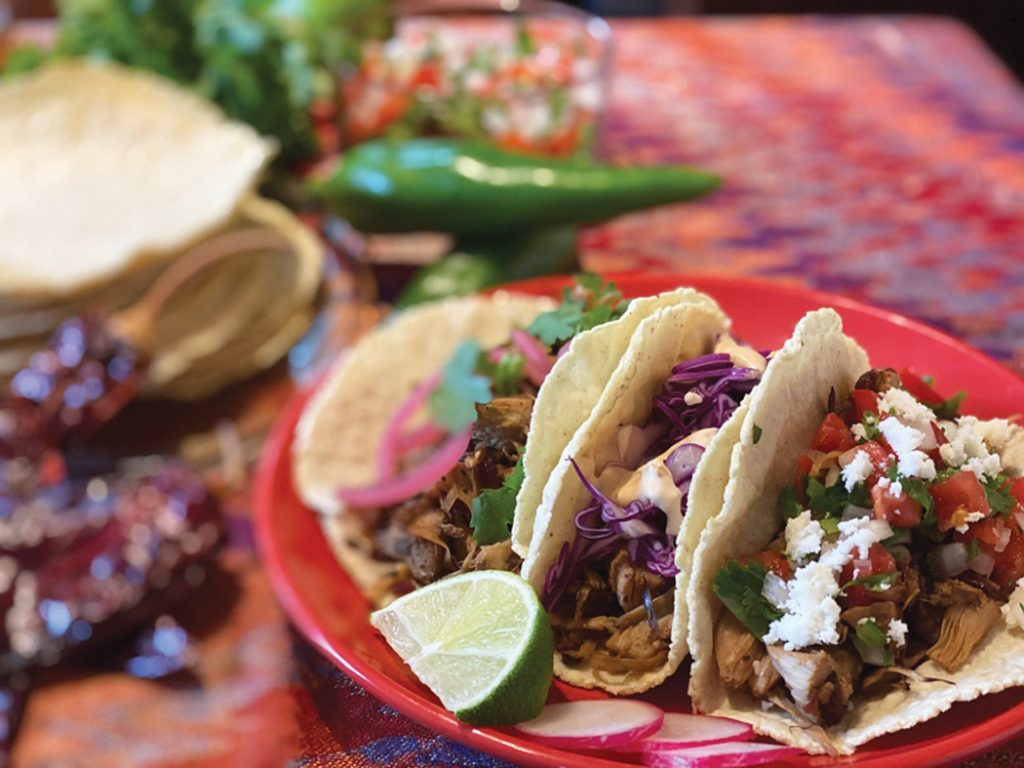 Emily O'Connor grew up in the wooded and rainy environment of Olympia, Washington, but the highlight of her childhood was traveling to Mexico on family vacations.
"I just adore those memories," Emily says. "So relaxed and full of good feeling. The Pacific Northwest can be sort of cold and distant socially—I think it's because of all the rain and gloom. I found Mexico distinctly the opposite."
Emily ended up doing her undergraduate studies in Oaxaca, but it would be a while before she found a way to be creative with her appreciation for the place.
"Over the next two decades, I ended up working front of house all over the place," she says. "Hawaii, Los Angeles, and New York. Eventually, I got tired of running someone else's restaurant, so I took a pay cut and began working as a line cook under a really amazing English chef based in L.A., Chef Ralph Johnson, at The Pikey. He really taught me how to elevate working-class food as an art form."
Emily's husband was part of the David Lynch film program at MIU, and every time he'd return from a residency in Iowa, he'd tell her, "You won't believe it, but this odd little town in the middle of nowhere might be awesome for the kids."
Community Nourishment
"I'm a sucker for regional Mexican street food," Emily says. "I'll take a granny selling half-chicken and quesadillas on her charcoal grill over anything. I guess one of the reasons why is because of the family orientation—there's a lot of heart and soul in handmade fare.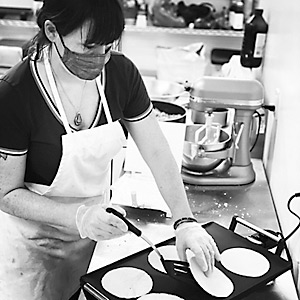 "My objective is to marry this homage to Mexican cuisine with local and organic ingredients as much as possible. Farm-to-table is huge everywhere you go in the States, and there's no reason why Iowa can't be top billing. That's the intention here: to have a blast making accessible, tasty food, but also build another conduit for community-based agriculture."
Given the emphasis on take-out and contactless pick-up this year, all the components came together for Emily to launch Taco Dreams just a few months ago.
"It's a lot of work, but it's a lot of fun. And because we want to keep it airtight with everyone's health, I'm the only chef here. I make everything all by myself, including the tortillas every morning (from Oaxacan maize). I run a tamale special once a week, too.
"I get to change it up a little every 'Aloha Friday' with our Hawaiian Plate Lunch Special. My husband and I lived in Upcountry Maui for years, and so once a week I get to travel back to Pukalani in my kitchen. 'Mixed Plate' is another rendition of heart-and-soul working-people's food, so it fits with what we're doing.
"In these crazy times, I feel super blessed to be creative and do my little part to nourish our community," she says.
Tempted? Here are just a few small plates among the pickings to whet your appetite: Organic Chicken Taco, Jackfruit "Carnitas" Taco (vegan), Black Bean & Guacamole Taco (vegan), Grass-Fed Beef Taco, Lucky Bunny Salad with Green Goddess Dressing, Chicken Tortilla Soup, Black Bean & Cheese Tamales, Guacamole & Chips, Rice & Beans, and even Taco Kits for a family meal.
Taco Dreams is located in the old Harper Brush building at 400 North 2nd Street in Fairfield. Hours (lunch only) are Monday–Friday 11-3, and Saturdays 10–1 (during the indoor Farmers Market).
Order your lunch online at TacoDreamsFairfield.com. Follow Taco Dreams on Facebook and Instagram @tacodreamsfairfield.