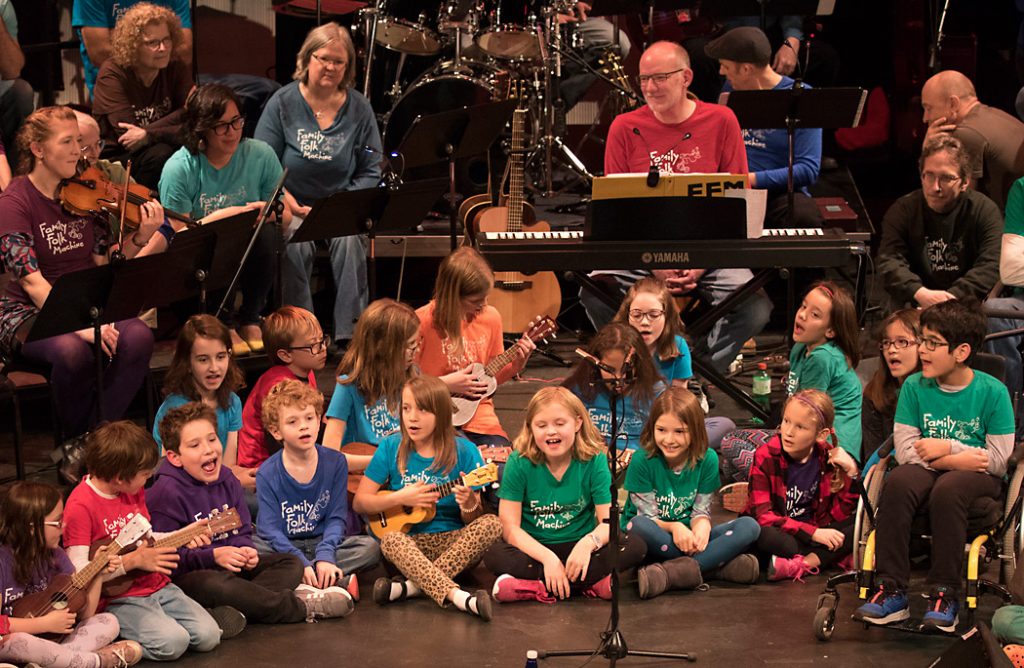 It was supposed to be a concert to celebrate the 50th anniversary of Earth Day. The date was set, the music selected and rehearsed, the venue booked. But before the curtain could rise on the Family Folk Machine's Spring 2020 One Planet concert, the earth decided it had different plans.
When the Family Folk Machine, Iowa City's intergenerational, non-auditioned choir, shut down rehearsals and cancelled the show, it seemed the logical, prudent thing to do in the face of a global pandemic. The music, it turned out, had plans of its own as well.
"The project came about because we couldn't bear not to do it," recalls Gayle Drake, the choir's Associate Director, in her introduction to the first online mini-concert of what became the Family Folk Machine Virtual Choir. "This is how we express ourselves. This is how we connect to the deepest part of who we are. It was incredibly important to find a way to keep going."
It was a daunting task. The Machine's Artistic and Executive Director, Jean Littlejohn, had accompanied her husband on sabbatical to Germany, along with their two children, and was now negotiating a hasty return before the borders closed in Europe. In-person rehearsals were unsafe and performance venues were closed.
The choir could not stay quiet, however. Littlejohn founded the Family Folk Machine in 2013, inspired by similar choirs she and her children joined while living in Boston. From the beginning, the Machine's mission included building community through music, removing the barrier of audition, welcoming singers of all ages, and inviting everyone to learn and grow regardless of previous experience.
"Music is an innate human ability," observes Littlejohn, though she understands why some have lost touch with their inner troubadour. "We have members who were told in elementary school to just mouth the words because their teacher didn't think they could carry a tune. People get older and become embroiled in the serious world, so they don't regularly burst into song. But everyone has a right to sing."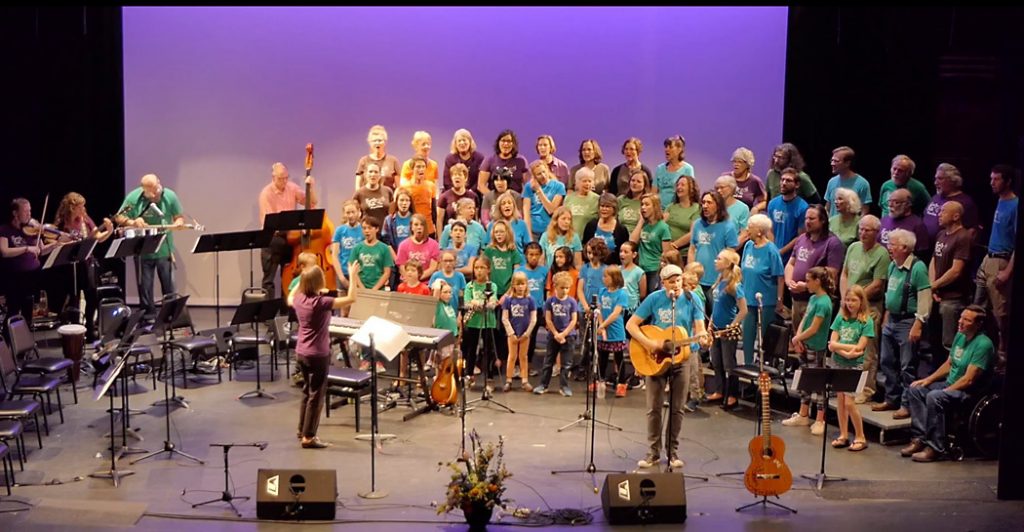 The idea caught on. Membership increased each year, so much so that the group moved to the Englert Theater after they outgrew their original performance space in the Senior Center. Choir members came from every walk of life, ages ranging from early elementary school to deep retirement. When COVID intervened in 2020, after so much time making joyous noise together, the silence was deafening. Everyone agreed: the show must go on, and go on it did.
Online, that is.
The Family Folk Machine pivoted to reimagine their cancelled show as a series of online mini-concerts. Rehearsals moved to Zoom and performances shifted to YouTube, each of which came with its own set of challenges.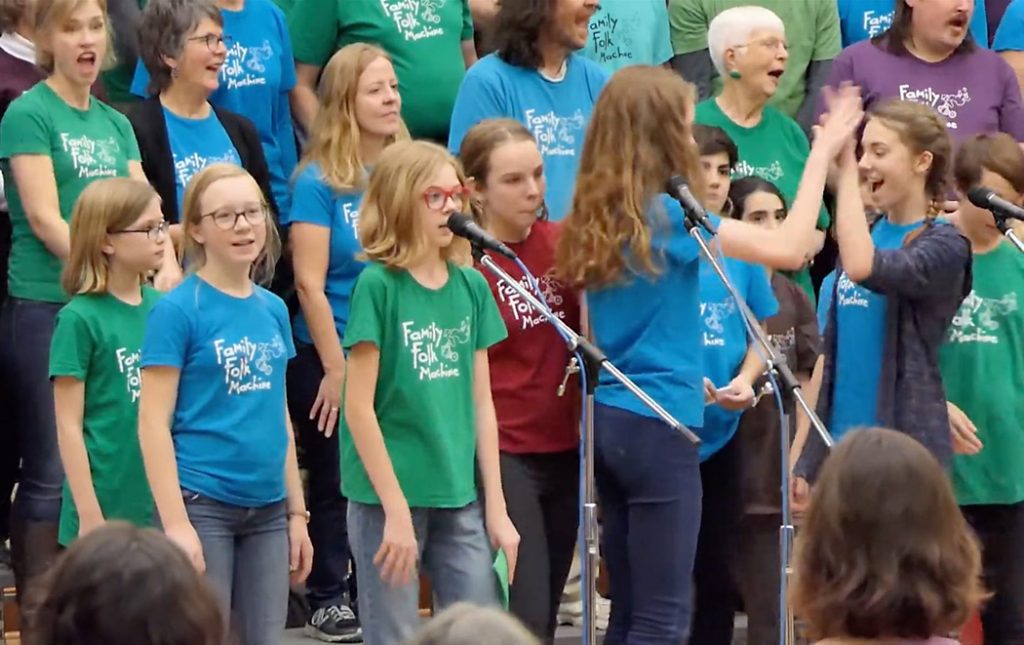 "It is hard for individual singers at home," explains Littlejohn. Some of the value of a choir, she believes, lies not only in singing, but in being present with others. "In a live choir, the feeling of community is emphasized. When we come together to make music, that smooths over flaws in individual voices. You learn to breathe when the person next to you takes a breath."
That could not happen in the age of social distancing. Isolated by the pandemic, each choir member recorded their part at home and submitted those audio tracks to Littlejohn and Drake to be edited together. Every song contained multiple vocal and instrumental tracks; blending them coherently required huge amounts of time to get just right.
"When the individual tracks were misaligned, it isn't chaos, exactly, but it is blurred," remembers Littlejohn. Each song required more than 20 hours of "microadjustments" of those separate fragments before the song would snap into focus. Friends and Board Members of the Family Folk Machine volunteered to create video and animation to accompany the music, collectively contributing hundreds of hours to the cause. Littlejohn marvels at the memory: "I'm glad someone didn't tell us what we were getting into before we started."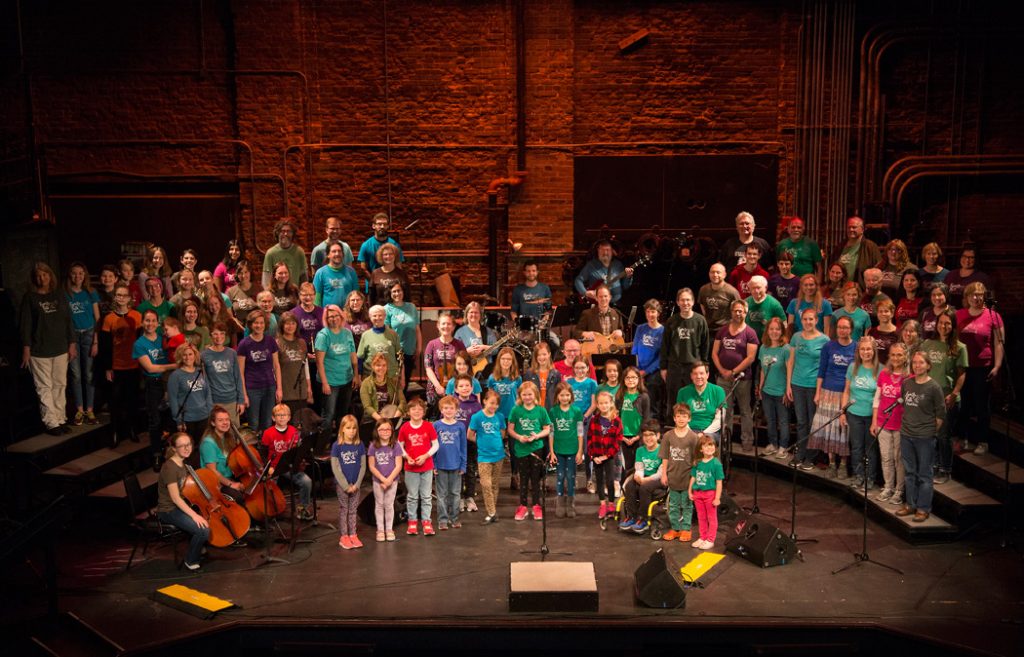 Ironically, conducting her choir in isolation served to remind Littlejohn of the power of music as a unifying force. As she finalized the first online mini-concert back in November, Littlejohn decided to go back over one tune to be sure everything was done correctly. "I started the song, and as I brought in each track, voice by voice, I was overwhelmed with the experience of a choir truly coming together," Littlejohn recalls. She recreated that experience at the next online rehearsal to show how every still, small voice contributed to the whole.
"By the end, everyone was crying on Zoom."
The third installment of the Family Folk Machine's online concert series premieres on YouTube this Sunday at 3 p.m. Bring tissues, and feel free to sing along. Find links at FamilyFolkMachine.org and the Family Folk Machine Facebook page.