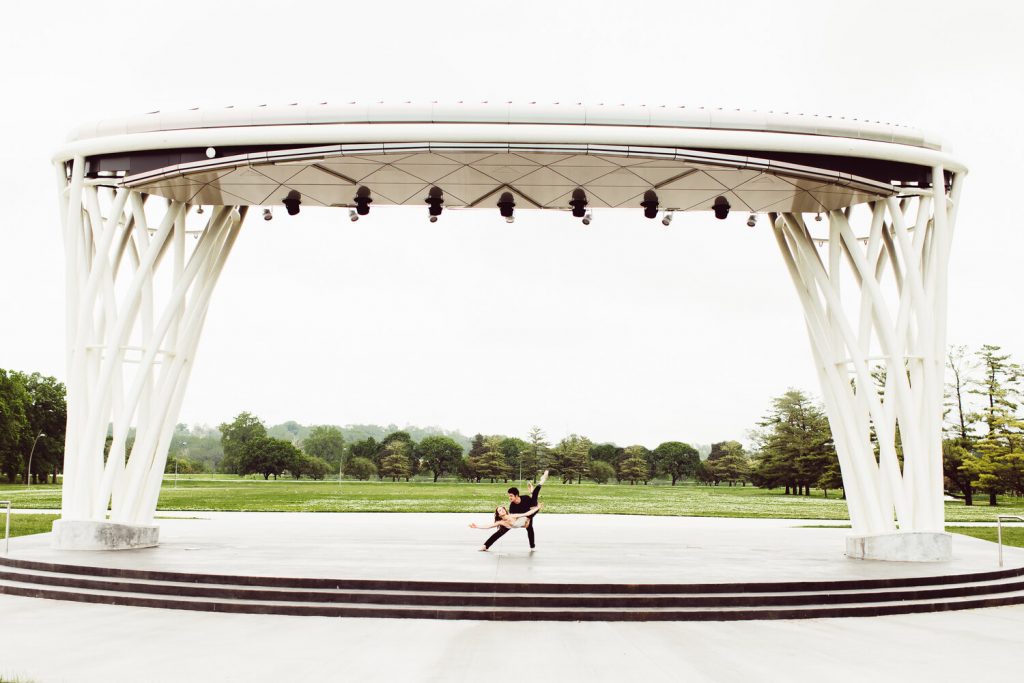 A new partnership between Ballet Des Moines and Hancher will bring three free outdoor performances of "Dance into Spring" to Muscatine, Iowa City, and Des Moines.
Each evening will include five works highlighting a diverse range of performers, all with ties to Iowa: the professional company dancers of Ballet Des Moines, performers from the University of Iowa's Dance Company, and special guests from the acclaimed Miami City Ballet—Carlos Quenedit, a former Ballet Des Moines dancer, and Katia Carranza. Musicians from the Roseman String Quartet, featuring members of the Des Moines Symphony, will join Ballet Des Moines to provide live music for one ballet.
"This tour represents the first in-person performances for Ballet Des Moines since December 2019," says Blaire Massa, Executive Director, Ballet Des Moines. "Though we have not partnered before, Ballet Des Moines and Hancher recognize that creative partnerships like ours are exactly what our communities need as we reemerge from the past year, truly demonstrating the resilient and vibrant creative community in Iowa."
The three outdoor locations are Lauridsen Amphitheater in Des Moines on Friday, April 30, at 7:30 p.m., Hancher Green in Iowa City on Saturday, May 1, at 7:30 p.m., and Riverside Park in Muscatine on Sunday, May 2, at 5:30 p.m.
While Hancher and Ballet Des Moines are excited to welcome in-person audiences for these performances, both organizations are committed to supporting public health. Masks and social distancing are required at all three performances for the health and safety of audiences, staff, and performers. Audience members should also bring their own chairs or blankets.
PROGRAM
In Formation – Ballet Des Moines
Choreography – Ma Cong
Music – Philip Glass
Sliding Figures (Andante con moto) – Ballet Des Moines
Choreography – Serkan Usta
Music – Roseman Quartet (live)
Pas de deux from Don Quixote – Carlos Quenedit and Katia Carranza of Miami City Ballet
And Let's Go – UI Dance Company
Choreography – Alex Bush, UI Department of Dance
Music – Hawkeye Marching Band
De Antônio, de Brincante e Vira Mundo – UI Dance Company
Choreography – Armando Duarte, UI Department of Dance
Music – Antônio Nóbrega