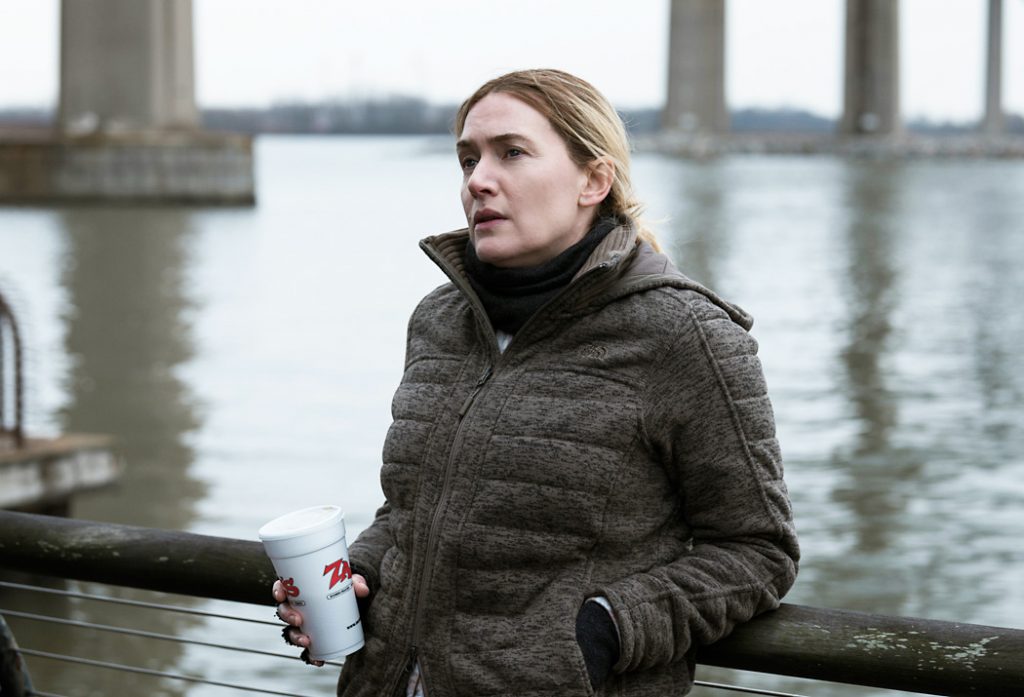 "I always expected to be a cop. It's the life around me I didn't expect to fall apart so spectacularly."   —Mare Sheehan 
The star power of Kate Winslet brings to mind film characters like Rose, that gutsy, first-class passenger on the Titanic. Or the passionate, young Marianne Dashwood in Sense and Sensibility. Or the lone fossil hunter Mary Anning in Ammonite. But as police detective Mare Sheehan in Mare of Easttown, Winslet stretches her remarkable acting chops toward a blue-collar community called Easttown, Pennsylvania. And it might be her most impressive role yet.
Winslet trades her crisp British diction for a Philly dialect (which drew praise from locals). She abandons red-carpet sequins for a fashion-free "wardrobe" with a hint of lumberjack that she probably slept in. Lunch is cheesesteak or pizza from Wawa while driving her patrol car. And dinner is whatever is in the fridge, like cheese food in a spray can.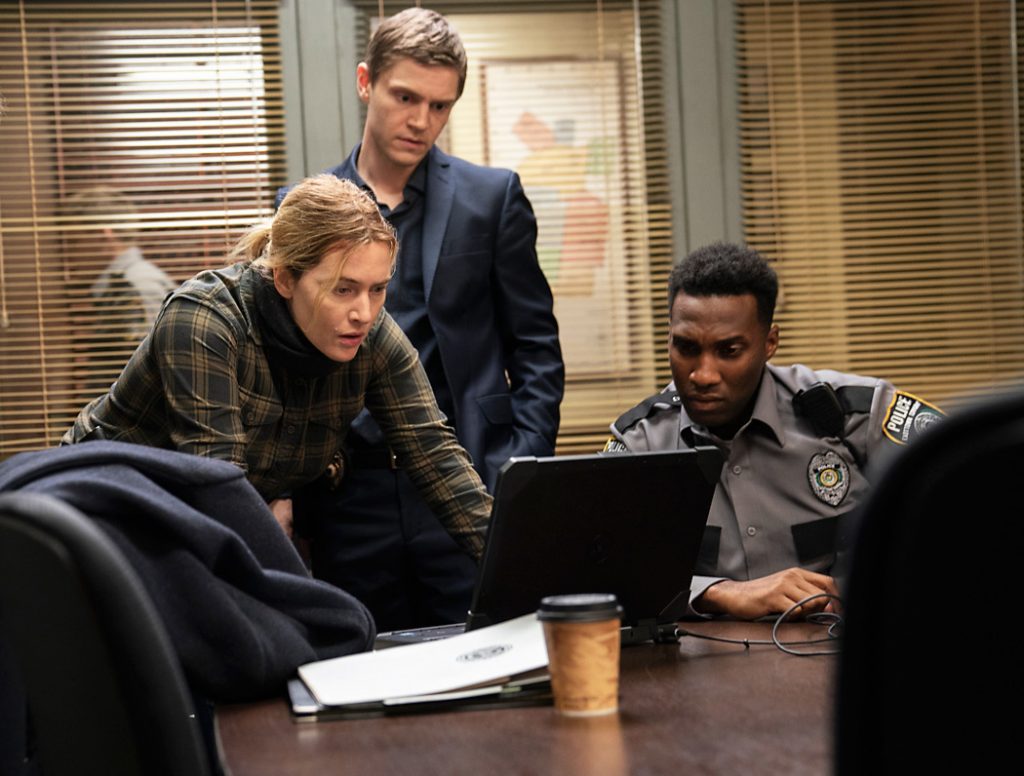 As the series opens, we learn that one of Easttown's young women has been missing for a year. This unsolved case haunts the town. And it weighs heavily on Mare, Easttown's only police detective, whose long investigation came up empty. But even as we, the viewers, are processing this cold-case mystery, another crime befalls Easttown. And this one is almost as challenging to solve, not for lack of clues but for so many suspects to rule out. And all those potential perpetrators keep us wondering whodunnit.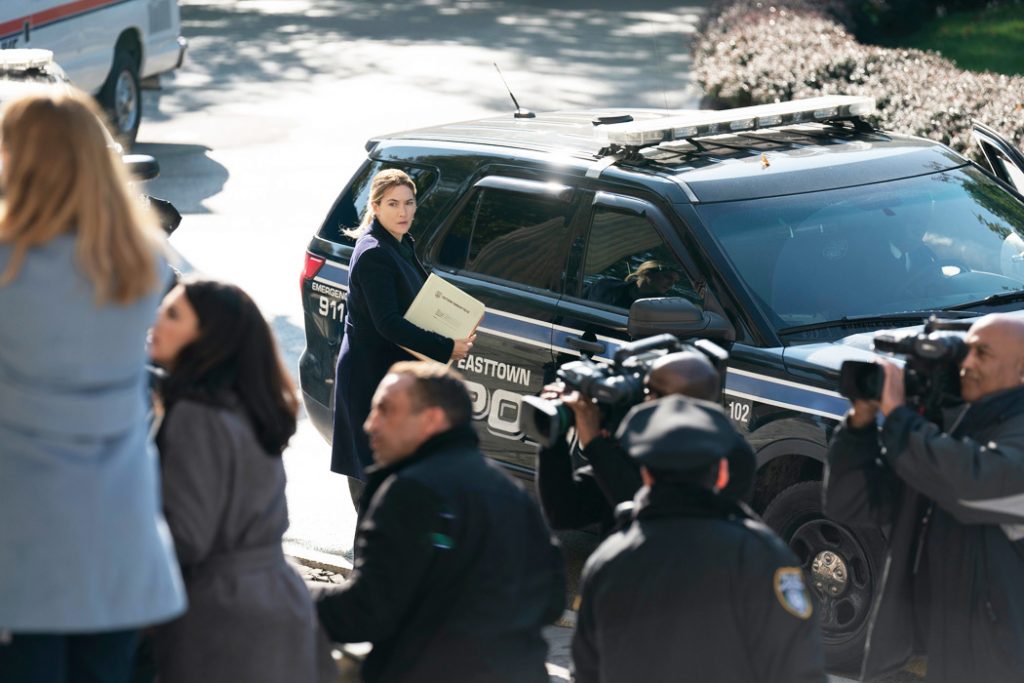 Mare Sheehan is a complicated character. As Easttown's only police detective, she is dedicated to serving her community. And since Easttown is also her hometown, she is acquainted with or related to most of its residents, which makes investigations awkward, though it sometimes adds to the comic relief scattered throughout each intense episode.
Mare is a troubled person, weighed down by guilt, grief, and the burden of responsibility that she bottles up and tries to carry alone. And that kind of pain can steer those who suffer toward soothing remedies that become bad habits. Mare's vice is vaping. But her coping defense is her harsh communication style that pushes people away and keeps them at a distance. She can be cold, curt, dismissive, and unfiltered, which gives her the safety of privacy and an emotional shield. Yet underneath it all, Mare has empathy, compassion, and the need to shed her burden. We can count on one hand the number of times she lets herself smile.
From writer and creator Brad Ingelsby (The Way Back), Easttown hits it out of the park. And it's inspired by the writer's own Pennsylvania roots in Easttown township, just beyond the series' filming location. So how did he create such exceptional entertainment? Let us count the ways. With an intricate, suspenseful, unpredictable story. Smart dialogue. A talented cast and memorable characters. And the layers of mystery that gather like storm clouds and twist our expectations.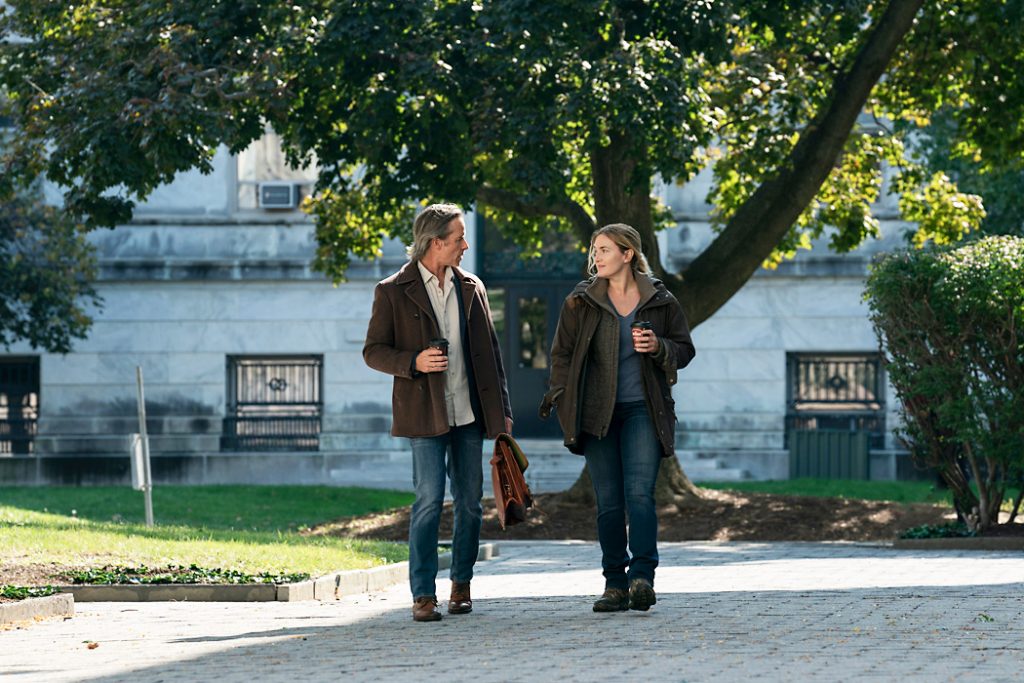 Director Craig Zobel (Westworld, The Leftovers) draws the best out of each member of this large cast. Jean Smart (Designing Women, Hacks) plays Mare's feisty mom, who is helping to raise the kids since Mare's divorce. The phenomenal Guy Pearce plays Mare's persuasive love interest. He gains some of her trust, and he's the only character who is not from Easttown. And Evan Peters (X-Men, WandaVision) plays Detective Colin Zabel, recruited to help Mare investigate the town's unsolved crimes. A kind, patient, forgiving young man, Zabel asks Mare's daughter Siobhan (Angourie Rice) if she can offer any tips for getting along with her mother; Siobhan recommends lowering his expectations.
And now, the disclaimer. HBO airs one Easttown episode per week, the old-fashioned way, with the finale scheduled for the end of May. Which means as of this writing, I have viewed five of the seven episodes of this limited series. And as Game of Thrones has proven, it's risky to praise a TV series before we know what's behind doors #6 and #7. But I'm taking my chances, and so should you.  RATING: A
Available on HBO Max and other streaming services.