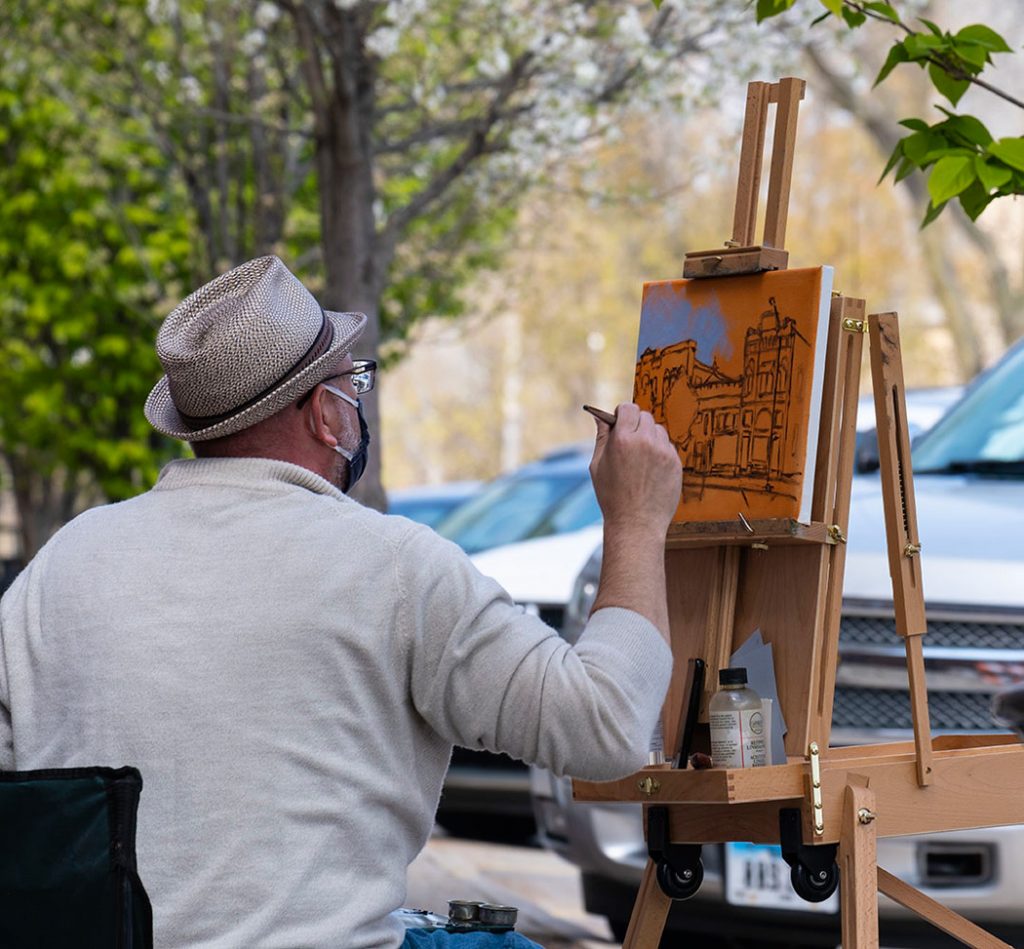 The popular annual gathering of artists called Portrayal of Mount Vernon took place April 24–25 this year, drawing 25 creative types who roamed the streets and the surrounding countryside for two days to capture the picturesque beauty of Mount Vernon and Lisbon. The outdoor affair attracted plein air painters, photographers, sculptors, and fabric artists. Their creative efforts will be showcased at the Mount Vernon Creates gallery from June 3 through July 31.
"We felt like 25 was the perfect number during the pandemic," says event founder and gallery co-owner Denise Murphy, who started Portrayal of Mount Vernon with her husband eight years ago and has been pleased to see that the event continues to grow. "We've had as many as 35 artists involved, including local art students and their teachers," Murphy says, adding that they started the event as a way to connect with local artists and the community when they were new to the area.
"Mount Vernon is a very historical town," she says. "It lends itself to an art event." Artists of all ages participate, from students to 80-something retirees, with artists new to the area joining regular participants and long-term residents. Artists encompass a wide variety of skills, from beginners and hobbyists to emerging and established artists.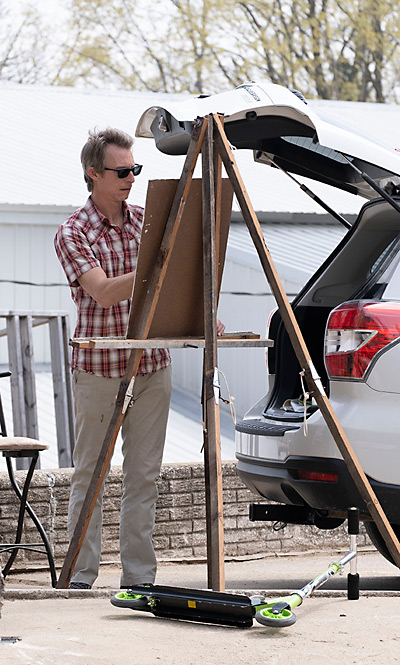 Plein air oil painter Eli Ehlinger is a regular participant. He loves that it's "a day set aside to make art," adding, "Any time I have an excuse to spend the day creating art, I'll take it." This year, Ehlinger painted the southeast view of an alley behind Main Street. "I enjoy being outside and painting in person, especially when it's nice out. I see things differently when I'm on site rather than working from a photograph."
Ehlinger is impressed with the wonderful job Denise Murphy has done in organizing the annual affair. "It's a neat event for the town, to have so many artists around creating at one time." Plus, Ehlinger thinks it's a fantastic experience to see how each person interprets Mount Vernon. "The town, the people, and the artists involved are all really great," he says. "I enjoy seeing the other artists work. Sometimes family and friends stop by, which makes it fun."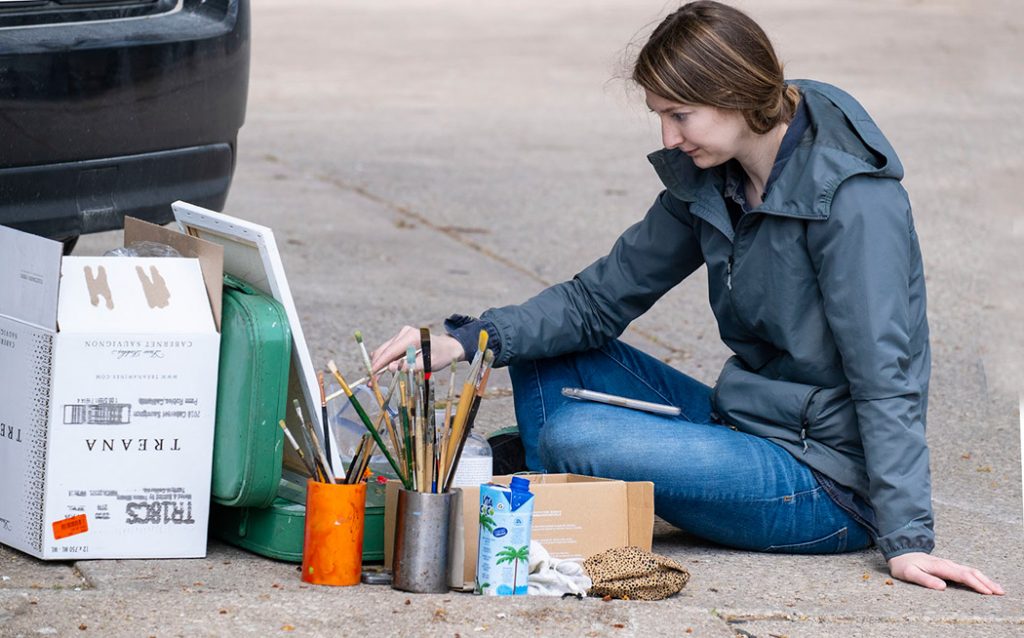 This year's event had special significance for Ehlinger. "My father, Glen, and my friend Jim Lewis participated in previous events. They both passed away last year, so if anything, I wanted to participate for them. I feel closest to them when I'm painting."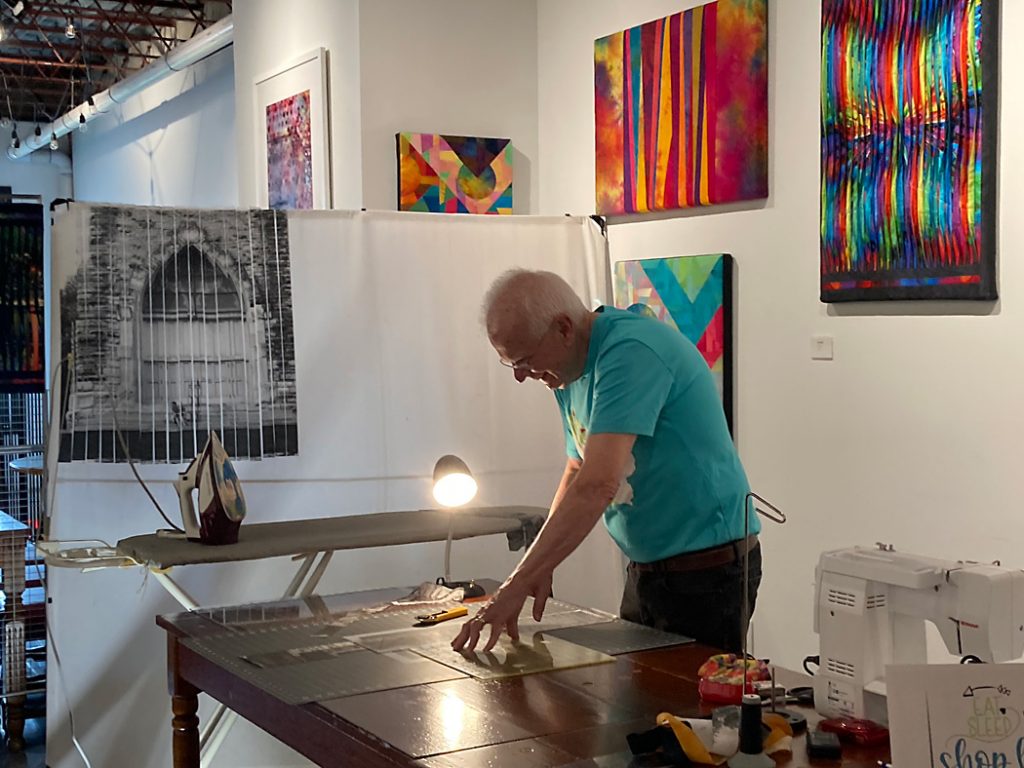 This year was fabric artist Don Dixson's first time joining Portrayal of Mount Vernon. Dixson has worked at Murphy's gallery, and Denise encouraged him to participate. She was especially interested in seeing how his fabric art would contrast with the more painterly depictions of Mount Vernon.
Initially, though, Dixson found the idea challenging. "The bulk of my art is abstract and certainly wouldn't translate to a portrayal of anything in Mount Vernon. However, this past fall, I started using a new technique of taking printed fabric panels, slicing them, and inserting fabric strips."
After finding out that Murphy's husband, Robert, is a photographer, Dixson was immediately inspired to collaborate. He had one of Robert's photographs printed on fabric and used it to create a piece with his new technique. The photo he chose was a black and white picture of the arched entrance to King Memorial Chapel on the Cornell Campus, with a young lady sitting on the steps. "I thought it looked quite dramatic," he explains. While working on his piece, Dixson learned that the young lady on the steps is Andrea, the owner of Kae Apothecary in Mount Vernon. "I was thrilled to know that and have named the piece Andrea."
Dixson particularly enjoyed interacting and conversing with "all of the people that willingly braved the weather to see and meet the participating artists." He appreciated the encouraging feedback he got from viewers who had never seen his fabric techniques. Connecting with other artistic colleagues in the area was a plus, he says. "The event provided a wonderful opportunity to meet other artists."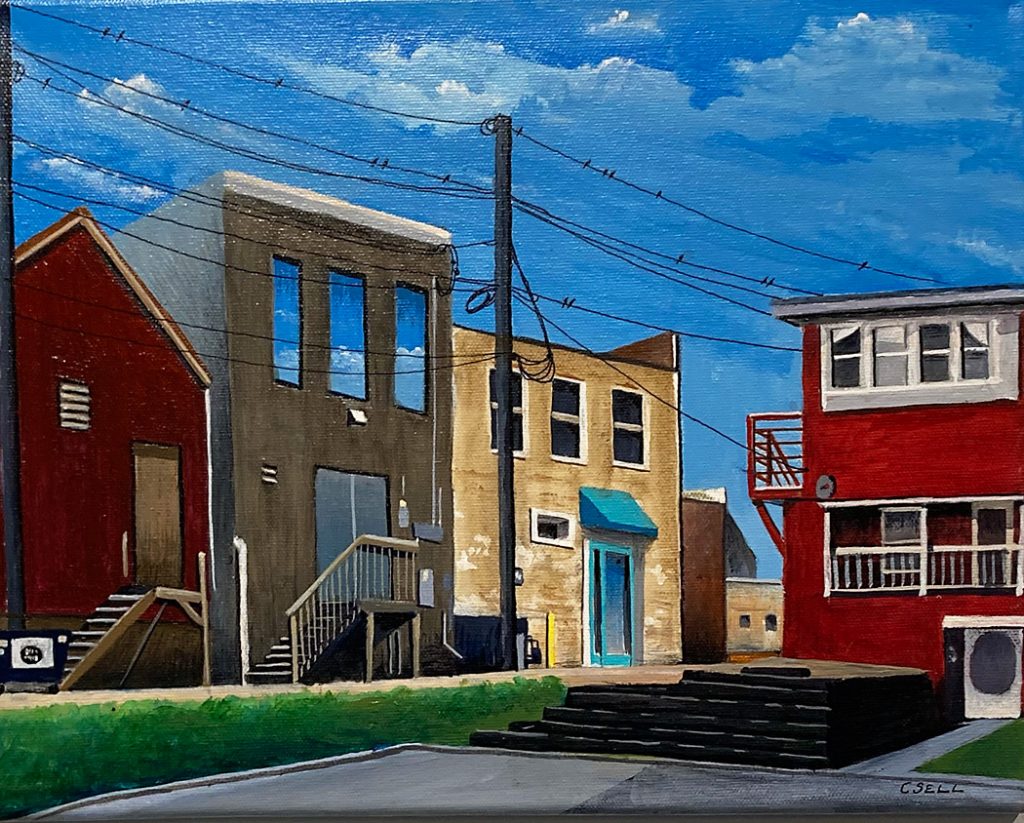 The Portrayal of Mount Vernon exhibition runs June 3–July 31 at Mount Vernon Creates, 121 1st St. NW. For more information, visit MountVernonCreates.com. The 0pening reception is June 3, 5:30–7:30 pm. All are welcome!