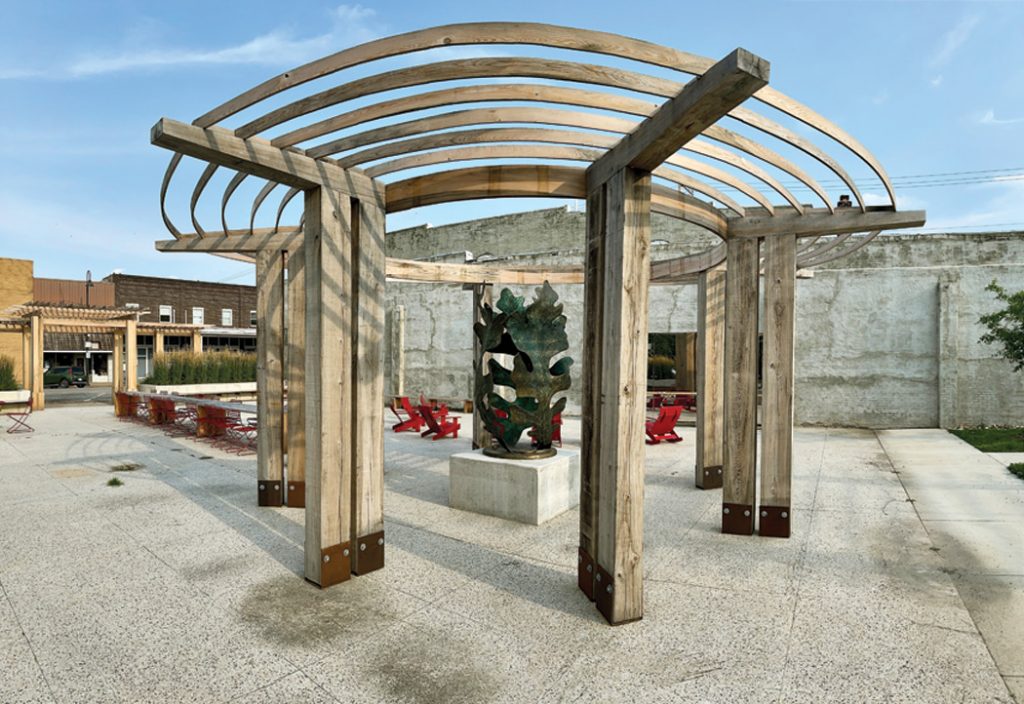 Petra Park, Fairfield's sophisticated and urbane new plaza with eating areas and performance art space, is a fitting memorial for Petra Stanley, who died of cancer in 2016.
Many Fairfielders remember Petra's elegant grace and community involvement. An MIU Board member, she was very active in the Fairfield community, especially in the arts and culture scene. After Petra died, her husband Alex Stanley wanted to commemorate his wife in a way that would benefit the whole community. He had the opportunity to work with the Greater Jefferson County Foundation to purchase the location of the collapsed Tribune Printing building, one block north of the square on Main Street, to build a park. Petra Park opened on May 26 with a ribbon cutting ceremony that featured local dancers. The dining areas are already popular with people looking for a nice spot to eat or chat, and many local photographers have been inspired by the artistry of the park.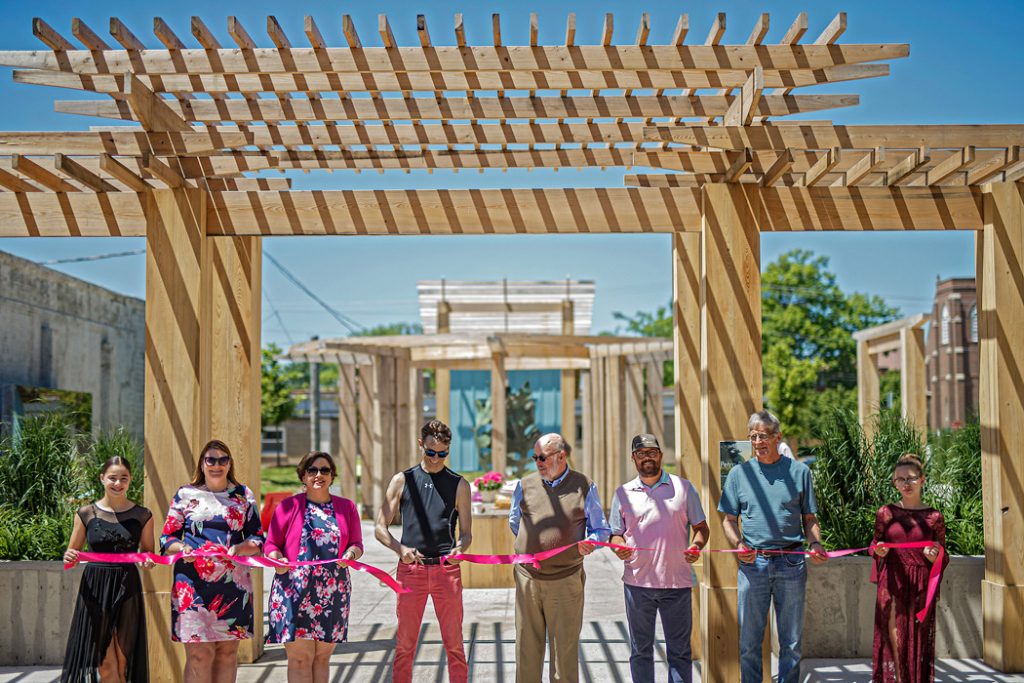 Stanley thinks of his late wife as "a celebrity superstar" of Fairfield. "Who she was dictated that she'd be remembered pretty spectacularly," he says. "She was just totally herself." Stanley wanted the park to reflect her artistic and expansive nature, and feels that the final design captures that perfectly. "This park is very Petra," he says. "She would really like it."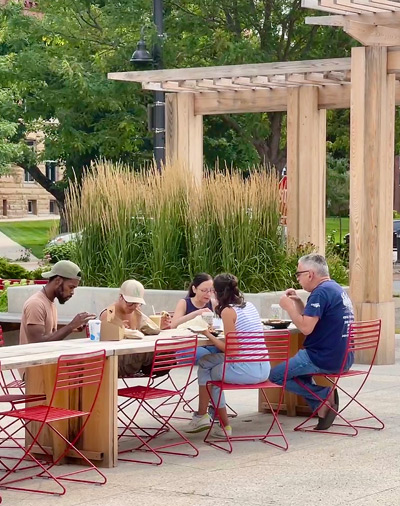 The former empty lot has been transformed, with welcoming red benches and raised planter boxes around the perimeter, a long central "harvest table" for dining or visiting, and tall wooden pergolas. The center pergola surrounds an oak leaf sculpture by noted Fairfield artist Dale Divoky, who was inspired to use the oak leaf theme because this area was once an oak savanna. Stanley says he's very pleased with the sculpture. "My only request was that he incorporate the sense of twirling motion, because Petra was a dancer." Stanley adds that he loves the asymmetry of the sculpture. "You never get the same view twice; it changes with your viewpoint. There's no front or back to it, it just is. It looks different from every angle."
Stanley worked with Fairfield City Engineer Melanie Carlson and designer Dennis Reynolds of Des Moines-based Reynolds Urban Design to plan and create Petra Park. "Fairfield was fortunate that Alex had the vision to do something with the site that would be a benefit to the community and the downtown," Reynolds says.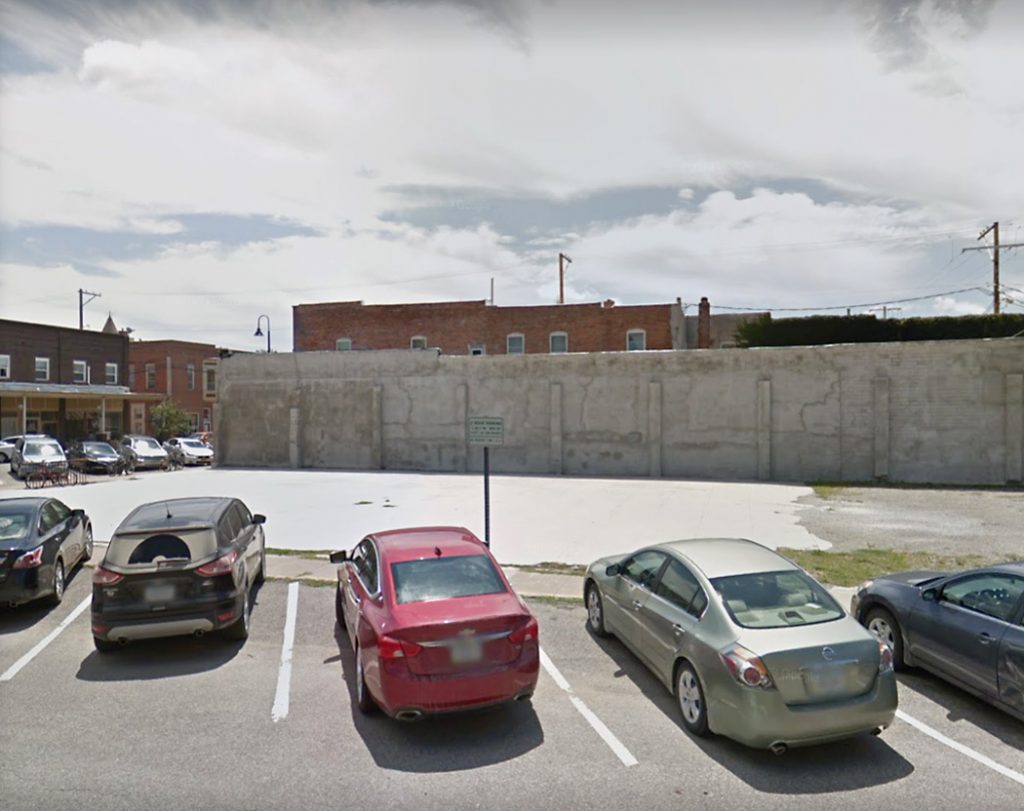 One of the park's unique features is its beautiful terrazzo floor, which remained intact after the Tribune Printing building was demolished. "This is the only urban park that I'm aware of in the Midwest that has a terrazzo floor," Reynolds says. "When you travel Europe, you will sometimes see terrazzo plazas that are still beautiful even though they were built hundreds of years ago by the Romans and others."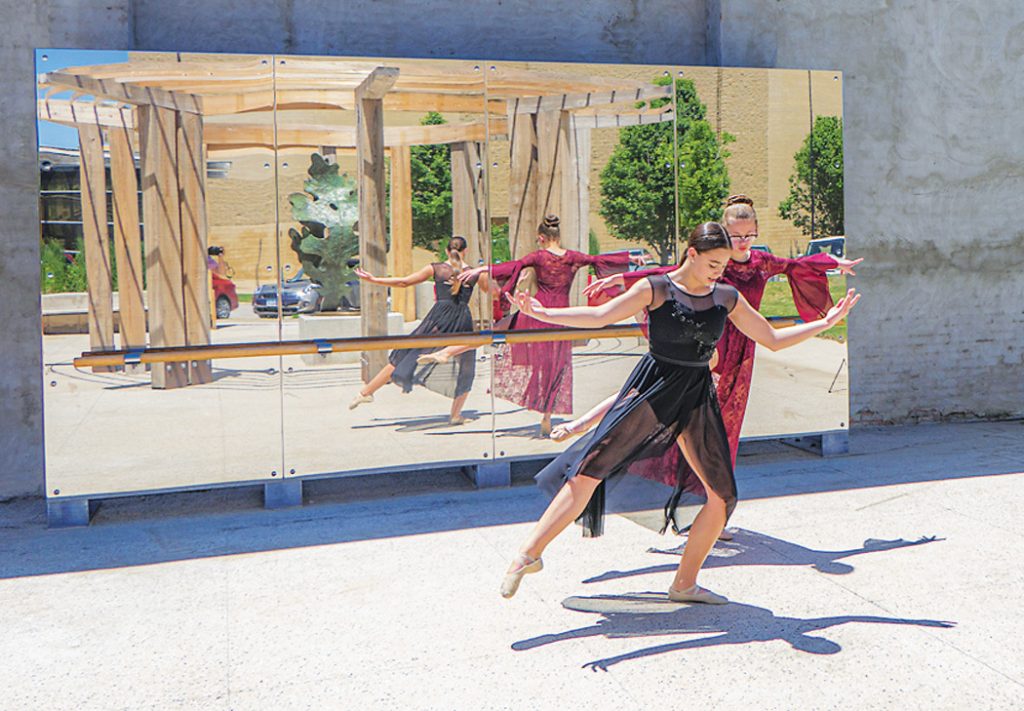 One of the park's most popular features is a mirror with a barre, a tribute to Petra's love of dance. "This is also the only urban park that I'm aware of, in any country, that has a ballet mirror with a dance barre," Reynolds says. The highly polished stainless steel mirror has been quite a success with the public. "That is the hit of the whole park," Stanley says. "People are really digging that mirror."
Reynolds says he worked closely with Stanley and the city to make sure the park served the needs of the community. A series of meetings determined the project's goals, organized the spaces, and established a desired character.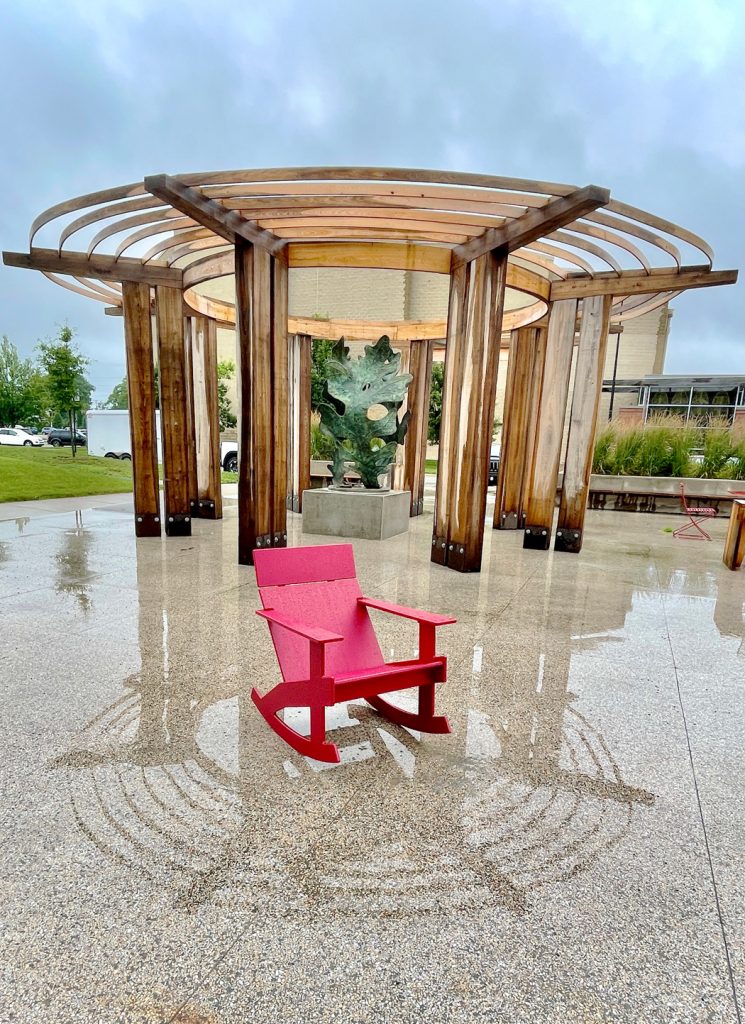 Extensive research went into the creation of Petra Park, and it was deliberately designed to be as low-maintenance and sustainable as possible. The freestanding planters showcase ornamental grasses and native plants that need minimal care. The wooden structures are built with cypress, a very durable wood, similar to teak, and much of the furniture was built from recycled plastic. Plumbed for water and wired for electricity, Petra Park was designed to be multi-functional, with an open area where a stage could be set up for musical events and a south wall that could be used for summer movie viewing.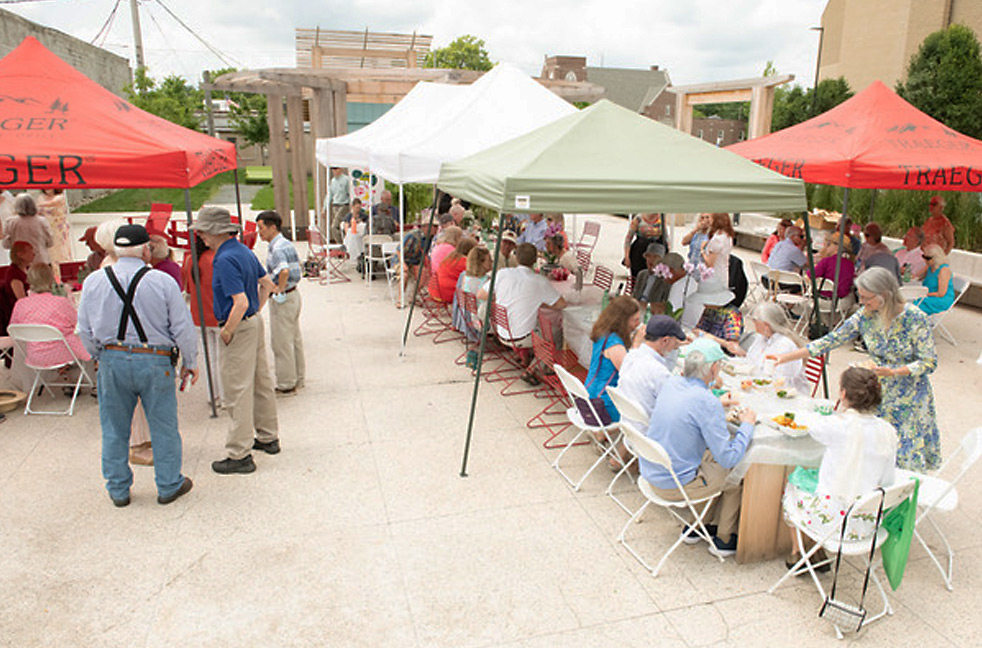 One suggestion that Alex has received is adding more shaded areas. While shaded seating runs along the southern wall that the park shares with the adjoining building, the central table and lounging chairs are pretty much in direct sunlight. Stanley says shade umbrellas weren't installed because they are vulnerable to wind damage, but research is currently underway for sturdy, low-maintenance shade options that would match the park's aesthetics.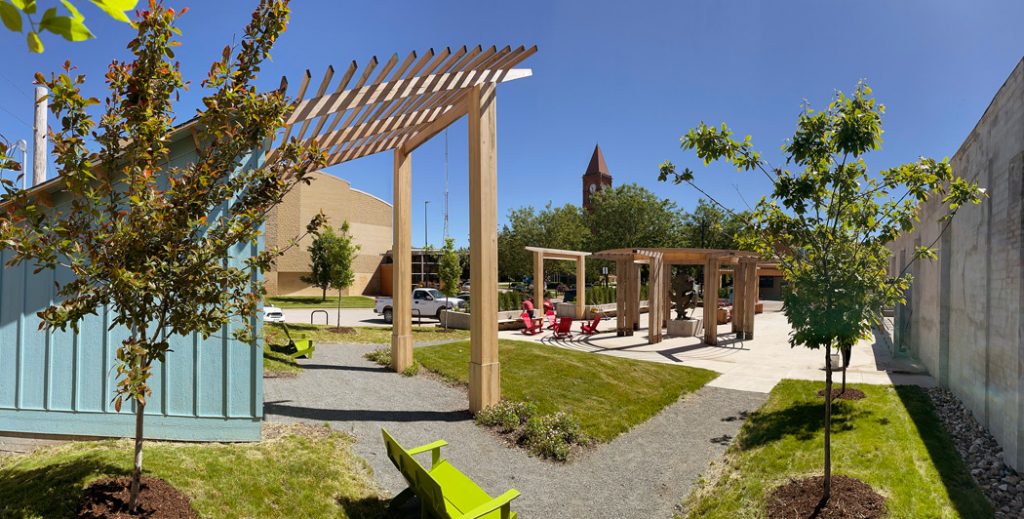 During construction, Reynolds worked closely with Ferris Construction and the city of Fairfield, refining details to meet design intentions. "I enjoyed the many trips to Fairfield, including the terrific coffee shops and restaurants," he says, noting that the end result is a beautiful and durable park. "I love getting to know my clients and the communities where the project is located so that the design can meet their needs. It is very rewarding to see my design work have a positive impact on the quality of life in the community."
For information about using Petra Park for special events, contact the Fairfield Park and Recreation Department at (641) 472-6159.