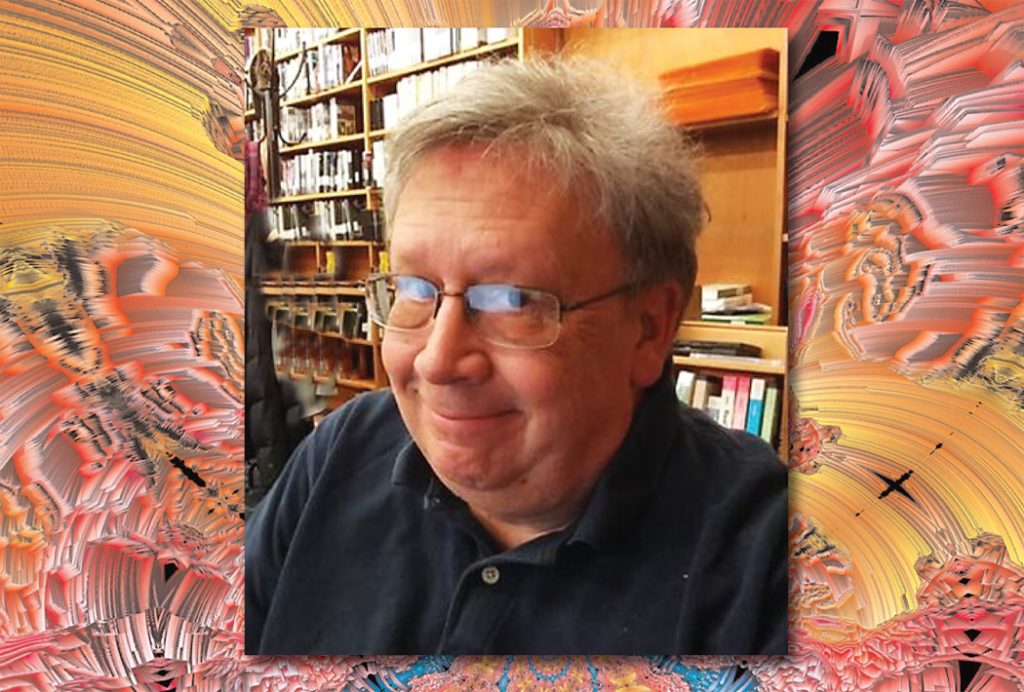 Rustin Larson, who has spent the majority of his life in Iowa, sees the world a little differently than most people do. In his new self-published collection, Red Wing, he presents a version of the reality in which the past, present, and future are more permeable than we tend to believe. He has an ability to pull together unexpected images that combine to reshape the way we might see a moment in time.
Take, for example, this passage from the story "A Conversation with a Small Cactus."
"When I have students I tell them this: no critics. That includes the bee, wasp and butterfly demons that have been trailing them since childhood, the money lost in the cement cracks, the hidden oil in the mud that surfaces in spring, the automobile submerged in the deepest pond in the county. If the sky had a zipper I think the next 747 would open it wide and what you would see would be like the snow of a television screen in the epileptic fit of trying to grasp a signal, only it would be infinitely infinite so to speak, swirling with potentialities and your mommy's lost recipe for Hungarian pot roast. This is normal if you don't struggle against the infinite electronic snow. It's where we came from as beings. And it's where we are going."
Larson answered questions via email. 
Tell me a little about how you got started, how that first spark led you to a life of writing. I'm also interested in the ways you see your work—as a poet and a prose writer—interacting over time.
My high school creative writing teacher, Kathleen Myers, told me that I would someday be published in The New Yorker. 1977, I was 17 years old then, but she turned out to be 100 percent correct. If you want to be published in The New Yorker, first you must have Kathleen Myers utter such an incantation over you. That's my only advice for cracking the code. I must admit my writing life did not start out in The New Yorker, however.
I spent the next 15 years hoping my poetry was good enough for journals like The Happiness Holding Tank. As it turns out, it often was not. But I found success in many now-defunct places like Loonfeather, Inlet, and The Acidophilus Quarterly. Actually, I made up that last one, but Loonfeather and Inlet were once real literary magazines, I swear.
In the 1990s I published a good number of short stories in The MacGuffin (it's still around) and Lime Green Bulldozers (it's not still around). I also published some stories in The Iowa Source (paper version) at the turn of the millennium.
Reviewers sometimes comment on how my poems sound like short stories, and how my short stories sound like poetry. I guess there is some subatomic or chemical reaction taking place there between the two forms. Some people say we have come to the end of genre altogether. They may be right. Iggy Pop once sang, "I don't need no heavy trips / Fun / I just do what I want to do / All aboard for funtime." I have kind of taken those lyrics as a mantra every time I crack open my writing journal, and I just let go. Maybe poetry, maybe prose, maybe neither, maybe both, maybe everything all at once.
The new collection features recurring characters and themes. What makes these particular characters interesting to you?
I am mesmerized by the trio of characters of Rhonda, Denis, and Bobby, who were friends since elementary school and, though separated at various times, reunited after college on a road trip and later in everyday work life. Rhonda dies, but Denis meets her again in Amish Paradise. Neither of them are Amish. They remind me of the friends you try to hold onto but lose only to meet again in some otherworld, the subconscious, the dream, or even a genuine afterlife, even though it may not be the one originally designed for your sect or denomination. Life is funny, why not what comes after?
So many of the characters cling on to loved ones (or loved things) they have lost. Lola clings to the memory of her father, who was killed in an accident during the Great Depression in the story "Lola." Paula knits a cap for her partner Jim Swimmer up until the moment of his funeral in the story "Red Wing." The narrator's father in "Yellow Impala" tools around town in his car listening to basketball games on the radio even though he should be resting quietly in his grave. God himself has taken refuge (in an understairs closet in an abandoned house) from a world he feels he can no longer control in the story "God, Snow, and the Reverend Huhok."
Each character is faced with recognitions of empathy and mercy, acceptance and release. Each character is faced with some kind of oddity: an amusement park where you pay to be haunted; a basement occupied by the ghost of Abraham Lincoln; a playground full of kids using their dying friend as a kite to assure his entrance into heaven; a small city whose citizens are "evolving back into dolphins." There's something for everybody.
You play with the idea of time and the (sometimes unexpected) connections between past and present in the lives of your characters. Can you tell me more about how you think about the structure of a life—and by extension, of a story—and how you recreate or summon that up on the page?
Life, as we live it, or at least as I perceive it, is made up of layers. We live the present, but while we do, we also relive the past, and we live in the obsession with what has not even happened yet. One of my approaches in the storytelling was to fragment and to jumble chronology. In so doing, gaps of silence, or breathing spaces if you will, were created between narrative blocks. These silent breaths created an underlying sense of simplicity and being, a unifying place out of time.
What do you like—and dislike—about the self-publishing process?                   
For Red Wing, so far there's nothing to dislike. I've been invited to read and/or discuss it on Zoom and/or Public Radio six times since I've published it. Seven, Vermont College just asked me to read from it on September 30! Royalty payments come on time. Red Wing appears in nearly every online bookseller out there.
The same with an independently published poetry book of mine, Library Rain. It was named a 2019 Exemplar by The Washington Independent Review of Books and reviewed there by Grace Cavalieri (who is also host of the radio program The Poet and the Poem, presented by the Library of Congress through National Public Radio). By being named exemplar, it appeared with eight other books published by top poetry presses. Quite a recognition.
Do you think of yourself as an "Iowa writer," and if so, what does that mean to you?
It's hard not to think of myself as an Iowa writer because I was born in Des Moines and have lived all but four years of my life in Iowa. I've lived in Des Moines, Indianola, Fairfield, Brighton, and have slept on couches in Iowa City, Sioux City, Clinton, Osage, and Maquoketa. I have done a stint as a poet in the schools and have taught in the communities of Red Oak, Orange City, Tama, Des Moines, West Des Moines, Ankeny, Clinton, and Creston. If I'm forgetting anybody, I apologize.
I have also been the college editor for The Iowa Poetry Association's anthology Lyrical Iowa for what seems like 20 years now and have been a critic in their workshop multiple years and have known so many fine people. I teach creative writing at Maharishi International University in their new M.F.A. program. I also teach composition at Kirkwood Community College. I have published my poetry in Lyrical Iowa, The Iowa Review, The North American Review, The Briar Cliff Review (good Iowa journals all), and I have been poetry editor for The Iowa Source.
My first real full-length book, Crazy Star, was published by Loess Hill Books in 2005 by its founder, Iowa's farmer poet, Michael Carey. That book was launched in Shenandoah, Iowa, at a big soiree that included the presence of Iowa Governor Vilsack and his wife Christie, and I read Crazy Star alongside Iowa Poet Laureate Robert Dana, who read from his The Morning of the Red Admirals.
So you can see there is a big Iowa theme built up in my life. Many of my poems feature some aspect of Iowa, as do my short stories. Even the poems I published in The New Yorker were about Iowa.
***
Hear Rustin Larson read a selection from Red Wing on Thursday, Oct. 21, 7:30 p.m., in Fairfield's Petra Park, 101 W. Briggs Ave., for The Thirsty Word reading series. This month's theme is "spooky stories and poems of the weird."