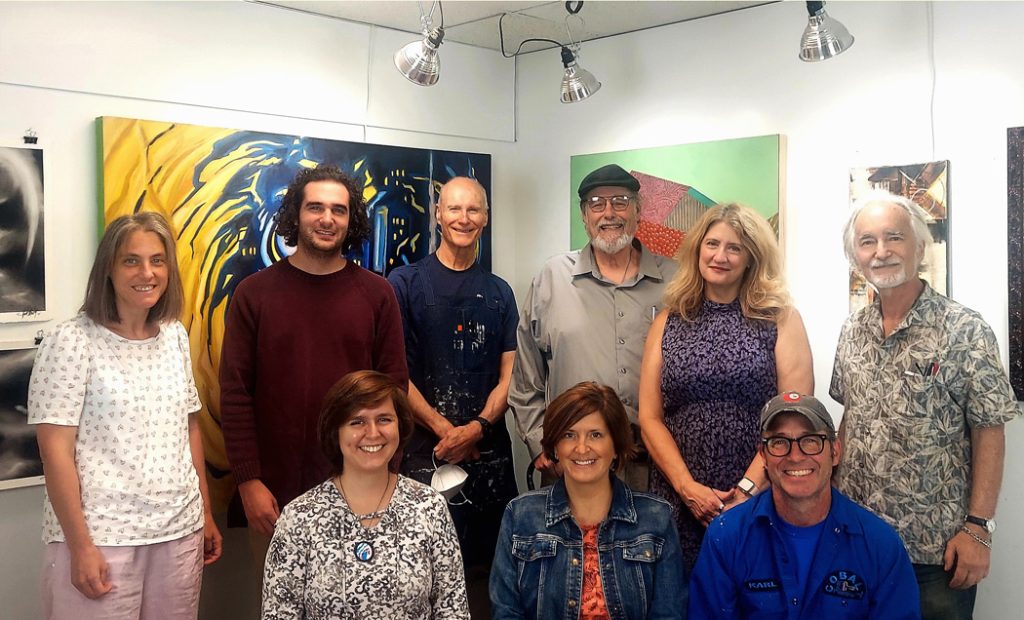 When the coronavirus pandemic hit, TAAG halted all classes and limited gallery exhibits. Despite these restrictions, the artists continued their work. The reopening of the gallery marks a new beginning in which TAAG can return to its work within the wider community.
For starters, TAAG will begin holding art competitions for amateur and professional artists, aimed especially at the residents of the Eastside and Towncrest districts, with a particular focus on youth. The first competition will be in early summer 2022 and will seek to include local businesses and the City of Iowa City as judges and sponsors. The event will be divided by age group, with all ages encouraged to participate and compete for prizes. A special children's exhibit in late summer will showcase all submissions from those under the age of 18.
New Exhibit
The upcoming Life Goes On exhibit will feature new artworks from TAAG artists.
John McGlinn's paintings are in an abstract genre that McGlinn has coined "Space Stacking," showcasing subjects viewed from above and demonstrating a love for geometry and design. McGlinn has created an oeuvre that rejects style in pursuit of an artistic ideal.
Karl Sternberg's black & white charcoal work is a dynamic playground of light and shadow. With bold lines and indistinct edges, works in Sternberg's new series "Space" feature organic shapes artfully blended and reimagined as though they were velvet. Past works have included detailed renderings of Iowa City landmarks, a barn series, abstracts, and animals.
In stark contrast to Sternberg's work are the chromatic paintings of R.E. Henry. His bold colors give life to the ordinary as Henry's vision for landscapes and other subjects challenge reality. In vivid, saturated color, Henry's paintings evoke sentiment and oftentimes alarm. For example, his oil painting Old Ghosts of an Old West town reimagines the drab, crumbling buildings in jewel tones that give the setting new life.
Other pieces include Candace Weigand's abstract paintings, Dom Franco's watercolor nudes, Robyn Groth's book arts, Eve Minkler's and Ashley Gillette's mixed media works, N.G. Cline's charcoal portraits, and Bella Vine's sculptures, inks, and watercolors. Most of the artists are also available for commissioned work.
TAAG hosts the Gala Opening Reception on Thursday, November 4, at the main gallery, 1041 Arthur St., Iowa City, from 6:00 to 8:30 p.m. The public is invited to meet the artists and enjoy refreshments and good conversation.
Gallery hours are Monday, Wednesday, Friday from 10 a.m. to 2 p.m. and Saturday from noon to 4 p.m., or by appointment. To learn more about TAAG Studios & Gallery and keep up with their events, visit taagstudios.org or email taagstudios@gmail.com.
Kai Kiser is a writer and graphic artist at TAAG Studios.