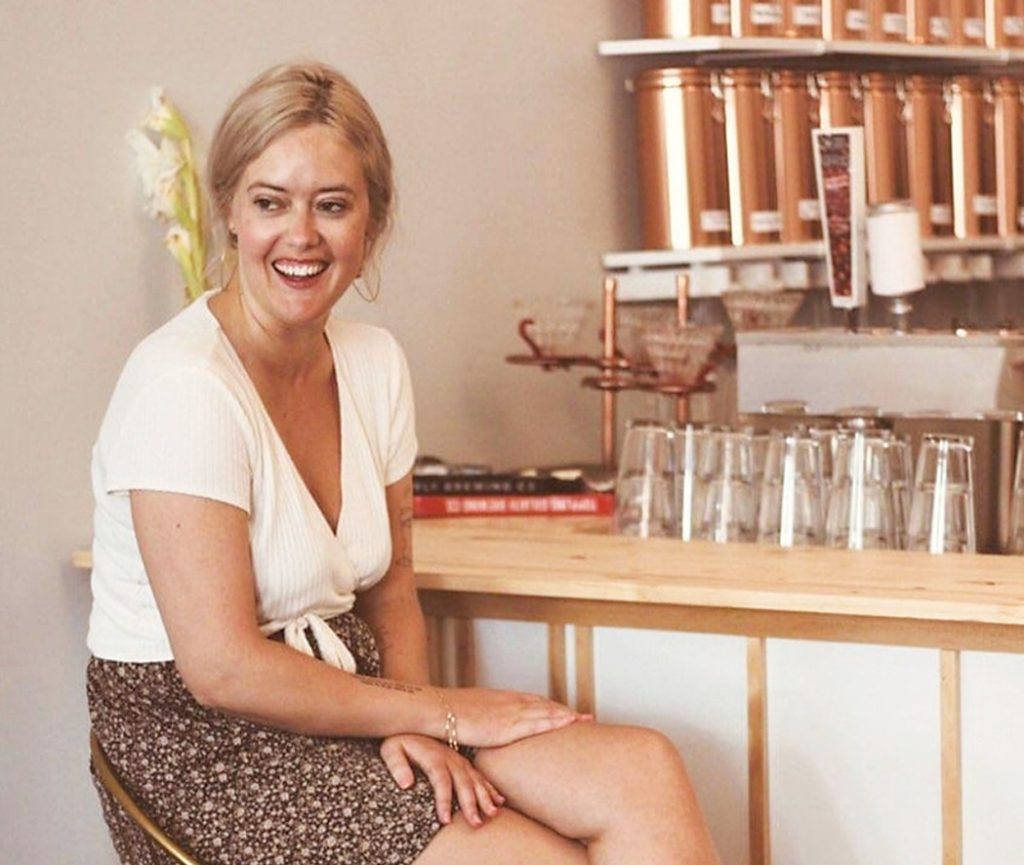 The Bookhouse, a popular Fairfield tea room, cocktail lounge, and live music venue, has relocated a few doors down from its former location on Burlington Avenue. Owner Josie Overmyer moved the business to a smaller, more manageable space and is "really loving" the new location. Still located on the south side of the Fairfield square, the new space has a clean, bright feel, with gorgeous antique tin ceilings and sleek modern chairs grouped around scattered tables.
To keep people safe during the ongoing pandemic, Overmyer and her staff are doing their best to follow CDC guidelines. They wear masks and ask patrons to mask while ordering. Hand sanitizer is also easily accessible. They have phased out dance parties but still host smaller live music shows and events.
Music, Karaoke & Movies
Overmyer says they've organized several events in the new space already, enthusing, "It's a really sweet space for music, kind of cozy and intimate." Overmyer and Taylor Ross recently performed together, covering classic melancholy love songs, and the Bookhouse hosted live Irish music during October's First Fridays event. Future music shows will cover a wide range of genres, including Americana, folk, and indie music.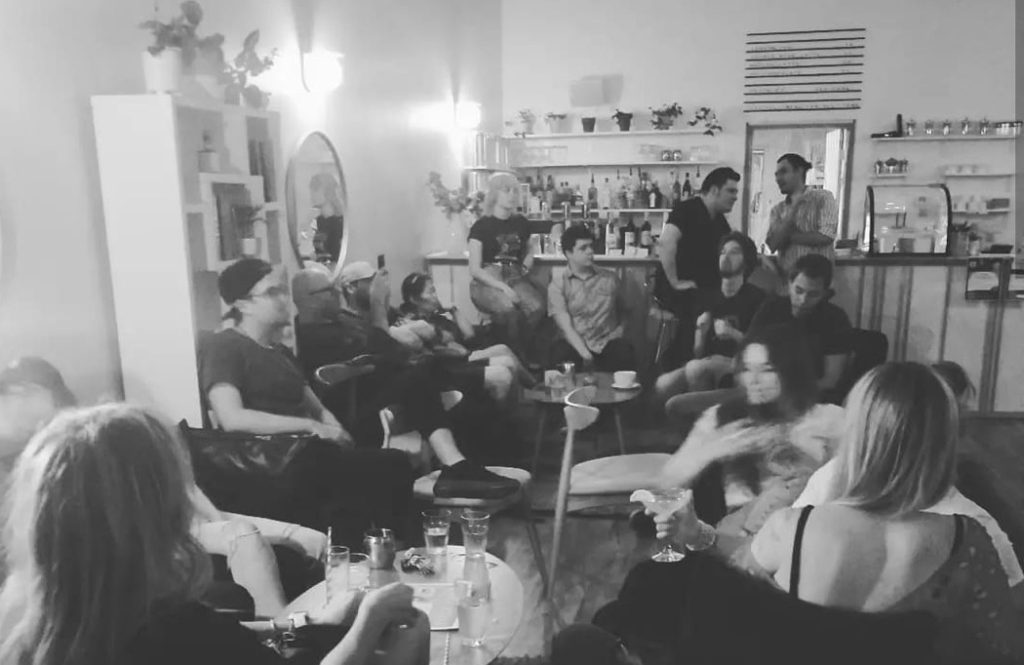 Overmyer is excited about bringing back karaoke, which was popular in the old space, as well as movie night, which her former business partner, Nicholas Naoti, used to host at the Arbor Bar. There are weekend activities planned for the next month and a half. Overmyer actively promotes events on social media, so patrons can check out Instagram or Facebook for the latest details. The Bookhouse space is also available for private events such as birthdays, bridal or baby showers, work events, and holiday parties.
And the Books?
Overmyer says a lot of people ask her about the name. "Nicholas actually came up with that, and we really just liked the feeling it evoked—cozy and inviting. Hopefully, the Bookhouse is a place where people can cozy up with their friends—or a book, some tea, or a cocktail—and unwind." She adds that the name sometimes confuses people into thinking it's a bookstore.
"I get asked a lot if it's a Twin Peaks reference," Overmyer says, citing the 1990s TV drama created by Mark Frost and David Lynch. "It wasn't on purpose, but Nicholas and I are both Twin Peaks fans, so maybe that was a subconscious thing!"
Naoti phased out of the business about two years ago so he could focus on other endeavors.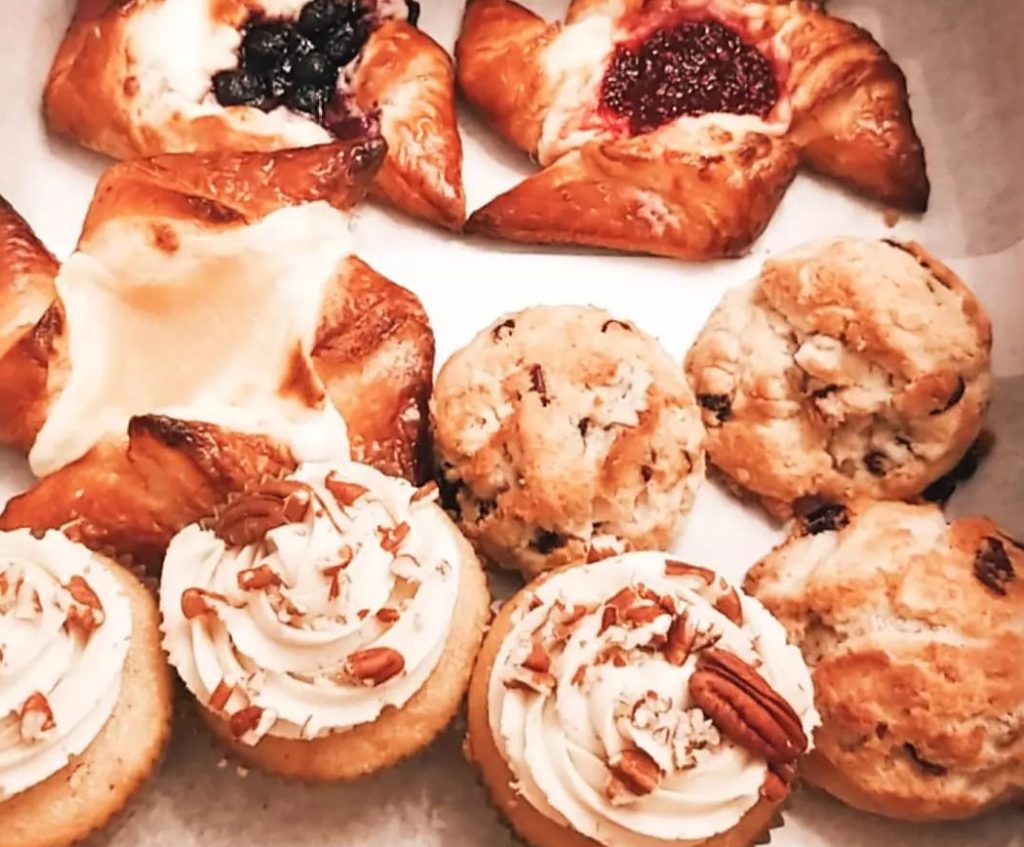 On the Menu
The Bookhouse has an updated menu, with various new drinks and baked items, including daily vegan treats. Cheese boards will be making a comeback within the next month, and Overmyer added pastries from Bountiful Bakery to her regular menu. She's also looking forward to adding varieties of avocado toast, giving Fairfielders more savory breakfast options. The tea menu has been expanded, and pour-over coffee is available as a mocha latte or with a shot of violet-infused syrup. New cocktails have been added to the menu, and recipes will vary seasonally.
Overmyer has also started selling items from local makers, including hand-dyed and screen-printed clothing and upcycled garments.
Overmyer feels lucky to be in Fairfield, where word-of-mouth support is so effective, and she's grateful to be in a town that supports so many amazing women-owned businesses. "We are doing cool things," she says.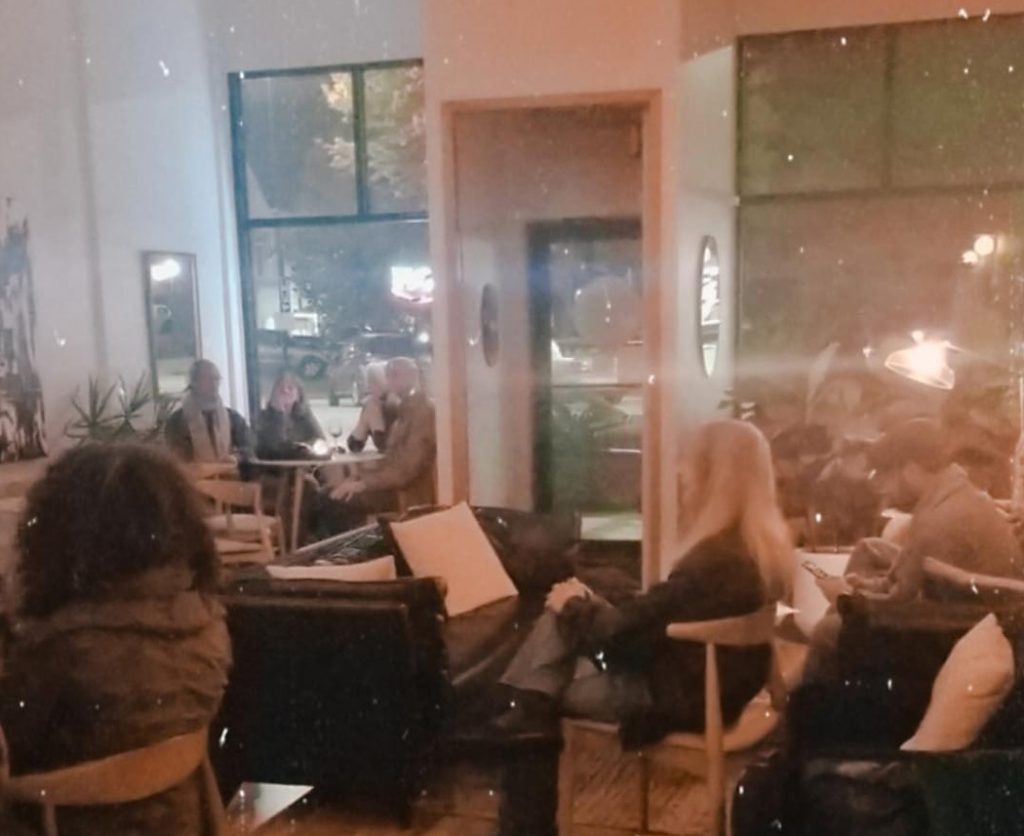 The Bookhouse is open Monday-Saturday 8 a.m.–2 p.m., Thursday 5 p.m.–10 p.m., Friday & Saturday 5 p.m.–11 p.m. For more information, visit thebookhousefairfield.com.