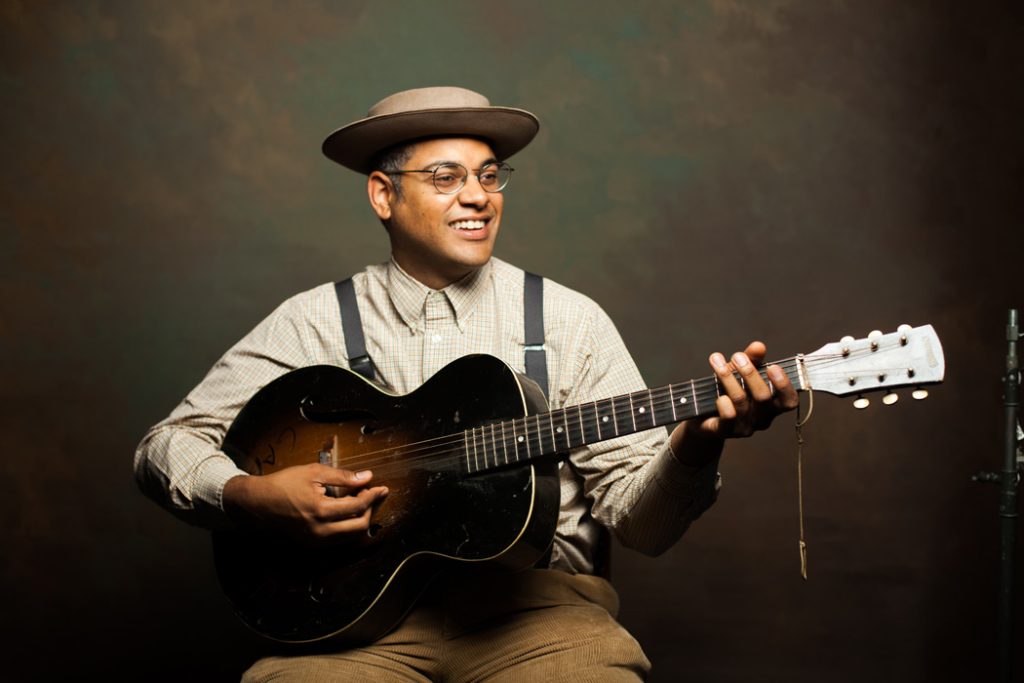 Grammy Award-winner Dom Flemons mostly plays music from one hundred years ago or more. He has successfully written, cowritten, and produced original material, but he's interested in past traditions and bringing them forward. The former founding member of the Carolina Chocolate Drops has released five albums in his own name and collaborated with a host of different musicians. Promoting the music he loves, this troubadour has performed on stages around the world, from the Grand Ole Opry in Nashville to the Rainforest World Music Festival in Kuching, Malaysia, from the Newport Folk Festival to Carnegie Hall.
Flemons has coined a term to describe himself. He's "the American Songster," and it's a registered trademark. "I first began to use the name 'the American Songster' as a way to revive the word 'songster' and as a way to distinguish my music," Flemons said from somewhere on the road.
"I play old-time music," he continued, "but I've always tried to create a space in my career to accommodate my multi-faceted approach to the old-time styles, including the evolution of blues, country, and jazz as it can be applied to the 21st century. Being conscious that intellectual properties are susceptible to being appropriated by any number of people, I decided to make sure my bases were covered when it came to my own brand."
Because Flemons has a wealth of material to draw from, every show he does is different. "I have a basic skeleton for my show that showcases all of the instruments I bring with me," he said. Flemons will be performing solo and bringing his four- and six-string banjos, gourd banjo, rhythm bones, quills, harmonica, and guitar when he plays CSPS in Cedar Rapids on November 12. He said if anyone wants to learn how to play the bones, they can purchase a pair from his online store and he will do a short demonstration at the merch table after the show. His aim is to keep the spirit of the music alive.
"When I began to start playing guitar around 1998, most music on the radio was just loud. I didn't find a lot of popular music at the time to be interesting to me," Flemons said. "That all changed when I began listening to obscure music of the past. In Phoenix, there was a great public library that had hundreds of CDs available for free to check out. There was an excitement to it all that I couldn't quite put my finger on. It had all the thrill of heavy rock music but with one-fifth of the volume."
Flemons began his career as a singer-songwriter, playing guitar and harmonica and only performing original songs. He started to incorporate traditional music into shows, and after about 10 years began to make that repertoire an essential part of his own act.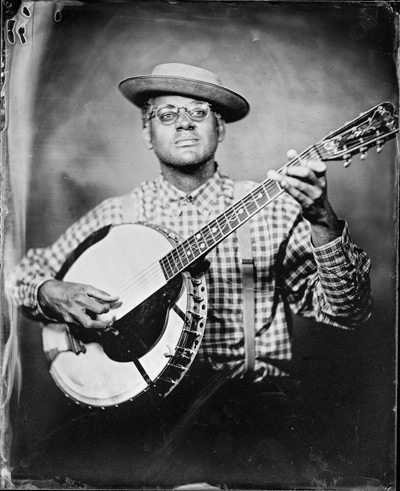 "My greatest achievements are the music I've created," Flemons said proudly. "I try to make sure that each song tells multiple stories about the time, space, and place that the song has originated. Like language, there are subtleties, dialects, turns of phrase that can define a song. Songs can help a listener understand ideas and concepts that may be foreign to them. It can also create awareness for cultures and experiences that may be different from theirs."
Flemons has done more than just resurrect unknown music in his performances—he has created a notable collection of material at the University of North Carolina at Chapel Hill. The Dom Flemons archive at the Southern Folklife Collection houses his field research from 2005–2020, chronicling a variety of traditional Southern artists.
While Flemons's concerts are informative, his goal is to amuse audiences. "All songs I play have to have some sort of entertainment value to them. Whether the songs are uptempo or slow, happy or sad, it's all entertainment," he said. "I never pick a song that doesn't keep that in mind. Many times, when I am presenting historical music, especially obscure music, it is usually the first time my audience has heard the songs or the history. The best thing I can do as a performer or a songwriter is to make the history just as interesting as the song. If I don't do that, then I haven't really done my job."
He purposely chooses the best songs he can find to promote those who have come before him and provide listeners with a good time. That said, Flemons doesn't restrict what he listens to. "I've collected thousands of records that have amazing songs that I play when I want to have a good time. I'm just as happy to listen to Hank Williams and Tom Petty as I am to listen to Charlie Patton or Charles Mingus," he said. "One of my favorite songs that I listen to when I want to go out and have a good time is 'Land of a Thousand Dances' by Wilson Pickett. This puts me in a great mood and it's my all-time favorite party record."
To get ready for his show, Flemons recommends audience members check out his Spotify and YouTube pages to hear the different types of songs and music videos he's recorded over the past 15 years. Or they could just amp up by hearing the Wicked Pickett go, "One, two, three / One, two, three / Ow! Uh! Alright! Uh!" and start to dance.