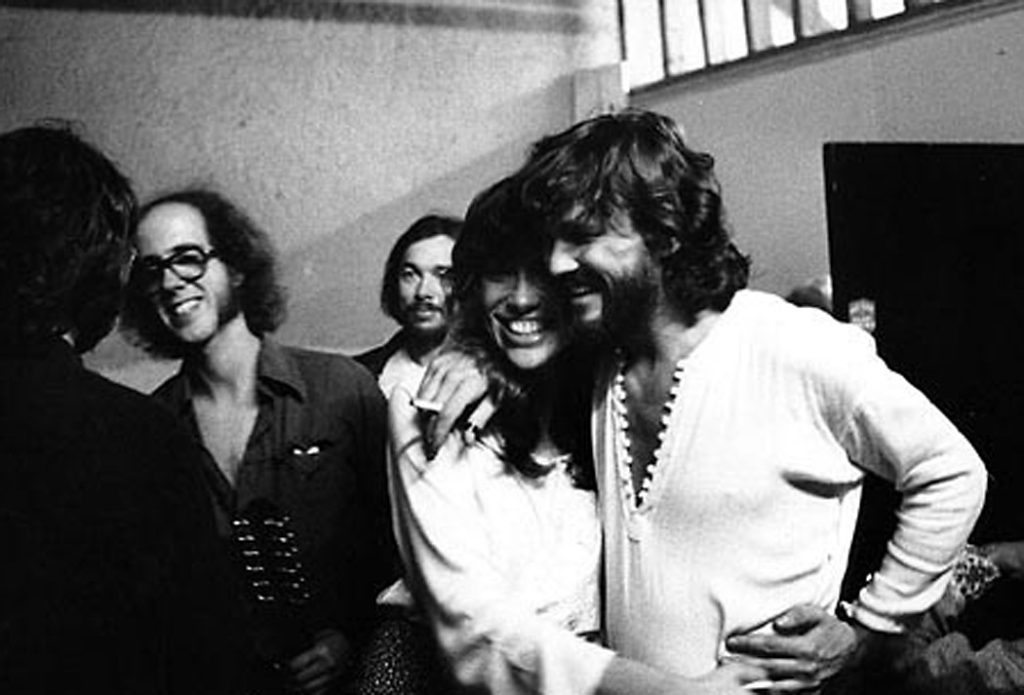 On September 15 of this year, musician, arranger, and producer Jimmy Ryan finally released his revealing "behind the scenes" book filled with stories about his interactions with many superstars, including Carly Simon, Paul McCartney, Jim Croce, Rod Stewart, Jimmy Webb, Karla DeVito, and too many others to list here. Behind—Autobiography of a Musical Shapeshifter celebrates a career that has had more serendipity and left turns than almost any music industry vet, and Ryan's connections to certain popular music history is sometimes shocking. Tales range from his pre-Critters evolution, personal and professional relationships over the years to actual studio sessions and life on the road, including two wild adventures at the Chicago and London Playboy Mansions.
After reading the well-written, smartly paced, and revealing Behind, you might be surprised that Jimmy Ryan isn't more of a household name, especially considering so many LPs and CDs have been telling his creatively productive story for decades.
MIKE RAGOGNA: Jimmy, after reading your book Behind—and having known you for more than a few years—so many recording and performing artists' careers have benefited from your guitar and bass work, arrangements, vocals, production, and more, that I can't help but compare you to the West Coast's old studio collective, the Wrecking Crew. For instance, your guitar solo during Carly Simon's "You're So Vain" is as memorable as the song and vocal performance, and it's had its fair share of air-guitar mimics over the decades. Do you ever listen to and enjoy some of the work you've done with others as the headline acts, and which are your favorites?
JIMMY RYAN: I absolutely do. When I hear anything I've created on TV or the radio, I still get a rush, and the older it is, the better. I feel very honored when someone features a 50-year-old piece on a modern show or movie. I saw Taylor Swift performing "You're So Vain" with Carly Simon on Taylor's 2013 tour, and I braced myself waiting for her guitar player to get to the solo. If you were with me, you'd have heard me shout YES!!! Taylor had him play my solo verbatim! It was such a welcome acknowledgement coming from arguably the most successful female artist of her time, standing next to Carly, the artist who gave me the opportunity to create it in the first place.
As regards the other part of your question, my creations are like my kids. I try not to think of any particular one as a favorite. I'm always happy to hear any of them wherever they might turn up! I do like it when something just completed shows up, though. Last year I scored the music for The News With Shepard Smith. It was quite a rush to hear my music accompanying footage of the president coming down the path from the White House.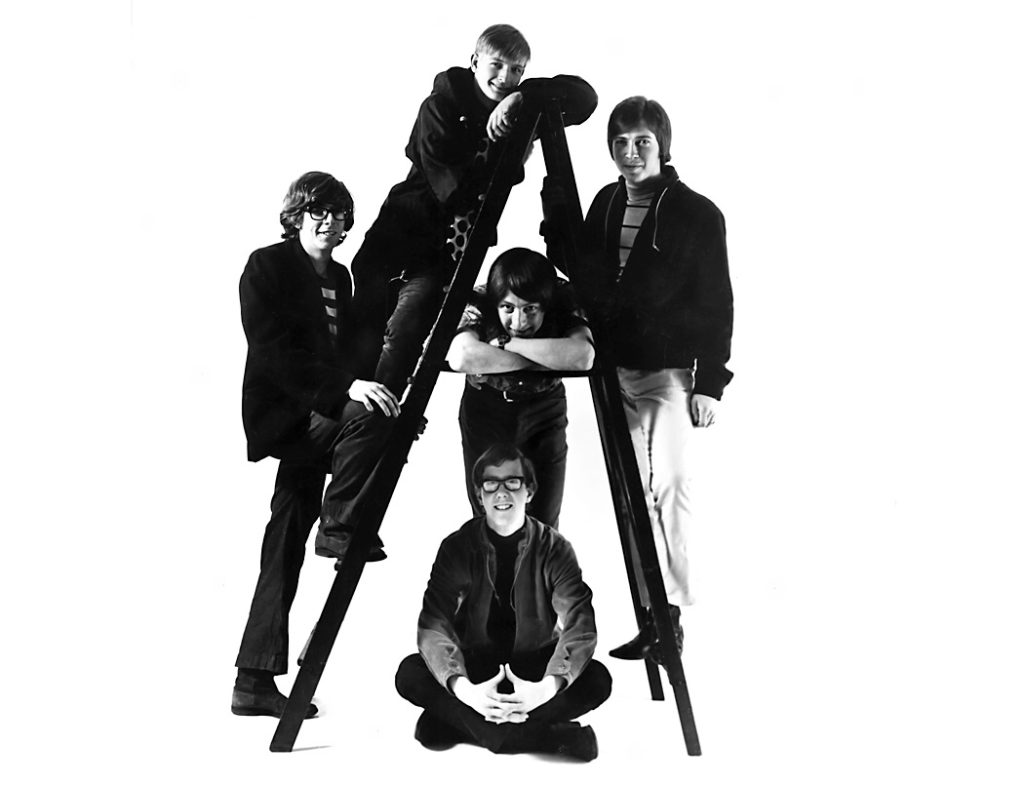 Of course, you had your own hits as part of the folk-pop group the Critters, including "Younger Girl," your original song "Mr. Dieingly Sad," "Bad Misunderstanding," and "Don't Let The Rain Fall Down On Me." Can you go a little into those earlier music days as part of the Vibra-Tones, how the Critters evolved from it to include Don Ciccone, etc., your signing with Musicor and Kapp Records, and your working with the famous Artie Ripp?
Hahaha, you've just covered about ten chapters in my book. Well … in an absurdly brief Readers Digest summary, after a little coaxing, I was granted a sit-in with a band called The Vibra-Tones at a sock hop when I was about 13. I guess I did pretty well. Their guitarist promptly quit, and I ended up joining the band as their lead guitarist. Then all remaining members quit or were retired over time and we replaced them with what became the original members of the Critters, including Don Ciccone. After a few months together, we auditioned for Musicor Records, got signed, then got talked into doing a rushed, low-tech recording of a song called "Georgiana." Our local music store sold about ten copies, mainly to our girlfriends and parents. Then we became the house band for a concert hall in Elizabeth, NJ. We got to back up some of the biggest stars of the day—the Ronettes, Little Anthony & the Imperials, Jay and the Americans, etc. Jay's girlfriend loved us, and with a devious and brilliant maneuver I describe in the book, got us an audition with Kama Sutra Productions. That relationship led to all the hits you mention above. Luck and maybe fate were the big players in that scenario. The details are pretty wild and have caused many a raised eyebrow in the true telling of the tale.
Through some of Behind's many stories, you can tell how much Carly Simon appreciates all your work—she even wrote your top endorsement on the back of the book. There is so much admiration and love on your end in almost every story regarding her that a reasonable question might be: were you ever romantically involved or at least attracted to each other beyond the music? And, be honest, were you jealous of James Taylor?
Yeah, I get that question a lot. I met Carly before she made it into the big time. She was my guitar store boss's girlfriend, so we were friends way before we were bandmates. She was more like a big sister to me. But … close proximity on the road can lead to catching a feeling, so I will admit there was a time when the temperature rose a degree or two. We both decided it wasn't worth possibly ruining an amazingly compatible and productive working relationship, so we dialed it down pretty quickly. As for James, I loved him as a singer-songwriter, and she loved him, period. That sealed the deal, no jealously. Don't forget, during those years, she had a pretty full dating schedule anyway, including Kris Kristofferson, Cat Stevens, Warren Beatty, and many more. That, plus I was dating other women throughout our relationship, so again, fate kicked in and the chips fell where they fell. Neither she nor I ended up with anyone from that period. But … she and I still remain friends! For both of us, I think that's a big win.
This may seem like a setup to be immodest, but do you almost feel like you were Carly's phantom producer on the projects you recorded together, since you helped her musically evolve and contributed significant musical backup to many of her recordings?
That would be a better question for her, but there is no question that her producers often asked me for my opinion. Not being particularly shy in the studio, I offered input whenever I thought it might help things. That was my job. If you watch The Wrecking Crew documentary (2008), Carol Kaye talks about how she would create far more interesting bass parts than what the producer wanted and her influence was key to many of the hits she was on. Sonny & Cher's "The Beat Goes On" had Carol's signature in the chorus that made the song! Also true for Glen Campbell and Tommy Tedesco.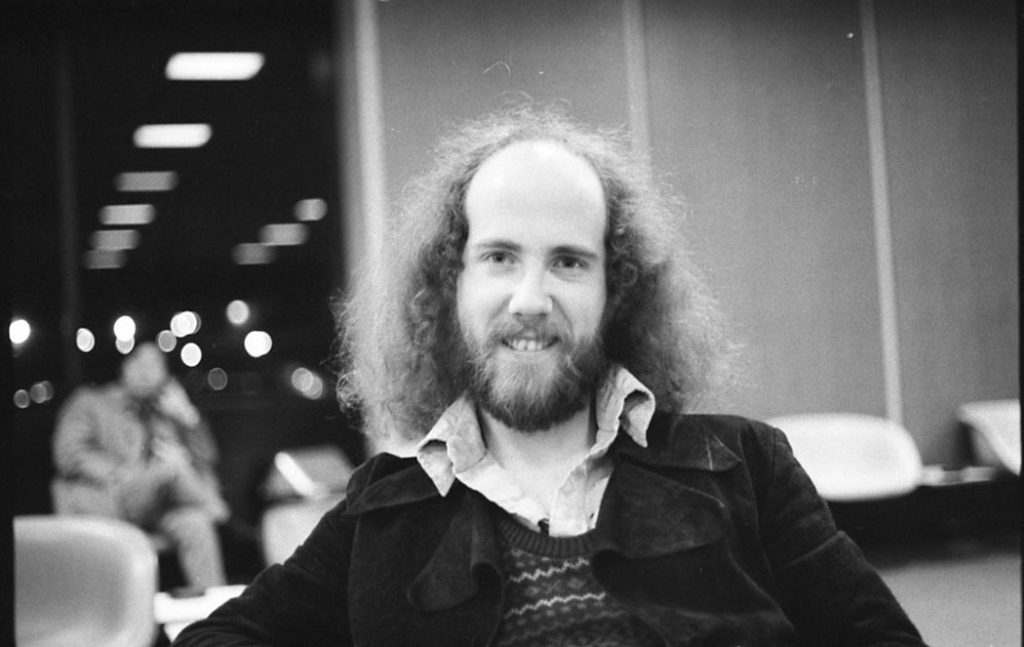 When Elektra's CEO, Jac Holzman, wanted a more AM-hit-sounding producer, he recommended Richard Perry. Richard used to check in on the Critters once in a while when Artie Ripp produced you. Any stories involving that?
Richard Perry, for those who aren't familiar with him, produced a huge number of hits for artists including the Pointer Sisters, Harry Nilsson, Ringo Star, Carly Simon, Leo Sayer, and many more. But in the 1960s, he was just getting started. He was more like an observant fan at the time, watching the master (Artie Ripp) at work. We met but had little interaction until Carly Simon's No Secrets album. He and I were excellent collaborators, almost always in agreement about what the songs needed. We can be credited with having no arguments whatsoever throughout the production. Together, we all created the recording of Carly's amazing song "You're So Vain."
One of my favorite moments was after a take on the backing track for the song, I met the drummer, who was sequestered in the drum booth and to whom I had not yet been introduced. As we climbed the stairs to the control room to listen to playback, I introduced myself. He said his name was Jim Gordon. We were in London, and he had an American accent. I asked him what brought him to London. He said he was on break from his band's tour. His band? Derek and the Dominos. When I asked him (while not trying to seem like a drooling fan) if he played on "Layla," he said, "Played on it? Of course. I cowrote it with Eric [Clapton]." Since that was one of my all-time favorite records, I had to restrain myself from going full-on, Wayne's World "I'm not worthy!" He turned out to be a friendly, super-humble guy, and the absolute glue that held that song together.
You go into the No Secrets sessions in Behind, but do you have a couple of favorite stories involving that album, or even Anticipation, on which you played a heavy hand?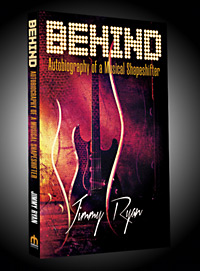 The Anticipation album was truly a collaboration between all of us. Our producer, Paul Samwell-Smith, being a bass player and an original member of the Yardbirds ("For Your Love," "Heartfull of Soul") was very comfortable around musicians. Though he didn't often ask, he was always open and willing to take my suggestions. His only resistance was to our wanting to do the song "Anticipation" as a full-band, live track. Most of the instrumental backing tracks on that album were created one instrument at a time. He had a fear that we would overpower Carly and force her to adapt to our musical personalities, rather than us to hers. I won that battle. Carly's solo performance just didn't have the fire we all wanted. We did the track with all of us and it gelled beautifully. I got to arrange the track and the backing vocals. Sadly, I did not get credit, as written acknowledgment for that role was rarely given in band situations like ours in those days.
So … about the "You're So Vain" guitar solo. What inspired that and why do you think it's considered one of the great pop record solos?
Well, first off, thanks for that acknowledgment. I've always loved the sound of bottleneck guitar (i.e., Bonnie Raitt, Jerry Douglas, Derek Trucks, Little Feat's Lowell George, etc.), and I just thought it would be fun to do one for this album. No big compelling reason or inspiration, other than the song was sarcastic and sexy, and so is bottleneck guitar. I'd call it an experiment that worked out.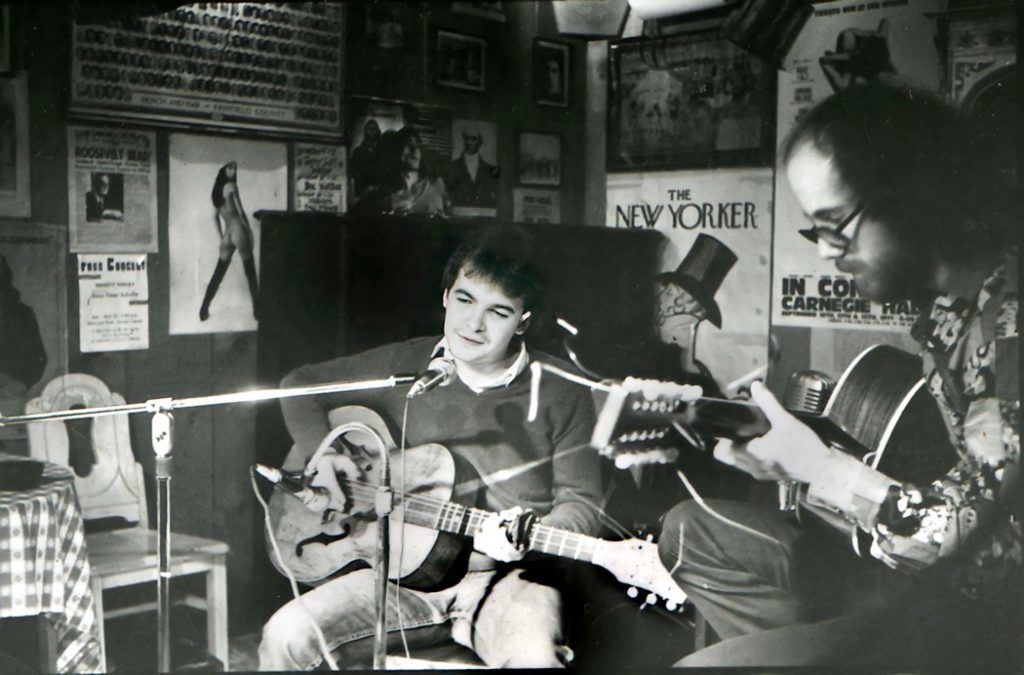 You reveal quite a few adventures in Behind that show how much fun you often had on the road and in the studio. One of the best stories is in the subtitled Centerfold, Part 1 section and it involves your visit to Hugh Hefner's Playboy Mansion in Chicago, courtesy of Carly's manager Arlyne Rothberg, who once headed up Playboy's entertainment division. Writer and artist Shel Silverstein was your guide at the mansion, which only added to the surreal atmosphere you encountered. Can you tell that story?
I went to some pretty conservative schools, so Shel Silverstein was not an author who showed up in any of my school libraries. His book A Light In The Attic sent parents of school kids scurrying for their lawyers, claiming it encouraged disobedience, violence, suicide, Satanism, and cannibalism. Thus, I'd never heard of him. He was just a slightly edgy but polite guy who was our host for the evening. Hugh Hefner or "Hef," as he liked to be called, was out of town. Shel was a regular writer for Playboy magazine. After some small talk and drinks, he offered us a five-star meal (we had just done a show at the Quiet Knight club in Chicago and were famished). Upon our polishing off plates of sumptuous food, he asked if we'd care for a swim. The house had an underground, grotto-themed pool with one side sporting a seaquarium-sized floor-to-ceiling glass window, the other side of which was a blue velvet room filled with luxurious sofas and a full bar. Hef's guests could watch the swimmers under water through the glass. For us, there were plenty of manly swimming trunks. For the women (Arlyne declined), swim suits were in short supply, and those that were available had about as much fabric as a half-empty container of dental floss. With the intentional shortage of fem-coverings, women were encouraged to not bother with bathing suits. "So much more comfortable!" was the sales pitch. And to our 20-something, testosterone fueled disappointment, there were no bunnies around to take up the offer. Still, we had a fun swim in the bathtub-warm water and could wave at Arlyne and Shel, who watched us through the glass.
The crowning WTF came when Andy (Newmark, our drummer) and I were upstairs in one of the adjacent hallways admiring some erotic watercolors on the wall. Over my shoulder, I noticed two stunning young women floating down the hall towards us like Victoria's Secret runway models. Andy and I were ready to bring on our best Joey Tribbiani (Friends) "How you doin'" greeting, when they breezed by us, eyes straight ahead, completely and utterly ignoring us and our friendly greeting. They basically treated us like roadkill, silently disappearing down another hallway. When asked, Shel briefed us on the "Hef Rule." All resident ladies were Hef's girls, and they were forbidden to interact with male guests on any level unless it was a VIP party where all were invited guests. As the evening drew to a close, we said our goodbyes and grabbed a cab back to our hotel. It had been a weird, almost creepy night. My infatuation with the Playboy thing had been substantially reduced, and my first instinct was to get in a shower and wash it all off.
In the Centerfold, Part II section, you recall a Victor Lownes party involving yet another Playboy mansion, this time in London, that occurred during the No Secrets sessions era. You mention the sudden appearance of two blue dots of a certain substance. Can you go into that story and why this time you were much more interesting than road kill? And how did you all do on that night's "Anticipation" performance?
That's probably too long a story to go into much detail here, but I'll summarize. Andy and I decided to go to that party on acid. Chalk it up to the naivety of youth, it was not the fun and exciting night I had hoped for. I had never done acid before, and I never did it again. Let's just say being chemically escorted out of the control room of my own body was not the best way to do an intimate concert among VIP strangers! We performed in Victor Lownes's bedroom with 75 of his closest friends, crammed into what felt like a phone booth. Under the influence of this powerful hallucinogen, my guitar became a complete mystery to me. Thank God my muscles had retained their memory and played the guitar for me, or it would have been an embarrassing disaster for Carly, who was drug- and alcohol-free. I don't want to divulge any spoilers, but suffice to say it was quite an adventure—interactions with famous guests, both real and hallucinated, that created lifetime memories!
Are there any other artists whom you had as close a relationship with?
Yes, Karla DeVito and Lesley Duncan. Karla set out on a solo career after her time as backup singer for Meatloaf and her stint on Broadway in Pirates of Penzance. I was her bass player and backup singer for her 1981 American Tour. We remain good friends to this day.
Lesley Duncan wrote and sang on "Love Song" from Elton John's Tumbleweed Connection album. She was a household name in British studio circles, having been one of the most successful backup singers in their history. One of her biggest credits, aside from working regularly with Elton, was singing on Pink Floyd's Dark Side of the Moon. She was a deeply spiritual woman, and we would often have long talks on the road about meditation and the wonders of the universe. On so many levels, we were kindred spirits. I recorded two albums with Lesley and her producer/husband, Jimmy Horowitz, and we toured the UK and United States together. One of my fondest memories with her was playing the internationally famous Albert Hall, opening for Don McLean. We played to a capacity house with only two acoustic guitars, bass, a minimal drum kit, and our voices. Her friends Elton John and Rod Stewart were in the audience cheering us on. I had the honor of meeting them that night, and went on to record with each of them on a couple of projects.
Another artist you worked with from the ground up was Jim Croce, a fellow Villanova graduate, having gone to school with him and his best friend and eventual producer, Tommy West. What was your involvement with recording Jim's You Don't Mess Around With Jim album, and can you tell the story of playing on Jim's guitarist Maury Muehleisen's Gingerbreadd album?
I recorded with Maury first, I believe. Maury was mostly an acoustic guitarist, so he called me in for electric. It was so long ago, and it produced no hits, so my memory is pretty much gone for those sessions. Jim Croce was another story. Since he, Tommy, and I all went to Villanova, there was some immediate common ground, and the old home week reunion when I showed up. The big surprise came when he played us the song we'd be recording. His work with his wife, Ingrid, had been warm and folksy, very safe for work kind of stuff. The song we'd be doing was dark and violent, completely taking me by surprise. It was the song that put him on the map, "You Don't Mess Around With Jim."
Do you have any good Jimmy Webb stories since the time when your musical paths blended?
Haha, yes. When Jimmy walked into the studio and we finished all the intros and handshakes, he sat down at the piano to teach us the first new song. Just as he was about to start, I stuck my neck out and said, "Wait. I know this is kind of a silly request, but one of my favorite songs of yours is 'MacArthur Park.' Could you please maybe play if for us? It would be great for getting everyone excited and in the mood to record." He was flattered and gladly agreed. Then another musician said, "Hey, how about 'Galveston'?" By the time we were all done with our personal requests to hear him play an entire show of his hit songs, an hour had passed that felt timeless. He was and is one of the 20th century's greatest songwriters.
Behind includes a certain "Night Owl" sessions story as well as one about that night at the Hard Rock Cafe when you stood in for Henry McCullough, both Paul McCartney stories. Can you go into both stories and beyond? And whatever happened to "Ivonne"?
That would be such a spoiler, so let me say this. We were doing backing vocals with an all-star team of singers, and we were striking out. Like magical fate, a certain Beatle happened to be recording a certain song for a certain highly dramatic movie in the studio next door, and during a break, he wandered into our studio to see what we were up to. He saw we were having trouble, so he volunteered to help us out. He came up with great vocal parts and saved the day. When we finished, he asked us if he could play the song he had been working on. Needless to say it ended up being a huge hit movie and a huge hit song.
As for the Hard Rock, someone got drunk while playing with a famous band. I was nearby. He handed me his guitar and collapsed on a chair. I took over. Mosey on over to amazon.com and order Behind – Autobiography of a Musical Shapeshifter to find out what happened! And Ivonne? She's gone.
Apparently, the Rod Stewart sessions were enlightening to you about how he sang, etc. Any stories from those sessions?
In brief, Rod doesn't scream when he sings, no matter what it may sound like. He sings at a moderate talking level. His voice naturally sounds raspy. I found this out while recording live with him in the studio and taking off my headphones. While they were on, I heard that sandpaper sound and thought he was really belting it out. With them off, six feet away, I could barely hear him. Quite a remarkable voice box.
Although in the book you mention that you gave up on a solo career around 1974 after your work with Jimmy Webb. Come on. Does an artist ever really give up that dream?
Well … I can only speak for myself, but again, fate has a way of guiding us either gently or not so gently. After the Critters, any attempt to do a solo project got foiled for one reason or another. But as those doors closed on me, the opportunities to be a behind-the-scenes musician opened up, and opened up big. It was a no-brainer. I needed to support myself and the solo deals weren't materializing. So even though I thought I could always come back to it, I was just too busy working with others to give a project the kind of time it would need to be anything worth talking about.
You also had a jingle career and even have CNBC news show themes playing to this day. Just to catch us up, how did that career come about and do you still record for online, TV, and radio ads?
I had done a few jingles with Carly Simon in the year before she did her first album, and though they were musically pretty inane, they were good, quick money. Even after she became a star, Carly didn't tour much, and there was a good amount of space between albums—I had some time on my hands. I put an audition reel together, got some referrals, and took it around. Eventually, I got hired to play on some TV ads, but then I was asked if I wrote. Of course I did, and with some early success in that arena, I became a jingle and underscore writer. That was like a bargain with the devil: bad music but good money. I could continue being the invisible backup guy for big artists contributing to hit songs but only making okay money, or I could write these dumb, 30-second songs and make big money. I chose B. The dark side of the force is very powerful.
I put up with being a part of making music for toilet paper and ketchup for about ten years, but eventually couldn't stand it anymore. I opened my own production company and started to pursue TV stations for scoring work. My first gig was to compose a five-minute piece called "This Is NBC News." It was a dream gig, writing music to accompany footage of the bombing of Pearl Harbor, Richard Nixon's resignation, JFK's murder, and many other dramatic news events over the years from NBC's archives. One gig led to another, and soon I found myself designing the music that accompanies the daily and nightly broadcasts of news programs from ABC, CBS, NBC, and CNBC.
Also, didn't you record a solo album back in 1985 or so?
Yep, and it landed right where every other attempt at a solo career ended up. On my bookshelf. It was a fun project of ten original songs recorded over a three-month period. Though I thought it was really good, the record companies that I took it to only thought it was pretty good, but not good enough to sign me as an artist. So back to working Behind others whose talent or luck were better than mine.
As part of the touring and recording group the Hit Men, you revisited a couple of that album's songs. How did that group come together and what was life on the road like in the recent years?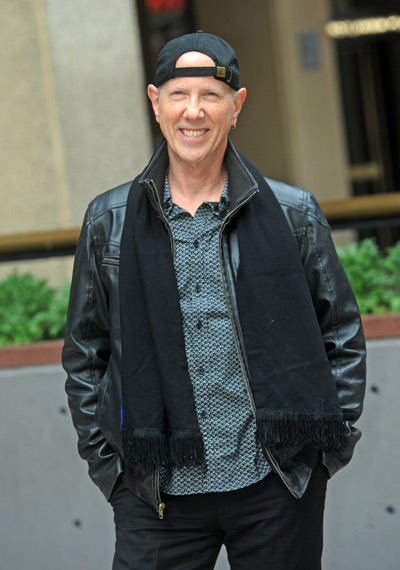 The Broadway play Jersey Boys, which was the story of Frankie Valli and the Four Seasons' rise to fame, was breaking sales records. Don Ciccone, the ex-lead singer for my band, the Critters, was one of the 1970s Four Seasons. He and two of his Four Seasons band mates, Gerry Polci and Lee Shapiro, decided that since the play was bringing their fame back into the public's eye, it would be fun to piggyback on that fame and form a band based on the music that they made famous. They enlisted Larry Gates, a mutual friend, to play bass, and Don suggested me to round it all out.
It was a really fun band of highly experienced studio musicians and singers, doing a show of number-one records. Initially, we performed about 80 percent Four Seasons songs, but with all the people Larry and I had performed with, we started working up a wider repertoire. I enjoyed being back out performing live, and the band routinely received rave reviews and standing ovations. The downside was the weekly travel, airports, hotels, rental cars, long drives, difficult weather in the winter. Despite the challenges, we managed to do sometimes as many as 70 dates per year for ten years. It was a great chapter in my life.
It seems that although you were Behind many acts, as I imply in my first question, you're in front of many musical arrangements, making you virtually as important as the "main" artist. Is that as satisfying as knowing you helped many artists reach their stardom?
My take on that might be unusual. Yes, I was helpful in making others famous. Was I crucial though? If another musician was in my shoes, sure, the records would be different, but my sense is the people I worked with already had whatever it took to be rock & roll heroes. There are quite a few of us who do this job of backing up others, and yes, I have my sound and style, but there are many, many artists who did just fine without me. I consider myself honored and incredibly lucky to have been in the right place at the right time to have had so many opportunities. I don't believe for a second that there is no one out there that could have done what I did. I just feel blessed that the call went to me!
Will there be a Behind II coming?
There may well be a second book, but since I've already told the story of my life, it would have to be about something else. I've been thinking about what that might be, but it's not yet a burning issue. Behind has to sell some significant numbers before that opportunity will even arise.
What's your advice for emerging artists or even those wanting to be session and touring musicians?
Those would be two different subjects, but with similar requirements. To be a pop star, you have to have something that really stands out. It could be looks, image, whatever, but it would also have to be either a catchy song or a playing ability that turns people's heads. Without those ingredients, your chances of making it are pretty slim. Hone your craft. Practice, practice, practice. Be patient. You're going to need a lot of drive and enthusiasm to break through and get noticed by the over-saturated, jaded public and the business gatekeepers. I don't believe anyone casually makes it to the top.
If you're going to work in the background, know that there will be many who have the same skill as you. The difference between getting the work, getting the callback, and establishing long-term relationships with famous artists or not will be your skill, of course, but also your personality. You have to be the kind of person a star would like to hang out with. Ego is the big killer. Humility is the winning trait. Listen more, talk less. Your job is to help artists realize their vision, but you can only know what that vision is by listening very carefully to what they describe, how they sing or play, and all the nuances of their songs/voice/style. Think about the Wrecking Crew. They were all incredibly talented, virtuoso musicians. But … they were also great listeners and very chill, fun people who were easy to be around. On the other hand, I've known some ridiculously talented musicians who may never get out from behind the music-store counter, because of their egos and personality problems. If you don't play well with others, others will want to avoid playing with you. If you act like a jerk on a session or a live date, news travels fast, and you will soon find your calls to get work will go directly to voicemail and won't be returned.
Any secrets, so to speak, you want to finally get off your chest?
Well, these aren't exactly secrets, but I also don't talk much about them unless asked. I was not a super-happy kid, and by the time I reached my late teens, I was miserable. I set out to fix that, doing a lot of self-help reading, then getting actual help. All in all, I've done primal therapy, TM, yoga, EST, Lifespring, group therapy, one-on-one therapy, and endless journaling. My pursuit of self-realization is every bit as passionate as my pursuit of artistic success, and in my opinion, they work very well as a team.
Read Mike Ragogna's review of Behind: Autobiography of a Musical Shapeshifter.