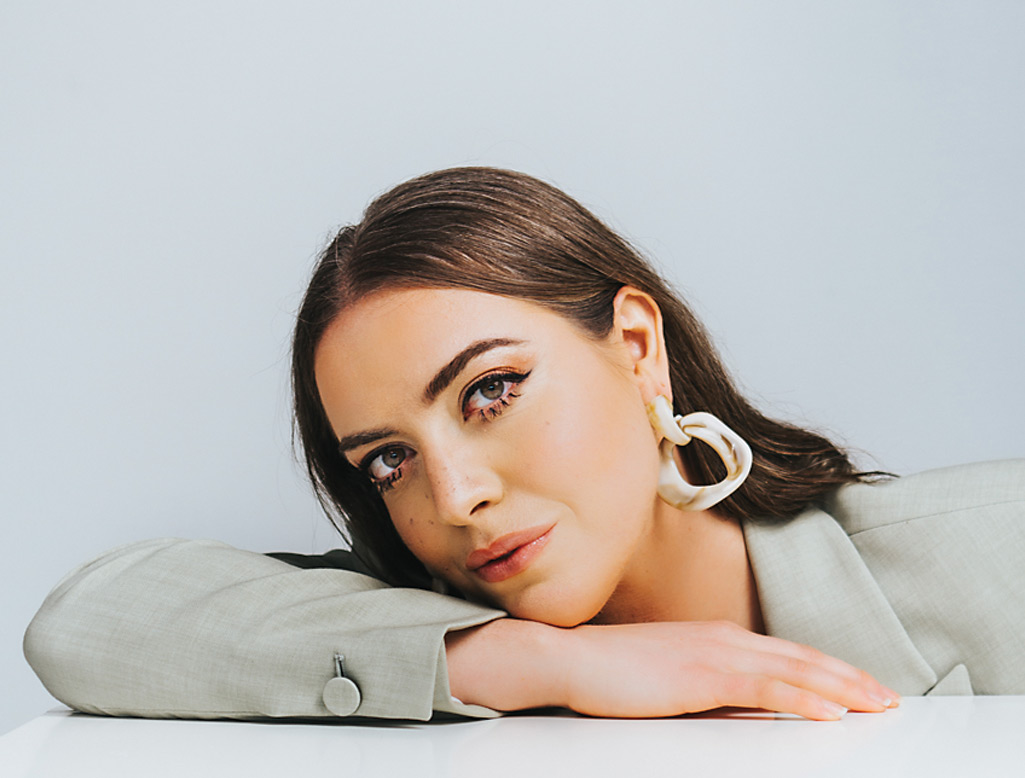 In August 2021, rising singer Tara De Santis, who is known artistically as Véda, released an EP entitled Get Burned. Véda is a French-Canadian singer, songwriter, and producer who mixes electronic and acoustic elements in wonderful ways. In contrast to the many high-pitched "baby-doll" voices in popular music, Véda's bold alto is "coolericious" (my term for the union of "cool" and "delicious"). Now that's refreshing!
Véda lived in Fairfield until she graduated in 2018 with a BA in Sound Design from MIU. Shortly thereafter, she joined the Vocal Program at Musicians Institute in Los Angeles, where she studied with Ann Chung.
Her father worked in the music industry, and secured Véda her first songwriting gig at age 14 writing for Canadian singer Mae Anderson. During high school, Véda competed across Québec with her award-winning hip-hop dance crew Fusion from the Tendanse dance school.
Her parents helped shape her music tastes by playing a range of genres as she grew up, including neo-soul, hip-hop, and disco. International singer Sade also inspired Véda's music in its various forms through sultry pop, urban, R&B, and hip-hop fusions.
Véda has written over 200 songs since 2018. She sings and writes in English, French, and Spanish. Through an email exchange, she wrote that her purpose has been to "deliver music that empowers individuals by opening ears and minds." She took a leap of faith during the COVID pandemic and released her first singles, "Quiet," "Forgive and Forget," and "Lingo," which amassed over 220,000 views and streams. Enjoy this introductory playlist from the Get Burned EP.
Unity: The song opens with a suave acoustic Spanish guitar that repeats eloquently behind lyrics that reveal the unity of human experience. The melody produces a nice trance effect, while the moving chords represent the world spinning. The two voices—guitar and vocals—are contrasting: hers is soft and whispering, the guitar is more articulated: "I am the moment / And you stay in the moment with me / Love is everywhere, can't you feel? . . . I am Hindu, I am Buddhist / I am Jain, Jew, and I am also Christian / I am Muslim, and I am Sikh / I am the sun, the moon / the silence, and the music / The silence and the music."
Quiet (single): The hip, measured electronic backdrop includes female harmonies that support and refresh Véda's cool, sultry lead singing. The song begins and exits with a muted background vocal in Sanskrit sung by Karen Aoki.
Quiet (EP version): This brilliant cut benefits from the sound engineer's delicate fades, transitions, and articulation of the vocals. The artist speaks about the ever-present "quiet" hidden within the cacophony that surrounds our busy lives and the preoccupation with money that feeds this relentlessness. A deep harmony line sinks the listener into relaxation.
Now (featuring backing vocals by Manali): The track gives another nod to the artist's Vedic studies through the lyrics, "Flying from past to future / Crossing through now / Brahman, the source of all creation / All-encompassing power and purpose / Energy and space / Divine destroyer of darkness."
Get Burned: The title track from Véda's EP stirs and pulsates with rap and hip-hop stylings: "I got hope for the world (they say) / Be careful what you touch / And every time I get burned / Burned, burned. . . ." Yet hope prevails in the end.
Enjoy full free tracks on Spotify: "Véda Takes Refuge" on the DJ Andy Bargerstock page. See more articles at Fringe Toast Music.