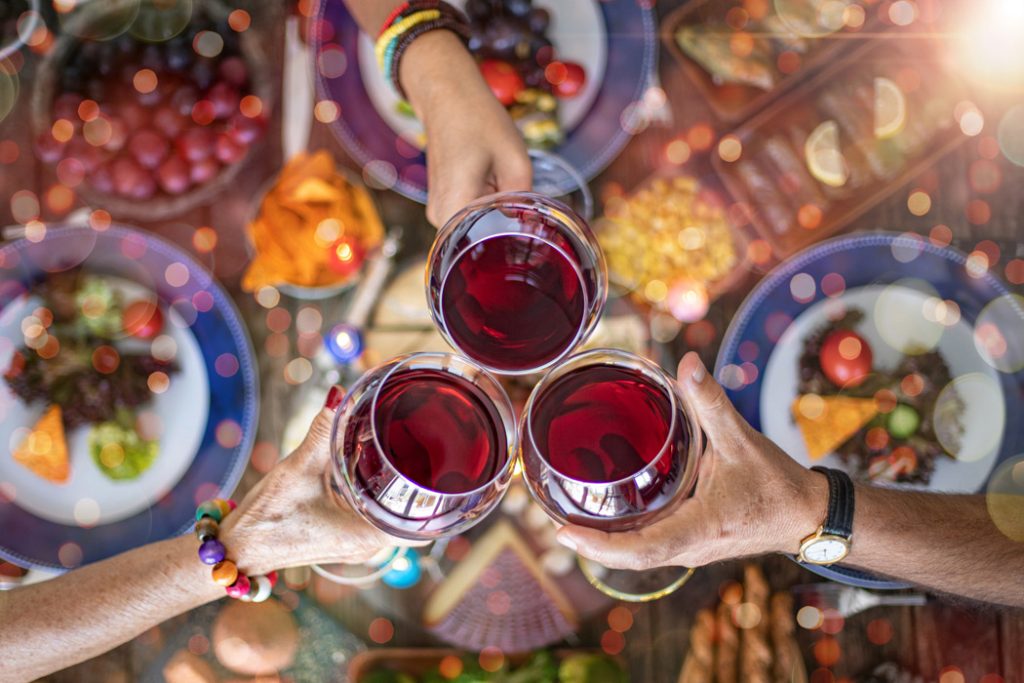 Most of us were taught from a very young age to avoid the following subjects at the dinner table: politics, money, and religion, not to mention your uncle's terrible new hairpiece or your sister's boyfriend that no one likes. Add to these conversational land mines the differing opinions about everything COVID, and this year may prove the toughest yet for family and friends to gather around a table. Can we agree to disagree for one night and get through a meal together without injury or offense? I believe I have the one magical key to unlock the door of civility—wine!
Rather than spending the evening tight-lipped, open a fabulous bottle (or two) of wine perfectly paired for your feast and delight in the conversation that follows.   Allow wine to be that perfect elixir to open your hearts and mouths. Reminisce about less complicated times while making new memories.
Food and beverage are such integral parts of our lives, enriching our bodies and minds. Why not let the wine shine—instead of your uncle's bald spot—during the holiday gathering? Surely, we can agree about a great wine, rather than current events. Here are several holiday traditions from all over the world made better with wine.
Christmas Eve
Let's begin with Christmas Eve. My father, growing up in Brooklyn, New York, loved eating Chinese takeout on the night before Christmas, and he continued this tradition throughout my childhood. I know my mom appreciated the help, considering the cooking she had planned for the next day.
If your family is similarly East Coast in this tradition, try a delicate off-dry riesling from either Germany or Alsace. The tropical notes of pineapple and racing minerality are perfect for the sweet and sour dishes common in Chinese cooking. The residual sugar of the wine helps to counteract the spicier dishes like Szechuan and also keeps the alcohol content lower. You'll need a clear head the next day.
New York is not the only area obsessed with takeout on December 24. Roughly 3.6 million Japanese people eat KFC on the night before Christmas. That's right! Kentucky Fried Chicken. In the 1970s, KFC brilliantly filled the "Christmas Holiday Void" in Japan by offering a bucket of goodness, including a holiday cake! Today, some families reserve their bucket months in advance.
If you love fried chicken, try a chardonnay from a cooler climate like Burgundy, France, or the Sonoma Coast in California. It will accentuate the rich breading of the chicken and the buttery flakiness of the biscuits. If you're more of a red wine drinker, open a light-bodied zinfandel. A fruit-forward zinfandel can handle the extra juiciness of the fried chicken and pairs well with baked beans.
Christmas Day
On Christmas Day, Germany favors the goose, dating as far back as 1350. Stuffed with apples, chestnuts, onions, and various spices, this protein screams for a great gewürztraminer. Both floral and spicy, gewürztraminer goes beyond the simple white wine with flavors of honeysuckle, lychee, and spice, while offering various sweetness levels. Gewürz means "herb or spice" in German, and gewürztraminer has the aromatics and spice to stand up to the stuffing of the goose, while the lanolin texture of the wine compliments the goose meat.
If turkey is more your game, substitute the gewürztraminer for a dry pinot gris or pinot blanc. Both are high in acid, display great minerality and stone fruits, but finish less spicy. The Burgundy varietal gamay is a supple red wine displaying flavors of cranberry, blueberry, and baking spices. Gamay always complements turkey and traditional sides like stuffing, potatoes, and greens.
Italian families love to serve their Feast of the Seven Fishes—seven fishes prepared in seven different ways. Certain areas in Italy add roasted lamb to the menu. Due to the variety of flavors, crowd pleasers like a white vermentino and a red sangiovese highlight the many ingredients of this dinner. And here's an important point: the grapes grown in certain areas have developed over time to accentuate the flavors of the local cuisine. In the wine world, we call these grapes native varietals or autochthonous, derived from the Greek words auto, "one's own," and khthon, "earth." As my friend and fellow sommelier Kirk Peterson wrote, "If it grows together, it goes together."
Staying local this holiday season? Enjoy a bottle of wine from a region you aspire to visit or let wine be your gateway to another time and place. Pop a bottle of champagne like the one you shared on the day of your wedding. Maybe you visited France for your honeymoon? Buy a bottle of Bordeaux to enhance your prime rib.   Perhaps your grandma or grandpa was born in another country, like my grandpa, Tony. Let their stories pour out of a bottle from their hometown. Our older generation can access the past better than any bingeable series, and if there is one thing our grandparents love, it's tradition.
Hanukkah
Hanukkah is such a beautiful celebration of family and faith. Many foods featuring oil frequent the dining table during Hanukkah, including the fried potato cakes called latkes, and jelly-filled doughnuts. These foods are meant to symbolize the importance of oil and the lighting of the menorah. To go with the richness of these dishes, open a crisp, dry Oregon pinot noir or go full-out dessert wine with a Canadian icewine, matching sweetness for sweetness. Keeping kosher? There are many kosher wines available in the United States, including blends from Israel.
• • •
Let this holiday season celebrate your choices . . . about the wine! Stave off family drama by offering a perfectly paired glass of wine to match your culinary choices. We can have it all. White, red, and bubbles too. Uncork and unwind. Discuss the delicious bottle of wine at your table . . . or you may need resuscitation after an hour of holding your breath.