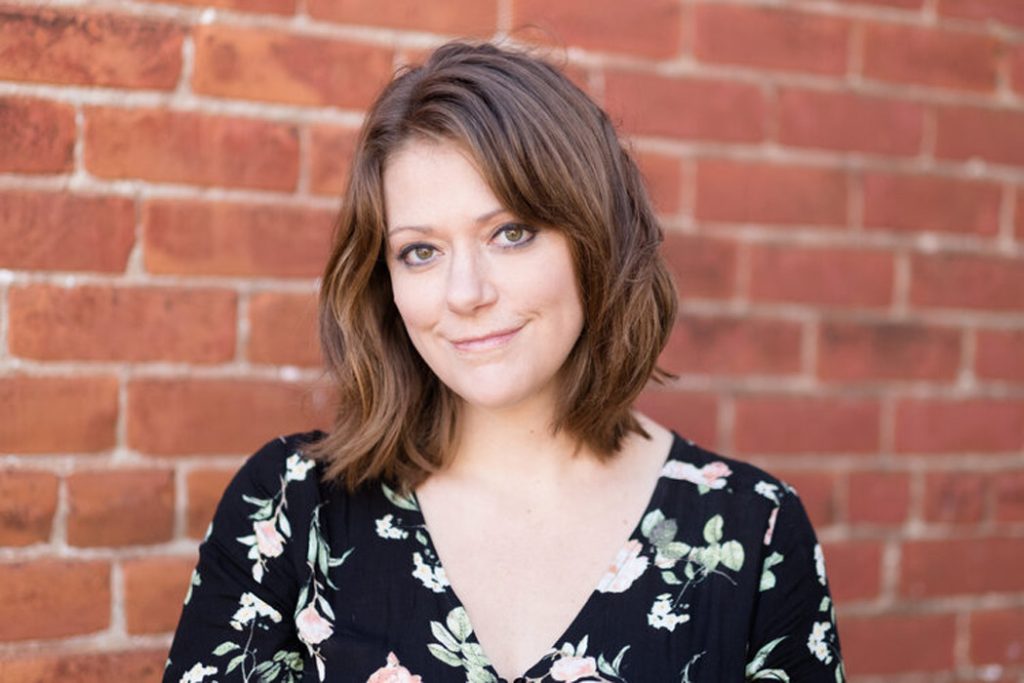 Hear Renée Branum talk about her acclaimed new novel, Defenestrate, in a Zoom event sponsored by Prairie Lights Bookstore on Thursday, February 10, at 7 p.m.
In Branum's quirky novel about family stories, secrets, siblings, and fear, an ancestral falling curse weighs on twins Marta and Nick. When their own family falls apart, the twins move to Prague, where they confront ghosts from their family's past.
Defenestrate was recommended as an Editors' Choice for the New York Times Book Review, and Booklist praised it as "an honest, beautiful tale of fierce sibling love." Writing for the Washington Post, reviewer Hamilton Cain said, "There's a diaphanous flow to her storytelling, full of light and air, with darker notes that play off our hard-wired terror of falling, or basophobia."
Branum has an MFA in Creative Nonfiction from the University of Montana and an MFA in Fiction from the Iowa Writers' Workshop, where she was a Truman Capote Fellow. She currently lives in Cincinnati, where she is pursuing a PhD in Fiction.
In an interview supplied by her publisher, Bloomsbury, Branum talks about her fascination with Buster Keaton, the magic of the word "defenestrate," and her Midwest upbringing.
What inspired you to write Defenestrate?
The novel functions in many ways as a collage—of obsessions, memories, family narratives, legends, and people. This mimics the patchwork of inspiration that contributed to it becoming a book. I also share in many of Marta's obsessions and preoccupations—her reverence for Buster Keaton, her desire to process her own lived experience through the lens of family narratives, and her instinct to curate facts and stories that can lend some shape and substance to her circumstances.
I have always been fascinated by the power of family histories and mythologies to shape both the collective understanding of the family unit and the singular identity of the individual. In many ways, Defenestrate functioned as a receptacle for me to place some of the experiences and obsessions that I'd been carrying with me for years, but hadn't yet found a place for in my own fiction.
Buster Keaton and his famous Pratfalls figure prominently in the book, and like the characters, you've long had a love for the actor. Where did that connection come from?
As a kid I remember watching Laurel and Hardy, Abbott and Costello, and the Three Stooges pretty regularly. Keaton stood out from the others for me though because of his solemnity, his famous "deadpan" shtick. I recognized a kind of gentle woe behind his comedy that spoke to me even from an early age. I always found a certain magic in the invulnerability of Keaton's characters and the authenticity of his performances.
As a child, I voraciously devoured Looney Tunes, but, unlike cartoons, Keaton's characters must submit to the same rules of the universe that any average viewer does. Keaton takes on a lot of the same blows, tumbles, and knocks that a cartoon character would, but he performed every fall himself, and once I began to recognize that authenticity, I became hooked.
During my freshman year of college, I took a class called "Masters of Cinema" in which we closely examined the life and work of five directors. One of the directors was Keaton. Although I had grown up in the company of Keaton, I was surprised and thrilled to find his work examined in a classroom setting and its artistic merit recognized. It was revolutionary to me to revisit these films as an adult and to examine them in this new context. Once I began to examine Keaton's biography and the ways that his own family mythologies shaped his work, I was hooked all over again. I fell in love a second time, and Keaton has been present in my life and work ever since.
Falling, both literally and metaphorically, plays a huge role throughout the novel. Can you describe Defenestration and what it means thematically in the novel?
Many friends have recently sent me a TikTok video in which a figure representing the English language and another representing "Universal Language" are having an argument. Universal Language is convinced that English should come up with a word for "the day after tomorrow," but English sneers at the suggestion. English volunteers perkily that he has come up with a word for "throwing someone out of a window" and that word is "defenestration." Universal Language is disgusted, saying "When would anyone need to say that?"
The video highlights the absurdity of the specificity that's inherent in this single word, defenestration. I believe that the word has a magic to it for this reason, but we should also be aware that, historically, at one point, enough people were being thrown out of windows that the word became necessary. In Prague, for example, defenestration was a popular mode of execution in the Middle Ages. The word is certainly necessary in Marta's life and consciousness because she believes in a legacy of falling in her family. The word, in some ways, shows Marta that her experience is understood, that its specificity is recognized by language.
Defenestrate is partially set in an unnamed Midwest City and partially in Prague. What do those two places mean to you?
Because I grew up in the Midwest (in a small college town in rural Southern Illinois), I have always seen the Midwest as a place to return to, a kind of permanent home base. In Defenestrate, the twins return to the Midwest after their failed experiment of living abroad. The city they take up residence in has all the familiarity that Marta longed for during her time away in Prague but in the interim, her home region has become just as foreign in some ways as the Czech city because so much of what made the Midwest comfortable and recognizable for her has altered. I know this feeling well, the repeated process of returning to a place and how the spaces we come back to are often irrecoverable not because they have inherently changed but because we have.
The story of the twins' time as struggling expats in Prague arose from my own experience living in the Czech Republic and working as an English teacher there. Because I traveled all around Prague to various companies, schools, and private homes to provide English lessons to students, I spent a lot of time navigating the space on my own, building up a map of the city over time—not only geographically but in terms of the lore and history that brought the place into focus for me.
Prague has a limitless richness, and I constantly felt that I was discovering new parts of it, new stories and associations, new alleyways and corners while I was there. It serves as an ideal setting for Marta to delve into her obsession with the family narratives of falling and to fully excavate that story, because the city itself always struck me as such a layered
place that encourages (and often eludes) excavation. It is a space that is fed by myth, legend, and history and it feeds these elements in turn.