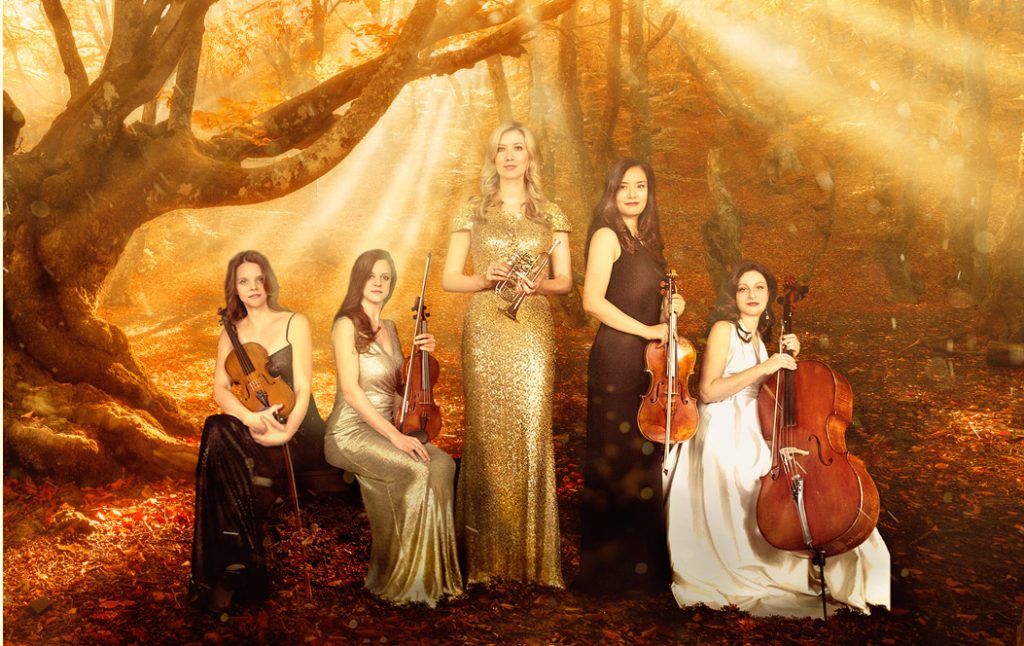 Five accomplished musicians will perform a bold program of music spanning centuries as world-renowned trumpet soloist Mary Elizabeth Bowden and Pittsburgh's respected Kassia Ensemble perform together at the Sondheim Center in Fairfield on February 24 at 7:30 p.m. The program includes exciting new works from composers James Stephenson and Gabriela Lena Frank alongside classical favorites.
Mary Elizabeth Bowden
Classical trumpeter Mary Elizabeth Bowden has built a rapidly rising career as a soloist, praised for her "splendid, brilliant" playing (Gramophone Magazine) and the clarity, purity, and power of her sound. Mary has also worked to establish a new repertoire for the trumpet through creative, collaborative commissioning projects and award-winning albums.
Mary has released two recordings on Summit Records: her debut album, Radiance (featuring new American works), and her second solo album, Rêverie, with the Kassia Ensemble. Rêverie was featured as one of the Top Albums of the Year for the Global Music Awards and on Textura Magazine's Top Ten Classical Albums of the Year.
Among her many creative projects, Mary is a founding member and artistic leader of Seraph Brass, an ensemble of America's top female brass players that was awarded the 2019 American Prize in Chamber Music and has performed around the world. The group's debut album, Asteria, released on Summit Records, won the Silver Medal Global Music Award, and the group performed on part of Adele's 2016 North American tour.
Kassia Ensemble
The Kassia Ensemble, through imaginative and collaborative programming, continues to pursue projects that build a platform for racial and gender equality in the arts. For the February 24 concert, Dawn Posey and Seula Lee will play violin, Maija Anstine will play viola, and Nadine Sherman will play cello.
Based in the Pittsburgh area, Kassia's members hold positions in the Pittsburgh Opera and Ballet orchestras, the West Virginia Symphony, the Wheeling Symphony, and the Erie Philharmonic. The seven-member ensemble is composed of the traditional string quartet, double bass, clarinet and harp. This unique instrumentation allows for quite a bit of variety in programming.
Noteworthy in the program are several pieces that appeared on Bowden and Kassia's 2019 album, Rêverie.  The complete program will be as follows:
Claude Debussy: Préludes, Book I, no. 8, L 123: La fille aux cheveux de lin, arranged by Rick DeJonge
J.S. Bach: BWV 972 after Vivaldi's Violin Concerto RV 230, arranged by Benjamin Miles/James Stephenson
Gabriela Lena Frank: Leyendas: An Andean Walkabout
Joseph Haydn: Trumpet Concerto in E-flat major, Hob.VIIe:1, arranged by Benjamin Miles
James M. Stephenson: Spitfire
Mozart: Alla Turca from Piano Sonata No. 11 in A major, KV 331, arranged by Rick DeJonge
Florence Price: Adoration, arranged by Tyler Merideth
Jean-Baptiste Arban: Variations on Bellini's Norma, arranged by Rick DeJonge
Amy Beach: 3 Browning Songs, arranged by Katie Jenkins
Manuel Defalla: 3 Songs from Siete canciones populares españolas, arranged by Benjamin Miles
Tickets are $20 and can be purchased at the Sondheim Center for the Performing Arts.