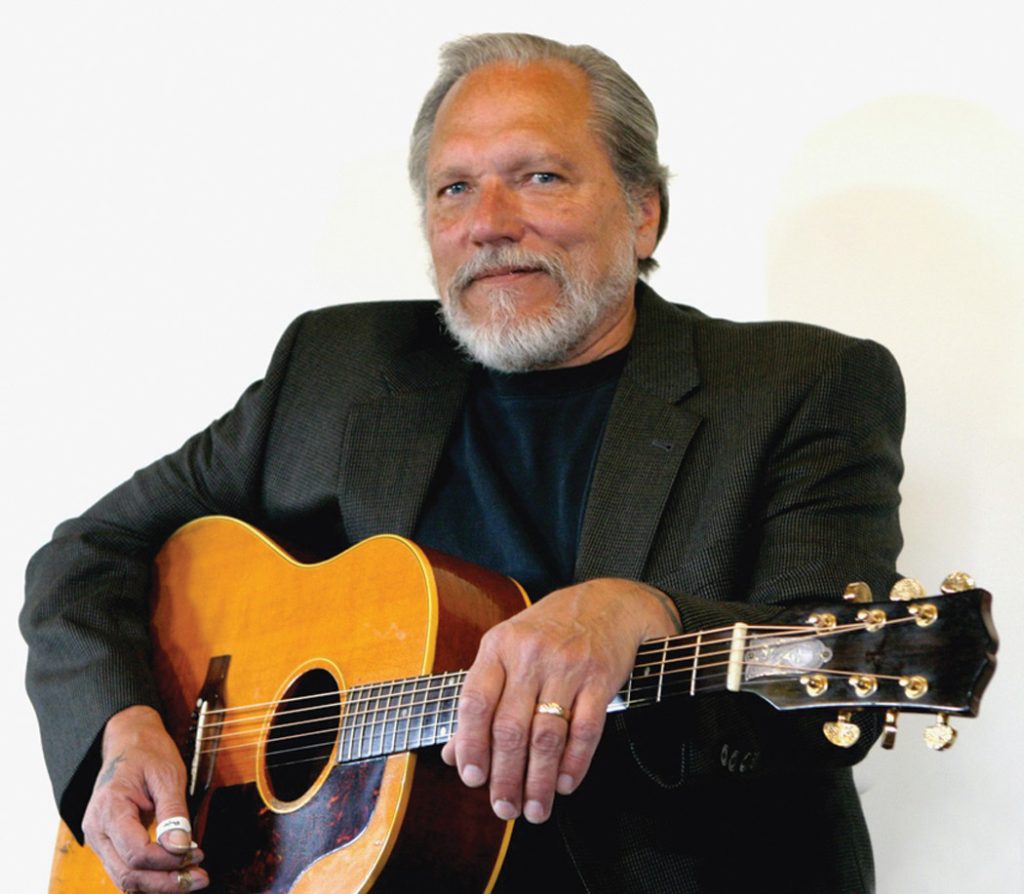 Eighty-one-year-old singer-guitarist Jorma Kaukonen is considered one of the most talented blues-rock performers on the planet. He's a two-time inductee into the Rock and Roll Hall of Fame (as a founding member of Jefferson Airplane and Hot Tuna) and Grammy Lifetime Achievement Award recipient. So what's he doing coming to Iowa to perform live in the middle of winter?
The southern Ohio-based musician will play at the Englert Theatre in Iowa City on February 28. He's been at the Englert before and enjoys the venue's ambiance and audiences. But more importantly, Kaukonen lives to play in front of people.
"I am a really lucky guy in that I've never lost my passion for playing my guitar," he said over the telephone from his home. "Playing live is the most important manifestation of the art. There is something magical about the experience. I'm looking out the window at eight inches of snow on the ground, surrounded by cold air, and thinking about how much I want to get back on stage."
He figures Iowa weather can't be much different from what he's currently witnessing.
Kaukonen tours both as a member of Hot Tuna and unaccompanied. The Englert show will be a solo gig, just him and his guitars. He noted that two of the guitars he will have with him were made by an Iowan. "David Flamming of Greene, Iowa, is one of the leading Luthier masters in the world," Kaukonen said. "A student at my music school had one of Flamming's creations. The first time I played it, the instrument spoke to me in a way a new guitar hadn't in many years. Flamming does wonderful work!" Kaukonen noted that "the great state of Iowa has many talented musical instrument makers." He spoke in a resolute voice about the fine qualities of the Hawkeye State, his Ohio home, and the Midwest in general.
Kaukonen said his forthcoming show would be about two hours long and would showcase the range of music he has recorded over the past seven decades, in addition to some new material. "I am not a prolific songwriter," he noted modestly, "but over the years it has added up. I try to offer a retrospective as well as keep things fresh." He understands that music from the past may be heard differently today than it was when originally released. That's part of its charm.
"People often ask me if I would like to go back to the past, as if the '60s or some other era was a better time, and I just don't get it," he said. "I live in the present moment. Dwelling on the past doesn't make sense. Living in the past is counterproductive."
Kaukonen optimistically observes that one is always growing, learning, and comprehending life in different ways. The pandemic kept him from touring for most of the past two years, but that did not prevent him from making music. He used his at-home studio to produce weekly livestreams on YouTube that were celebrated by his fans and the New York Times. He also made some new recordings.
"I live in a very rural county, with less than 20,000 people," Kaukonen said. "Social distancing was already a way of life. Thanks to the internet, I was able to keep busy and connected. I could still perform to live audiences."
He noted that his family keeps him linked to contemporary existence. "In a normal world, I would be a great-grandfather," he said. Instead, he has a daughter in high school and a son in college. He finds himself surrounded by younger people that serve as inspiration and help him stay alert to the changing world.
Kaukonen's memoir, Been So Long: My Life and Music, came out back in 2018 to critical acclaim, including from the Wall Street Journal and Publishers Weekly. He said that several publishers had approached him about a book, but they were more interested in his stories about other more famous people than in what he had to say. "Writing an autobiography is different than writing a song," he said. "It's an interesting process. The hardest thing is to be unselfconscious and honest, or what's the point? I looked at my life as if it were another person's life and let the tales unfold." Kaukonen hopes to write a sequel because he enjoyed penning the first one so much.
Kaukonen grew up in a secular Jewish home and is married to a Jewish woman. Like other Jewish American musicians such as Barbra Streisand and Neil Diamond, he has also released a Christmas album. "Back in the '90s," he explained, "I was on the Relix Records label. It was run by Les Kippel, a Brooklyn Jew living in San Francisco. He told me I should make a Christmas record. So I recorded a bunch of songs I had sung as a kid going to public school. I had always enjoyed the music and felt the religious material was more metaphorical than literal in its meaning."
Kaukonen paused for effect. "I gave Les the record. He called me and said, 'Jorma, there are so many references to Jesus,' in a surprised voice. I said, 'Les, you wanted a Christmas record. What did you expect?' "
Kaukonen laughed and said, "I still find it funny that he couldn't understand why a Christmas album had so many Jesus references." The record, called Christmas, was re-released on vinyl on Black Friday 2021.