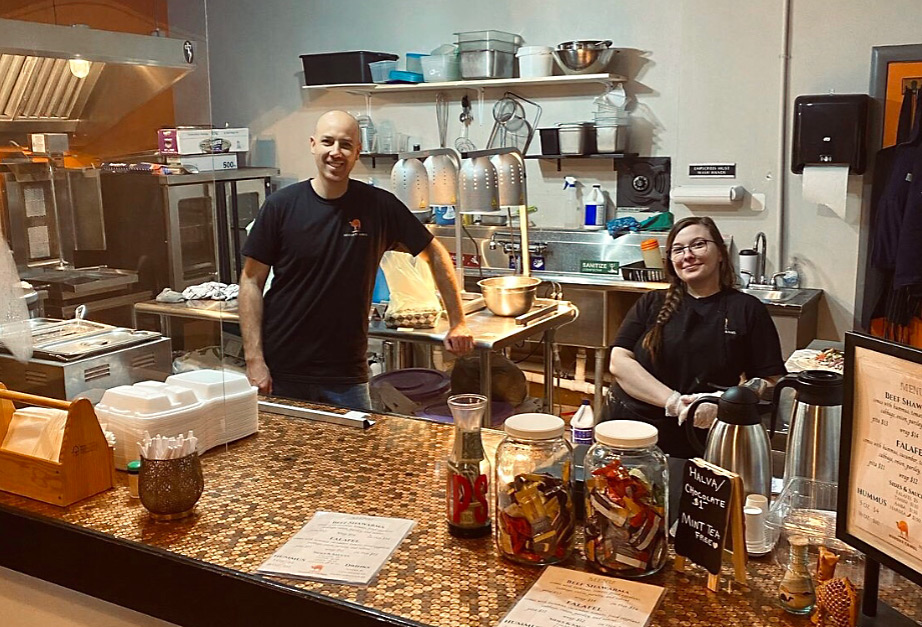 We are clinging to that great hope that this spring will be different, that we can sit at the coffee shop and make a new friend, that we can wear lipstick again, and that we can enjoy a meal out and not have to think about how close the next table is. Knock on wood: If I escape the pandemic with my sense of smell and taste in tact, dining out again will be one of the indulgences I most look forward to.
My little town has a remarkably diverse spread of restaurants. For that I am grateful. But I know, I can just smell it, there are amazing eateries all over Eastern Iowa yet untapped by me. So I asked our readers and some of our regular writers to tell me: from world cuisine to comfort food, and from hole-in-the-wall dives to fine dining, what am I missing out on?
The people have spoken! And listen, I know a lot of you will read this and think, "Wait! How could she have possibly forgotten XYZ restaurant?? And why didn't she include ABC cafe!?" Believe me, if I could have included 50 more mentions, I would have. Just consider this a jumping-off place, a gastro-happenin' go-to list of joints to try when there's time for a drive and you want outta the kitchen.
Iowa City
"When it comes to must-try restaurants, I have to cast my vote for Hamburg No. 2, an Iowa City landmark founded by the Panther family in the years following World War II, whistle-stop of U.S. presidents and presidential candidates from Ronald Reagan to Barack Obama, and more. Where else can you sit at the Presidential Table (conveniently tucked in near the shake machine) in a wooden booth, or at the counter and enjoy an entrée-sized portion of Home Fries Deluxe: hand-cut potatoes with onions, green peppers, and mushrooms, for well under $5? (Fabulous potatoes only for $2.49. Add cheese to either for 75 cents.)"
—Mary Helen Stefaniak, Iowa City
"If Rachel and I go up to Iowa City, here's just one of many ways we'd spend a good day. First we'd go to DeLuxe Cakes & Pastries for a croissant and coffee. It's just a fun, fun place. Then for lunch we'd have a vegan sandwich at New Pioneer on their panino grill—but we'd have them put real cheese on it, haha! And then we'd go to Rapid Creek Cidery for dinner.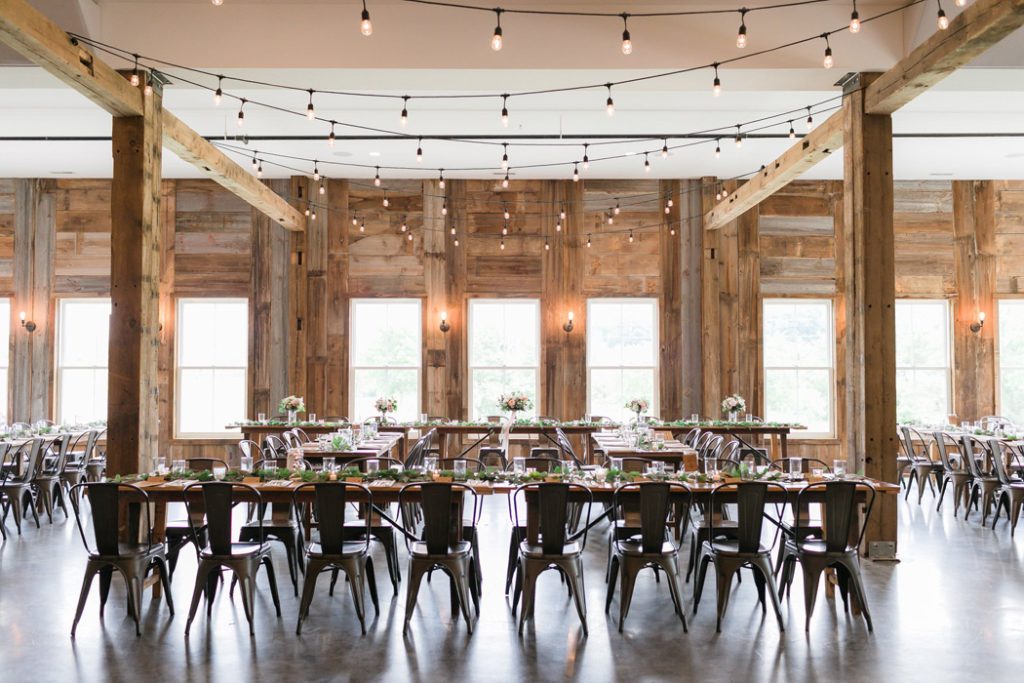 "Matt Steigerwald at Rapid Creek is just a great chef. He's got nothing to prove—he's done everything. He sources great ingredients, and he has a wonderful way with flavors. I was there once eating this incredible tofu dish and I was just dying to know how he made it. I mean, there were so many herbs and spices in it. . . . such an amazing array of flavor sensations. My opinion is, when you go to a restaurant, sometimes you want to have food that you can't do at home, and so to get a dish like that—and to have somebody put so much attention into making it just the most delicious thing? It stands out.
"Rapid Creek is in this beautiful reconstructed barn. It's so spacious and just feels so wonderful inside—and then there's the outdoor screened-in porch—it would be hard to come up with another place that feels so comfortable. I can't wait to go back there. Oh, and Matt makes the best french fries around."
—Steve Boss, Fairfield, host of the Great Taste Radio Show
"There are places I go to eat bad, and there are places I go to eat good! I love Soseki Café for a 'good' lunch. I like a quick, easy, convenient lunch, but it's hard to find something healthy. At Soseki I get the Poke Bowl—really fresh, and really healthy and satisfying. I go for the salmon, and there's rice, mango, avocado, green onions, edamame, masago—it's really tasty. My sister turned me onto this place' her kids really like the teriyaki.
—Jocelyn Engman, Fairfield
"Goosetown Cafe is my favorite place any time of day to meet a client, friend, or date in an intimate space. The cocktail menu (served in eclectic glassware) is what keeps me there for hours. They often have a new drink or entrée to try. And it's the only place this part-Southerner goes for shrimp and grits in town.
—Cheryl Weatherford, Iowa City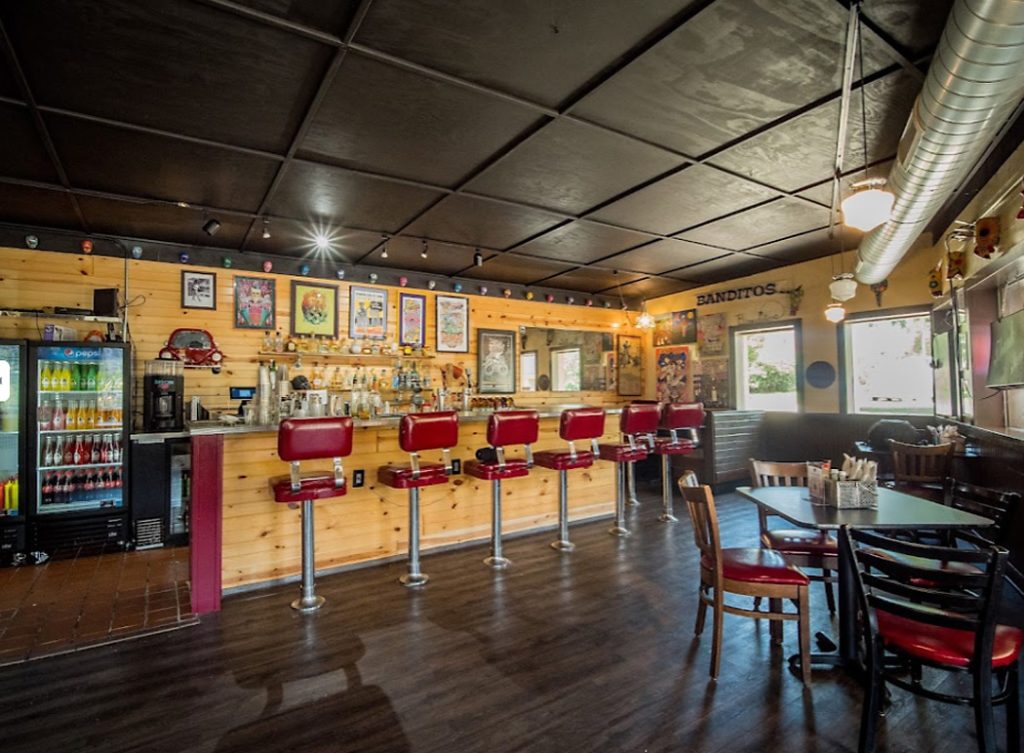 "I discovered Perez Family Tacos during the pandemic, but I can't wait to try it out in person one of these days.
"I always get the aptly named Perez Family Taco with a mix of other tacos, like their carnitas taco and their al pastor taco. I recently tried their queso and chips . . . so delicious. And their charro beans, which are stewed beans with ham, bacon, brisket, and chorizo, are out of this world! Honestly, the food tastes so fresh and delicious, it's worth a drive. They also pride themselves on their authentic Mexican taste."
      —Erin Casey, Iowa City
North Liberty
"Our wonderful little Ma and Pa Italian restaurant in North Liberty is called Mirabito's. The husband and wife team, Terri and Gregg Mirabito, are running the show with style and grace in a very relaxed atmosphere. Chef Gregg's soups and sauces and breads and pasta dishes are killers. One of those places where you can try new things because everything on the menu is fantastic. And the signature dessert lemon pie? Cannot be missed.
"They made it through the pandemic, and everybody here who loves the cuisine and couple breathed one huge collective sigh!"
  —Dick Hakes, North Liberty
Fairfield
"I've dined in over 16 different countries in pursuit of exploring different cultures through cuisine. The Hungry Camel has the best-tasting and most authentic falafel and shawarma meat my family has ever had—and the best Middle Eastern food you will find in the Midwest." [The family-owned and operated lunch spot began as a food truck, but is now serving lunch in the restaurant space behind the Orpheum Theater.]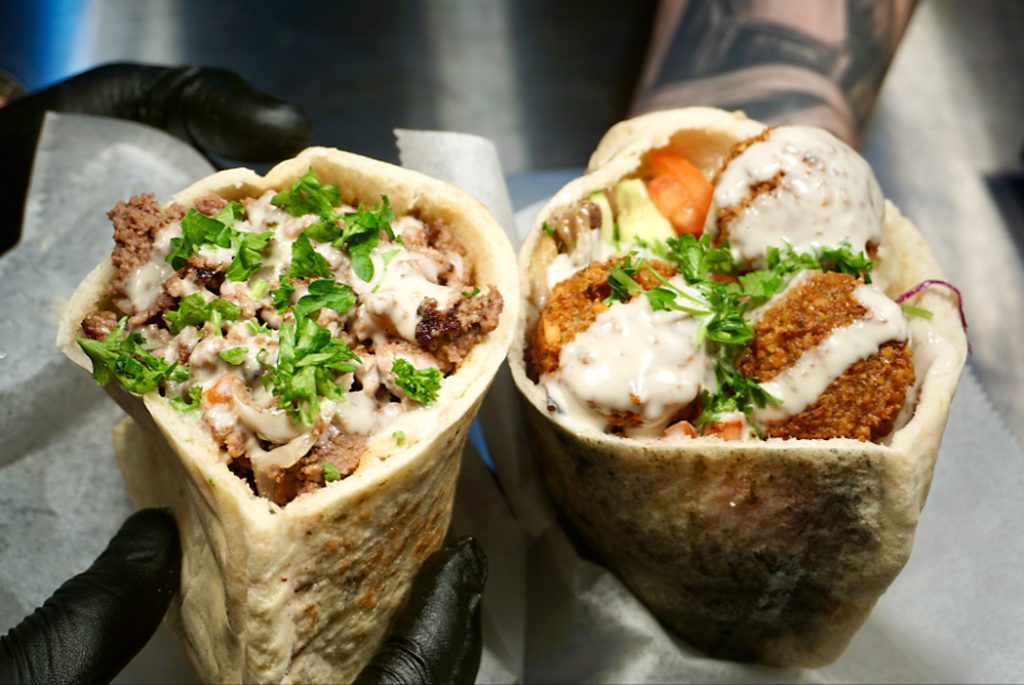 "The falafel is perfect—with the right flavor and texture that most restaurants miss the mark on. I also love the homemade tahini, hummus, harissa, and their unique mango sauce, called amba. And everything is made right there in front of you. It is feel-good food; the quality is felt in everything they make."
—Alexandra Westenberg, Fairfield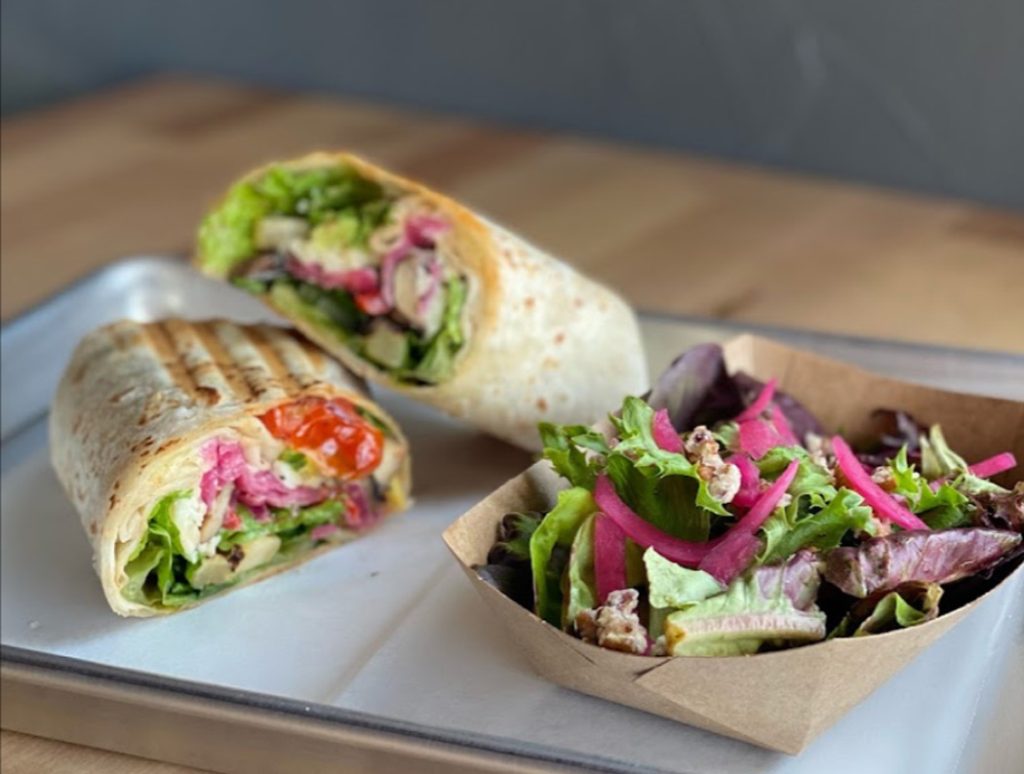 "What did we do for lunch before Lunchbox?! Open since December 2020, this happening spot is the place for delicious cobb salads, melt-in-your-mouth smashburgers, Nashville hot chicken sandwiches, and more. Keep an eye out for their specials—the pulled pork sandwich with lemon slaw and Alabama white barbecue sauce was a close-your-eyes-and-savor-each-bite experience.
"While Lunchbox is mainly open for weekday lunches, they do host a monthly supper club called the Southern Table, featuring a prix fixe menu of high-end Southern cuisine, as well as occasional ramen pop-ups for those in need of a noodle fix."
—Nina Benjamin, Fairfield
"A big five stars to Everybody's Café. My husband and I do our grocery shopping at Everybody's and we order their takeout lunches regularly. Our favorite is the Breakfast Burrito Bowl, which is equally worthy as lunch or brunch fare. It's a deeply satisfying meal—home fries, stir-fried veggies, beans, cheese, avocado, a tortilla, and scrambled eggs or tofu. The portions are generous and attractively served. Kudos to the fine cooks and the fine ingredients from their own grocery aisles, many of which are organic."
—Patricia Draznin, Fairfield
Mount Vernon
"Whenever I swing through Mount Vernon, my mouth starts watering for a burger at Palisades Cafe or the woodfired pizza at Lincoln Wine Bar. So when my buddy Tim instructed me to meet him for lunch at the Cornell College Cafeteria, I involuntarily shuddered, remembering the nutrient-free foods I partook of decades ago at my own alma mater. Tim boasted about the big salad bar and the all-you-can-eat set-up. A guy likes to get his money's worth. 'Okaaaaay,' I said, reluctantly.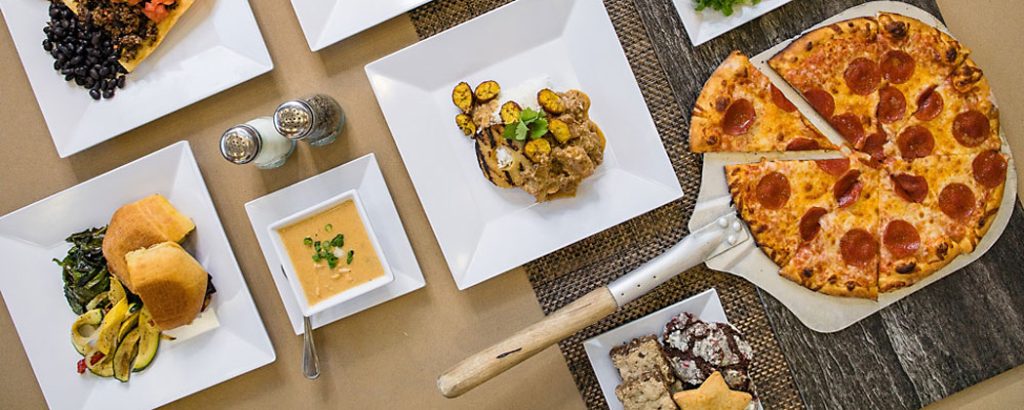 "After being warmly greeted by the cashier, I skimmed over the standard college-kid fare, instead zeroing in on the day's specials: a kale and sesame seed salad, bow-tie pasta with edamame and pesto, chicken salad with cranberries, and a south-of-the-border pork and lime stew. My plate looked appetizing enough, but I was not expecting to be particularly wowed.
"Let's just say Tim didn't get much conversation out of me; I was on a repeating verbal loop of: 'Oh my God, this is so good.' We dined toward the end of the lunch rush, so we enjoyed plenty of elbow room and big-window views of campus—along with a dollop of fresh blueberry crisp that tasted like Mom made it. It was some of the tastiest, freshest fare I have ever spent $9 on."
—Meredith Siemsen, Fairfield
Coralville
"In Coralville, there's this newish restaurant called Blue Elephant that is my new favorite Thai food in the area. Their pad Thai is the best. They have four different kinds of pad Thai, but my favorite is the traditional version."
—Alisha Jeddolah, Iowa City
Grinnell
"The best restaurant in Grinnell, in my opinion, is Relish. The cuisine leans toward Middle Eastern, but on any given night may include egg rolls or fresh beet salad—or their truly amazing chocolate cake. Relish tries to use locally grown food, the wine selection is very good, the ambience (it's housed in an old three-story Victorian) is attractive and friendly, and it's located near the Grinnell Hotel."
—Betty Moffett, Grinnell
Mt. Hamill (Donnellson)
At the Mt. Hamill Tap, (a.k.a. the Chicken Shack), established in 1965, rumor has it that the staff has to sign an agreement to not divulge their battered, broasted chicken recipe to any restaurant within 150 miles. Yeah, the meals come with coleslaw, a baked potato, and bread with butter—and apparently the salad bar is pretty good, too—but make no mistake, people come from miles around for the chicken.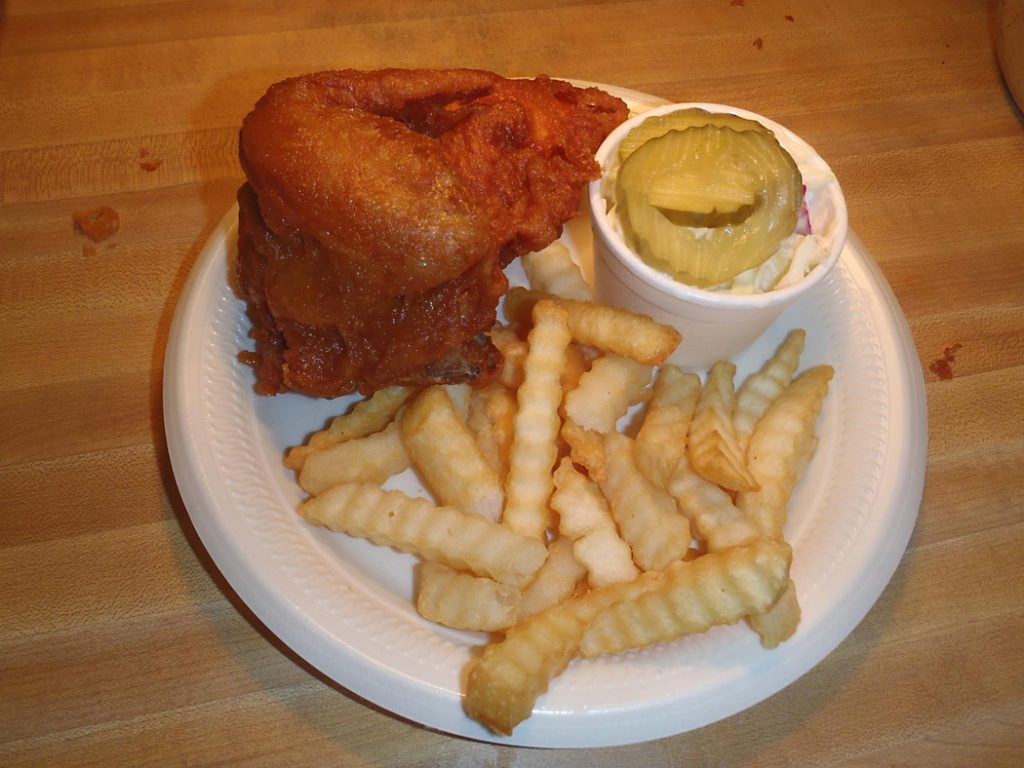 Said Iowa native Julie B. in her Yelp review of the place, "When you happen on the restaurant, you actually think you must have found a concert, because there are an awful lot of cars for just the few buildings there. When we got our chicken, it was hot. Like lava hot. I have never had a crust like what was on this chicken. I picture painting this bird with some sort of flour shellac to get the type of crispy, crunchy consistency it had. I don't eat tons of fried chicken . . . however, this was definitely some of the best."
Win D. from Iowa City wrote, "My friends and I travel the lesser frequented byways of the Midwest looking for unique eateries. What a pleasant surprise we found in the Mt. Hamill Tap! It reminds me of the taverns I used to haunt as a kid with a pocket full of quarters to play video games, while my dad held court with his friends at the bar and my mom would chat about the town's goings on at a table full of friends. . . . Play your cards right and the staff might just drop off a paper plate filled with batter cracklins. Worth the trip and the adventure!"
•
I'm of the generation that, retirement account be damned, will drop a few bucks to experience something new. If ultimately I end up under a bridge somewhere, at least I saw the ocean, and at least I got to taste a jackfruit taco at Taco Dreams. (Come on, I had to.)
What's for dinner, I'm hungry!