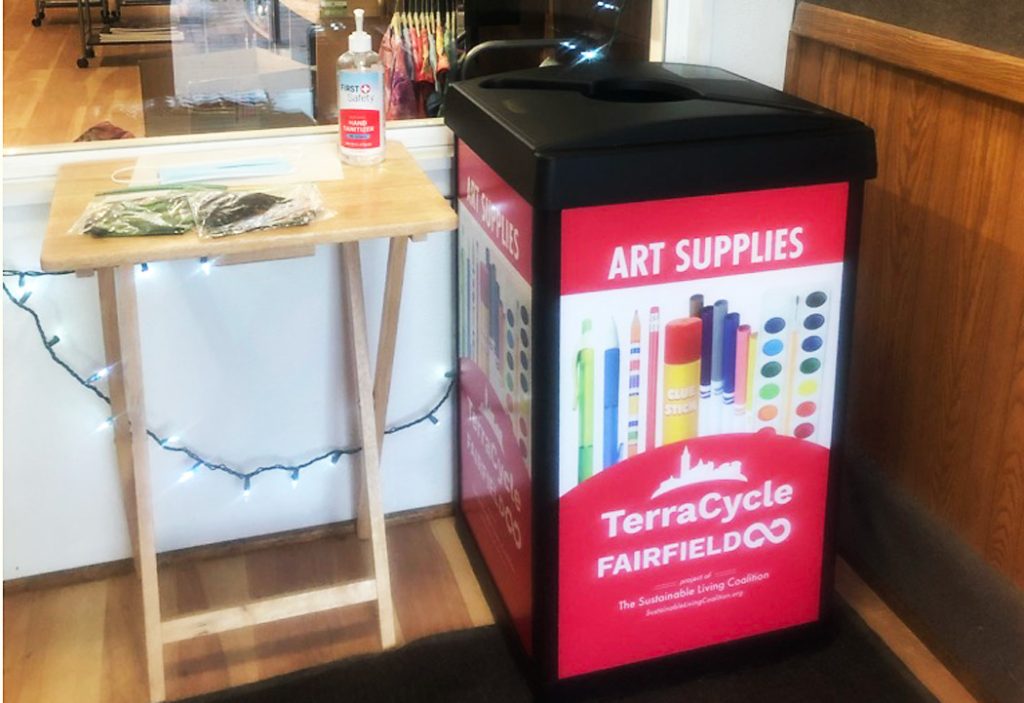 If you live in Fairfield, you have likely seen a few changes around town. You may have noticed colorful recycling bins at the grocery store, tried out the new bench made of recycled materials in Howard Park, or met a vendor at the Fairfield Farmers Market who seemed fascinated with your garbage. These occurrences are not a coincidence—Fairfield has a stubborn case of the zero-waste bug.
TerraCycle Fairfield, a citywide initiative to eliminate waste across Fairfield, has just passed its two-year anniversary. Through its partnerships with the innovative recycling company TerraCycle Inc., plus alliances with local businesses, schools, and other organizations, Terra- Cycle Fairfield is providing citizens with ways to recycle traditionally nonrecyclable products . Over the last year, TerraCycle Fairfield has made even greater strides in its mission to bring zero waste to Fairfield. Here's a summary of what 2021 looked like for the initiative.
The World's First "TerraCycle Town"
In the summer of 2021, TerraCycle named Fairfield the world's first TerraCycle Town: a community with zero-waste principles at its core. The company also gave Fairfield a new bench made of entirely recycled materials that now lives in Howard Park on a platform of bricks also made from recycled products.
In a comment on Fairfield's progress, TerraCycle CEO Tom Szaky said, "We are proud to acknowledge Fairfield as the world's first TerraCycle town. Their passion for recycling and their desire to reduce their environmental footprint is impressive. We hope other towns follow in their footsteps."
TerraCycle Fairfield Recycling Efforts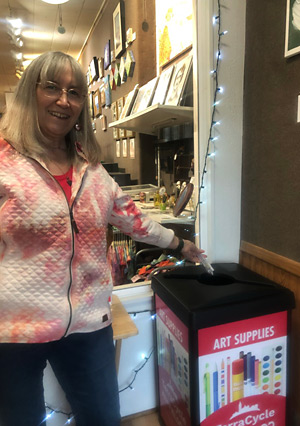 TerraCycle Fairfield currently offers public collection programs for 11 different types of products, including oral care, beauty care, plastic bags, health, batteries, e-waste, light bulbs, and razors. Snack bags and cookware were added in 2021 and art supplies in 2022.
Within two years of operating, the program has recycled 15,000 items in two of its most popular programs alone—oral and beauty care—with most of this recycling occurring in the last year. Fairfield currently has four collection spots: Fairfield Public Library, Everybody's Whole Foods, Maharishi International University, and Cindy's ArtBeat. Wheels are already in motion at Fairfield High School and Maharishi School to adopt their own TerraCycle programs.
Zero-Waste Events
In collaboration with the Southeast Iowa Sierra Club, TerraCycle Fairfield helped organize activities during Zero Waste Month in July 2021. Repair fairs, workshops, and other educational activities were offered for a week in Fairfield, all with a zero-waste focus. TerraCycle Fairfield also made an appearance at Fairfield's Craft Show in November. At the same time, TerraCycle Fairfield announced an ornament-making contest in which submissions were made entirely out of recycled materials. All of these events helped engage the community in a better understanding of zero-waste practices.
Green Transition Podcast
A key component of TerraCycle Fairfield's mission is to educate citizens about concepts in sustainability to promote environmentally friendly behaviors. The Mapping the Green Transition series and podcast came out of the TerraCycle Fairfield project to promote insights into sustainable behavior, technology, and ideas. You can listen to the new podcast online now—just search for Mapping the Green Transition.
While 2021 was an exciting year for the TerraCycle Fairfield project, more programs, events, and educational resources can be expected in 2022 as the initiative continues with its goal to eliminate waste and promote sustainability. For more information and to keep up to date with the TerraCycle Fairfield initiative, follow @TCFairfield on Facebook or Instagram.
If you have enjoyed TerraCycle Fairfield's programs and would like to share your appreciation, you can donate at SustainableLivingCoalition.org. Your contribution makes a meaningful impact on diverting waste from landfills and directly supports sustainability in Fairfield.