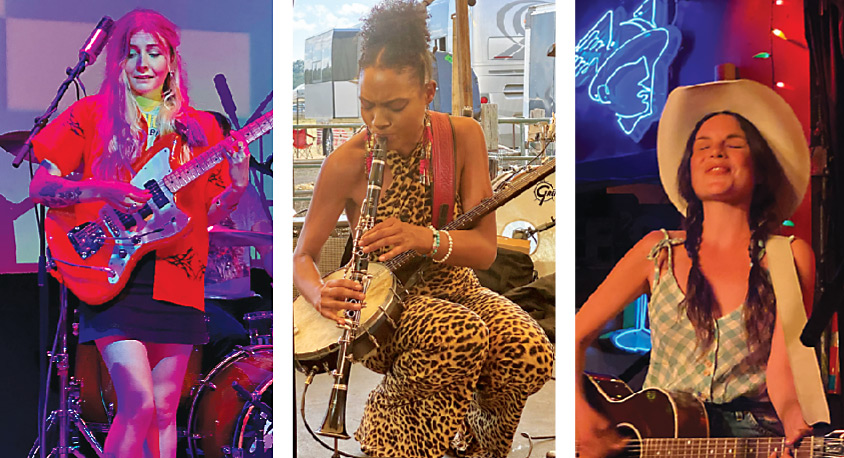 South by Southwest (SXSW) is back! Even though this year's SXSW was only about 60 percent as big as it was in 2019—the last time it was held in person—there was still plenty to see and long lines of people eager to learn and participate. It was packed with informative panels, lectures, and discussions on the latest trends in technology, movies, and music. There was a time when the 35-year-old event separated these topics, but that is no longer the case. Participants are now encouraged to explore all the components because of their expanded overlap.
For example, this year's most famous presenter, Dolly Parton, sang at the Moody Theater stage, and members of the live audience got a free Dolly-themed non-fungible token (NFT). While Dolly was unable to explain exactly what an NFT is, her performance was streamed on blockchain and broadcast on giant screens—combining all three elements of technology, film, and music.
Interactive
Speaking of blockchain and NFTs, these two topics were bandied throughout the Interactive sessions and explained in various ways by presenters who were either selling the technology or warning about it. Audiences had the opportunity to create their own NFTs, receive free ones, or invest in existing tokens. That said, the consensus of opinions on NFTs suggest that many participants were skeptical and saw them as a fad rather than a solid asset. Blockchain technology was given more respect, but many people expressed confusion on how this would work to equally distribute wealth among those who didn't have it—one of the big claims made by its promoters.
The other two buzzwords commonly mentioned were Web 3.0 and the metaverse. They essentially refer to the same thing: the next leap in technology that will make the old internet virtual universe seem obsolete in the way television replaced radio as the main source of home entertainment back in the day. Speaking live on a big screen, Facebook's Mark Zuckerberg, who not long ago changed the name of his company to Meta, explained that this would be the next chapter of the internet. Instead of just providing streaming video, sound, and words, Web 3.0 will create virtual immersive worlds in which people will create multiple avatars to play, live, and work. "It will feel like you are present with other people in another place," he said, rather than just watching as one does with Zoom and other current technologies.
On the other side of the spectrum, several speakers warned about the dangers presented by the metaverse. Amy Webb, CEO of the Future Today Institute, which serves as a management consultancy for a wide variety of government agencies and private companies, said that allowing people to present different versions of themselves in different scenarios could create chaos in separating the physical from the digital world. The standards for what is considered "bad" or "good" traits have a huge potential for harm for those that don't fit in, as these will probably be determined by those who want to sell you something.
Despite the connotation of the term "interactive," many of the sessions under this rubric seemed to have little to do with technology, such as "Judaism and Psychedelics" and "Farming and Climate Change." These meetings were informative and well attended, despite the esoteric nature of their topics.
Film
This year's SXSW film festival lacked the glitz and glory of past events, presumably due to the impact of the pandemic. There were several celebrities on hand promoting movie premieres, such as Michelle Yeoh and Jamie Lee Curtis (Everything Everywhere All at Once), Sandra Bullock and Daniel Radcliffe (The Lost City) and Nicolas Cage and Pedro Pascal (The Unbearable Weight of Massive Talent). Austin's own Richard Linklater debuted his new animated feature Apollo 10½: A Space Age Childhood, based on his childhood memories of 1969 when NASA landed on the moon.
However, television programs received most of the hype during the film portion of SXSW. Lizzo, whose previous groundbreaking musical performance at SXSW helped launch her career, was back as a keynote speaker to promote her new dance-battle TV show, Lizzo's Watch Out for the Big Grrrls, on Amazon Prime. Lizzo spoke about such topics as body image and transgender rights, and hosted an activation that focused on positivity, with free hair styling, a carousel, a juice bar, and more. The TV show Atlanta also hosted a theme-oriented pop-up activation. "The Trip: An Atlanta Café" put attendees in an Amsterdam-inspired coffee shop that seemed to be part of a forthcoming episode of the show full of odd characters in costume.
Music
Promoting music was originally the most important aspect of SXSW. Now it is last in terms of how much money companies spend to hype their products. Despite Dolly's appearance, very few top-tier artists performed as in the past (e.g., Bruce Springsteen, Lady Gaga, Jay-Z). This is a good thing. SXSW earned its reputation for discovering unknown acts, and this year audiences were again exposed to a host of new talents.
It seems reductive to just name the top five acts at SXSW, as it was physically impossible to see all of the performers (probably totaling more than a thousand official and unofficial acts). That said, below is a list of five acts put in the larger context of the musical styles they represented. I encourage you to check them out, but also to look at the fuller list of amazing artists. SXSW is a music lover's dream. The ones named only scratch the surface.
Wet Leg
Despite their silly name (in Britspeak, a "wet leg" is a self-pitying person), this indie rock band from the Isle of Wight balances disco and punk in equal doses. Led by frontwomen Rhian Teasdale and Hester Chambers, the band created the biggest buzz at SXSW through their fascinating blend of rock and charm. Their first album gets released in April.
Wet Leg was part of the British Music Embassy (BME), a government-funded music agency that sponsored a myriad of great acts currently based in the United Kingdom. Other highly recommended BME acts are Yard Act, Buzzard Buzzard Buzzard, Priya Ragu, Los Bitchos, Hamish Hawk, Moonchild Sanelly, Shovel Dance Collective, and CMAT.
Allison Russell
The three-time Grammy nominee sings, plays clarinet, and strums the banjo, all the while exuding good vibes and grace. She never seemed to stop smiling, and her joy shone through the music. She was one of many amazing solo female artists, including Danielle Ponder, King Princess, La Doña, Katy J. Pearson, Grace Cummings, S. G. Goodman, and Tami Neilson. Each one performed in a distinctive personal style that revealed the depth and breadth of their musical talents.
Whitney Rose
Austin resident Whitney Rose has performed at SXSW before, and like many local talents, can be seen around town regularly. Her Western persona and snappy style suggest a world where Patsy Cline would be the world's greatest opera singer. The list of marvelous Austin talents is huge and shows why the city is the "Live Music Capital of the World." A short list of other local greats (no exaggeration) would include Jade Bird, Jackie Venson, Patricia Vonne, James McMurtry, Gina Chavez, Alejandro Escovedo, Sue Foley, Lisa Morales, Sir Woman, and Spoon.
Beck
Beck is one of the many artists who was well-known before this year's SXSW. He outdid himself by performing a two-hour acoustic set featuring everything from Hank Williams's "Lonesome Whistle" to Daniel Johnston's "True Love Will Find You In the End" to familiar and obscure songs from Beck's own catalog. Beck joked with the crowd and told self-effacing stories about his first SXSW show back in 1994.
Other famous musicians who stood out included Dolly Parton, Jason Isbell, Japanese Breakfast, Willie Nelson, Kimbra, Best Coast, and Suzanne Vega.
Joshua Ray Walker
Like many of the aforementioned musicians, Joshua Ray Walker has performed in Iowa before, but his appearance at SXSW confirms his talents as an artist who transcends the boundaries between country music and Americana. He sings big-hearted stories about the tragic and triumphant moments in our lives where everything seems to be based on luck, both good and bad. Other artists who worked the same territory with deft results included Abby Hamilton, Vincent Neil Emerson, Charley Crockett, Lost Gonzo Band, Michael Martin Murphy, Houndmouth, and Charlie Hickey.
•
That's it—although not really. There were too many marvelous talents that I couldn't squeeze in the list here—Perfume Genius, Arthur Alexander, Me Nd Adam, Destiny Rogers, Moon Panda, Sarah Kinsley, Devin Shaffer, Ida Mae, Neal Francis, Myron Elkins, and more.
For those who attend the entire event, the whole is bigger than just the sum of its parts. The music portion may no longer be the biggest draw at SXSW, but it's still the heart and soul of the event.