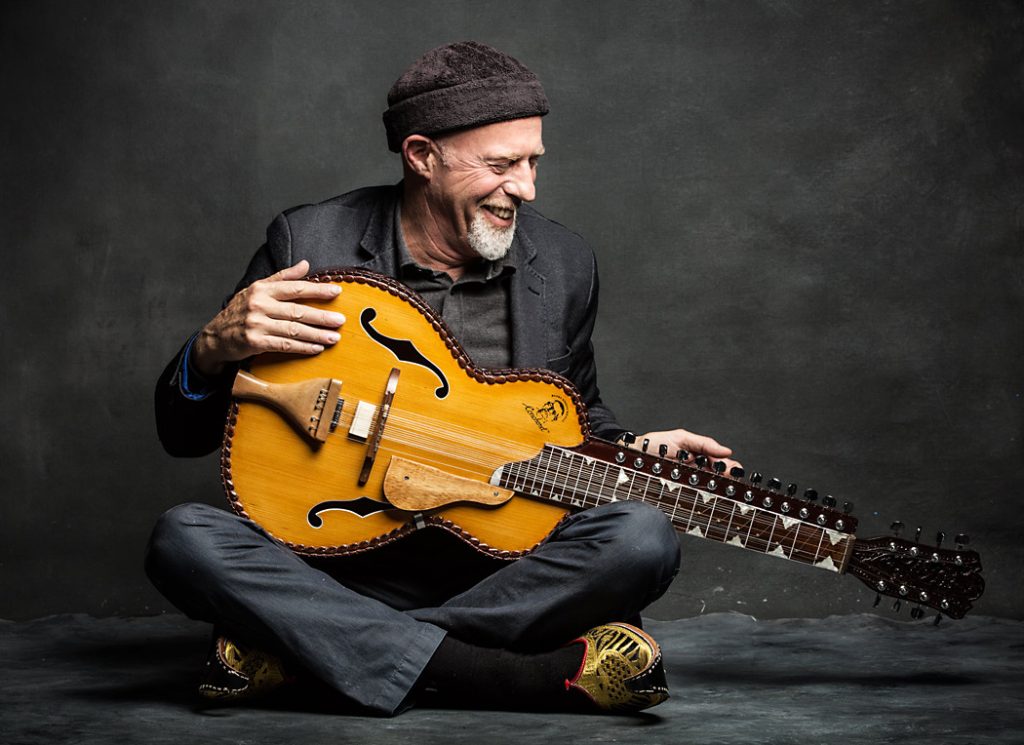 Since my February 2013 article introducing Iowa to the music of Canadian acoustic guitarist Harry Manx, I've seen him in concert in Lafayette, Indiana, and enjoyed several CD releases. Live Manx is surreal, so in this article, I want to share some of my favorite live recordings.
But first, let's get some perspective on why this artist is unique. Manx's hypnotic and mesmerizing music reminds me of a long Indian raga concert on a warm, muggy, and mystical summer's night. He transports the listener toward the enchantment of fleeting enlightenment.
As a young man, Manx developed mastery of acoustic blues guitar in the Toronto club scene. In the early 1990s, he learned about a rarely heard instrument called the Mohan veena, which was developed by East Indian musician Pandit Vishwa Mohan Bhatt. Captivated by what he heard, Manx moved to Rajasthan in northern India to study with Pandit Mohan for five years.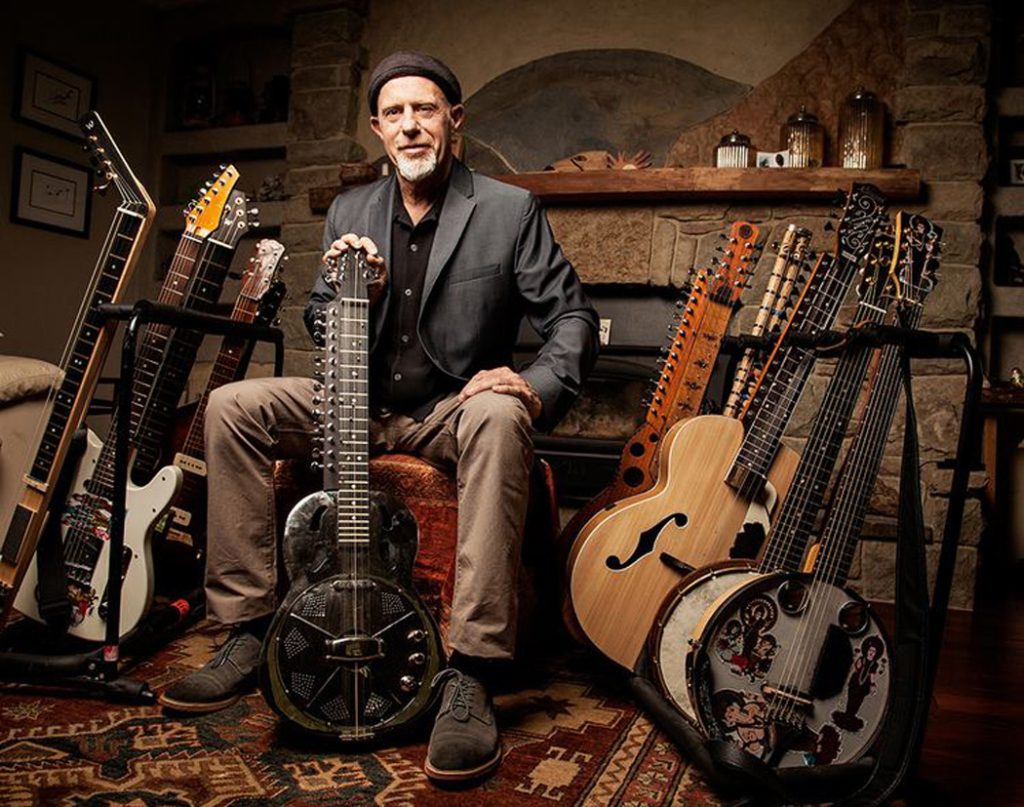 These days, Manx resides in British Columbia and tours Canada, playing mostly solo concerts that blend his talents on acoustic guitar, banjo, harmonica, Ellis StompBox, and Mohan veena. Two of his long-time collaborators are Canadian guitarist Kevin Breit and Australian keyboardist Clayton Doley.
His music is a comingling of Indian folk melodies, slide guitar blues, gospel, and grooves, an unusual combination that results in what his website calls "Manx's unique 'mysticssippi' flavor."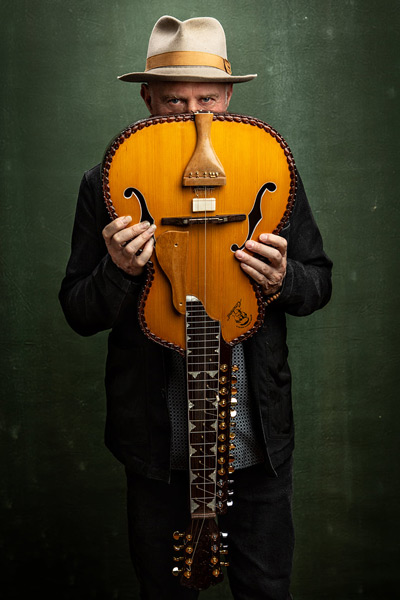 The fabled Mohan veena is a 20-string East Indian lute that consists of 3 melody strings, 5 drone strings, and 12 sympathetic strings (unplucked strings that vibrate from the soundwaves of the plucked strings). A hybrid of the traditional veena, the Mohan veena is made from the deeper hollow body of an electric guitar with an added sideboard. When Manx plays the Mohan veena, it sounds like two musicians are playing, one on acoustic guitar and the other on sitar. In live performances, Manx adds musical embellishments with a harmonica on a supported neck frame, and adds percussion using a foot-engaged Ellis StompBox.
Road Ragas (2004)
Road Ragas (2004) was recorded live with no overdubs at the Basement in Sydney, Australia. It was mixed and mastered at the Barn in Salt Spring Island, BC. This is a solo concert with no other guest musicians. I marvel at how Manx performs all of this music live.
"Take this Hammer" by Lead Belly is a work song about prison, logging, and railroad toil. The emotional call-and-response form is reminiscent of America's exuberantly euphoric Black churches.
"Reuben's Train" is a traditional song that begins with a short narrative by Manx referring to his 1990s Mohan veena study with Pandit Mohan. Organ backing chords add to the drone effects of the veena's sympathetic strings and underlying propulsion of Manx's deep kick-drum sound.
"The Gist of Madhuvanti / The Thrill is Gone" is mostly an improvisation on B.B. King's classic song. An acoustic solo on the Mohan veena busts in with blues-based storytelling in Manx's short phrases, which many in blues circles feel is the sound of Sunday-morning preaching.
"Baby Please Don't Go" is a traditional song made popular in 1935 by Delta blues musician Big Joe Williams and later by Muddy Waters in 1953. I also remember the 1964 version by the Northern Irish group Them, featuring Van Morrison. In Manx's track, the unusual picking style ranges from muted plucking to staccato bursts of phrasing.
"Don't Forget to Miss Me" by Harry Manx tells the story of a loved one taking a long overseas journey. On the YouTube version, watch for the electric guitar solo by Brent Shindel that seems to jump out of nowhere with solid Nashville picking, a surprise that leaves Harry unable to corral his huge smile.
Live at the Glenn Gould Studio (2007)
This live concert with several other musicians was recorded on March 10, 2007, in Toronto. An Amazon review says of this group effort, "The hyper-simpatico league of support players (notably guitarist Kevin Breit and harmonica player Steve Mariner) weave in and around Harry's lead with deft skill."
"Point of Purchase" by Harry Manx shows him adding a touch of spare banjo to the mix, giving upper spice to a typically dark bluesy palette. Two-part harmonies by the female backup singers seem reminiscent of a distant freight train, but almost go unnoticed because the mix is so balanced. Manx's uniquely American two-note harmonic device is the basic secret to why this blues piece beguiles me. Most blues pieces feature a single vocalist with no backing harmonies. On this piece, Manx's breathy whiskey voice completes the hypnotic trance.
"Single Spark" by Harry Manx features shimmering backup vocal crescendos, bringing exotic magic to the atmospherics, while the whole scene is boosted by eloquent harmonica gestures.
"Voodoo Child," a cover song of the Jimi Hendrix Experience from Electric Ladyland, transports us upward and onward with its punchy, driving backbeat and percussion. Indian vocalist Samidha adds novel texture. Manx's harmonica playing does indeed screech, intentionally mimicking the coloring of a distorted electric guitar.
Normally, I would direct you to a Spotify playlist under my handle as DJ Andy Bargerstock. However, Manx's music is not carried by Spotify. Check out YouTube for these tracks.