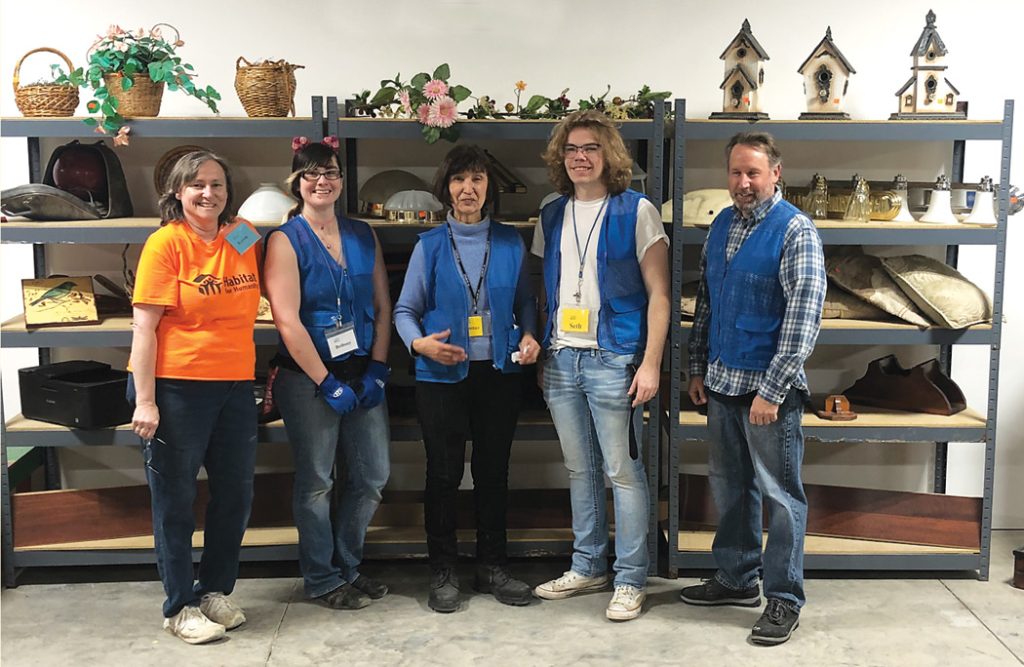 The Fairfield ReStore on Highway 34 West has been restored, revamped, and expanded! Under the auspices of the Greater Fairfield Area Habitat for Humanity, the venue has expanded from its original 4,500 square feet to a whopping 11,000 square feet of shopping fun. I would know, because I restored my dream house with treasures from the Fairfield Restore.
When I returned to Fairfield four years ago, I showed up with next to nothing. I had retired, sold my house, and left everything in storage 2,000 miles away. Would it be worth moving all those things so far? The U-Haul rental plus gas, food, and hotels would run me over $7,000, so I hosted three weekends of garage sales back home, and netted about 5,000.
I bought the house of my dreams that I had followed on Zillow for over six months. It had fallen in and out of escrow because of an old boiler and lack of superior insulation. Well, okay, the garage/ carriage house roof was caving in, but the beauty of it was the solid foundation, 3,000 square feet of history dating back 100 years, and a fully landscaped double lot. Wow. There was a lot of cleanup, but no sweat! Houses this size in my native L.A. would be in the millions, so with a little elbow grease and a professional heating unit updo, I was in!
I still owned next to nothing by way of furniture, so while the house was in escrow, I made frequent visits to the ReStore at 1903 Business Highway 34, just past Walmart. Soon Shanaz, the manager of Restore, and Karen, her associate, became my new besties. Because of their friendly nature and helpful hints, I frequented the ReStore nearly every day. Though my own children called this a shopping addiction, the ReStore ladies were dedicated to helping me and would just call and advise me to hurry and inspect a new delivery whenever it had big-ticket items that matched my taste. Although you can't really bargain with prices, if you buy a lot, Shanaz will usually give you a deal, offer free delivery, and sometimes even sneak in a little something she caught you eyeing.
The great thing about the ReStore is that it saves literally tons of waste from hitting the landfills. You need preapproval to drop things off, but generally, ReStore takes donations of just about any furniture in fairly good condition. If a chair needs gluing but you have all of the parts, it's probably okay. Furniture missing knobs is still sought after, because often buyers will opt to update the vintage look by swapping out the hardware.
Shopping at ReStore is fun! You might meet a covey of friendly fixer-uppers who will chat with you about your project, offering priceless tips for the asking. It might take a few visits to find what you are looking for, but it's worth it. I outfitted nearly my entire house with antiques, lighting fixtures, vintage door knobs, draperies, and throw rugs, not to mention   garden tools, paint, and plant food. I even bought a high-end keyboard before I scored one of their real pianos—and my total expenditure was less than my garage sale cache from Cali.
Let's do our part to make Earth Day not just one day in April, but every day. Spread the news about ReStore and lend a hand to Fairfield's Habitat for Humanity.