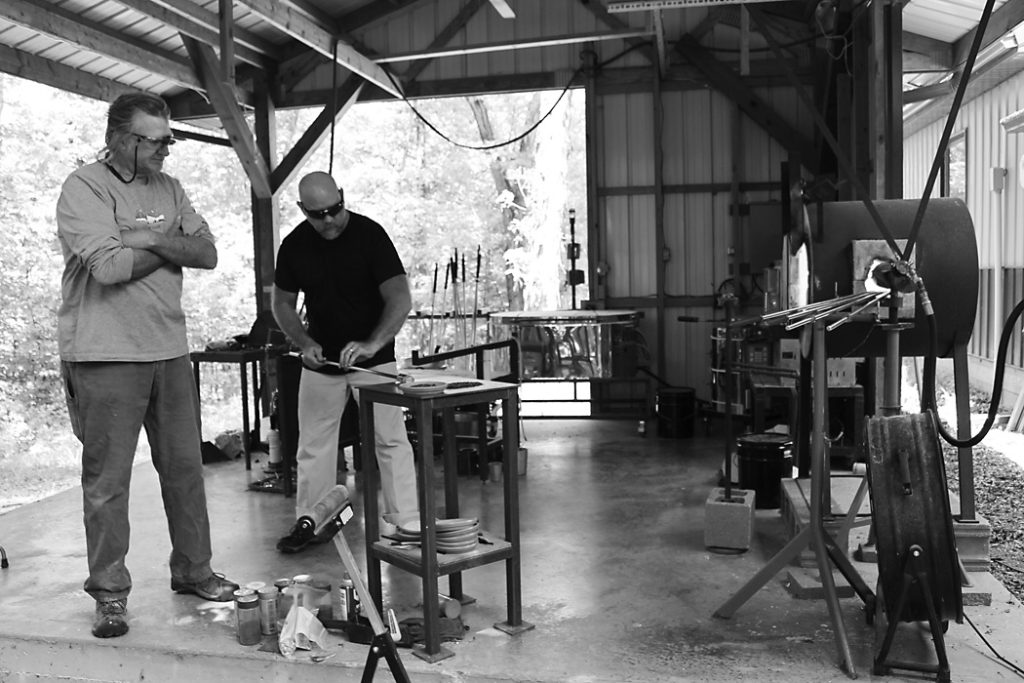 Last May 2022, Chad Cardani-Trollinger arrived in Van Buren County to participate in the Villages Folk School's first Creative Escape program. A small cabin along the Des Moines River was his home as he received two full weeks of hands-on glass-blowing instruction from artisan Tim Blair of Bloom and Bark Farms.
Now in its second year, the Creative Escape program announces a new mentorship opportunity coming up in 2023—working with Betty Printy at her pottery studio in Bentonsport.
"The Creative Escape program is intended to unplug, relax, recharge, and reintroduce the participant to their creative being," explains Mel Stockwell, director of Villages Folk School. She says their first offering was "a wonderful collaboration with the Iowa Department of Cultural Affairs and their new Folk Arts Apprenticeship Program."
Villages Folk School is one of four Iowa art organizations that was selected for the Iowa Art Council's Folk Art Apprenticeship program under the umbrella of the Iowa Department of Cultural Affairs. The program's goal is to sustain artistic traditions and cultural heritage in Iowa by encouraging artists to pass on their skills and knowledge.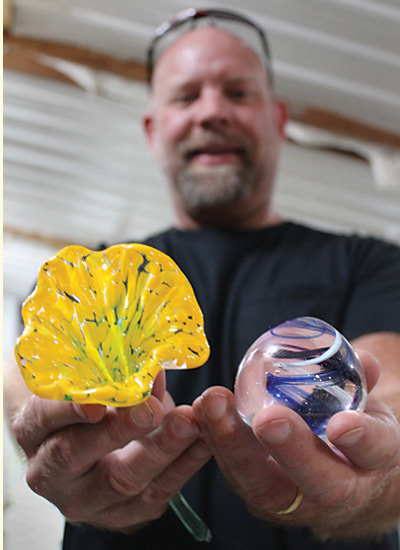 "I had such an awesome time, and met some really wonderful people." Chad says of the Creative Escape program. When not in the studio, Chad visited local artists, walked trails, and visited historic sites. His completed works were exhibited at the annual Folk School Memorial Day Weekend BBQ.
"The opportunity to practice this art, in the beautiful outdoor surroundings of Bloom and Bark Farms, was something I will never forget," Chad says. "Surrounded by nature, I was able to have a bit of a reset after wrapping up the semester. After just a day or two, I felt more calm, more creative, and more optimistic."
During his stay, Chad posted a video online about his Creative Escape experience and asked if anyone felt moved to donate to the Folk School to help finance their next program. The resulting outpouring of support resulted in enough donations to sustain another year of the program.
"I enjoyed visiting residents, artisans, and businesses during my stay," Chad says. "It was neat to see how folks have come together to make things happen—from the Hotel Manning to the Bonaparte Grocery and the old school. . . . It was quite wonderful to see so many come out to support what was going on in the community."
The spring 2023 Creative Escape program will feature Betty Printy opening up her pottery studio in Bentonsport to a selected participant. Applications will be accepted from November 1 through March 1, with the participant to be announced on March 15, 2023.
For more information, visit VillagesFolkSchool, or contact Mel Stockwell at (319) 288-0047 or register@villagesfolkschool.com.