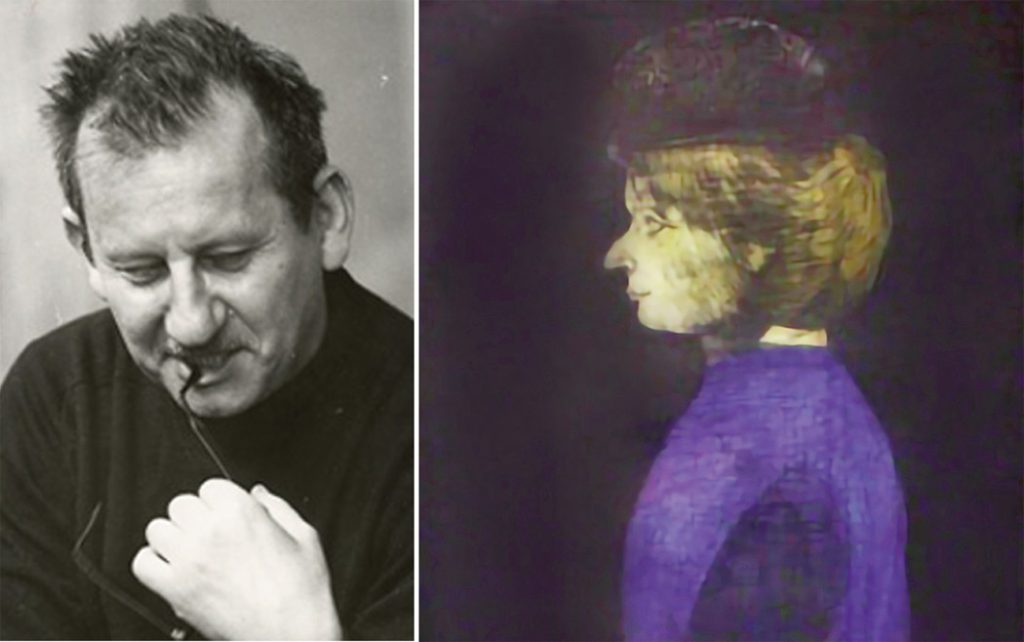 The Fairfield Art Association is featuring Selections from Its Permanent Collection in the Main Gallery at the Fairfield Arts & Convention Center, with an opening reception from 6–8 p.m. on Friday, September 2.
A Print Returns to the Collection
Included in the exhibit is a newly acquired intaglio print, Lady in Blue, by internationally known maestro of printmaking Mauricio Lasansky. The over six-foot-tall print was produced in 1967. It joins three other Lasansky prints in the FAA collection. Coincidentally, this print and another titled The Artist Approaching Middle Age were featured in a 1969 FAA exhibit that was proclaimed "one of the most outstanding art exhibits in the state of Iowa" at the time.
During that exhibit, FAA purchased the Lasansky self-portrait and Iowa State Bank purchased Lady in Blue. Recently, Iowa State Bank donated it back to FAA after 53 years. The third FAA-owned Lasansky, Boy with Burro, was presented by the Iowa Arts Council in 1972.
An Innovative Printmaker
Lasansky was born in 1914 in Buenos Aires, Argentina, to Eastern European Jewish immigrants, and studied at the Superior School of Fine Arts before moving to New York in 1943. The artist accepted a teaching position at the University of Iowa in 1945, where he taught until 1984 and helped establish the first MFA program in the U.S. He died in 2012 in Iowa City.
Considered a legendary printmaker, Lasansky's works are in the collections of the Art Institute of Chicago, Museum of Modern Art in New York, National Gallery of Art in Washington, D.C., Cleveland Museum of Art, and Philadelphia Museum of Art, among others.
Lasansky was known for his innovative use of drypoint, intaglio, and multiple plates to produce richly worked portraits, figurative abstractions, depictions of public and historical figures, scenes of farmers, and images of the Holocaust. Lasansky was influenced by the work of Francisco Goya, El Greco, Stanley William Hayter, Pablo Picasso, and Marc Chagall.
The famed printmaker had six children, all artists in their individual fields, and now his grandchildren are becoming recognized as well. His son Tomás Lasansky and his wife Charlie have been lifelong artists in Iowa City and are exhibiting at the Cedar Rapids Museum of Art through September 11.
Other Works in the Exhibition
The FAA is showing five other Iowa artists from its permanent collection, all accomplished and widely recognized. Included are painterly artist Anne Hovey, who lived in Fairfield for a few years before moving to Des Moines; Arthur Benoit, a watercolorist from Marsalltown; Ray Frederick, well-known for his textured acrylics; M. J. Kitzman, who was known for his creations of human struggle and torment, and Stan Hess, a professor of art at Drake University from 1951-85 who was recognized for his dry, graphic, surreal style.