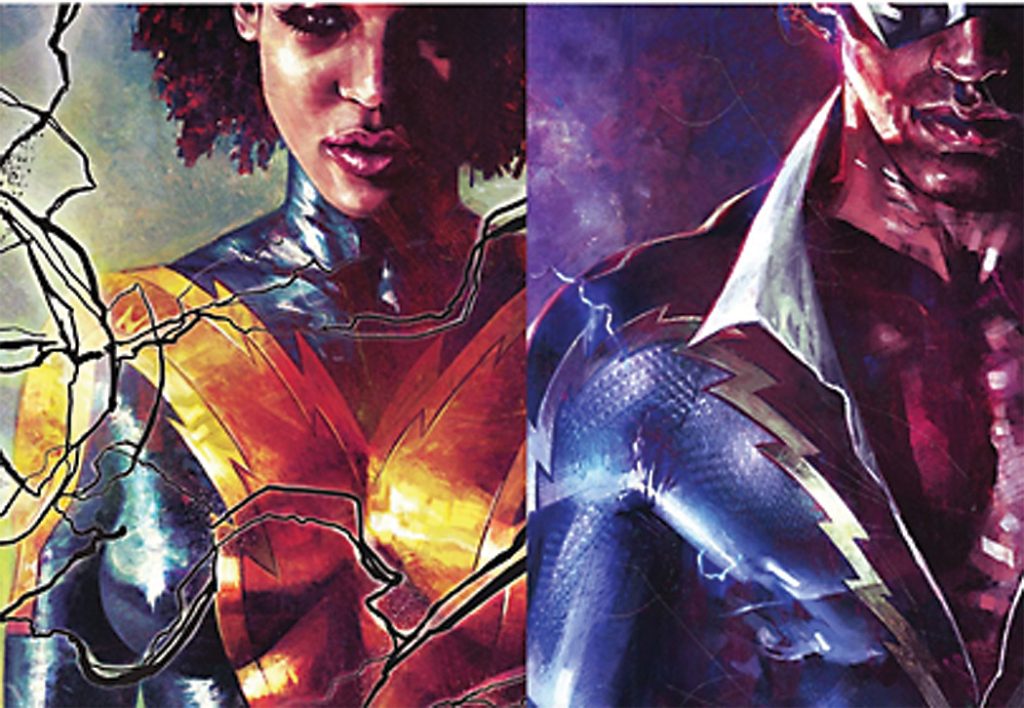 This month, I'm sharing some thoughts about a range of books I've been reading and admiring. I'm hopeful you might find something that piques your interest, too.
The Other History of the DC Universe by John Ridley
John Ridley is perhaps best known as the Academy Award-winning screenwriter of 12 Years a Slave. But among much else, he also writes comics—including the five–issue prestige format series The Other History of the DC Universe (also available in a collected edition). Each issue features a DC character of color recounting their story of heroism in the face of real-life discrimination and tokenism. With layouts by Giuseppe Camuncoli, finishes by Andrea Cucchi, colors by José Villarrubia, and lettering by Steve Wands, this series captures the spirit of earlier comics and invites readers to look at superhero mythology through the eyes of heroes whose life experience is far different from, say, heroes who are billionaires, friendly aliens, or who hail from a mysterious island.
Highly recommend for fans of superheroes, social justice, and smart reframing of cultural touchstones.
Bewilderment by RIchard Powers
If forced by the rules of a party game or some other constraining contingency to answer the question, "Who is your favorite author?" I'd say "Richard Powers." (I am sorely tempted to share all of the other candidates here.) His most recent novel, Bewilderment, is his first since winning the Pulitzer Prize—long overdue, in my opinion—for The Overstory. I myself was bewildered when I discovered that Dwight Garner of the New York Times had penned a scathing critique not just of Bewilderment but of its prize-winning predecessor as well. I would argue that Garner misses a key to the novel that Powers hands to the reader with no pretense: the book is an update and homage to Flowers for Algernon. Keeping that in mind unlocks the novel.
Recommended to those who are fascinated by the intersection of human nature and bleeding-edge science.
The Ministry for the Future by Kim Stanley Robinson
The Ministry for the Future is hard science fiction—meaning that it takes its science (and history) seriously. Kim Stanley Robinson imagines our world a bit farther down the road toward climate collapse and explores what it might take to ensure that the world remains livable for humans. The titular organization is charged with using its influence to inspire substantive change.
A climate change novel with an emphasis on real-world science rather than technobabble might sound like a slog. But Robinson uses multiple voices and narrative styles—as well as strong characterizations of his central cast—to create a novel that clicks along while managing to be realistic, hopeful, and engaging all at once.
Recommended for everyone—because we really need to get a handle on this whole climate change situation.
These Precious Days by Ann Patchett
This collection of essays is Ann Patchett's second (her first was 2013's This Is the Story of a Happy Marriage), and it is no stretch to say that the author—a graduate of the Iowa Writers' Workshop, a renowned novelist, and a beloved independent bookstore owner—is as precious as the days about which she writes. Patchett writes beautifully about beautiful moments, difficult moments, inexplicable moments, and more. The essay "There Are No Children Here" is a tour de force in which Patchett describes her lifelong certainty that she does not want to have children and the wildly inappropriate ways she has been confronted about that decision throughout her life. Each essay in the collection is a gem, shining all the more brightly in the audio version of the book, read by Patchett herself.
Highly recommended for those who love personal essays, exquisite writing, and hearing authors read from their own work.