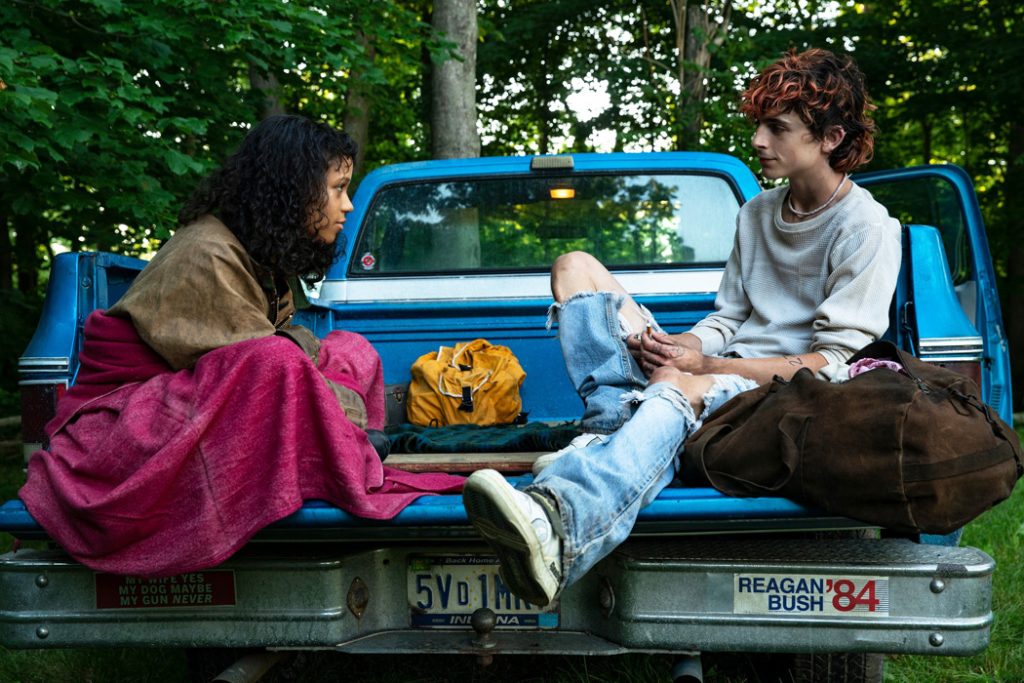 Iowa City's Refocus Film Festival: Celebrating the Art of Adaptation, October 6–9, promises to be an extraordinary experience for movie lovers, showcasing an unprecedented array of movies making their Iowa, Midwest, and even U.S. debuts. The films, chosen specifically with the City of Literature in mind, are centered around the theme of adaptation, with a lineup of over 20 films adapted from other media—including books, television shows, screenplays, art, and podcasts, as well as older movies. The festival explores the interplay between these different art forms used to tell and share stories, as well as the transformative process of adaptation.
The festival's biggest film, Bones & All, which opens Thursday, October 6, is a coming-of-age romantic horror film starring Timothée Chalamet Refobased on the 2015 novel of the same name by Camille DeAngelis, It recently debuted at the Venice Film Festival and won two awards: Best Director for Luca Guadagnino, and Best Young Actress for Taylor Russell.
"It's a pretty big film," says FilmScene Executive Director Andrew Sherburne. "We're really excited to get it. It'll be playing here in Iowa City the same night that it's debuting in New York City."
Sherburne also points out that the film has ties to Iowa. Parts of the movie were set in the state, and screenwriter David Kajganich is an Iowa Writers' Workshop graduate. "He is excited to come back to Iowa City to present the film," Sherburne says. Kajganich and the book's author, DeAngelis, will hold an on-stage conversation after the film. "It's the perfect kickoff for the festival," Sherburne says.
Another notable film is The Afterlight, which only exists as one 35-millimeter film print. Combining hundreds of film fragments from all over the world, the film stars an ensemble cast of actors, all of whom are no longer alive. The Afterlight was conceived as an ephemeral art piece that will degrade over time, deteriorating after each run through the projector. "There's just one film print in existence, traveling the world," Sherburne says, emphasizing this extraordinary opportunity to see it during the festival.
One highlight of Refocus is a "secret screening" playing at the festival before its official U.S. premiere. "We can't actually divulge the name, and people in the audience will be sworn to secrecy for a time," Sherburne explains, "but they'll be the first people to see that film in the U.S., which is kind of fun."
The festival kicks off opening night at the Englert Theatre, followed by an after- party. "From Friday afternoon through Sunday evening, there will be wall-to-wall movies," Sherburne says. With multiple showtimes playing on five screens, there should be an opportunity to catch everything, "with a little break for sleeping," Sherburne jokes.
The films have been carefully curated by FilmScene Programming Director Ben Delgado, offering an eclectic collection of genres—from rom-coms and comedies to dramas and documentaries—hailing from all over the world. "There's something for everyone," Sherburne emphasizes.
In addition to films, there will be art performances, conversations between authors and screenwriters, Q & As, a VR experience, happy hours and coffee hours, and live music. Refocus was deliberately scheduled to intersect with the Iowa City Book Festival, so look for cross-disciplinary dialogues that delve deeper into the process of adapting literature to film.
Screenings will be held primarily in FilmScene's five theaters at the Chauncey and on the Ped Mall, with additional programming in the downtown district.
Refocus Film Festival takes its name from an event held at the University of Iowa from 1965 through 1978, during the formative years of the American festival circuit. Sherburne feels that resurrecting the name is significant. "It just seemed like a nice nod to that legacy, knowing that there was a festival here so many years ago that had some similar ideas about the relationship of film with other art forms."
Festival passes are available via the website. Sherburne encourages people to buy passes, available online, as "pass holders are allowed to reserve tickets first . . . ensuring they get to see the films they want to see." He's quick to add, however, that "even if you come to the festival on a whim and just want to catch a film, we're going to do our best to make sure" seats are available. Whether you're planning on taking in the whole festival, or attending just for a day, the festival promises to be an experience not to be missed.
Check out the festival lineup at RefocusFilmFestival.org/.