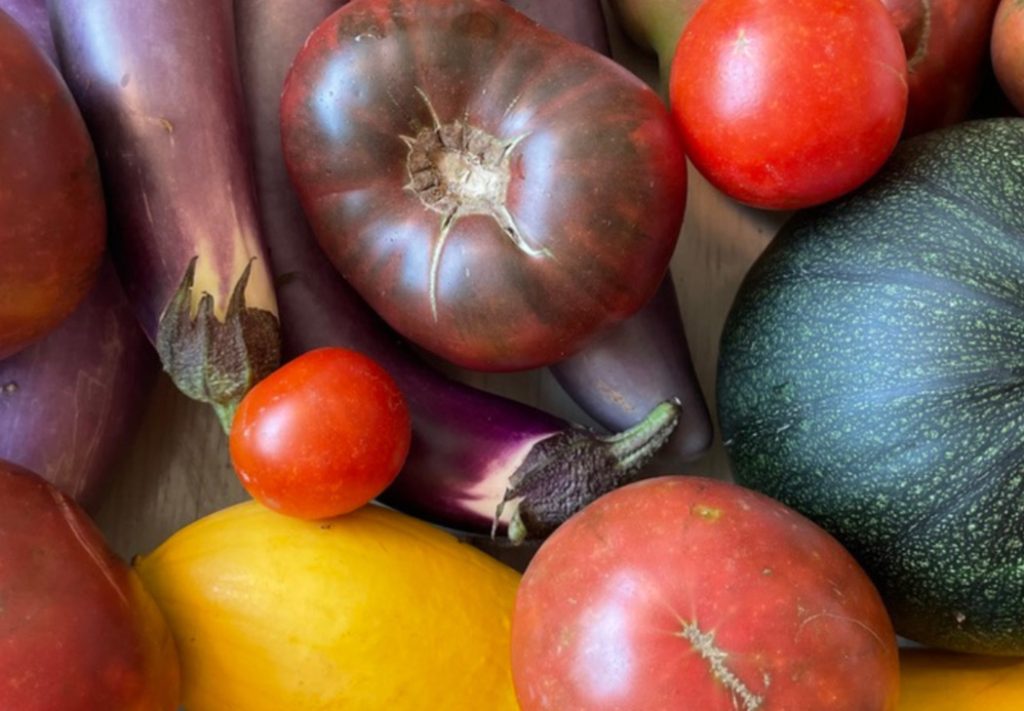 Once upon a time, the Sustainable Living Department at Maharishi University was famous for pizza parties among garlic-and-onion-craving college kids. Far-from-home foodies flocked to the pizza oven in the midst of the student gardens where dinosaur kale, chocolate mint, basil, tomatoes, and peppers flourished. In the student kitchen—the only one on campus at the time—there was a pantry with luscious quart jars of maroon sauce full of seeds, leaves, and slivers and ribbons of everything from the garden. The genius behind that year's batch was Gina, a fellow student and experienced gardener and canner.
Let what you find in your garden and at your farmers market be your guide, along with your senses. Keep your tasting spoon at the ready and you'll do just fine. Just be sure to start this recipe on a day you'll be puttering around the house so the sauce can take its sweet time to simmer. Like most recipes I share, this one is meant to be played with and broken.
My personal shortcut to epic flavor is infused olive oil, specifically the Greek Basil & Garlic olive oil and Greek Oregano & Garlic olive oil from Pickle Creek Herbs. It's impossible to find Greek Basil anywhere else unless I grow it myself, and I can't grow enough of it. On top of that, there's such a difference in flavor between the hardneck Midwest-grown garlic found in Pickle Creek's line and the wimpy imported softneck garlic at the store. If you don't have your own garlic patch yet (see Jocelyn's article on how to grow garlic), be sure to stop by your farmers market for extra flavorful Midwest-grown varieties.
I've included two versions of this recipe, one for a Giant Vat of sauce and one for a Sane Person's amount. The cooking method is the same.
Equipment:
12-16 quart pot (bigger is better, you can halve the recipe if needed)
Slotted spoon OR Immersion blender
Giant Vat (this didn't all fit at once in my largest pot, so I had to keep adding tomatoes as it simmered down)
24 cups locally grown tomatoes, stemmed and quartered
8 cups eggplant
8 cups onion, slivered or diced
4 cups summer squash, thin rounds or long slices
8 large garlic cloves, halved (up to 16 if you use plain olive oil)
2-1/2 cups extra virgin olive oil-plain OR infused Greek Basil & Garlic oil
¼ cup dried oregano
1 cup minced or 2 cups chopped fresh basil
Salt to taste—start with 1 Tbsp.
Optional: 4-8 cups bell peppers
Sane person version-still need giant pot
12 cups locally grown tomatoes, de-stemmed and quartered
4 cups eggplant, slivered
4 cups onion, slivered or diced
2 cups summer squash, thin rounds or long slices
4 large garlic cloves, halved (up to 8 if you use plain olive oil)
1.75 cups extra virgin olive oil-plain OR infused Greek Basil & Garlic
1/8 cup dried oregano
1/2 cup minced or 1 cup chopped fresh basil
Salt to taste—start with ½ Tbsp.
Optional: 2-4 cups bell peppers
Bring pot of water to a boil. Rinse tomatoes. Immerse tomatoes in boiling water for about 30 seconds, so skin visibly wrinkles and loosens. Remove & set on plate to cool enough so you can peel them. Translucent tomato skins will eventually separate from the tomatoes as they cook and be an unwelcome texture if not dealt with. (If you prefer to skip this step and leave the skins on, see step 4 below.)
Quarter tomatoes, removing stems and any rough scabs or splits.
Pour half of the oil into the pot, and about a quarter cup of water. Turn stove on medium low. Add tomatoes—all or as many as you can fit. As the tomatoes cook down, stir and add in more.
Optional—If you skipped step 1, use an immersion blender once tomatoes have become soupy.
Add slivers of eggplant, and stir in. Allow to simmer 2-3 hours.
In a large pan, saute onions and zucchini in olive oil until onions are soft and translucent. (Optional: Include peppers.) Stir into sauce pot. If there's not enough room yet, allow to the sauce to simmer down for another hour or so.
Stir in garlic, oregano, basil, and remaining olive oil.
Simmer, occasionally checking and stirring, until sauce has desired thickness. Salt to taste, with caution. It takes less than you might expect.
Optional: Blend sauce until desired texture is achieved. I personally enjoy the distinct textures and shapes of the ingredients and omit this step.
Allow to cool. Ladle into freezer-safe containers or ziplock baggies of your choice. If you are an experienced canner, pressure can.