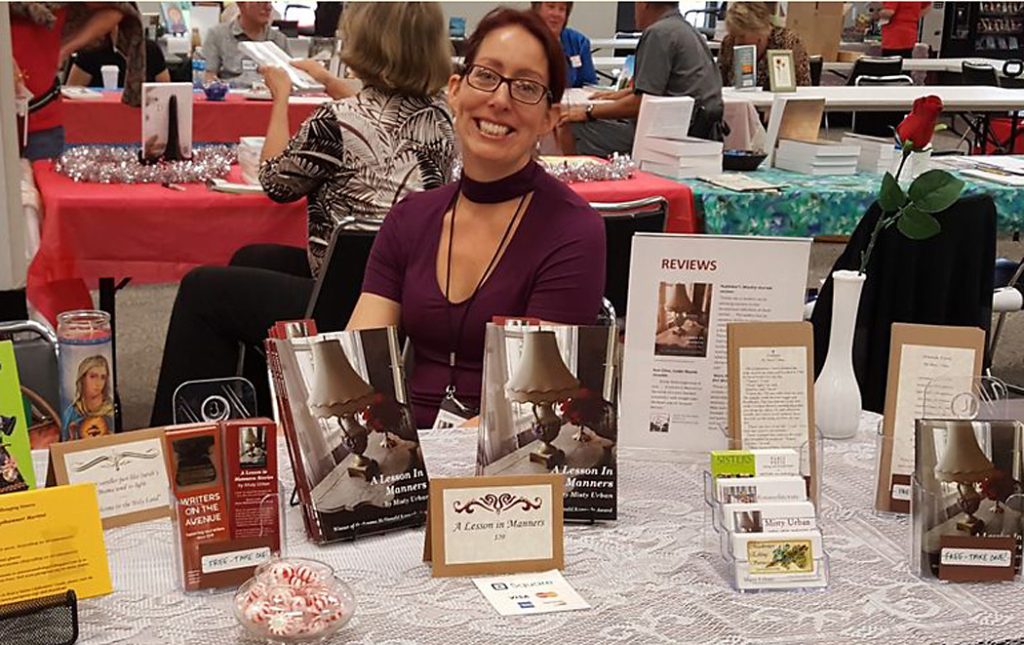 For quite a while now, I've devoted this space to conversations with Iowa's indie authors—the writers who are using self-publishing tools to get their words in front of readers without relying on the traditional publishing world. As it would turn out, self-publishing tools have also made it possible for small presses to step into the gap between independent publishing and the established publishing houses.
Take, for example, Pearl City Press, a project of Writers on the Avenue (WOTA) in Muscatine. I talked with Misty Urban—an author I interviewed in November 2021—about the origin of the press and her hopes for its future. Urban serves as the volunteer managing editor of Pearl City Press.
"So many people come to Writers on the Avenue and they're looking for publication opportunities," she told me. "We were always just a group of fellow writers supporting each other and talking about craft and talking about craft and talking about craft. And finally, I just had heard so many people who were bewildered by the publication process, exhausted by the publication process, or perhaps most compelling, had really good manuscripts that were met with rejection because of this thing called 'marketability.'"
She found herself wondering if WOTA could add a publishing arm.
"I thought, We're a writing group. We have some small financial resources, we have really talented people who can make up an editorial board, and we have local talent we can tap for anything we can't do ourselves. So why don't we start a press?"
Urban and those on the editorial board of the new press were not interested in simply publishing whatever manuscripts came their way or limiting themselves to WOTA community members.
"It was never intended to be just a vanity press for just us," Urban said. "It was meant to be a press that will, as our mission says, help the stories that we think have real meaning and tell an unusual or unique or unheard story—our mission is to get those out to the world. . . . We want to be sure we publish good books."
Writers on the Avenue dates back to 1990, and the organization has done a limited amount of publishing over the years.
"Their goal from the very beginning was to support and encourage local writers," Urban explained. "In 1991, they published their first anthology which was a way to kind of professionalize some of them, to share their work, to share their voices, to let people in the community know this is happening in Muscatine."
The size of the WOTA community has waxed and waned over time, but the group has persisted and continued to publish the occasional anthology. In 2020, WOTA published their 30-year anthology, feature members from the past as well as brand-new writers to the group. "That anthology was a big celebration of what we do," she said. "We're continuing to grow."
Pearl City Press, however, has started a new chapter in WOTA's publishing history. To date, the press has published two books, including a short story collection by Urban herself titled Married, Living in Italy.
"That was the guinea pig. When we were forming the press, I said to the editorial board, 'You know, we're going to make a lot mistakes with the first one. Let's use one of our books to do it.'" It turned out that Urban's collection was in the best shape to be the inaugural project for Pearl City Press.
The second book Pearl City Press put out was The Last Voyage of the Marigold by Davenport author Dan Moore, an adventure at sea involving old grudges, longstanding secrets, and a quest to secure the captain's future while escaping a darker past. It's a largely successful novel, and resulted from a collaborative process with Pearl City Press—starting with a request that the author revise and resubmit his manuscript.
"He went through the whole process with his book, and it took a while, but he was a champ about it," Urban says. "He was extremely professional. He was fun to work with . . . and I've just been thrilled with the final book."
There's a third project in the offing, and Urban hopes that the press can eventually publish six to ten titles each year.
"And I mean really good titles. Beautiful cover art, solid editing, real book launches where we kind of have prelease buzz and that sort of thing. That, I think, would be a lot of fun."
Pearl City Press isn't ready to ramp up to that point just yet, however. In fact, so far, the press has not had an open submissions period. "Looking at the actuality of our resources, what it takes to put into a book, I don't want to commit to too many things down the road and then not be able to fulfill on a contract. . . . But in time, I really am committed to that mission of unheard voices."
Readers can purchase copies of Married, Living In Italy and The Last Voyage of the Marigold at Pearl City Press. Proceeds from sales fund WOTA's various activities, including workshops, author visits, and publicity.
"We want to get word out there that WOTA exists, that it's a really fun, laidback group that is there to support other authors, wherever they are in the process."
For more information, see Pearl City Press.