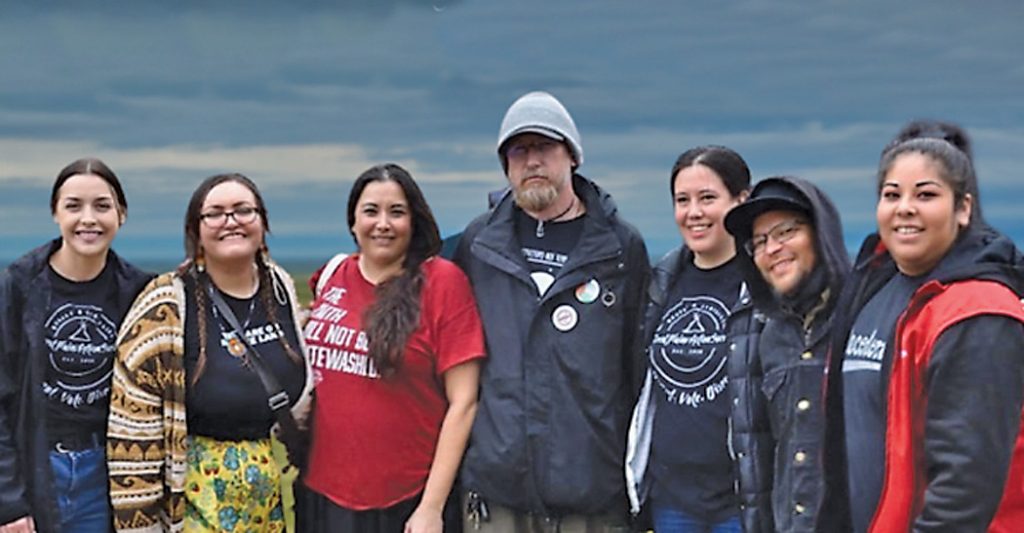 Truthsgiving is an annual celebration of Indigenous heritage, culture, and tenacity created by Sikowis Nobiss, executive director of the Great Plains Action Society (GPAS), to shine a light on the colonially based lore of Thanksgiving. Presented at the Englert Theatre in Iowa City on Friday, November 11, at 7:30 p.m., the event features guest speakers, live music and drumming, and an atmosphere of healing and reconciliation.
"This is the first time that we've ever had such a large venue," Sikowis says. "It's a big deal." Meant to challenge the stereotypes and whitewashed historical inaccuracies perpetuated by the prevalent Thanksgiving mythology, Truthsgiving deconstructs the romanticized narratives of the first Thanksgiving that most of us were taught in school.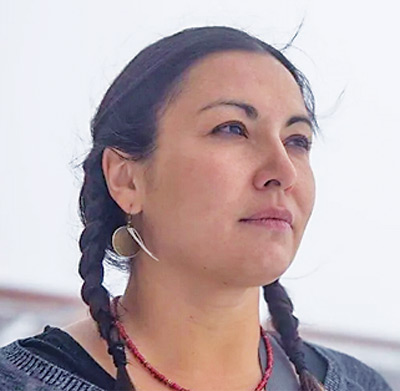 "I call it Truthsgiving because that's really what I want—for the larger population to understand what they're celebrating," Sikowis explains. "Thanksgiving mythology really does perpetuate white supremacy. It romanticizes the past and erases the experiences of Indigenous peoples and Black folks, because it's trying to portray this warm, fuzzy origin story"—in contrast, she says, to the actual history, which started off "with ethnic cleansing and enslavement. It's dangerous because it perpetuates harmful ideas."
Sikowis is quick to state she doesn't want people to stop celebrating with their families. What she wants is for people to acknowledge and honor the past, and bring the celebration back to its root word: thanks. "Thanksgiving is a purely American and Canadian event," she says. "Maybe that's why it's so important to people. It's one of the few things that's unique to the U.S. and Canada in terms of culture or tradition."
She continues, "Thanksgiving is a celebration of the harvest, of family, and of telling people what you're thankful for." While she embraces those ideas, she wants to see them celebrated without a whitewashed version of history. "Then it could truly become a holiday that is about uplifting family and community, and helping each other out. . . . Truthsgiving is that push to make it better."
Thanksgiving mythology perpetuates the erroneous idea that invading European colonizers and the Wampanoag—the first Native people the colonizers encountered—had a relationship built on mutual respect, with a party to celebrate the colonizers' first harvest. That was not the case. In his 1970 Thanksgiving Day speech, Wamsutta Frank James, of the Wampanoag, explained "the Pilgrims had hardly explored the shores of Cape Cod four days before they had robbed the graves of my ancestors, and stolen their corn, wheat, and beans." Written for Plymouth's annual celebration of the Pilgrims' landing, this speech was never presented—the organizers allegedly asked him to rewrite it. Instead, he declared Thanksgiving a National Day of Mourning.
The National Day of Mourning has now been observed at Plymouth Rock for almost 50 years. A similar event takes place on Alcatraz Island: Unthanksgiving Day, or the Indigenous Peoples Sunrise Ceremony, which commemorates the Alcatraz–Red Power Movement occupation of 1969. The impetus to challenge the Thanksgiving narrative began during the Red Power movement of the Civil Rights era and continues today.
As Plains Cree/Saulteaux of the George Gordon First Nation, Sikowis says celebrating Thanksgiving has always made her uncomfortable. She started having Truthsgiving with her family about ten years ago, but continued to be frustrated by how Thanksgiving was celebrated by the general populace. About seven years ago, her white friend Dave Whiting suggested she hold an anti-Thanksgiving event for the GPAS using the Truthsgiving moniker she'd created for her family event.
"It expanded into an Iowa-wide platform," Sikowis says. "All the other GPAS folks were uplifting Truthsgiving through mutual aid efforts in Des Moines and Sioux City, and all over the Midwest—in Omaha, Wisconsin, and Minnesota."
In addition to educating people about the true history of Thanksgiving, Truthsgiving encourages people to "do the truth," which, Sikowis explains, means taking action "to fix the systemic inequities that have been built upon this mythology of Thanksgiving" that places Indigenous peoples in a romantically happy past and doesn't acknowledge the current problems they face, based on centuries of racism, genocide, and enforced poverty.
"It's not just about seeing the truth, it's about doing the truth," Sikowis says. "What we mean by that is, go do some mutual aid. Help somebody out during your day. Also, take the pledge on the website, then to go to Thanksgiving and tell the truth. It's really sad that white supremacy is living in the hearts and minds of so many people in this country. The only way we're going to truly change minds is through conversations."
This year, Truthsgiving is centered around educational speakers and amazing musical talent, featuring Audiopharmacy. In addition to Sikowis, speakers include Jessica Engelking, an Anishinaabe from GPAS; Damita Brown, a community-based educator; Alejandro Murguia-Ortiz of Iowa Migrant Movement for Justice and current State Senate candidate; and Dave Whiting, Sikowis's "original co-conspirator." The evening will be rounded out by a performance from the Native Harmony Drum Group from Sioux City.
Sikowis encourages people to come to Truthsgiving and "support the Indigenous communities in Iowa City and across Iowa." A deeper understanding of our true history put into practice "will make a better world for us all," she says.
For tickets to Truthsgiving: The Truth Will Not Be Whitewashed, visit the Englert Theatre.