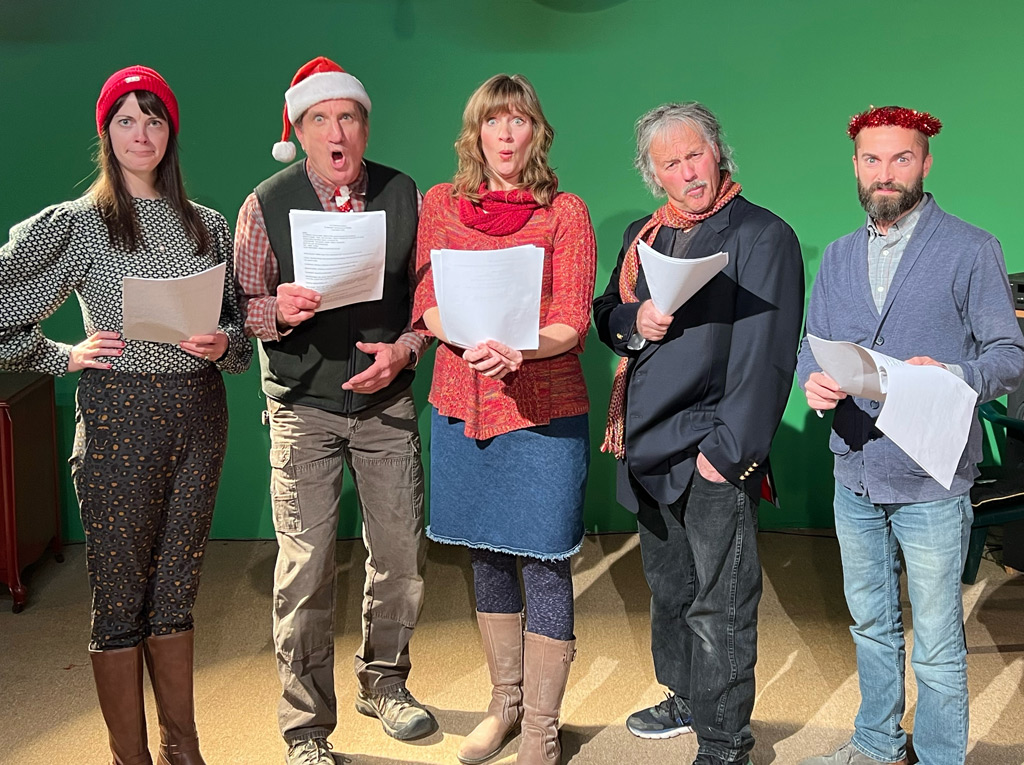 The "Sounds Like a Holiday!" food drive returns—with more songs, more stories, and more festive fun. On Wednesday, December 7, a community collective of musicians, writers, and performers will offer two hours of high-spirited holiday programming at the Sondheim Center for the Performing Arts, 200 N. Main Street, in Fairfield. Admission to this all-ages event is free with a nonperishable food item, to be donated to the Lord's Cupboard.
Beginning at 7 p.m., organist Dee Sandquist and pianist Doug Daller will lead their popular annual sing-along of traditional carols and hymns, with lyrics projected on the Sondheim's big screen. The beautiful sounds of the Barhydt Organ will be featured for an hour of stirring music, made all the merrier with the help of a full house of singers.
After a short break around 8 p.m., the Thirsty Word reading series presents an hour of original works by area creative writers—stories, plays, and poems—all celebrating a seasonal theme.
Attendees of every age will enjoy an original children's story written and read by Matt Mullenneaux, Mr. Mole Goes Christmas Shopping, featuring charming illustrations by seven-year-old Caroline Mullenneaux on the big screen.
Frank Capra fans will chuckle along to radio-theater parody It's A Wonderful Spoof, penned by Meredith Siemsen and Lou Bolster. This retelling of the romantic "Buffalo Gals" scene made famous by Jimmy Stuart and Donna Reed, asks the question: what if their fateful date had been hijacked by a very different sort of movie star? Siemsen and Bolster are joined by Solomon Davis, Sidney Hunt, and Dave Patterson, with live foley by Dave Patterson.
The Legend of Poinsettia is a charming original fairytale read by Lou Bolster, Sidney Hunt, Solomon Davis, and Meredith Siemsen. Written by Lou Bolster, it's a sweetly imagined origin story of how the classic Christmas flower came to be—and why it blushes red. Both The Legend of Poinsettia and It's A Wonderful Spoof have been directed by Cody Bauer.
The evening is rounded out by heart-warming true stories by Dave Patterson and Richard Kurtz and seasonal poetry by Corrine Stanley of Iowa City.
The Thirsty Word reading series, supported by the Fairfield Public Library, typically hosts its "third Thursday" events at Fairfield Food Collective but is delighted to be sharing a special December program at the Sondheim for the second year in a row.
"Many thanks to Doug and Dee, who have graciously let us tag along on the program," says Thirsty Word host Meredith Siemsen, "and to the FACC and its amazing tech team for their ongoing support of this event!
"Last year, folks from all over the community came out to sing, to donate, to be entertained—and everyone had a great time! We hope this year you'll join us in spreading the holiday cheer."